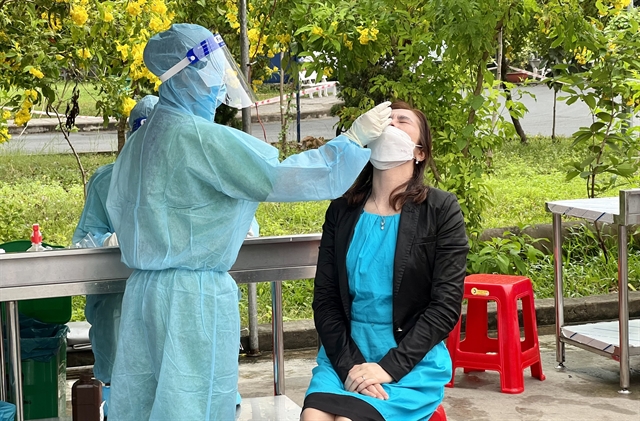 A medical worker takes a sample of a resident in southern An Giang Province for COVID-19 testing. — VNA/VNS Photo Thanh Sang
HÀ NỘI — The Ministry of Health on Thursday issued new guidelines on COVID-19 risk level assessment, in line with the Government's resolution on safe adaptation, flexible and effective control of the pandemic.
This guideline, Decision No. 218/ BYT-QĐ, goes into effect immediately on the date of approval and will replace Decision No. 4800/QĐ-BYT, which was issued in October 2021.
According to the new document, not only the number of new cases, but also the number of patients in severe condition and fatalities will be taken into account when evaluating the pandemic risk level of a locality.
The principles of the new assessment are to actively and effectively control the outbreak while minimising large-scale blanket measures.
The focus now is to manage the risk at the grassroots level to ensure flexibility and effectiveness, and early detection to execute the right solutions. Local authorities are also required to be more proactive and not simply 'passing the ball' to the healthcare sector.
Three criteria are divided into two groups to measure transmission level and response capacity, following the instruction of the World Health Organization (WHO).
The first criteria on new COVID-19 cases in an area per population over a period of time will be calculated using weekly numbers of new infections in a ward-level area, patients requiring ventilatory support, and deaths in every 100,000 residents.
The weekly infection rate will be classified in one of the four categories: first degree – less than 90 cases; second degree – 90 to under 450; third degree – 450 to 600; fourth degree – more than 600.
For the number of patients on ventilatory support, the classification is as follows: first degree – below one; second degree – 1 to under 32; third degree – 32 to 40; fourth degree – more than 40.

New categorisation and requirements to measure transmission level. — VNS Photo
The second criteria on vaccination coverage will take into account the number of people fully inoculated over the locality's total population (at least 75 per cent required); and the number of high-risk citizens receiving full vaccine doses over the total number of people in the group (at least 90 per cent required).
The third criteria on the capacity of medical facilities will consist of the capacity and readiness to manage and take care of over 10,000 people at the ward-level; the number of unoccupied hospital beds for COVID-19 patients over 100,000 people in the district; and the number of beds in intensive care units (ICU) with sufficient staff (requiring at least four per 100,000 people).
The capacity to attend to the patients is classified as: high – over 500; average – 200 to 500; low – less than 200.
The number of available hospital beds for COVID-19 patients is considered high if it is over 30, average if between 10 to 30, and low if less than 10.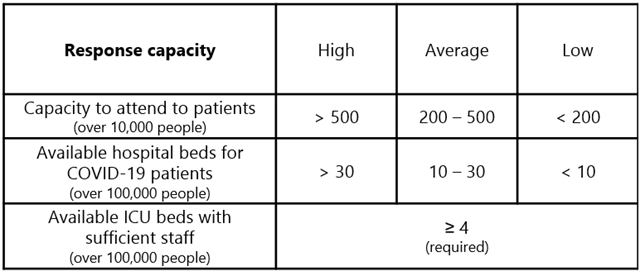 New categorisation and requirements to measure response capacity. — VNS Photo
The first and second criteria will be used to measure transmission level (consisting of four degrees), while the third criteria will tell the response capacity of that locality (high, average, or low).
A locality's pandemic level then can be determined as follows, with Level 1 being the lowest risk and Level 4 the highest.

New pandemic risk level assessment by the Ministry of Health. — VNS Photo
Information on outbreak assessment level (down to local levels) can be accessed at the webpage https://capdodich.yte.gov.vn/map , managed by the health ministry. — VNS
Health ministry announces new COVID-19 level assessment have 664 words, post on vietnamnews.vn at January 27, 2022. This is cached page on VietNam Breaking News. If you want remove this page, please contact us.