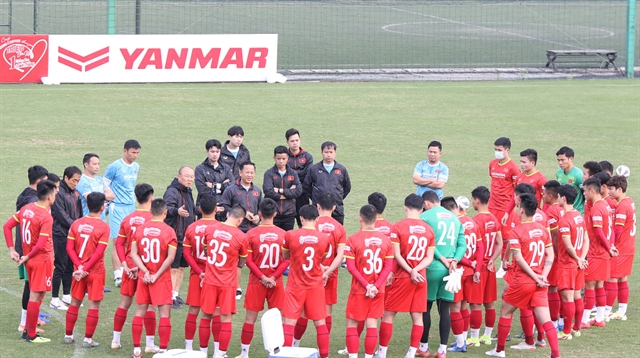 The Việt Nam national team talk tactics at a training session in Hà Nội before they departed for Australia. — Photo vff.org.vn
HÀ NỘI — Despite their poor start to the third round of the 2022 World Cup qualifiers, Coach Park Hang-seo is determined to make history by securing the first Southeast Asian victory at this stage of the competition.
Thailand are the only regional team to have gotten this far before, back in 2018. However, the "War Elephants", under the management of Kiatisuk Senamuang – Hoàng Anh Gia Lai's current coach – finished bottom of their group with just two points, conceding a total of 24 goals.
To better Thailand, Việt Nam will need good results in their remaining matches against Australia, China, Oman and Japan. Three points against China seems the most realistic for Coach Park's men.
"We will try our best to beat China and make history, and give a bright start for Vietnamese football in 2022," Park said.
"In the first leg, we lost 3-2. Myself and the team received a lot of criticism after that match. The pressure is very intense for the second leg because we will have spectators. The fans expect a lot from this match as it takes place on the first day of the Lunar New Year.
"Before us, only Thailand reached this far in Southeast Asia, but they couldn't win a single game. We are here to change that."
On Thursday, Park announced the 24 man squad that will face Australia.
Nguyễn Hữu Tuấn, Nguyễn Đức Chiến, Nguyễn Thanh Bình, Tô Văn Vũ Phạm Tuấn Hải and Hồ Thanh Minh are some unfamiliar names who will be expected to step up on to the big stage.
Three U23 players, Nguyễn Trọng Long, Liễu Quang Vinh and Lê Văn Đô, were excluded from the final squad.
Five others players can't go to Australia, Quế Ngọc Hải, Nguyễn Tiến Linh, Nguyễn Văn Toàn, Ngân Văn Đại and Trần Phi Sơn, will stay in Hà Nội to continue training in preparation for the upcoming home tie with China.
Talking about the squad changes, captain Đỗ Hùng Dũng said: "New additions to the squad will raise the level of competition; we will have to work harder. It is the responsibility of the experienced players like us to help them get used to the new environment and enhance the quality of the team."
Việt Nam will face Australia in Melbourne on January 27 before hosting China at Mỹ Đình stadium on February 1. — VNS
Coach Park aims for history in remaining World Cup qualifers have 587 words, post on vietnamnews.vn at January 22, 2022. This is cached page on VietNam Breaking News. If you want remove this page, please contact us.