Data administration capacity; access to capital, information and documents; access to experts; and costs are the major barriers to Vietnam's digital transformation.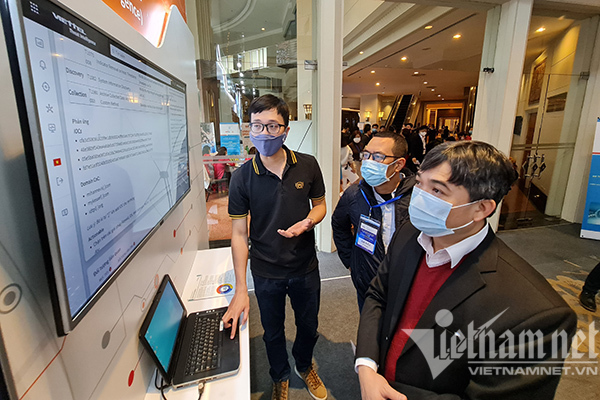 The Ministry of Planning and Investment (MPI) found that many small and medium enterprises (SMEs) could not survive the pandemic but those which changed their business models adapted to new circumstances and survived well.
But Thu Thuy from MPI said Vietnam's businesses have favorable conditions to carry out digital transformation, including a high proportion of broadband subscribers and digital infrastructure.
However, the proportion of digital transactions in Vietnam remains low compared with other regional countries such as Thailand and Indonesia. The online payment ratio is also not high, just 10 percent of total transactions, much lower than the 49 percent of Indonesia and 52 percent of Malaysia.
The benefits from digital transformation are clear. It helps enterprises develop more sale channels, expand custom and distribute better to potential markets.
MPI has recently taken a lot of measures to help enterprises put their products on sale on Amazon, the sale channel that helps businesses access the US and European market.
When surveying the digital transformation at enterprises, MPI found that Vietnam's enterprises still face difficulties and barriers. Up to 60 percent of businesses said investment costs and technology application are the barriers.
Another challenge for digital transformation is changing habits and business practices, and seeking human resources supporting digital transformation.
According to Thuy, many enterprises think that digital transformation is just spending money to buy technology.
"Technology is the final step. Prior to that, they need to take the important steps of standardizing the process and preparing human resources before applying a certain technology," she said.
Vietnam's businesses have great opportunities now to go digital. Statistics show that there have been big changes in customers' spending habits and the movement of the global supply chain. The pandemic also helped speed up digital transformation.
The readiness of the platforms in Vietnam is at a relatively high level. There are 64,000 digital technology firms which can provide services and platforms to serve digital transformation.
Besides the investment costs, the challenges for digital transformation are also from the capability of accessing information, documents and seeking experts to support. Businesses' data administration capability remains low and the internal process still has not been standardized at SMEs.
In addition, the ability to connect digital transformation solutions in the market and access to capital is still relatively limited. Vietnam's digital ecosystem is not really fully developed. This, plus the risks related to information and data security, is also challenging the digital transformation process.
Trong Dat
Challenges for Vietnam's businesses when going digital have 513 words, post on vietnamnet.vn at January 21, 2022. This is cached page on VietNam Breaking News. If you want remove this page, please contact us.