A suspected bank robber has been arrested days after posting photographs of himself on Facebook posing with a US$32,000 motorbike he purchased a day after the robbery.
Nguyen Van Nam was also filmed buying and test driving the motorcycle at a dealership in Hanoi.
He then posted a photograph of himself on the bike with the message: "Just follow your passion, success will follow you."
When arrested by police in Thai Nguyen Province, officers found two handguns, VND800 million in cash, the motorbike and an iPhone 13.
Nam, 23, is suspected of robbing a Vietcombank branch in Hai An, Hai Phong on 3:20pm Friday.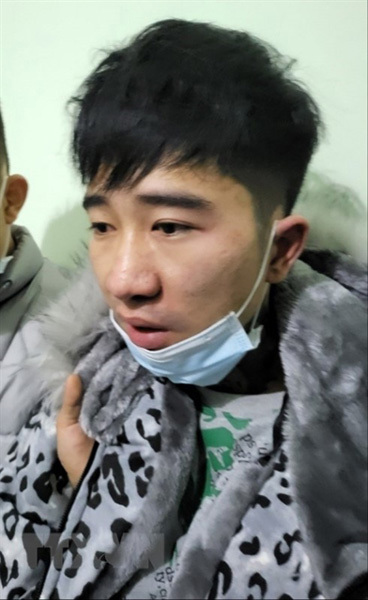 Nguyen Van Nam after being arrested by police. — VNA/VNS Photo
The armed thief was caught on security cameras demanding the teller give him VND3 billion ($132,204). The robber then stole a security guard's motorbike as a getaway vehicle.
It is alleged Nam then met with his girlfriend and gave her VND50 million ($2,204), and buried some of the stolen money under a peach tree near his home in Cat Hai, Hai Phong.
After that, he went to a motel in Vinh Phuc for a rest, and left for Hanoi on Saturday morning, where he bought a brand new motorbike costing VND729 million ($32,135). The video of him purchasing the motorbike was shared on the dealership's TikTok page and currently has more than 500,000 views.
Nam was later arrested at a hotel on Sunday in Thai Nguyen.
In his statement, Nam, a former tattooist, said that he was poor and jobless, and had long had the idea to buy a gun and rob a bank. He was sent to a reform school when he was 13 years old for petty theft.
Source: Vietnam News
Bank robber arrested after buying motorbike with stolen money have 453 words, post on vietnamnet.vn at January 11, 2022. This is cached page on VietNam Breaking News. If you want remove this page, please contact us.