Agriculture has always been a pioneer in the Doi Moi (renovation) process, contributing significantly to achievements in poverty reduction and food security in Vietnam.
In the time of globalization and integration, Vietnam aims to develop agriculture on a green, low-emissions foundation to contribute to realizing its commitment to carbon neutrality by 2050.
This vision will help the agriculture sector reduce costs, use less inputs and resources, and create multi-value integration, thereby affirming Vietnam's position as a powerhouse of ecological and carbon neutral agriculture and a food supplier of "Transparency – Accountability – Sustainability".
Agricultural support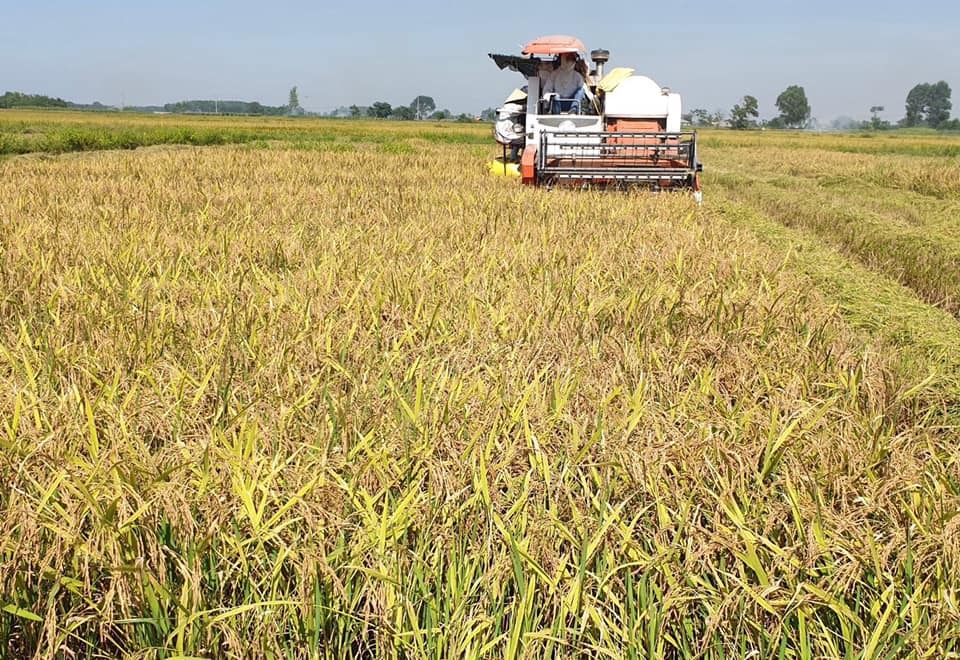 Vietnam exports more than 6 million tons of rice every year.
The early years of the 21st century marked a turning point for the food system in Vietnam.
As one of the poorest countries in the world in the late 1980s to early 1990s with 60% of the population living below the poverty line, thanks to the Doi Moi policy, Vietnam mostly escaped poverty and ensured a balance of food in 2000.
After that, under the policy of active international integration, Vietnam joined the World Trade Organization in 2007 and signed 17 free trade agreements. The country's supply and circulation system of goods, agricultural products and food has become more and more attached to the global market.
Photo: Vietnam exports more than 6 million tons of rice every year.
Today, Vietnam has become an important contributor to global food security. Vietnam exports more than 6 million tons of rice per year, or nearly 10% of total global rice exports, and ranks as the 3rd largest rice-exporting country in the world, just behind India and Thailand.
By volume, Vietnam is the leading exporter of cashew nuts and pepper, and the second largest exporter of coffee after Brazil. Vietnam is also among the top exporters of seafood, vegetables and wood products globally. About half of Vietnam's total agricultural output is exported, earning over US$40 billion a year for the country in recent years.
Agriculture and rural areas have become a solid foundation to protect the country in times of difficulty. From the difficulties at the beginning of Doi Moi to the East Asian economic crisis in the late 1990s, the world financial crisis in the 2010s, or the current Covid-19 pandemic, food security has always been ensured. Agricultural exports have helped reduce inflation pressure, making an important contribution of foreign currency to the economy.
The countryside is a safe "home", ensuring livelihoods for rural workers who migrate to the city. Moreover, agriculture is a means of preserving and promoting Vietnamese values, safeguarding the borders of the country.
Ecological agriculture, modern countryside, smart farmers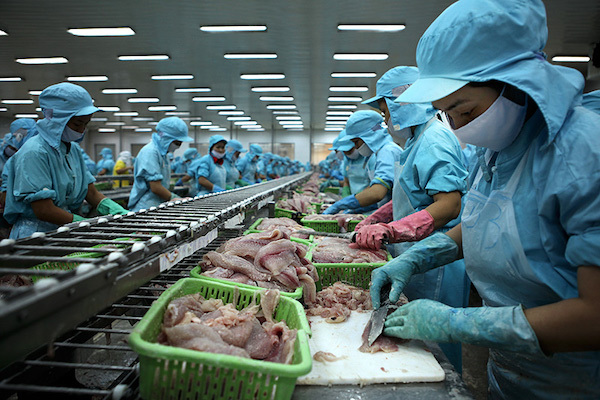 About half of Vietnam's total agricultural output is for export, earning over $40 billion USD/year. Photo: Le Anh Dung
Agricultural productivity and output over the past three decades have consistently grown. Vietnam has become the world's model for agricultural growth, especially in terms of domestic rice supply. This led to higher productivity and output. This also led to fewer natural resources accompanied by concerns about food quality and safety.
The increase in agricultural output has been achieved through greater use of resources, including inputs such as fertilizers, pesticides, antibiotics for livestock, and water. As a result, greenhouse gas emissions from agriculture have increased, accounting for 18% of Vietnam's total emissions and are estimated to reach over 120 million tons of CO2 equivalent by 2030. Half of these emissions will come from rice production.
With a low average cultivated area, agriculture is commonly on a small household scale. Uncoordinated production organization has led to high costs, while quality and added value are low. This is the cause of inequality in the distribution of benefits and fragile supply chains.
Due to low economic efficiency and low income, the majority of young, healthy, creative and trained workers are moving to other economic sectors. Vietnamese agriculture, thus, continues to face the risk of losing a workforce with intellectual and creative abilities to maintain development momentum.
All drivers of agricultural growth are in danger of being exhausted if Vietnam continues to maintain the agricultural growth model based on output, exploiting resources to the fullest, and taking advantage of cheap labor, and using a lot of chemicals. Agriculture and rural areas need to transform, with greater aspirations, and more methodical and sustainable ways.
The 13th Party Congress has opened a new direction with the strategic goal: "Ecological agriculture – Modern countryside – Smart farmers".
Agriculture once again faces the opportunity to solve challenges, creating a spectacular transition to a food production and supply country with "Transparency – Responsibility – Sustainability", as stated by President Nguyen Xuan Phuc at the UN summit in September, and at the same time, contributing to the goal of carbon neutrality by 2050 that Vietnam committed to at the recent COP26 meeting.
Vietnam's agriculture not only serves 100 million people, but is ranked in the top 15 of the world's leading agricultural exporters, reaching over 190 countries and territories. Consumers require agricultural products to be of high quality and safety, with good nutrition, and convenient distribution. Agricultural production and export of agricultural products must be green, humane and stable. New markets require agricultural products to be produced responsibly, with global environmental sustainability.
The market also requires that producers be treated fairly in work safety, living environment, and social policy. And more than that, Vietnam's agriculture increasingly has to show a stronger responsibility to the international community, especially in terms of resource conservation, biodiversity, emission reduction and response to climate change.
Changing from local to global mindset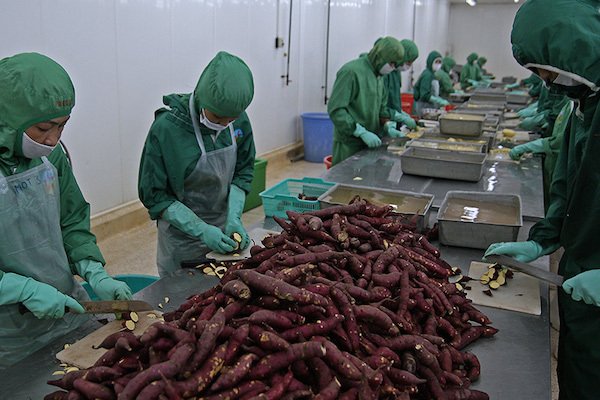 Development thinking needs to shift from agricultural production to agricultural economy; from a productivity and output-first mindset to a value-centered mindset. Photo: Le Anh Dung
Outside, the wind is blowing! Out there, the world is changing! Every country has its own plans to reach prosperity. The winds of change will be a push for those who know how to seize opportunities, and on the contrary, will be a drag for those who remain quietly on the sidelines.
Vietnamese agriculture cannot stand aside or be passive in a volatile world where the price paid for standing still will be too high. Rural areas and farmers need to change with the times to seize opportunities, integrate and develop with the 4.0 industrial revolution.
This development mindset needs to shift from agricultural production to agricultural economy; from thinking that puts productivity and output first to value-centered by integrating different value systems into products; from thinking of taking advantage and exploiting to fostering and enriching resources to serve sustainable production; and from self-sufficiency to integration with the flow of the value chain and global development trends.
It is necessary to change from a local mindset to a global one; from an exploitative mindset to a nurturing mindset; from short-term thinking to long-term and sustainable thinking. It is necessary to aim for "green values" created from "green transformation, green consumption, and a green economy".
With new thinking, we can set out aspirations to turn Vietnam into an ecological and carbon-neutral agricultural power instead of just a powerhouse in terms of food production. As one of the countries with the largest level of biodiversity in the world, Vietnam can become a power based on conservation and promotion of biodiversity values.
As a country with a rich history, rich traditions and cultural diversity in Southeast Asia, these values are embedded in all products and production practices in the Vietnamese agricultural and food system.
With creative thinking, these values can be integrated to enhance the value of Vietnamese agriculture and agricultural products. Vietnam can become an innovation powerhouse integrating cultural values in agriculture and food.
Promoting the integration of green values, biodiversity and culture will be breakthroughs to turn Vietnam into Asia's food innovation hub instead of a country that just exports raw products of low added value based on exploitation of natural resources and social resources.
With strategic geo-economic advantages, connections among waterways, railways, domestic and inter-national roads, along with better governance capacity and digital transformation, Vietnam can become the agricultural and food logistics center in the Asia-Pacific region and the processing center of agro-forestry-fishery products for Southeast Asia, minimizing the uncertainties of the global agro-forestry-fishery supply chain in the future.
This will contribute to controlling the supply-demand imbalance in the global agro-forestry-fishery market and have a direct impact on farmers and consumers in the country, as well as in the region and the world.
Agriculture can't stand alone
To transform and change, the agricultural sector cannot stand alone, it needs the companionship, and support of ministries, central and local agencies, and organizations and individuals at home and abroad.
It is necessary to mobilize the participation of farmers, women, youth and the community; implement bold strategic solutions to improve the governance capacity of cooperatives, small and medium-sized enterprises in rural areas, and promote farmers, especially youth, to be associated with agricultural production; ensure long-term and equitable access to the means of production, especially land, for all farmers, particularly vulnerable groups such as the poor, ethnic minorities, women and young people.
It is necessary to change the way of management, organization, and public investment support services to turn people into the main subject, the center, and the driving force to create a dynamic rural economy, a team of healthy, strong, talented, intelligent, capable and professional farmers.
It is necessary to mobilize the participation of the private sector in responsible investment, green investment, creative application of technical advances, and effective operation of public-private partnership models and mechanisms.
It is also necessary to create a healthy and effective development environment through innovation in system administration and application of science and technology, to promote research and development in agriculture and food technology, with a focus on innovation, especially digital transformation and the digital economy, in agriculture.
Digital transformation will go hand in hand with green transformation, associated with institutional innovation, to develop multi-value integrated agro-ecosystems.
It is necessary to promote digital transformation to build sustainable agricultural product value chains towards traceability, food safety, standardization of specifications and quality, e-commerce, financial procurement and distribution services; and information provision and technical support.
Deepen international integration. Form domestic and cross-border innovation networks. Strengthen international cooperation in researching, forecasting and building an information system to warn of risks about natural disasters and epidemics. Sustainable management is required of land, water, biodiversity, forest resources, and transboundary water resources.
Renovating system governance, and promoting innovation along with international integration are the three-horse carriage that brings Vietnam's agriculture from a powerhouse in food production to a powerhouse in ecological agriculture, neutralizing carbon, and a food supplier noted for "Transparency – Accountability – Sustainability".
Innovative thinking, acting together – Nothing is impossible!
Le Minh Hoan (Minister of Agriculture and Rural Development) – Carolyn Turk (World Bank Country Director for Vietnam)
Vietnam's agriculture: from local to global mindset have 1840 words, post on vietnamnet.vn at December 3, 2021. This is cached page on VietNam Breaking News. If you want remove this page, please contact us.