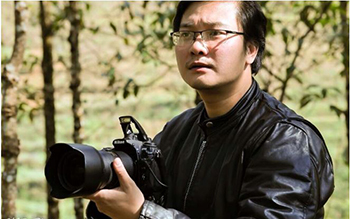 Artist Tạ Tuấn Minh. Photo nhandan.vn
Theatre actor Tạ Tuấn Minh won a gold prize for his role as Thái Sư Trần Thủ Độ (General Trần Thủ Độ) at the 2021 National Play Festival held last month in the northern city of Hải Phòng. Last year, he also received the best director title at the 5th Hà Nội Theatre Festival.
Nhân Dân Cuối Tuần (Weekend's People) newspaper reporter Bình Nguyên Trang spoke to Tuấn Minh about his career.
How do you feel being back in the spotlight after a long hiatus due to COVID-19?
It is great. I feel like a thirsty hiker in the desert who sees a clear blue lake.
Historic and fictional roles including General Trần Thủ Độ have made you popular. Are you a bookworm and do you think that reading plays is important for an actor?
I like reading literature, poetry and especially historical literature. My favourite book is Đại Việt Sử Ký Toàn Thư (The Complete Annals of the Great Việt).
It gives me a solid background of knowledge about milestones in the country's history, the author's comments and important figures in historical moments.
Reading books including historical literature is useful for my profession. I think that plays are also a genre of literature. The art of words is shown in dialogue. I'm not only an actor but also a director.
Plus, I read literature, philosophy and poetry which have helped me gain a lot of experiences about pain and happiness. Reading also gives me new perspectives to act in historical roles.
Each book is a world and we have the whole world in our house.
Trần Thủ Độ still remains a controversial figure in the history of Việt Nam. What attracted you to this role?
The story of General Trần Thủ Độ dates back more than 800 years ago. Strictness, discipline and putting the interests of the country first are always prerequisites for the destiny of any country and of any people in the world, not only in Việt Nam.
I had the chance to portray him from another angle which is not commonly known. Through his work, history only sees and judges him as a cruel man and manipulator. In the play, I focus on him as a human being. He devoted his whole life and his love for the country. He only had one woman in his life. In his position it is very rare and his love for his wife is precious.
Many fields and professions including literature and art depend on technology. Theatre is characterised by direct interaction. What is the difficulty in the use of technology?
The trend of the theatre has changed to adapt to the new situation. It is only natural that our work must change as well.
Amid the COVID-19 pandemic, we are happy to be able to perform for the audience even if it's just on YouTube or other online media.
Of course, the lack of direct interaction with the audience will greatly reduce the effectiveness.
But in this difficult time, I think that online performances are also a way to approach and promote theatrical art to audiences, especially young people. This will inspire them to get to know the stage and hopefully they will go to theatres when the pandemic is under control.
Recently, Việt Nam theatre celebrated its 100th anniversary. But some said that today, the talent and enthusiasm of actors is not as good as it used to be. What do you think?
After century of formation and development, Vietnamese theatre has witnessed many successive generations. Each generation has made an impression on this process.
During the week to celebrate the 100th anniversary, we watched and enjoyed performances by leading theatres. The plays, including Chén Thuốc Độc (A Cup of Poison), were performed and directed by the young generation of artists showing their talent and efforts to keep up with world trends.
What is the biggest challenge for artists now?
It is still the State policy. Many artists have to do other jobs to support their profession. The artists who are employed have monthly payments which is a little but useful. However, young artists just have labour contacts with theatres and they don't have a monthly salary.
We are on the way to socialise theatre and stimulate creativity. Anyway, I feel so sad. It is really a big challenge for the young artists. I'm afraid that they will leave their jobs.
We will be at risk of losing talents if cultural authorities don't have proper policies for the young artists and the young artists cannot overcome this challenge. VNS
Vietnamese theatre needs to keep up with world trends, says award-winning artist have 989 words, post on vietnamnews.vn at December 1, 2021. This is cached page on VietNam Breaking News. If you want remove this page, please contact us.