President Nguyen Xuan Phuc said that Russian enterprises investing in Vietnam are not only international investors but also close friends who contribute to the building of the traditional relationship between the two countries.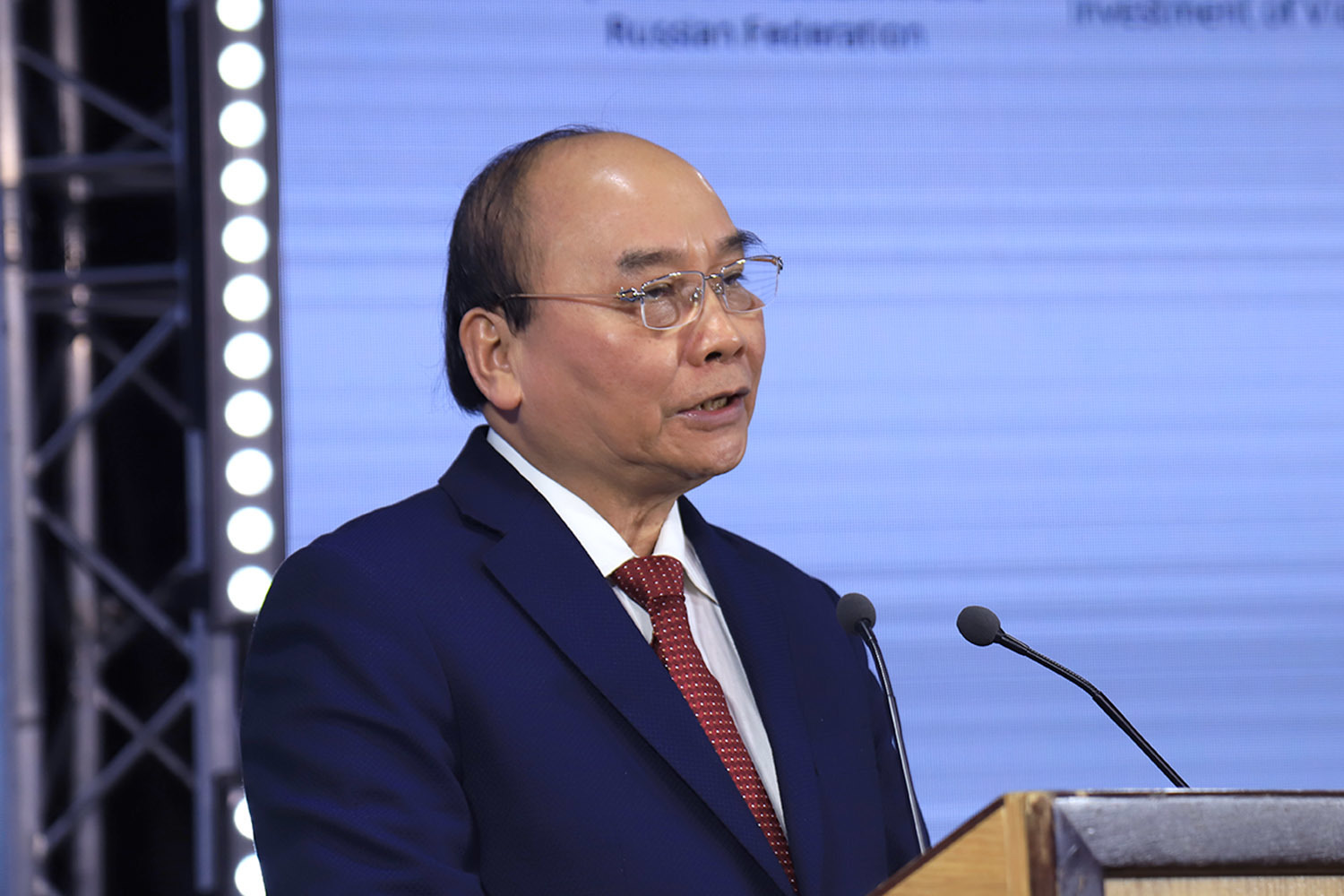 Vietnamese President Nguyen Xuan Phuc
On December 1, 2021, the Vietnam-Russia Business Forum was organized in Moscow with the participation of 100 Vietnamese and Russian enterprises.
The forum was an opportunity for Vietnamese enterprises to be introduced to Russian enterprises, distributors and clients, and for Russian businesses to better understand Vietnam as an attractive and safe destination.
Speaking at the forum, Phuc said that the outcome of the talk with Russian President Putin, which lasted four hours, outlined the directions to deepen the comprehensive strategic partnership between Vietnam and Russia. The most discussed issues were related to trade, investment and development of the two countries.
"Vietnam and Russia have a very good traditional relationship and trust each other. However, two-way trade turnover remains low, just over $5 billion. The investments remain modest with 150 projects and total investment capital of $150 billion," Phuc said.
He believes that the cooperation potential of the two countries is great. He said enterprises of the two countries need to cooperate, while ministries and branches of the two countries need to facilitate each other's trade and investment in the time to come.
Phuc went on to say that while many Russian invested projects are going smoothly in Vietnam, some projects are slow in implementation. He called on Russian enterprises to cooperate more closely with Vietnamese enterprises.
Vietnam has been hit hard by the pandemic, but its economy is growing with the growth rate of over 4.5 percent, and import-export turnover of over $600 billion. Vietnam enjoys a trade surplus and is the third largest economy in ASEAN. The economy is stable and the inflation rate is low. Vietnam is one of 20 economies succeeding in attracting investments.
"I hope that Russian enterprises will learn more about the Vietnamese market, and Vietnamese enterprises will learn more about the Russian market to cooperate, exchange and do business," he said.
Russian enterprises have other opportunities when doing business, because Vietnam is a member of 15 free trade agreements (FTAs), including large ones such as CPTPP (The Comprehensive and Progressive Agreement for Trans-Pacific Partnership) and EVFTA (EU – Vietnam Free Trade Agreement).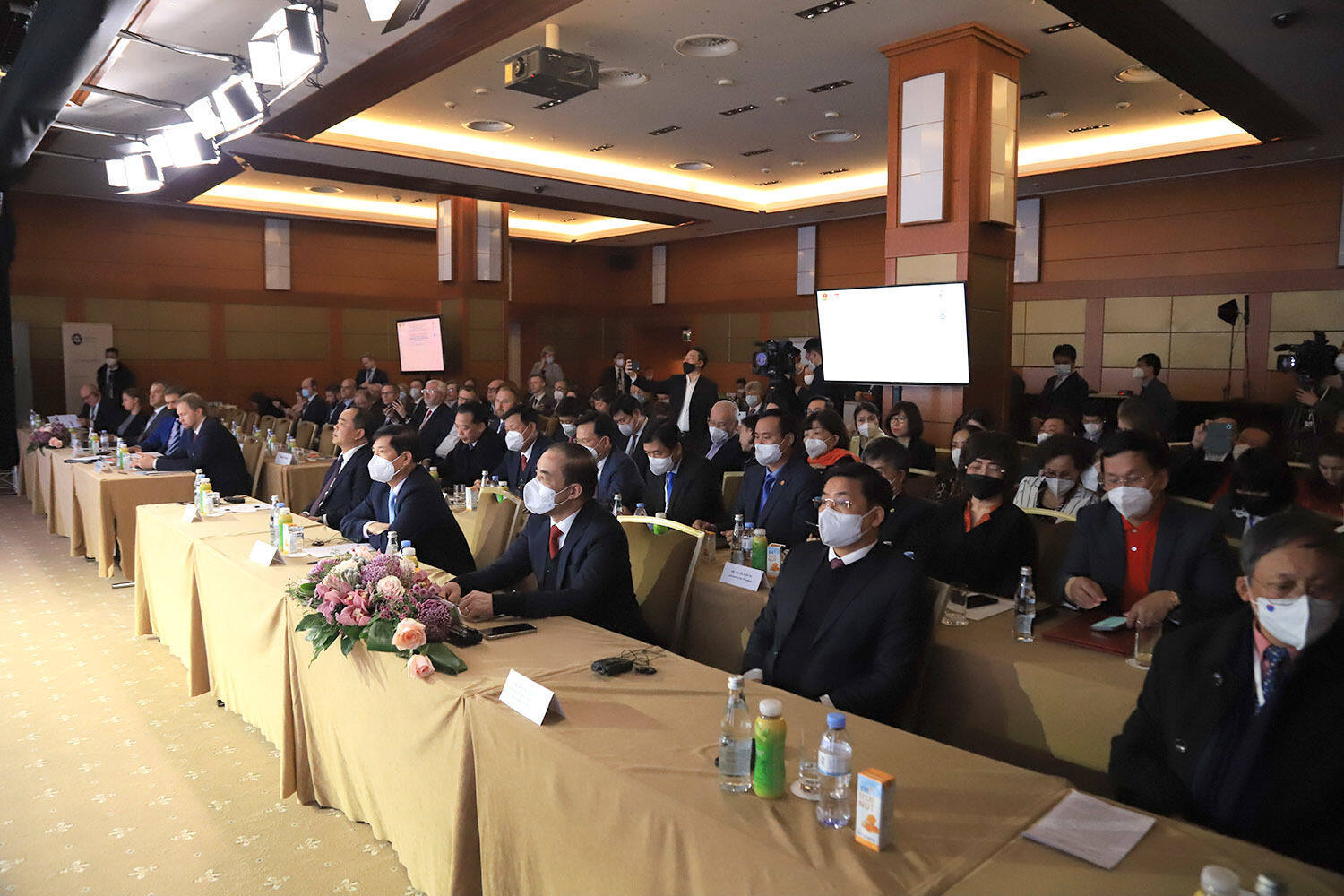 Vietnam is ready to cooperate with partners under the spirit of equality, mutual benefit, and responsibility to society, workers and environmental protection. Therefore, investment projects are being selected with priority given to hi-tech, innovation and digital transformation.
The President emphasized that Vietnamese and Russian enterprises need to do business on a long-term, sustainable and mutually beneficial basis, not in a patchy and temporary way. He believes that trust in political, diplomatic and economic relations between Vietnam and Russia will open new chapters in their relationship.
He emphasized the role of the Intergovermental Committee in coordinating to remove obstacles to facilitate the operation of enterprises. Vietnam is planning to propose an amendment of the FTA between Vietnam and Eurasian Economic Union (EAEU) to create more favorable conditions for trade and investment.
Concerned agencies of the two countries need to encourage trade and investment and strengthen exchanges of business delegations to survey the markets.
"Vietnam Airlines and Vietjet will open a new air route tomorrow from Moscow to Cam Ranh, connecting to Hanoi and HCM City, facilitating the travel of people of the two countries," Phuc said.
"In Vietnam, politics, society and economy are in a stable situation. Vietnam will continue training the labor force and develop infrastructure to facilitate investment and development," he continued.
"We consider Russian investors in Vietnam not only as international investors but also dear friends. Your successes are our aspirations and pride. You are the precious bricks that help build the traditional relationship between two countries," he said.
Agreeing with Phuc, President of Russian Union of Industrialists and Entrepreneurs Alexander Shokhin said the two countries not only need to remove old barriers but also think about seeking new opportunities. This has been discussed within the framework of EAEU.
Sputnik vaccines in Vietnam
On November 1, 2021, with the witness of Vietnamese Deputy Prime Minister Le Van Thanh and Russian Deputy Prime Minister Dmitry Chernyshenko, VABIOTECH, a company belonging to the Ministry of Health (MOH), and SOVICO Group signed a cooperation agreement with RDIF (Russian Direct Investment Fund) on the supply and production of Sputnik vaccines in Vietnam.
The Covid-19 Sputnik vaccine has been produced by Gamaleya Research Institute of Epidemiology and Microbiology in Vietnam.
The agreement includes provisions on the expansion of the supply of Sputnik vaccines in Vietnam and neighboring countries and territories, and cooperation in technology transfer.
More than 1 million Sputnik vaccine doses have been successfully produced in Vietnam.
Earlier, 1.5 million Sputnik vaccine doses were given to people in seven cities or provinces in Vietnam.
Tran Thuong (from Moscow, Russian Federation)
Russian investments are 'precious bricks' that build Vietnam-Russia relations have 885 words, post on vietnamnet.vn at December 2, 2021. This is cached page on VietNam Breaking News. If you want remove this page, please contact us.