While plastic materials are essential for society, pollution poses a serious challenge around the world, and Viet Nam is no exception.
RMIT University academic Dr Burkhard Schrage presents several innovative solutions to this problem based on insights shared at a recent forum hosted by RMIT.
It is estimated that Vietnam discharges more than 1.8 million tons of plastic waste per year, only 27 per cent of which is recycled.
Plastic consumption per capita in Viet Nam has increased more than tenfold from 3.8 kg per person in 1990 to 41.3 kg per person in 2018.
Plastic waste can be seen everywhere – from cities and seashores, to rivers and rice fields.
Circular economy: a sustainable development approach
During the recent Sustainable and Smart Cities Forum 2021 organised by RMIT, experts shared insights on how to address the urgent issue of reducing plastic pollution and the consequences they pose to the environment and human health.
Experts discussed plastic pollution and innovative solutions at the Smart and Sustainable Cities Forum 2021.
Among those experts was Dr Chu Manh Trinh, who is one of the founders of Viet Nam's protected areas, who imparted some of the important ingredients of success from the Cham Islands Marine Protected Area in Hoi An.
Cham Islands Marine Protected Area manager Dr Chu Manh Trinh said that the education of citizens about best practices and the benefit of recycling waste was key to achieving a circular economy, where plastic or other waste could re-enter the economic cycle as valuable products.
Ideally, farmers, households, and communities will be able through this "upcycling process" to increase profits and reduce their environmental footprint at the same time.
That's why his organisation is heavily involved in community training, going into schools and other organisations to teach advocacy tools as well as good practices in recycling.
Jan Zellman, co-founder of social enterprise ReForm Plastic, has demonstrated that it is possible to collect plastic waste, make new products and sell them for a profit.
Zellman emphasised that waste management and recycling could only be successful when a diverse set of stakeholders such as communities, local authorities, and businesses work together.
It is important to define the responsibility of each stakeholder and to make them accountable for a more sustainable process.
The success of recycling even low-value plastic was echoed by Anssi Mikola, one of the panellists and whose company River Recycles catches waste from the world's most polluted rivers and through a process called pyrolysis transforms plastic waste into new products, which can be sold at a profit.
Reuse plastic or non-plastic usage whenever possible
Even though there are now technologies that enable us to recycle plastic profitably, all panellists in the forum panel agreed that the best way to reduce plastic pollution was to not use plastic whenever possible, or to reuse plastic.
Andy Kimpton, director of operations at RMIT University Vietnam, shared some of the practices that successfully reduce the use of plastic.
RMIT University is strongly committed to the United Nations Sustainable Development Goals, and therefore reducing the environmental footprint is of strategic importance.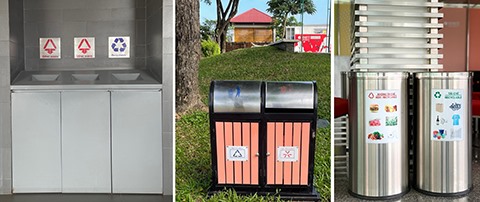 RMIT University took several actions to reduce the environmental footprint including the strict segregation of waste into distinct categories to enable easier recycling.
As a result, the university took several actions. These include the ban of all single-use plastics starting in 2022; for example, there are no plastic forks or plates at food vendors or water bottles in meeting rooms, as well as the strict segregation of waste into distinct categories to enable easier recycling.
Overall, the forum panel has shown that when business and community leaders re-imagine established processes and management tools, people can find solutions for a brighter future with less harm to the environment and human health.
New ways of consuming water and fast-moving consumer goods, new ways of recycling waste, different approaches to stakeholder management, and fundamentally re-thinking the responsibility of companies and organisations is perhaps the most important agenda item in schools, universities, and companies.
Written by: Dr Burkhard Schrage – Senior Program Manager, School of Business & Management, RMIT University.
Plastic pollution: new management and stakeholder approaches needed have 895 words, post on vietnamnews.vn at December 30, 2021. This is cached page on VietNam Breaking News. If you want remove this page, please contact us.