Mondelez Kinh Do continues to make progress towards its ambitious commitments to reducing the environmental impact of packaging and tackling plastic waste.
At present, up to 95% of Mondelez Kinh Do's total packaging, including both plastic and non-plastic, is recyclable and reusable.
The company also has plans on doing validation for lamination film (PP-based material) for its products with sustainability material, as well as packaging material reduction by 20% for any new product development or re-innovation project.
This important milestone contributes greatly to the company's long-term ambition to leverage its scale to reduce the impact on the environment and its commitment to achieving 100% packaging recyclable and labeled with consumer information across its portfolio by 2025.
To realize its commitments, Mondelez Kinh Do has significantly stepped up its efforts to make sustainable packaging not only available but also apparent to consumers.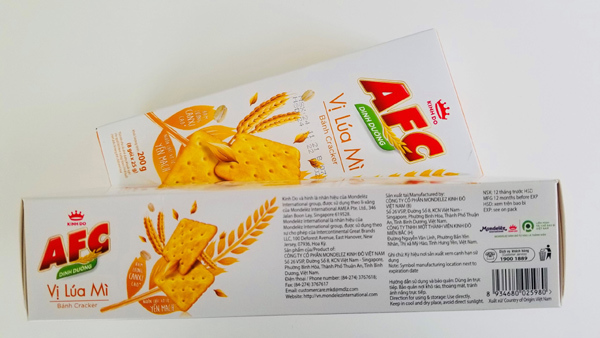 PRO logo is applied on the packaging of Mondelez Kinh Do's products as an affirmation of its eco-friendly packaging.
As a member of the Packaging Recycling Organization Vietnam (PRO Vietnam), a leading initiative focused on driving the circular economy and making recycling more accessible and sustainable, Mondelez Kinh Do takes a leading position in on-pack communication for recycling with transparency.
Accordingly, the company applies PRO logo on the packaging of its products, including AFC, Cosy, Solite, LU, Oreo, Slide, and all products of Kinh Do Tet… as an affirmation of Mondelez Kinh Do's eco-friendly packaging.
According to the "Plastics – A Growing Concern" report recently released by Ipsos, Vietnam plastic waste is amongst the highest in the world. More than 1.8 million tons of plastic are generated in the country annually, while only 27% of which is recycled.
This situation requires local enterprises to take proactive measures to minimize negative impacts on the environment and raise consumers' awareness of reducing plastic waste and proper waste recycling.
"Reducing the environmental impact of packaging and tackling plastic waste are urgent priorities for us, which we take extremely seriously. This priority is in line with our long-term commitment to preserve the planet and meet consumers' aspirations every day," said Mr. Anand Jakati, Director of Supply Chain, Mondelez Kinh Do Vietnam.
"As a member of PRO Vietnam, Mondelez Kinh Do now can better partner and influence our external stakeholders to drive a circular economy for Vietnam. Mondelez Kinh Do team has taken the lead for working on the flexible packaging platform and bring technical know-how as well as the partnership with our peers in a non-competitive way to look for win-win solutions", he added.
Earlier this month, the company made some bold steps forward in ambition to build a more sustainable snacking company. With the commitment to a 2050 target to Net Zero greenhouse gas emissions across the full value chain.
Mondelez Kinh Do will take an end to end approach and will prioritize efforts which drives greatest impact. Some notable interim plans are laid out include: Designing 100% of packaging to be recycle ready by 2025; Sourcing 100% Cocoa volume for chocolate brands through Cocoa Life Program by 2025; Converting manufacturing electricity footprint to renewable energy; Replacing thermal fuels (natural gas, diesel etc.) by 'green alternatives'; Water and food waste reduction programs across the supply chain; Improving efficiency of distribution networks by route optimization, improve container & truck utilization, investing in new mobility concepts, etc.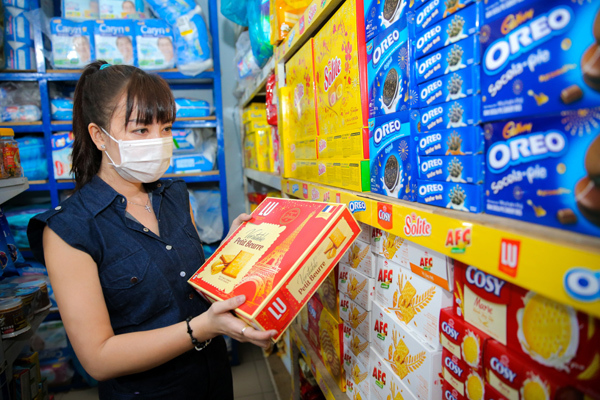 Mondelez Kinh Do has significantly stepped up its efforts to make sustainable packaging not only available but also apparent to consumers.
In Vietnam, the leading snack company pioneers to simplify and use innovative packaging materials to facilitate recycling in existing infrastructure. The company continues to eliminate unnecessary plastic where climate change impact is favorable while delivering product safety and quality.
In recognition of Mondelez Kinh Do's pioneering role in sustainable development in Vietnam, Mondelez Kinh Do has been ranked one of the Top 100 sustainable companies in 2021, based on the Corporate Sustainability Index (CSI) led by the Vietnam Chamber of Commerce and Industry in coordination with the Ministry of Labor, Invalids and Social Affairs, the Ministry of Natural Resources and Environment and the Vietnam General Confederation of Labor.
PV
Mondelez Kinh Do achieves 95% progress on sustainable packaging goals have 782 words, post on vietnamnet.vn at December 6, 2021. This is cached page on VietNam Breaking News. If you want remove this page, please contact us.