Football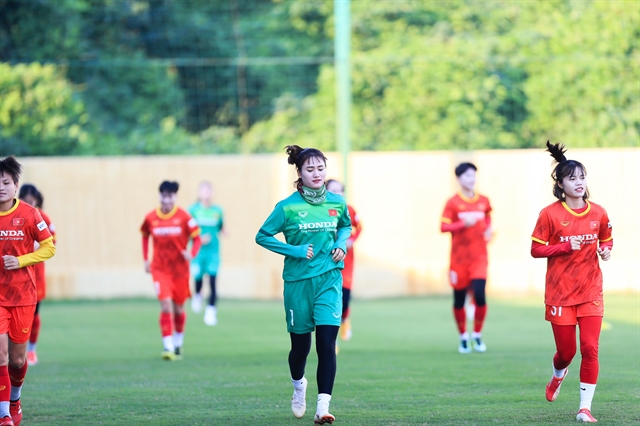 The national women's football team train in Hà Nội ahead of the Asian Cup Finals in India in January. Photo of VFF
Thanh Hà
HÀ NỘI A mixture of experienced players and newcomers will be the perfect formula to help Việt Nam be successful at the Indian 2022 Asian Cup Finals.
The Southeast Asian champions hope their performance at the tournament will gain them a place in the 2023 World Cup for the first time in history.
Việt Nam are in Group C with Japan, South Korea and Myanmar, with the two first considered powerhouses who have dominated the continent for years with Japan going into the competition as defending champion.
Coach Mai Đức Chung and his players have begun their training to prepare for the tournament in Hà Nội. He believes that it would be a difficult task for Việt Nam to secure a direct berth to World Cup here and is aiming to qualify through play-off matches.
"In our Group, every match will be a final for Việt Nam. If we play well, our result will be good," he said.
"The most important match will be again Myanmar, we must have three points and score as many as possible to vie for a play-off place and then hopefully a World Cup ticket."
The tournament which has expanded from eight teams to twelve for the first time will serve as the final stage of Asian qualification for the World Cup.
Five teams will qualify directly for the World Cup via the knockout stage, and two more teams will advance to the inter-confederation play-offs.
A win over Myanmar will place Chung's squad in third place in the group. And a good goal difference will make them one of the two best third-placed teams and advance to the play-offs.
Chung added: "When we play Japan and South Korea, we must concentrate 100 per cent to limit their goals. They are high-ranking teams in Asia. Japan have participated in many World Cups and South Korea have competed three times. They are at a higher level and we must be realistic so that we have suitable tactics."
The 70-year-old coach has called 28 players to train at the Việt Nam Football Federation's Youth Football Centre.
He said: "I have several new faces for the team including the young midfielder Trần Thị Hải Linh. Linh showed her rapid progress at the recent national championship. Others are goalkeeper Đào Thị Kiều Oanh and defender Nguyễn Thị Mỹ Anh.
"I also called on some experienced players like Nguyễn Thị Thu, midfielder Nguyễn Thị Liễu and defender Phạm Thị Tươi who are all recovering from injuries. They will either practise with us or receive extra treatment with national team doctors. Hope that they will get fit soon."
Chung explained that although Việt Nam are in the process of rejuvenation, not all the young players are ready to make the step up. They still need time before replacing the seniors in large events.
"Players such as Tuyết Ngân and Vạn Sự have potential. They have good physique and speed but I want them to practise more and will shoulder the duties in the near future," said Chung.
"Facing powerful teams I need senior players who have competed in international competition and those who are masters in one-on-one situations and aerial duels. We will have to protect our central area well and give no space for their strikers. I think defence and counter-attacks will be effective."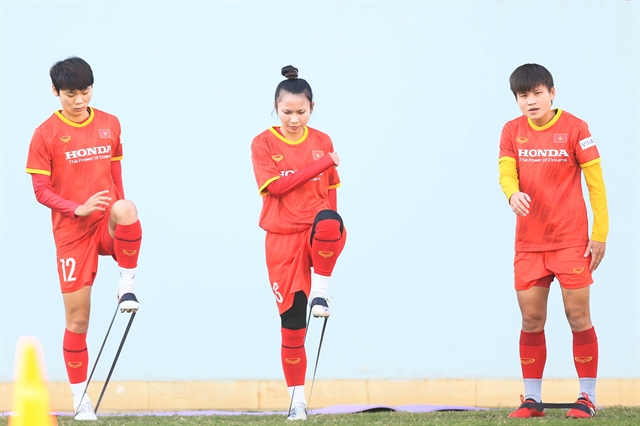 Coach Mai Đức Chung calls the best athletes from the recent national championship to compete at the Indian event. Photo of VFF
Việt Nam have played Japan six times and lost all matches. In their latest meet at the Asian Games in 2018, Việt Nam were defeated by seven goals to nil.
The team also lost nine matches to South Korea with the latest 3-0 loss at the Tokyo Olympics' qualifications.
Việt Nam have never lost to Myanmar.
A win against Myanmar is a base that captain Cù Thị Huỳnh Như believes will be crucial.
"We all are looking towards three points from the finals. It will be a good sign for a good tournament for us," Như told Việt Nam News.
"We were in tough group at the Asian Cup in 2018 in Jordan. We failed to secure a World Cup ticket. This time, the task is even more difficult but I believe we can take our chance although it is a small one."
Như also put her trust in young teammates and believes they would contribute to the national team.
"We just finished the national championship and coach Chung calls several young players. We are all in the best form and the newcomers will bring positive aspects to us," said Như who turned 30 on November 28.
"We are in a good mood and confident to grab the best result in India," said Như.
The team will have three friendly matches and an intensive training course abroad in December before taking part in the Cup from January 20 to February 6. VNS
Chung believes in both junior and senior players at the coming Asian Cup have 1010 words, post on vietnamnews.vn at December 1, 2021. This is cached page on VietNam Breaking News. If you want remove this page, please contact us.