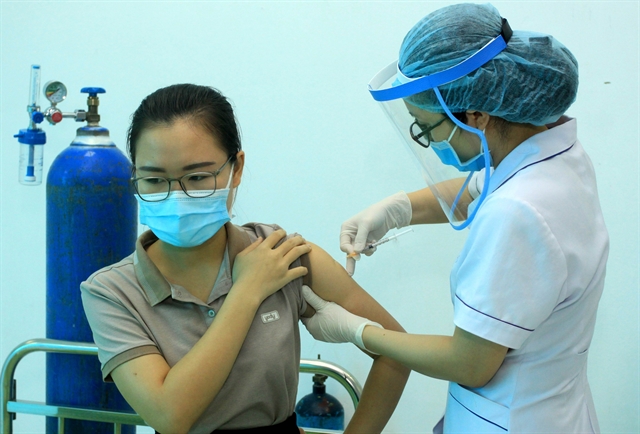 A resident in Thái Bình Province receives a COVID-19 vaccine. — VNA/VNS Photo
HÀ NỘI — The southernmost province of Cà Mau surpassed Hồ Chí Minh City in terms of new infections after the Ministry of Health reported 15,270 new cases of COVID-19 in 60 localities on Thursday.
The three localities with the highest numbers of transmissions were Cà Mau with 1,339, HCM City with 1,175 and Tây Ninh with 932.
The new infections bring Việt Nam's COVID-19 tally since the beginning of the pandemic to 1,493,237, including 1,487,788 in the fourth wave starting late April.
The capital Hà Nội recorded 423 new cases.
Three of the new infections were imported, with 9,888 transmissions detected in the community.
The other localities that reported new infections were: Bình Phước (880), Đồng Tháp (795), Bến Tre (760), Cần Thơ (728), Khánh Hòa (598), Vĩnh Long (597), Bạc Liêu (516), Đồng Nai (479), Trà Vinh (421), An Giang (387), Bình Định (338), Sóc Trăng (334), Tiền Giang (330), Hải Phòng (330), Hậu Giang (313), Bình Dương (275), Kiên Giang (267), Bà Rịa – Vũng Tàu (260), Thừa Thiên Huế (253), Bắc Ninh (252), Đà Nẵng (212), Lâm Đồng (181), Quảng Ngãi (179), Thanh Hóa (157), Đắk Lắk (152), Bình Thuận (150), Gia Lai (128), Quảng Ninh (117), Quảng Nam (106), Lạng Sơn (95), Nghệ An (83), Phú Yên (75), Hà Giang (69), Long An (65), Thái Bình (52), Ninh Thuận (49), Quảng Bình (49), Hưng Yên (46), Thái Nguyên (39), Hòa Bình (34), Quảng Trị (31), Nam Định (29), Tuyên Quang (25), Sơn La (25), Đắk Nông (24), Phú Thọ (24), Vĩnh Phúc (21), Hà Nam (19), Bắc Giang (19), Hà Tĩnh (10), Lào Cai (7), Yên Bái (4), Kon Tum (4), Điện Biên (2), Bắc Kạn (2) and Lai Châu (1).
Health authorities also announced 241 COVID deaths, raising the nation's death toll since the pandemic started last year to 28,857.
A total of 1,033 patients recovered on Thursday, pushing the total number of recoveries to  1,064,461.
Over 59 million people have been fully vaccinated in the country so far. — VNS
Cà Mau surpasses HCM City as Việt Nam reports 15,270 new cases of COVID-19 have 461 words, post on vietnamnews.vn at December 16, 2021. This is cached page on VietNam Breaking News. If you want remove this page, please contact us.