President Nguyen Xuan Phuc left Hanoi on November 25 night to pay an official visit to Switzerland following an invitation of his Swiss counterpart Guy Parmelin.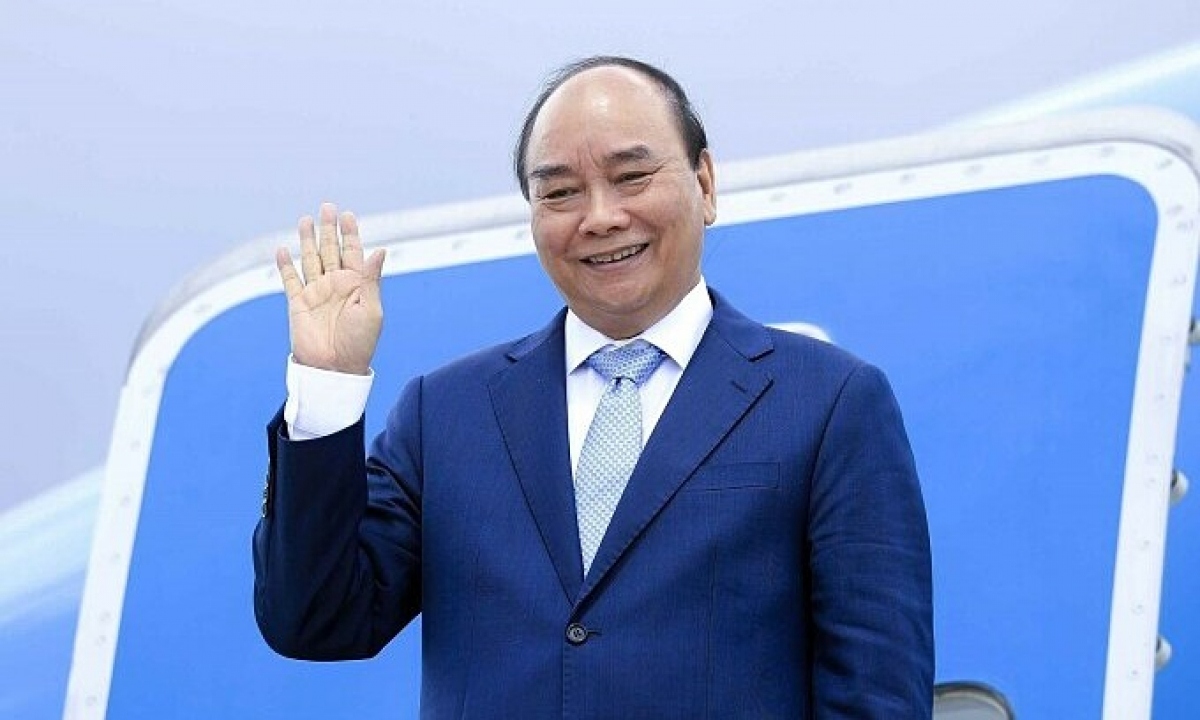 Vietnamese President Nguyen Xuan Phuc

This is Phuc's first official visit to Switzerland in his capacity as President of Vietnam as his trip comes at a time when the two countries are celebrating the 50th anniversary of their diplomatic ties and 30 years of development cooperation.
He is accompanied by Deputy Prime Minister Le Van Thanh, Minister of National Defence Phan Van Giang, Chairman of the Presidential Office Le Khanh Hai, Minister of Industry and Trade Nguyen Hong Dien, Minister of Education and Training Nguyen Kim Son and Minister of Science and Technology Huynh Thanh Dat.
The entourage also include officials from many ministries, agencies of the Party, the National Assembly, and some provinces and cities.
During the visit, both nations' leaders will discuss a score of measures to promote the cooperative partnership in a substantive manner across multiple fields such as politics – diplomacy, trade and investment, development cooperation, culture – education.
President Phuc's visit to Switzerland to affirm the foreign policy defined by the 13th National Party Congress, which pursues independence, diversification and multilateralization of external relations, while further deepening bilateral relations, consolidating trust and enhancing Vietnam's role in multilateral institutions through proactive engagement and active contribution.
The visit is a very special opportunity for the two countries to work together to find solutions to accelerate the early signing of a Free Trade Agreement between Vietnam and the European Free Trade Association which comprises of Switzerland, Norway, Iceland and Liechtenstein, so as to open up new cooperation opportunities, and fully tap great potential in the fields of trade, investment, sustainable development, innovation and digital transformation between the two nations.
Over the past three decades, Switzerland has maintained development aid and economic cooperation with Vietnam with a total funding amounting to US$600 million.
In March 2021, Switzerland announced the Switzerland-Vietnam Development Cooperation Programme for 2021-2024 with an ODA fund of CHF70 million (roughly US$75 million).
Last August, Switzerland also provided emergency aid to Vietnam with 500,000 nCoV rapid test kits, 300,000 antibacterial masks and 30 oxygen ventilators with a total value of about VND120 billion.
President Nguyen Xuan Phuc's official visit to Switzerland is expected to create fresh impetus to bringing bilateral cooperation to new heights in the time ahead.

President Phuc departs for official visit to Switzerland have 506 words, post on dtinews.vn at November 26, 2021. This is cached page on VietNam Breaking News. If you want remove this page, please contact us.