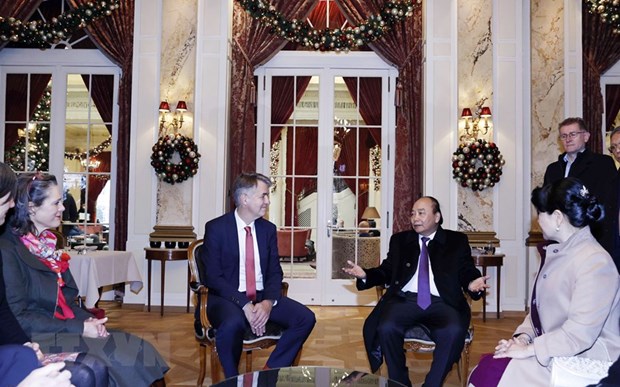 President Nguyễ Xuân Phúc (second, right)  receives Mayor of Bern Alec Von Graffenried. — VNA/VNS Photo
Bern — President Nguyễn Xuân Phúc has proposed the authorities of Bern and Hà Nội cities further strengthen their cooperation, especially in urban management, during a meeting with Mayor of Bern Alec Von Graffenried on Saturday.
The Vietnamese leader suggested Bern city's authorities cooperate with 12 Vietnamese localities, which boast UNESCO-recognised world cultural heritages, in preserving and upholding cultural values, as well as promoting these heritages in Switzerland to attract more tourists from Switzerland and other European countries.
The President emphasised that creating conditions for the two countries' people to understand more about each other is a sustainable foundation for the relationship.
Graffenried said although that Bern is a small city, it has ac big heart for Việt Nam. The city's authorities will continue to work with their Hà Nội counterparts to further strengthen their long-standing cooperation.
Earlier the same day, President Phúc had also meetings with former Swiss President Schneider Ammann, and Honorary Consul of Việt Nam in Switzerland Philipp Roesler, who is former Deputy Prime Minister, former Minister of Economy and Science and Technology of Germany.
Ammann, who is also former Minister of Economic Affairs of Switzerland, and Roesler highly valued Việt Nam's achievements in socio-economic development and international integration in recent years, which have helped Việt Nam confirm its role and position in the region and the world.
They said that there remains great potential for Việt Nam to further expand cooperation with Switzerland and Germany in the future.
President Phúc thanked Ammann for his sentiments and support for the development of Việt Nam-Switzerland ties in his capacity as Swiss President and Minister for Economic Affairs.
The Vietnamese leader expressed his hope that Ammann will further support the enhancement of the bilateral ties, especially in priority economic and trade areas.
President Phúc congratulated Roesler on his appointment as Việt Nam's first Honorary Consul in Switzerland, and lauded his efforts in promoting German and Swiss investments in Việt Nam.
Roesler pledged to try his best to enhance relations between Việt Nam and European partners and Switzerland in particular.
The Vietnamese President suggested Ammann and Roesler actively support the early conclusion of the talks and signing of a free trade agreement between Việt Nam and the European Free Trade Association (EFTA) to create momentum for the Việt Nam-Switzerland economic cooperation, especially as the two countries are prioritising the enhancement of economic-trade ties to recover their economies post COVID-19.
Both Ammann and Roesler pledged to contribute to speeding up the negotiations and strengthening the bilateral economic links.
Also on Saturday, President Phúc received leaders of DKSH Holding AG, a Switzerland-based company that provides market expansion services, during which he suggested the group continue its investments in Việt Nam and boost exports in the future.
All possible support for Swiss firms
During his ongoing visit to Switzerland, President Nguyễn Xuân Phúc received executives of several leading Swiss enterprises in the fields of infrastructure, heavy industry, high technology, electricity and pharmaceuticals in Bern, where he stated that Việt Nam will offer all possible support for Swiss firms to cooperate with Vietnamese partners.
Phúc said at the 26th United Nations Climate Change Conference (COP26), Việt Nam committed to reducing greenhouse gas emission to zero by 2050. The country advocated developing clean and renewable energy such as solar and wind power, especially offshore wind power.
Việt Nam wants Swiss hi-tech firms to grasp opportunities in these fields, he said, adding that as the country wants to develop infrastructure to connect economic regions, he also expected more Swiss investment in this field.
Suggesting the Swiss Government offer financial assistance to encourage firms to seek long-term opportunities in Việt Nam, he wished that Swiss firms would raise their voice on this issue and push forward negotiations toward the early signing of the Free Trade Agreement between Việt Nam and the European Free Trade Association (EFTA), thus opening up opportunities for trade and investment activities.
The Vietnamese leader also hailed Swiss companies for assisting Việt Nam in the transfer of vaccine and medicine production technology, saying that it benefits both sides as well as helps save cost and time.
Executives wished to partner with Vietnamese firms in the production of vaccines and medicines and other fields in Việt Nam. — VNS
President meets Mayor of Bern, leaders of Swiss group have 867 words, post on vietnamnews.vn at November 28, 2021. This is cached page on VietNam Breaking News. If you want remove this page, please contact us.