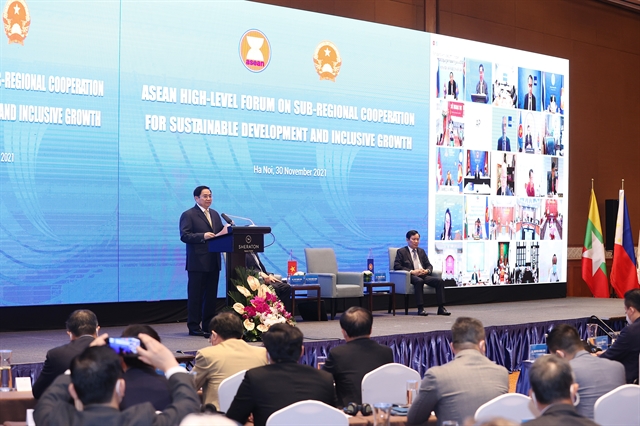 Prime Minister Phạm Minh Chính speaks at the forum. — VNA/VNS Photo
HÀ NỘI — Prime Minister Phạm Minh Chính called for enhanced solidarity and cooperation among nations to ensure inclusive and sustainable growth while addressing an ASEAN High-level Forum on Sub-regional Cooperation in Hà Nội on Tuesday.
This is the first ever ASEAN forum on Sub-regional Cooperation for Sustainable Development and Inclusive Growth which was hosted by Việt Nam both online and in-person to create a venue for member countries, partners, regional and international organisations as well as the business community to discuss and define opportunities, challenges, potential and orientations to promote development cooperation in the sub-region.
Participants at the forum included Lao Prime Minister Phankham Viphavanh; Cambodian Deputy Prime Minister and Minister of Foreign Affairs and International Cooperation Prak Sokhonn, on behalf of Cambodian Prime Minister Samdech Techo Hun Sen; ASEAN General Secretary Lim Jock Hoi and representatives of partners and regional and international organisations.
PM Chính proposed three priorities for promoting sub-regional cooperation. First, taking people as the centre, target and motivation for development. Second, enhancing regional and international cooperation to improve capacity ensuring sustainable development in sub-regions and suggesting ASEAN member countries, partners, regional and international organisations and the business community actively support and help developing countries in sub-regions in terms of financial resources, technology transfer, particularly high technology and green technology in order to conserve natural resources and cope with challenges. Third, boosting connection in infrastructure, economy and culture to speed up the narrowing of development gaps, creating conditions for people's lives and economic development in sub-regions.
He stressed that promoting connection, economic integration, green growth, environmental protection, sustainable use and management of resources, coping with climate change, digital transformation and tourism were among key items that ASEAN member countries, partners and regional and international organisations should focus on.
Over the past decades, ASEAN and its members had always paid attention to narrowing the development gap and promoting the implementation of the ASEAN Integration Initiative, he said.
Countries in the region, with close geographical positions, rich in culture and sharing similarities in natural conditions, created sub-regional cooperation frameworks such as the East ASEAN Growth Area, Indonesia-Malaysia-Thailand Growth Triangle, the Ayeyawady-Chao Phraya-Mekong Economic Co-operation Strategy (ACMECS), the Greater Mekong-Subregion (GMS) and the Cambodia-Laos-Vietnam Development Triangle, the PM said.
During the forum, participants focused on two main topics, including enhancing sub-regional cooperation in ASEAN towards recovery which gave an overview of opportunities and challenges in narrowing the development and cooperation gap and put forward orientations to further promote the role of ASEAN in this process, particularly in the context of ensuring sustainable development and comprehensive recovery post-COVID-19.
The second topic focused on measures to enhance the relations between ASEAN and partners and relevant parties in developing the sub-region and narrowing the development gap.
Participants agreed with the need to tap cooperation potential of sub-regions to create business and investment opportunities for enterprises inside and outside the regions.
Some new cooperation models were recommended by partners, including fostering dialogue and exchanges between ASEAN and partners about sub-regional development cooperation in the new period in order to implement contents of agreements reached at the forum.
UNDP Resident Representative in Việt Nam Caitlin Wiesen said: "There is an urgent need to address interlinked global challenges like climate change, biodiversity loss and the risk of pandemics. Acting on their own, individual countries cannot meet these challenges. But collectively, with a renewed effort to strengthen regional and global cooperation, we can succeed. ASEAN is an outstanding example of regional and South-South cooperation."
Greater coordination and coherence was needed to strengthen the region's response to COVID-19 and inclusivity would require heightened efforts to ensure free and universal access to vaccinations and therapeutic drugs when they become available, she said, adding that ASEAN could lead the way in negotiating a voluntary licensing arrangement for vaccines and medicines to facilitate the transfer of technology to companies in the region.
ASEAN countries could also work together to ensure safe movement of people across international borders through the adoption of reliable vaccine passports, and timely and reliable flow of information between countries, she said.
"We must redouble our efforts to increase and prioritise investments in areas that will generate high returns in terms of realising the SDGs, including social protection and assistance, education and health, essential infrastructure, green technology and economy, digitisation and governance," she said.
Participants appreciated Việt Nam's role in promoting development cooperation in sub-regions for the goals of narrowing the development gap and equal and sustainable development within ASEAN.
Recommendations at the forum will be submitted to ASEAN leaders for consideration. — VNS
PM calls for enhanced cooperation to boost sub-regional growth have 914 words, post on vietnamnews.vn at November 30, 2021. This is cached page on VietNam Breaking News. If you want remove this page, please contact us.