The online film week called "The 22nd Vietnam Film Festival on VTVGo" is taking place this week attracting various domestic films on show from now until Saturday.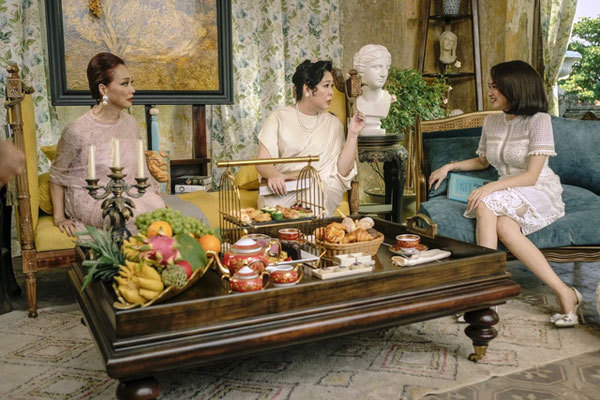 A scene from Gái Già Lắm Chiêu V – Những Cuộc Đời Vương Giả (The Tricky Ladies V: Luxurious Lives), a comedy-drama by young directors Bao Nhan and Nam Cito. The film is among a series of Vietnamese films being shown in the online film week called "The 22nd Viet Nam Film Festival on VTVGo" which takes place from November 14-20. Photo courtesy of the producer
The event is among cultural activities to celebrate the 22nd Vietnam Film Festival, which opens online in the central province of Thua Thien Hue tomorrow.
The week features Vietnamese productions in the categories of feature films, documentaries and animes. They will be screened on video streaming platform VTVGo.
Highlighted feature films include Gái Già Lắm Chiêu V – Những Cuộc Đời Vương Giả (The Tricky Ladies V: Luxurious Lives) and Song Song (Two Faces).
Gái Già Lắm Chiêu V – Những Cuộc Đời Vương Giả, a comedy-drama about love and women, is directed by young artists Bao Nhan and Nam Cito.
The duo hired A-list actresses Le Khanh, Hong Van, Kaity Nguyen and Ninh Duong Lan Ngoc who have helped to attract fans since the staff began filming their first scenes in Hue City last year.
The producer, Thien Ngan (Galaxy) Studio, spent VND46 billion (US$2 million) on production.
Its official trailer was released on YouTube in December and has attracted more than 1.7 million viewers.
The thriller Song Song is about a married woman who loses her memory after a traffic accident.
The story of the film, directed by Nguyen Huu Hoang, refers to "the butterfly effect", a hypothetical situation that illustrates how small initial differences may lead to large unforeseen consequences over time.
The film stars Nha Phuong who won the Golden Kite Award for Best Featured Film Actress in 2019 from the Vietnam Cinematography Association.
Another hit is Ranh Giới (Boundary), a documentary film by director Ta Quynh Tu of the Vietnam Television (VTV).
The film features stories of health workers helping pregnant women with COVID-19 at Hung Vuong Hospital in HCM City.
It aired on VTV's channel 9 in September and left a strong impression on Vietnamese audiences at home and abroad.
"I think that life has certain boundaries. Will, faith and love make us overcome these boundaries in some way," said the film's director Ta Quynh Tu in an interview with local media.
"Health workers' great sacrifices will help audiences see the fierce reality, and people will be more aware of the spirit of solidarity through these very human stories."
Source: Vietnam News
Online Vietnamese film week launched have 614 words, post on vietnamnet.vn at November 17, 2021. This is cached page on VietNam Breaking News. If you want remove this page, please contact us.