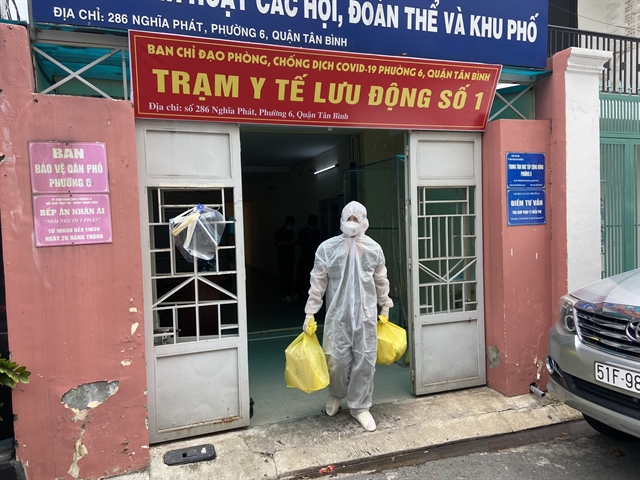 A mobile medical station in HCM City's Tân Bình District. The city is working on a scheme to have the private health sector become more involved with the care of COVID-19 patients at home. — VNA/VNS Photo Mạnh Linh
HCM CITY — HCM City's Department of Health is working to expand the involvement of private healthcare in home-based care of COVID-19 patients in an effort to reduce the burden on public health stations.
Nguyễn Thị Huỳnh Mai, chief of office at the city's department, said that all private clinics can partake in this pilot programme. The plan will be submitted to the city for approval.
HCM City has 319 fixed medical stations and more than 340 mobile stations that care for COVID-19 patients at home. Staff at the stations come from the city's hospitals and district-level medical centres, and they can be mobilised for different areas if necessary.
Many health care stations are under strain due to the rising number of COVID-19 patients, and some are asking patients to visit the stations for medicine since they cannot easily deliver them to households.
Private hospitals have been taking part in the city's fight against the pandemic by admitting COVID-19 patients, and doctors from various private hospitals have also registered for HCM City's programme to provide free medical check-ups and consultations to locals via mobile phones.
HCM City, the country's COVID epicentre, has been seeing a rising number of new daily cases since October 1, when it began easing COVID prevention restrictions.
Phạm Đức Hải, deputy head of the city's steering committee for COVID-19 prevention and control, said that while the numbers of new daily cases and deaths are still relatively high, "the city is keeping the pandemic under control, and it is prepared to deal with a rising caseload".
As of November 29, the city had nearly 6,200 patients in concentrated quarantine zones, and more than 66,800 patients being treated at home. More than 370 of them are on ventilator support. — VNS
HCM City: Private healthcare sector to help with home-based care of COVID-19 patients have 477 words, post on vietnamnews.vn at November 30, 2021. This is cached page on VietNam Breaking News. If you want remove this page, please contact us.