Using the same ECMO (extracorporeal membrane oxygenation) machine for two patients was a daring decision by doctors at Hospital 175 which brought wonderful results: both the patients were saved.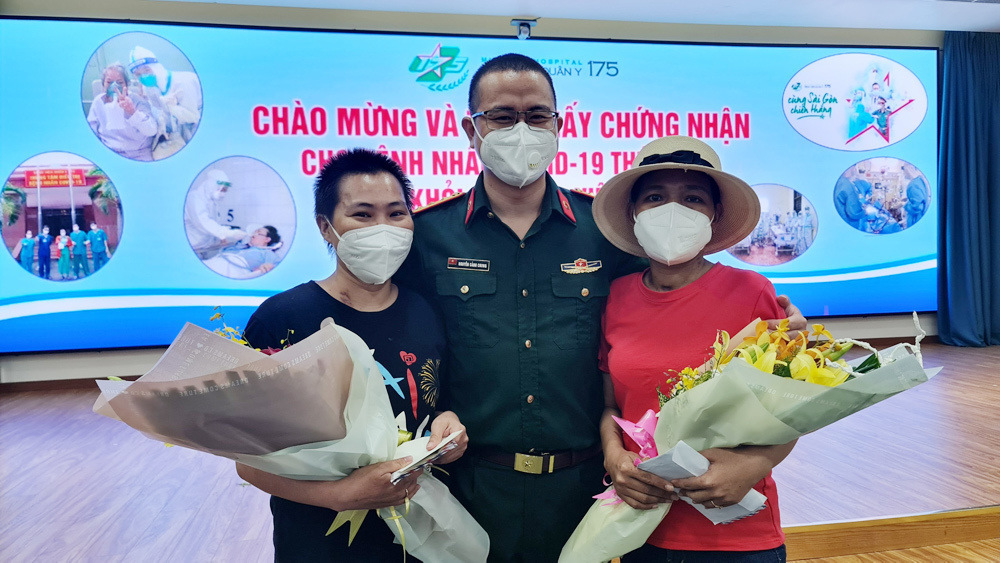 The female patients and the doctor who save their lives
On a peak day of the fourth Covid-19 outbreak, on August 6, Military Hospital 175 in HCM City received a female patient – Ngoc Hoai, 33. She had just given birth at Tu Du Hospital and was suffering from respiratory failure because of Covid-19 when hospitalized.
"The treatment faced a lot of difficulties," Dr and Major Diep Hong Khang recalled.
"The vital signs of the woman showed that if she had not had ECMO intervention, she would have definitely died," Khang said.
However, at that moment, there were only two ECMO machines and they were being used for two other patients. The lack of medical equipment during the peak days of the outbreak affected the treatment process.
"It was so dangerous. What should we do to get ECMO for all three patients? The professional conscience of doctors prompted us to take full advantage of all the things we had at that moment to save the patients," Senior Lieutenant and Dr Nguyen Canh Chung said.
A bold initiative – sharing the same ECMO machines for two patients – was put into discussion. The Covid-19 treatment center then immediately consulted with specialists from the Ministry of Health (MOH), Cho Ray Hospital and engineers about the idea.
Soon after getting the agreement from the specialists, the doctors at Hospital 175 set to do something unprecedented.
On August 8, from 8.15pm to 9pm, the team completed the work of successfully connecting the ECMO for the patients. It was a long and stressful time for the whole team.
Hemodynamic and blood oxygenation indicators improved markedly. The doctors felt happy about the success, but had to experience tougher hours later.
The woman had faced problems during the two months of treatment at the Covid-19 Treatment Center because of blood clotting disorders, infections, severe pneumonia, and abdominal bleeding.
Captain Pham Tan Dat, Deputy Head of the Intensive Care Unit, said there were moments when doctors thought they had to give up.
"During the first surgery, she lost three liters of blood. And then she had to experience two more surgeries, which were carried out when the ECMO was running," Dat said.
After 45 days of using ECMO, including 18 days of sharing the machine, the patient was able to breathe on her own.
"This was really a special case. Hoai only had one percent of hope. But we have succeeded," Dat said proudly.
The mother has been discharged from the hospital and her baby is now two months old.
Linh Giao
ECMO machine shared between two patients: daring decision brings life have 594 words, post on vietnamnet.vn at October 16, 2021. This is cached page on VietNam Breaking News. If you want remove this page, please contact us.