Businesses all want to resume economic activities but experts say the reopening of the economy must be done with a specific roadmap and that haste will lead to failure.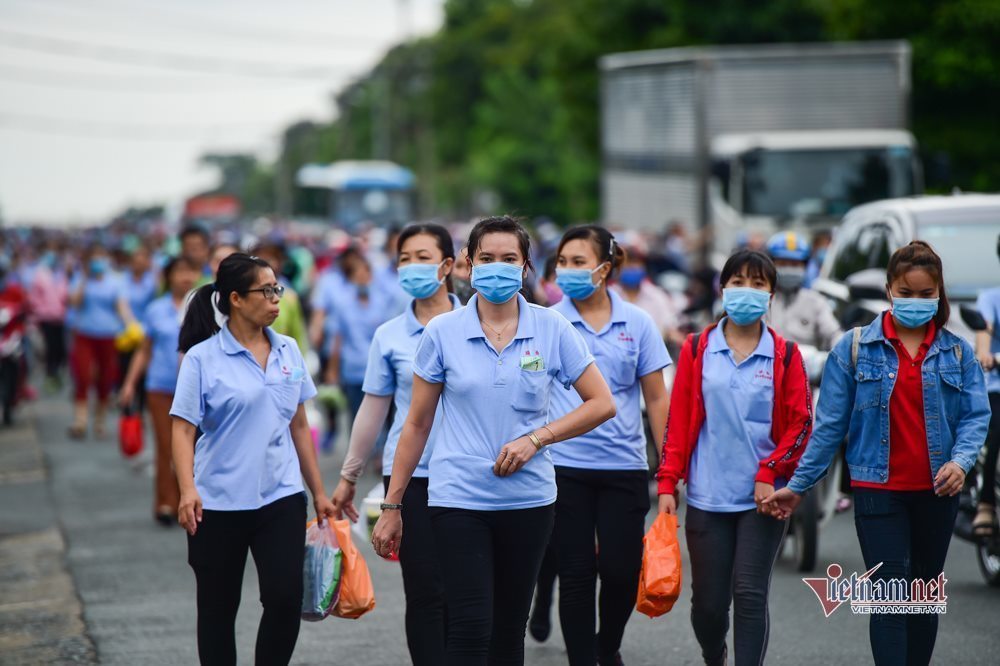 Tran Thanh Son, head of the HR Division of Song Ngoc Garment Company, keeps a notebook about the changes in his workforce at his company. After 75 days of implementing the 'three on-the-site' production mode, the enterprise is drawing up a 'soft adaptation' plan if HCM City reopens after September 15.
Since 35 percent of workers left their jobs during the 'three on-the-site' time, the company has had to recruit more workers. The workers must test negative to coronavirus, and at first, they stay in a separate buffer zone. After a certain time, the workers step by step mix with the existing workforce.
The enterprise is drawing up a plan to 'live together with the pandemic'. It is considering a production plan with requirements higher than that set by state agencies in anticipation of problems. The 'three on the site' model will still be applied with 'flexibility'.
"Reopening the economy is in the mind of many business owners. However, the reopening needs to be made step by step. If our workers still don't have two vaccine shots, they will still have to stay in factories. Doing business is important, but people's lives are the most important," Son said.
Production organization
Nguyen Hoang Dung, a respected economist, also thinks the reopening of the economy must go in accordance with a roadmap. State agencies need to stipulate which business fields will be reopened first and which will be reopened later.
He suggested that state agencies issue 'licenses' or grant the 'right to organize production during the pandemic'. The licenses need to be issued step by step.
The licenses will clearly point out the activities that enterprises can carry out, the production process, transport routes, related products and the level of production allowed.
He said that the reopening should be implemented only when requirements can be satisfied, or it will cause serious consequences. If the pandemic developments become more complicated, enterprises may earn one dong but would have to spend 10 dong to treat disease.
Deputy Head of the Vietnam Research Institute for Development Pham Binh An affirmed that 'living together with the pandemic' is the only choice. Vietnam needs to prepare its healthcare system, production organization and awareness about the issue.
He believes that it would be better to give autonomy to enterprises to organize production. The State will support enterprises and solve problems so that enterprises can recover step by step.
Chair of the HCM City Hepza Business Association Nguyen Van Be also thinks that it is not feasible to strive for a 'zero covid' situation.
Nearly 700 factories and buisinesses operating 'three on the site' and 'one route two locations' in 18 IZ (industrial zones), hi-tech parks and EPZs (export processing zones) want to recover the economy but need to face the fact that they have to 'live with the pandemic'.
On June 20-25, about 300,000 workers in IZs and EPZs got the first vaccination shot and they now need the second shot. The workers will serve as a 'solid stronghold' in production when the economy is reopened.
Be has also suggested the establishment of field hospitals in IZs, EPZs and hi-tech zones. At present, when 4-5 Covid cases are discovered, an enterprise with thousands of workers may be forced to close its doors. If field hospitals are set up, this will not happen. If positive cases are found, it's necessary to localize one production line or workshop, while field hospitals will undertake the other requirements as guided by the Ministry of Health (MOH).
Enterprises will have to recruit workers again. Some stages and links of production and supply chains have been disrupted.
"The enterprises will be starting up for the second time," he said.
Tran Chung
Reopening of the economy must be implemented gradually: experts have 758 words, post on vietnamnet.vn at September 10, 2021. This is cached page on VietNam Breaking News. If you want remove this page, please contact us.