Drawing spreads love amid pandemic
A drawing with the words "Our family has enough food, please give it to anyone in need" has gone viral on social networks recently. This small but meaningful act spreads a message of love, solidarity, and sharing with Vietnamese people facing difficulties, helping to magnify the determination to win out against the pandemic.
The smile on the little girl's face is also from belief and hope that one day Ho Chi Minh City and the whole country will return to some semblance of normality. The simple but meaningful action has helped ease people's anxiety about the disease./.
Japanese city popularises Vietnam ahead of Paralympic Games
Authorities of Kokubunji city, west of Japan's Tokyo capital city, on July 31 held an event to help local people understand more about Vietnam prior to the 2020 Tokyo Paralympic Games.
In an interview with the Vietnam News Agency's correspondent, Mayor Izawa Kunio said as Japan and Vietnam have been nurturing a sound friendship, local residents want to cheer for the Vietnamese teams at the Tokyo Olympics and Paralympics, hoping that the athletes will spare no efforts to achieve outstanding results.
The event will be held on August 1, 28 and 29. Participants will write their encouragement messages to the Vietnamese athletes.
In 2019, the city and the Vietnam Sports Administration inked a memorandum of understanding on training for Vietnamese swimmers with disabilities ahead of the Paralympics.
The Tokyo 2020 Olympics, started on July 23, will close on August 8. Meanwhile, the Paralympics will take place from August 24 to September 5./.
More skills needed for Vietnam's labour force
The quality of skilled labour in Vietnam is still not meeting minimum standards, according to Le Thi Xuan Quynh, an official from the Central Institute for Economic Management.
Quynh said currently, the quality of Vietnam's labour resources was still very low, reaching only 46 out of 100 points, ranking it number 103 in the world and far behind the ASEAN-4 group.
The country's vocational education and training sector was equipping learners with fundamental theoretical knowledge but was lacking in skills related to specific occupations, she said.
Do Thi Thuy Huong, a member of the Vietnam E-Business Association said that low labour costs and natural resources would no longer be an advantage for Vietnamese electronic businesses moving forward.
Businesses instead would require highly skilled workers and vocational education and training institutions needed to develop a programme of equipping workers with "soft" skills such as loyalty, responsibility, and communication, Huong said.
In May 2020, the Prime Minister issued a directive on promoting the development of skilled human resources that would contribute to improving labour productivity and increasing national competitiveness.
Localities were tasked with effectively implementing mechanisms and policies to develop vocational education and human resources. The directive said they should focus on undergoing digital transformations including developing online training.
Regular training and retraining of the workforce were also recommended. It was recommended that learners get professional, digital, and entrepreneurship skills as well as in foreign languages.
Vietnam has set the targets that the vocational education sector will reach the level of ASEAN-4 countries of Singapore, Malaysia, Thailand and the Philippines by 2030 and by 2045 reach the level of G20 countries./.
Cuban leader thanks Vietnam, int'l friends for support
First Secretary of the Communist Party of Cuba (PCC) Central Committee and President of Cuba Miguel Díaz-Canel Bermudez has expressed his gratitude to Vietnam and other international friends for their support for the Caribbean nation in times of hardship.
In his Twitter account, the Cuban top leader wrote that the solidarity between Cuba and others has been strengthened during difficult times, voicing his gratitude to governments and peoples that have helped Cuba.
He also shared an article of Granma daily newspaper, the official mouthpiece of the PCC, which highlights assistance for Cuba in the last few days.
The newspaper cited an announcement by Vietnamese Prime Minister Pham Minh Chinh on presenting 12,000 tonnes of rice to Cuba, in which he said that Vietnam will stand side by side with the Carribean country.
Other countries such as Bolivia, Mexico, Nicaragua and Russia and numerous organisations have sent aid to Cuba, Granma reported./.
Vietnamese PhD students in Russia research post COVID-19 recovery model
An experience exchange on treatment and management during the COVID-19 pandemic combined with the introduction of post-COVID-19 recovery model for patients with severe pneumonia was organised at Pletnev hospital, Moscow.
Vietnamese Ambassador to Russia Dang Minh Khoi and other health practitioners, officials of the Embassy of Vietnam in Russia, and academicians of the Russian Academy of Sciences attended the event.
On behalf of the research team, Vietnamese PhD student at Moscow Medical University 2 Truong Thi Tuyet introduced a model of pulmonary rehabilitation utilising three gases including Helium, Hydrogen and Nitric Oxide. According to the report, this breathing support model has shown very positive results in the treatment of patients, helping their lungs recover significantly in a short time.
Speaking at the event, Ambassador Khoi said Vietnam has taken interests in the experience of Russia scientists in combating the pandemic. The two sides had detailed and specific discussions regarding the application of COVID-19 treatment and prevention measures to curb the spread of the disease and bring people's lives back to normal./.
Vietnamese, Cambodian police enhance ties amidst COVID-19
Police of the Central Highlands province of Dak Nong on July 30 presented gifts and medical supplies worth 100 million VND (4,300 USD) to help their counterpart in Cambodia's Mondulkiri province fight COVID-19.
The hand-over ceremony was held at a border marker along the Vietnam-Cambodia border in Tuy Duc district.
Colonel Bui Quang Thanh, Director of Dak Nong's Police, suggested the two sides work harder to guarantee security and order along the border, thus tightening the friendship between the two provinces as well as the fine neighbourliness between Vietnam and Cambodia.
Lauding cooperation between the forces of the two provinces over the past time, Thanh expressed his hope that the relationship will be lifted to a new high in the time ahead.
Lieutenant-General Lao Sokha, Director of Mondulkiri's Police, thanked his Vietnamese colleagues for their sentiments and timely, practical support which, he said, serve as a source of encouragement for his staff to full their tasks.
Mondulkiri's police will continue the close coordination with their counterpart in Dak Nong across spheres, contributing to ensuring security and order along the common border, he pledged./.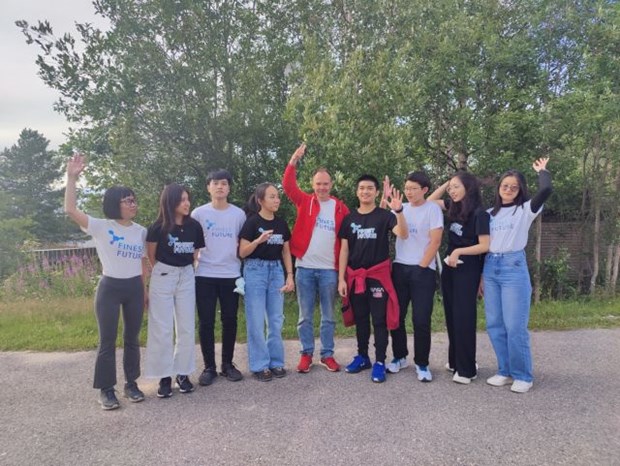 Peter Vesterbacka, FHSP programme manager (centre), with Vietnamese students who have qualified for the Finnish high-school scholarship intake 2021. (Photo courtesy of the Finland High School Programme)
Finnish education programme offers scholarships for Vietnamese high school students
Finnish educators are looking forward to welcoming more and more Vietnamese high-school students to study in their country, which is known as the world's happiest nation and for having high standard of education.
The Finland High School Programme (FHSP), an initiative by Finest Future of Finland, a multi-national consultant company to promoting Finnish high school education in Vietnam and others countries in Asia, is providing hundreds of scholarships for outstanding international students, particularly those from Vietnam for the 2022 intake.
The 2022 intake has opened applications until September 30, 2021. It expects to welcome as many Vietnamese students as possible to join.
"The FHSP connects international students with Finland high schools and offers them opportunities to start their academic journey there. Students joining the programme will be sponsored with 100 per cent of tuition fees for all high school years," said Peter Vesterbacka, FHSP programme manager and Finest Future Chairman.
Vietnamese students including those in the 9th and 10th grade, joining the scholarship programme will have free access to high school study, as well as enjoy the advantages of a high-quality curriculum and modern facilities in schools across Finland, according to the FHSP.
Parents sending their children to study in Finland can also apply for a resident permit to live with them during their high school years.
After completing the three-year education, the students are prioritised to have more chances to get free access to world-renowned higher education such as universities and appliant colleges. They can also choose to study in a high school offering a straight pathway to a partner university or stay and start working in Finland.
CEO of Finest Future Vietnam JSC Tuomas Tiilikainen said: "We are constantly building more partnerships with Finnish high schools as we want to provide this opportunity on a large scale in Vietnam."
Vietnamese Ambassador in Finland, Dang Thi Hai Tam who has especially supported the programme, highlighted the efforts by FHSP and the Finest Future team in helping Vietnamese students to access the Finnish high school education.
"To implement the FHSP is hard work. But within a year, Finest Future and its team had achieved very encouraging initial results. I say 'hard work' because high school age is a transitional milestone for every human being. Many parents think that this time is too early for their children to leave the family, especially in Asian culture which has long-term parental protection and not focusing on teaching children to live independently from a young age," said Tam.
"However, this is the time when you can acquire knowledge in a fundamental way, a big decision for your strength in your studies and career later. If you have access to a good education like Finland and have your own determination and motivation, I believe that participating in this programme will open up a bright future for you."
The high school programme is flexible, from two to four years, with 150 credits. After graduation, there are always open pathways for any student to get a permanent residency and become a Finnish citizen.
The programme successfully piloted the first version- FHSP 2021- when it welcomed about 16 Vietnamese and Uzbekistan students to study in Finland.
Seven Vietnamese students receiving the FHSP scholarships were selected from hundreds of candidates across the country. They have now arrived in Finland and are ready to prepare for their opening school year.
For more information about the programme visit the Finest Future website or email [email protected]
Finland is home to 380 high schools of equally top quality, regardless of the size and location of the school. All students will study with master-certificated teachers using innovative teaching methods, allowing them to have equal growth and gain an entrepreneurial mindset./.
"Zero VND supermarket" provides great joy to needy
The Hanoi Labour Confederation launched a "zero VND supermarket on a bus" to support workers affected by COVID-19. A few days on, the buses have brought essential items to help more than 2,500 pandemic-hit workers under quarantine or facing difficult circumstances.
Workers at SEI Electronic Components Vietnam LTD at the Thang Long Industrial Park in the capital are now under 21-day quarantine after a worker contracted COVID-19. The "zero VND supermarket on a bus" has gone a long way to easing the burden many face during these tough times.
Members of the labour confederation and furloughed workers will each receive a 8.75 USD gift of essential items. To put the support packages together, the city's Labour Confederation worked closely with relevant organisations as well as businesses to help members of the confederation in a timely fashion.
The measure will be piloted for ten days, providing support to some 20,000 workers.
Meanwhile, the staff of Command of Military Region 9 organised a "zero VND" booth in Can Tho city from July 28 to 30, distributing 500 support packages worth 500,000 VND (21.80 USD) each to the disadvantaged in the city.
Such 'Zero dong supermarkets and booths' are expected to provide joy to pandemic-hit workers during the fourth wave of Covid-19 in Vietnam./.
2021 a very special year for Swiss-Vietnamese partnership: Ambassador
On the occasion of the National Day of Switzerland (August 1), the upcoming visit to Vietnam by the European country's Vice President and Foreign Minister Ignazio Cassis, and the 50th anniversary of the bilateral diplomatic relations, Swiss Ambassador to Vietnam Ivo Sieber wrote an article describing 2021 as a "very special" year for the Swiss-Vietnamese partnership. Following is the full text:
Commemorating a national day is an exceptional event for any country. On August 1, Swiss nationals in Switzerland and all over the world proudly remember the founding of their country in 1291. Observing this year's Swiss national day here in Vietnam is singularly special. Not only is Switzerland reminiscing the 730th centenary of its foundation. This year, Vietnam and Switzerland are also looking back on half a century of bilateral diplomatic relations. Moreover, 2021 also marks three decades of Swiss-Vietnamese development cooperation.
Today, we look at a wide range of cooperation between the two countries, including between companies and individuals from academia, culture and civil society at large. Economic relations have taken a central stage, as Vietnam has been very successful in spurring its economic development and is an attractive partner for Swiss business. Global challenges like climate change and the COVID-19 pandemic not only offer but ask for new cooperation modalities – cooperation that is geared towards a more inclusive growth and a better environment. The global need to change the way we lead our life and do business is opening up a wide field for interesting discussions.
One area I would like to personally promote are discussions on promising new technologies that not only address environmental challenges but also help ensure that the economy continues to provide jobs and incomes. In short, this comes down to searching for a new kind of prosperity, one that gives more weight to humans and the earth. Famed Swiss Bertrand Piccard has put together 1,000 innovative tech solutions that he is ready to present here in Vietnam. Another area close to my heart is the field of peace promotion and mediation: I see also here good opportunities for Vietnam and Switzerland to work together, learn from each other and jointly progress and offer their share to global peace.
The COVID-19 pandemic has created countless challenges for both Vietnam and Switzerland. Both have and continue to take great strides to meet the challenges and protect public health while doing their best to keep the economy running. Difficulties still lie ahead and cooperation in all its forms is the key to overcoming the global challenges. The partnership between Switzerland and Vietnam is working well and will continue doing so also in the post-pandemic recovery.
We are commemorating the Swiss National Day and the 50th anniversary of Swiss-Vietnamese diplomatic relations with impressive achievements. What we have accomplished together is the solid basis for a stronger and tighter partnership on the path ahead. As Swiss Ambassador to Vietnam, I extend to the Swiss nationals and our numerous friends in Vietnam my very best wishes on the occasion of the Swiss National Day./.
JICA presents medical devices for COVID-19 treatment to HCM City
The Japan International Cooperation Agency (JICA) on July 30 announced that it will present some medical devices for COVID-19 treatment worth about 120 million JPY (1.1 million USD) to Ho Chi Minh City.
The aid, granted per request of the HCM City-based Cho Ray hospital, is in the framework of the agency's activities to support Vietnam in the fight against the pandemic.
The medical devices include extracorporeal membrane oxygenation (ECMO) machines and ventilators, among others. They will be sent to a newly-established COVID-19 resuscitation centre at the city's Oncology Hospital 2.
Meanwhile, testing equipment will be presented to Cho Ray hospital.
This is the second medical device aid package for Cho Ray hospital after the first one in July 2020.
JICA, along with the Japanese government, has pledged to further support Vietnam in battling COVID-19.
Cho Ray hospital has bolstered collaboration with Japan since the 1970s and JICA has conducted numerous activities to support the Vietnamese hospital./.
Vietnam treasures traditional friendship with Romania: PM
Vietnam attaches importance to its traditional friendship with Romania, which has been nurtured by generations of leaders and people of both countries over the past more than seven decades, Prime Minister Pham Minh Chinh has said.
He thanked the Romanian Government for its donation of 100,800 doses of AstraZeneca COVID-19 vaccine to Vietnam, which, he said, demonstrates the time-honored friendship between the two countries, as well as the wholehearted and close-knit ties between the two peoples.
The PM expressed his belief that the timely and valuable support will practically contribute to Vietnam's COVID-19 fight, and suggested the Romanian side consider transferring its abundant vaccines to Vietnam as much and as soon as possible.
The ambassador promised to convey the Vietnamese Government's proposal to Romania's high-ranking leaders for consideration.
PM Chinh also thanked Romania for its support in accelerating the signing of the EU-Vietnam Free Trade Agreement (EVFTA) and the EU-Vietnam Investment Protection Agreement (EVIPA) when the country held the rotating EU Presidency in June 2019. Romania was also one of the first three EU countries to ratify the EVIPA, he added.
The PM urged the ambassador to coordinate with Vietnamese and Romanian ministries and agencies to effectively implement a number of orientations and measures to strengthen the traditional friendship and multifaceted cooperation in potential spheres between the two countries, especially in economy, trade, investment, education-training and labour.
Regarding bilateral trade ties, PM Chinh said the two countries' exports are reciprocal, suggesting the two sides maximise advantages presented by the EVFTA.
At the same time, the two sides should coordinate to seek flexible and suitable forms of sea, rail and air transportation to facilitate the exchange of goods, especially the export of Vietnamese coffee, seasonal fruits and aquatic products to Romania, he said.
Vietnam also stands ready to work as a gateway for Romania to bring its products to the ASEAN market, the government leader added.
Regarding regional and international cooperation, PM Chinh and Romila shared the view that Vietnam and Romania need to step up cooperation at multilateral and regional forums.
For the East Sea issue, they emphasised the importance of ensuring security, safety and freedom of navigation and aviation in the sea, and settling disputes on sovereignty, sovereign rights and jurisdiction through peaceful solutions and measures in accordance with the 1982 United Nations Convention on the Law of the Sea (UNCLOS).
Romila pledged to make efforts to contribute to consolidating and tightening the traditional friendship and multifaceted cooperation between the two countries, especially amidst the complex developments of the COVID-19 pandemic./.
HCM City speeds up COVID-19 vaccinations
All people above 18 years old living in Ho Chi Minh City will be vaccinated against COVID-19, Vice Chairman of the municipal People's Committee Duong Anh Duc told a meeting on July 30.
Duc said Secretary of the municipal Party Committee Nguyen Van Nen had set the target of administering vaccine to two-thirds of the city's population above 18 years old in August.
To speed up the work, the city will set up mobile inoculation groups besides fixed vaccination sites, he said, adding that the vaccinations would be conducted even at night.
According to the official, most of the vaccines in HCM City now are allocated by the Ministry of Health. One million doses of sponsored vaccines are expected to arrive at Tan Son Nhat International Airport on July 31.
Between July 22-30, the city administered about 490,000 COVID-19 vaccine doses.
To reduce COVID-19 infections in the city, it is necessary to extend the social distancing period under the Prime Minister's Directive No. 16 by one-two weeks, after August 1 and the municipal administration will make an official announcement soon, Duc said./.
Hanoi University presents Honorary Doctor Degree to Hong Kong businessman
Lam Kin Chung, President of Zhang Yang Group Holdings Ltd Hong Kong (China), was awarded the Honorary Doctor Degree by the Hanoi University during a ceremony held at the Consulate General of Vietnam in Hong Kong on July 30.
On behalf of the Hanoi University, Vietnamese General Consul Pham Binh Dam presented the degree to Lam, voicing a hope that the businessman will further contribute to the Vietnamese university's development as well as exchange activities and education cooperation between Vietnam and Hong Kong.
The diplomat believed that with efforts and assistance from individuals like Lam and many other organisations, together with the development of the Vietnam-Hong Kong relations, education cooperation between the two sides will make strides in the time to come.
Via a video conference, Rector of the Hanoi University Assoc. Prof., Dr Nguyen Van Trao spoke highly of Lam's outstanding achievements in socio-cultural activities, his sentiments and practical contributions to the university over the time, hoping that he will continue to help the university connect with global academicians and businesses.
For his part, Lam pledged to continue accompanying the Vietnamese university's development in the future. He has partnered with Hanoi University since 2010./.
Prime Minister Pham Minh Chinh receives congratulation from Cambodian Government leader
Cambodian Prime Minister Samdech Techo Hun Sen on July 29 sent a message of congratulations to Pham Minh Chinh on his election as the Prime Minister of Vietnam.
In his message, the Cambodian PM said that Chinh's re-election as Prime Minister of Vietnam in the 2021-2026 tenure by the 15th National Assembly demonstrates a high level of trust by the Party, State and people of Vietnam in his contributions for a prosperous and modern nation under the leadership of the Communist Party of Vietnam.
He expressed his delight at the development of the two countries' relations over the past time in the spirit of good neighbourliness, friendship and solidarity and mutual understanding and benefit.
The Cambodian PM voiced his wish to work closely with his Vietnamese counterpart to further promote the Cambodia-Vietnam comprehensive cooperation for the interests of the two countries' people, contributing to peace, stability, sustainable development and prosperity in the region and the world./.
Indian community supports HCM City in COVID-19 fight
The Indian Business Chamber in Vietnam (Incham) on July 30 virtually signed a contract with the Viet Gia Medical Equipment JSC on the purchase of an extracorporeal membrane oxygenation (ECMO) machine imported from Germany.
The machine will be presented to the Ho Chi Minh City Hospital for Tropical Diseases, with the aim of facilitating the treatment for severe COVID-19 patients in the city.
It will be purchased using the money contributed by the Indian community living and working in HCM City and other southern localities of Vietnam, together with assistance from the Consulate General of India in the southern hub and Incham.
At the signing ceremony, Indian General Consul Madan Mohan Sethi underlined that India and Vietnam have a close-knit traditional friendship and always support each other in times of hardship.
He voiced his hope that the ECMO machine presented by the Indian community will help medical workers and experts cure COVID-19 patients who are in grave conditions, helping to prevent and push back the pandemic in the city./.
New approach, solutions needed in COVID-19 fight: PM
Prime Minister Pham Minh Chinh said it is necessary to have a new approach and new solutions in the fight against COVID-19 as the pandemic situation remains complicated in the country, especially in Ho Chi Minh City, central and southern provinces.
He made the statement at an online Government meeting on July 30 with local authorities on COVID-19 prevention and control.
Representatives of ministries, branches, and localities discussed the pandemic situation, analysed causes of outstanding problems, assessed the leadership and measures applied in the past time. They also made forecast on the situation and tasks to be implemented in the coming time.
The Prime Minister acknowledged that the pandemic prevention and control have achieved positive results and praised ministries, agencies and localities for their great efforts.
He said the Government will issue a resolution on urgent measures to prevent and control COVID-19 following the newly-adopted NA resolution which allows stronger measures, including those not yet provided for in laws.
At the same time, he pointed out the limitations in the prevention and control of the COVID-19 pandemic over the past time.
While affirming that the pandemic situation is still complicated, Chinh emphasised that the government will continue to strive for the "dual goals", in which effective disease prevention and control and protecting people's health are the first and foremost tasks.
Regarding solutions to pandemic prevention and control in the coming time, the Prime Minister directed all localities where social distancing is implemented to ensure the supply of necessities and health care service for residents.
For those with risks of high fatality rate, restriction measures must be enforced strictly, he said.
The Prime Minister asked related sectors and units to step up research, production and import of drugs to treat COVID-19 patients, and promote the transfer of ventilator production technology.
In addition to continuing to carry out the "vaccine strategy", Chinh directed agencies and localities to change their priority in vaccination. Accordingly, along with frontline forces, priority should be given to localities with complicated development and key areas such as HCM City, Hanoi and provinces with many industrial parks and export processing zones./.
President visits pandemic-hit Binh Duong province
President Nguyen Xuan Phuc on July 30 asked the southern province of Binh Duong, one of the localities hardest hit by the ongoing fourth wave of COVID-19 infections, to ensure food and medical services for local people during the period of social distancing and lockdown.
Binh Duong holds an important role in the country's goods supply chains, has high population density, houses many factories, and serves as a gateway between the southern largest economic hub of Ho Chi Minh City and Southeastern localities, the State leader said during his field trip to the province.
Therefore, he stressed, Binh Duong needs to take measures to complete the dual goal of pandemic containment and economic development, with ensuring public health being the top priority.
President Phuc agreed with the Health Ministry's proposal to impose effective policies, which are being rolled out in HCM City, in Binh Duong to ease overload at local hospitals.
Binh Duong must observe the social distancing order seriously, the President requested, suggesting the province mobilise retired doctors and private hospitals in the pandemic fight, apart from temporary hospitals.
The Party and State always accompany HCM City, Binh Duong and other southern localities in the fight against COVID-19, he said./.
Resolutions on appointment of Cabinet members issued
National Assembly Chairman Vuong Dinh Hue has issued a resolution on adopting Prime Minister Pham Minh Chinh's proposal on the appointment of Pham Binh Minh, Le Minh Khai, Vu Duc Dam and Le Van Thanh as Deputy Prime Ministers for the 2021-2026 tenure.
The NA chairman also signed a resolution on passing State President Nguyen Xuan Phuc's proposal on the appointment of Vice President and members of the National Defence and Security Council. Under the resolution, Prime Minister Pham Minh Chinh assumes the post as Vice President of the council. NA Chairman Hue, Minister of Public Security To Lam, Minister of National Defence Phan Van Giang and Minister of Foreign Affairs Bui Thanh Son are its members.
The NA chairman also passed a resolution on the appointment of 22 ministers and other Cabinet members for the 2021-2026 tenure at the proposal of Prime Minister Chinh.
They are Minister of Public Security To Lam, Minister of National Defence Phan Van Giang, Minister of Foreign Affairs Bui Thanh Son, Minister Home Affairs Pham Thi Thanh Tra, Minister of Justice Le Thanh Long, Minister of Planning and Investment Nguyen Chi Dung, Minister of Finance Ho Duc Phoc, Minister of Industry and Trade Nguyen Hong Dien, Minister of Agriculture and Rural Development Le Minh Hoan, Minister of Transport Nguyen Van The, Minister of Construction Nguyen Thanh Nghi, Minister of Natural Resources and Environment Tran Hong Ha, Minister of Information and Communications Nguyen Manh Hung, Minister of Labour, Invalids, and Social Affairs Dao Ngoc Dung, Minister of Culture, Sports and Tourism Nguyen Van Hung, Minister of Science and Technology Huynh Thanh Dat, Minister of Education and Training Nguyen Kim Son and Minister of Health Nguyen Thanh Long.
The Cabinet has four heads of ministerial-level bodies, namely Minister-Chairman of the Committee for Ethnic Minority Affairs Hau A Lenh, Governor of the State Bank of Vietnam Nguyen Thi Hong, and Inspector General of the Government Inspectorate of Vietnam Doan Hong Phong and Minister-Chairman of the Government Office Tran Van Son.
The resolutions took effect on July 28./.
Diplomats urged to boost vaccine diplomacy to help achieve 'twin targets'
Pushing ahead with vaccine diplomacy is among the tasks Vietnam's overseas representative bodies have been asked to perform so as to help achieve the "twin targets" in the last half of 2021.
The Ministry of Foreign Affairs (MoFA) held a teleconference on July 29 to discuss measures for stepping up economic diplomacy to serve the COVID-19 combat and efforts to achieve this year's socio-economic development targets.
Addressing the event, which gathered all the 96 ambassadors and heads of overseas representative agencies of Vietnam, Minister Bui Thanh Son said the brightest spot of economic diplomacy in the first six months was vaccine diplomacy, which has helped persuade partners to provide the country with over 14 million doses of COVID-19 vaccine.
The MoFA has made proactive moves and coordinated with relevant parties to deal with issues emerging in Vietnam's economic relations with other countries and to connect many foreign investors with Vietnamese localities and enterprises, he noted.
He held that the pandemic will not end soon but develop more complicatedly, and that it will ease thanks to vaccination, which will create conditions for the economy to reopen.
Asking diplomats to take proactive and creative action to perform their duties, Son said apart from promoting vaccine diplomacy, they also need to keep a close watch to discover new trends during and after the pandemic so as to advise the Government about national development strategies and orientations; further expand and intensify Vietnam's economic ties with important partners and capitalise on free trade agreements; step up locality and business matching activities, adapt external economic activities to the COVID-19 pandemic; and proactively propose plans and road maps for resuming economic activities and travel between Vietnam and other countries.
To carry out these tasks, the minister called on the entire diplomatic sector to exert every effort and resource for the realisation of national development goals.
For their part, the heads of Vietnam's overseas representative bodies said they are aware of the their responsibility towards the homeland and the people amid the entire nation striving to obtain the "twin targets" of curbing the pandemic and recovering and boosting socio-economic development./.
President works with leaders of HCM City
State President Nguyen Xuan Phuc had a working session with leaders of Ho Chi Minh City on July 30 as part of his visit to the current biggest COVID-19 hotspot.
At the session, the President underlined the most important targets of protecting people's health and safety and minimising death toll.
It is crucial to mobilise all resources to complete these goals, while continue to applying the Prime Minister's Directives No. 15 and 16 to curb the pandemic, he said.
He asked the city to withdraw lessons from the current implementation of Directive No.16 for better performance in the work, settling the situation in which a large number of local residents still travel in the streets despite the COVID-19 prevention and control measures.
He stressed that social distancing must be implemented in parallel with ensuring living conditions for people so as to enable them to strictly follow and implement pandemic control measures.
He clarified that the State and the Vietnam Fatherland Front as well as organisations and the political system at the grass-roots level and charity organisations must join hands together in the work. Meanwhile, HCM City should be more active in issuing travel cards to those who transport and deliver goods and medical supplies.
The State President stressed efforts to focus COVID-19 treatment and reduce the number of infections at the same time, thus minimising death toll. Social distancing measures must be put in top priority in efforts to reduce the number of new COVID-19 cases, he stated.
Holding that the current outbreak in HCM City may peak in the next days, he requested the city to continue to strictly comply with Directive 16, while speeding up the vaccination scheme.
At the session, President Phuc said that donors inside and outside the country have donated 103 billion VND (4.49 million USD) and 10 ventilators to support HCM City, along with a large number of medical supplies./.
Private medical sector asked to join in COVID-19 fight
The Health Ministry on July 30 sent Dispatch No.6140/BYT-KCB to Chairpersons of the People's Committees of centrally-run cities and provinces regarding pooling the involvement of private medical examination and treatment establishments in the fight against COVID-19 pandemic.
Amid the complicated developments of the pandemic, the ministry made the appeal to increase resources for the fight in accordance with Articles 48 and 55 of the Law on Prevention and Control of Infectious Diseases and Articles 39 and 53 of the Law on Medical Examination and Treatment.
Chairpersons of municipal and provincial People's Committees will be responsible for directing Health Departments to request private medical establishments to receive and treat COVID-19 patients when requested.
They are also required to create favourable conditions for private medical sector in the effort, equip them with medical equipment and provide support for their staff in line with regulations.
As of July 30 morning, Vietnam had documented 133,405 COVID-19 infections./.
Party chief's article asserts soundness of Vietnam's path towards socialism: Chinese scholar
Vietnamese Party General Secretary Nguyen Phu Trong's article "Several theoretical and practical issues on socialism and the path towards socialism in Vietnam" affirms the soundness of the path towards socialism of Vietnam, said a Chinese official.
In his recent article on Vietnam's contributions to human civilisation, Han Fangming, Vice Chairman of the Foreign Affairs Committee of the Chinese People's Political Consultative Conference, and Chairman of Chahar Institute, a well-known think tank of diplomacy and international relations, the article systematically analyses the original ideal and development of socialism in Vietnam from the perspective of its reality.
It points to the origins and goals of as well as persistence and firmness in a number of theories of Vietnam's socialist-oriented market economy and the human-centered development strategy.
Han wrote that the socialist-oriented market economy initiated by Vietnam is a new plan for the cause of contemporary socialism, a new development in the Vietnamisation of Marxism, and the expansion of Ho Chi Minh Thought.
The Vietnamese Party chief's article summarises the experience of Vietnam's socialism development and the essence of his thoughts on governance, which are helpful for the theoretical exchanges and wisdom sharing among political parties around the world, and provide more governance solutions for the international community to learn from, Han stressed.
The Chinese scholar also mentioned to the time-honoured relations between China and Vietnam.
The sustained, healthy and stable development of China-Vietnam relations is conducive to the prosperity of the cause of socialism, safeguarding regional and world peace and stability, promoting economic prosperity, and contributing more wisdom and solutions to human civilisation, he affirmed.
In the face of major changes unseen in three thousand years, China and Vietnam should join hands to make greater contributions to regional peace, civilisation progress, and system construction, he added./.
Official: Popularisation, education sector actively joins COVID-19 fight
Head of the Party Central Committee's Commission for Popularisation and Education Nguyen Trong Nghia talked about tasks of the sector in the current fight against COVID-19 pandemic in an interview on the occasion of the 91st anniversary of its Traditional Day (August 1).
Nghia said amid the pandemic, the sector raised public awareness of the twin goal of fighting COVID-19 and promoting socio-economic development, ensuring social welfare.
In over six months of this year, the sector actively, proactively and creatively joined in the fight against the pandemic. It closely followed directions by the Politburo, the Party Central Committee's Secretariat, the Party General Secretary, the State President, the National Assembly, the Government, the Prime Minister, the National Steering Committee on COVID-19 Prevention and Control, actively gave consultations to Party units to issue documents guiding dissemination about the anti-pandemic work based on realities.
From the onset of the COVID-19 outbreak, the commission on February 3 last year issued guidelines on COVID-19 prevention and control.
It also worked closely with the National Steering Committee on COVID-19 Prevention and Control, the Ministry of Information and Communications, and the Vietnamese Journalists' Association to direct the launch of column pages and teams of reporters in charge of covering the fight. Each press agency and journalists became soldiers in the frontline, contributing to strengthening public trust on the Party and State leadership in the effort.
Amid the complicated developments of the pandemic, the commission actively built and issued a plan on the information work about COVID-19 prevention and control to meet its new requirements, reflecting determination and efforts of the entire political system and inspiring the sense of solidarity for the community, creating common consensus on both awareness and actions among the public to perform the important task.
The sector asked press agencies to strengthen information discipline, fight and object to distorted allegations about the work.
It also actively grasped information and international opinions about Vietnam's pandemic fight, thereby suggesting attention to issues regarding information and populariation to promote the country's images and pool the international community's support to the effort./.
UAVS competition calls for innovative technological ideas
The United Associations of Vietnamese Students in Australia's New South Wales (UAVS-NSW) has launched its IT idea competition UAVS Hackatrix "Fix the Glitch" 2021.
Participating teams are set to develop ideas on their technological products and compete against one another in terms of innovation and application in tackling issues in health, society, finance-banking, services, and technology.
Three teams with the most outstanding ideas will pocket awards worth up to 20,000 AUD in total.
High school graders, university and postgraduate students in Vietnam and Oceania are eligible to join in groups of between two and five members each. Individuals can also register and will be supported by the organisers to form teams.
The four-round contest will run from July to October.
UAVS-NSW President Nguyen The Anh said the competition follows a series of activities targeting Vietnamese students in Australia initiated by the association since it was established three years ago.
The event focuses not only on the IT arena but also is open to students from different fields, he noted.
A sustainable and potential technological project sees the contribution of people from various sectors, he explained.
As part of the contest, the online workshop UAVS "Techtalk – Hello Future" is slated for August 7, gathering top-expert speakers to answer queries on the competition and provide latest IT trends./.
Vietnamese community abroad supports HCM City in fighting COVID-19
The Steve Bui and Friends Foundation on July 30 presented 30,000 N95 medical masks to Ho Chi Minh City to support the city in controlling COVID-19 pandemic.
The gift has been handed over to the Vietnam Fatherland Front Committee of HCM City to deliver to Thu Duc city, Tan Binh district, the Medical Centre of District 6, and hospitals for COVID-19 treatment.
President of the foundation Steve Bui, an overseas Vietnamese in Japan, said that he hopes the present will help HCM City, the current biggest COVID-19 hotspot in Vietnam, to stem the pandemic.
The gift reflects the sentiments of the Vietnamese community abroad towards the city through the foundation, he said, expressing his wish that life in the city will resume to normal soon.
Vietnamese community abroad supports HCM City in fighting COVID-19 hinh anh 2
Besides, the Steve Bui and Friends Foundation in HCM City has also presented the People's Committee of District 7 12,000 sets of kits for rapid COVID-19 testing with a total value of nearly 2 billion VND (87,228 USD).
The activities were in response to a letter from the Chairman of the HCM City Commission for Overseas Vietnamese Affairs calling on the Vietnamese community abroad to join hands with the city in controlling COVID-19 pandemic./.
Vietnamese projects win three "Impactful Social Innovative Concepts" awards
Three Vietnamese projects were among the top five to win the "Impactful Social Innovative Concepts" awards in the Social Business Creation 2021 competition.
Social Business Creation 2021 is a global competition to promote social business creation organised by HEC Montréal Canada, a public Canadian business school, and professor Muhammad Yunus, who won a Nobel Peace prize in 2006.
Among Vietnam's three projects, International University in Ho Chi Minh City had two projects, including one on herb-based pesticides for green agriculture and the other on a website platform using artificial intelligence (AI) to detect Alzheimer's disease.
The project Nanoneem, which protects neem forests while assisting local people, was led by Dr. Duong Nguyen Hong Nhung, lecturer from the International University's School of Biotechnology, along with the school's students and others from the Foreign Trade University in Hanoi.
Brain Analytics is a website platform using artificial intelligence (AI) to detect Alzheimer's disease. The project is run by a group of students from the International University's School of Biomedicine under the guidance of Dr. Ha Thi Thanh Huong, head of the department of regenerative medicine at the school.
The third award went to Cereal Straws of Vinastraw, a manufacturer of biodegradable drinking straws, whose representative is Do Thi Huong Thao, along with 10 students from universities in Hanoi. The project makes eco-friendly products from common materials found in the country.
Among the top five projects, the other two were from Mexico and Argentina./.
Ministry issues general education programmes for more first foreign languages
The Ministry of Education and Training has issued a circular promulgating the general education programmes of the first foreign languages to be taught in Vietnamese schools as mandatory foreign languages, including Russian, Japanese, French and Chinese.
The first foreign language subject is taught from grade 3 to grade 12, in compliance with the provisions of the General Education Programme of the Ministry of Education and Training.
According to the general education programme, Vietnamese students are required to learn one foreign language (the first foreign language) and can choose to learn at least one other foreign language (the second foreign language) in accordance with their aspirations and the ability to meet their needs of educational institutions.
At present, English, Russian, Japanese, French and Chinese are the first foreign languages taught in Vietnamese schools. The ministry is also piloting the teaching of Korean and German as first foreign languages.
The circular will become effective on August 16./.
Overseas Vietnamese experts in Italy help control COVID-19 at home
A series of online conferences themed "Overseas Vietnamese join hands in overcoming the pandemic" will be launched on July 31 by a Vietnamese Italian expert team led by Doctor Karen Kieu Nguyen.
The activity aims to respond to the call by the Party and State leaders for the Vietnamese community's support to the COVID-19 fight.
In the first conference, the experts will share experience with Ho Chi Minh City in deploying family doctor system in Italy for treatment of COVID-19 patients.
Speaking to a Vietnam News Agency correspondent in Italy, Doctor Karen Kieu Nguyen said that since the beginning of COVID-19 outbreak in Vietnam, the Vietnamese Government has valued ideas and experience shared by overseas Vietnamese in pandemic prevention and control.
She held that Vietnam showed strong performance in pandemic control in 2020 with low numbers of infections and deaths, and high number of recoveries.
However, recently, the number of new infections is rising, she noted, adding that the guidelines given by family doctors via telephone to patients undertaking quarantine and treatment at home are necessary in reducing spreading risks and overload at hospitals.
As scheduled, Doctor Karen Kieu Nguyen and her peers from 118 emergency centre of Italy will arrive in HCM City to support the city in implementing the process of screening, treating and caring for COVID-19 patients, and share Italy's experience in vaccine distribution.
The conference series is the initiative of a group of OVs, including Danny Vo Thanh Dang from Singapore, Dr. Nguyen Duc Thai and Dr. William H. Nguyen from the US./.
COVID-19 vaccination for French nationals underway in HCM City
FV Hospital in Ho Chi Minh City is running a vaccination drive targeting 5,000 French citizens and their family members in southern Vietnam, which began on July 29.
Vincent Floreani, Consul General of France in HCM City, said: "I am very grateful to the Vietnamese Government for supporting us to be able to implement the vaccination programme for the French community. We also appreciate the organisation of FV Hospital from the phase of registration to vaccination".
Under the drive, 10,000 shots of Moderna vaccine will be given to the group. About 500 people are set to be vaccinated on a daily basis.
Jean-Marcel Guillon, Chief Executive Officer of FV Hospital, said the injection procedure is done safely following COVID-19 prevention and control measures, including the city's current social distancing regulations.
Expressing her joy after getting her shot on July 29, French national Estelle Bolengiar expressed her surprise when she and her family were vaccinated in Vietnam so soon. She said the vaccination is a great effort of the French Consulate with support from the Vietnamese Government.
Also on the morning of the same day, 659,000 doses of AstraZeneca vaccine arrived in the pandemic stricken city, which has so far vaccinated about 300,000 people./.
Vietnamese in South Africa help African countries fight COVID-19
The Vietnamese Embassy in South Africa held a ceremony on July 29 to present 50,000 medical masks to representatives from the Embassy of the Kingdom of Eswatini in the country to help its residents fight COVID-19 pandemic.
The activity was part of a programme to hand over 1 million masks donated by the Vietnamese community and representative agencies in South Africa in support of the host residents and several adjacent countries in southern Africa in particular.
Chargé d'Affaires of Eswatini in South Africa Vulindlela S. Kunene thanked the Vietnamese Government and people for the gift amid the wide spread of the pandemic. He added that his country with over 1.1 million people has recorded nearly 23,800 COVID-19 cases.
Vietnamese Ambassador to South Africa Hoang Van Loi said masks will be also offered to several schools, localities and communities in South Africa. He also contacted representatives from other nations to share gifts to them.
According to him, the Vietnamese embassy raised donations from the Vietnamese community and representative agencies to support the national COVID-19 prevention and control fund at home.
Both sides also discussed cooperation opportunities between Vietnam and Eswatini.
Also as a part of the programme to hand over masks to schools in South Africa, the Vietnamese embassy on the same day held a ceremony to present 30,000 masks to Waterkloof primary school and 25,000 masks to Pro Arte Alphen Park high school, where many children of the Vietnamese community are studying./.
Viettel operates COVID-19 vaccination management platform
The military-run telecom provider Viettel has put into operation a COVID-19 vaccination management platform capable of updating 5 million shots per day.
The platform, launched earlier this month, also links with nearly 7,500 cameras in quarantine facilities in cities and provinces nationwide.
The group also deployed mobile vehicles to 28 temporary hospitals, 68 others treating COVID-19 patients and 200 concentrated quarantine facilities. Earlier, it launched remote health check-up and treatment system Telehealth, Vietnam Health Declaration app, national communicable disease supervision system and the national drug supply system.
Regarding its business results, Viettel reported on July 29 that it earned 128.6 trillion VND (5.59 billion USD) in revenue in the first half of this year, up 6.8 percent annually.
Its before-tax profit reached 19.9 trillion VND, up 3.1 percent year-on-year.
Due to the complicated developments of COVID-19 pandemic, 95 percent of its points-of-sale in Ho Chi Minh City and 80 percent in Hanoi shut down or suspended operations.
To fulfill business targets, Viettel continued stepping up digital transformation in governance and fully using technological advances to care for customers via online platforms.
It also remained a key unit in building e-Government and smart urban areas, improving cyber security and creating digital society. It upgraded data infrastructure and began to build a new data centre in the southern province of Binh Duong.
The group expanded study on artificial intelligence in health care, remote sensing and industry. It also piloted "micro 5G" station to commercialise 5G network later this year./.
Gifts sent to Vietnamese Cambodians in Preah Sihanouk
The Vietnamese Consulate General in Preah Sihanouk and the Khmer-Vietnam Association in the province on July 29 presented gifts to 150 Vietnamese Cambodian households and 20 Cambodian ones that are living in difficulties amidst the complex developments of the COVID-19 pandemic.
The gifts came from the community support fund raised by the Vietnamese Consulate General.
Sharing with the Consulate General, Vietnamese Cambodians said that they have received much attention from local authorities, and been vaccinated against COVID-19 for free.
They also took this opportunity to thank the attention and support of the Vietnamese Party, State, Consulate General and donors, affirming that they will make efforts to overcome difficulties.
The Cambodian Health Ministry announced 765 new COVID-19 infections on July 29, including 328 imported ones, raising the national tally to 75,917./.
Deputy Defence Minister meets RoK's outgoing, new defence attachés
Deputy Minister of National Defence Sen. Lt. Gen. Hoang Xuan Chien received the outgoing and new defence attachés of the Republic of Korea (RoK) in Hanoi on July 29.
He affirmed that the Vietnamese Government and Ministry of National Defence always attach importance to the strategic cooperative partnership with the RoK, considering this a foundation for enhancing bilateral defence ties in an increasingly substantive and effective manner in various fields.
Chien congratulated Col. Ryou Jae-guen on completing his term in Vietnam and highly valued Ryou's considerable contributions to bilateral defence cooperation, which has been developing fruitfully and matches the demand and capacity of each nation.
Welcoming the newly-appointed Defence Attaché Col. Kim Dae-young, the Deputy Minister affirmed that the Vietnamese ministry will create the best possible conditions for Kim to fulfil his tasks so as to develop the Vietnam – RoK defence ties steadily, comprehensively, and effectively./.
Germany's newspapers spotlights Hanoi's mass COVID-19 vaccination
Germany's Jungewelt newspapers has run an article highlighting the mass vaccination campaign that Vietnam's Hanoi capital is conducting to soon drive back the COVID-19 pandemic.
The article said that Hanoi began the mass vaccination against COVID-19 on July 28. In Hoan Kiem district, which is flooded by tourists at normal times, around 4,000 doses per day are now administered at seven vaccination centres.
Employees working in key public administration departments at high risk from COVID-19 and workers in industrial areas are the first to be injected.
The vaccination campaign runs from July to April next year and benefits 5.1 million people between 18 and 65 years old. At the moment, the vaccines from Astra-Zeneca, Moderna and Sputnik V are mainly administered in Vietnam.
The article also mentioned to the fourth wave of the pandemic which hit Vietnam in late April. From around 3,000 infections detected in the three previous waves, the Southeast Asian nation has to date recorded over 100,000 cases.
The municipal authorities have implemented drastic measures to prevent the spread of the coronavirus, the article wrote, adding that people returning to the capital from pandemic hotspots must be quarantined in dedicated facilities for 14 days and must undergo at least three PCR tests by method. If all three tests' result is negative, they will continue to quarantine for seven days at home and be tested again on the last day of quarantine.
Hanoi has also set up many checkpoints on the roads entering the city, with police, military and medical forces on duty regularly to control vehicles entering and leaving the city./.
Source: VNA/VNS/VOV/VIR/SGT/SGGP/Nhan Dan/Hanoitimes
VIETNAM NEWS HEADLINES JULY 31 have 8733 words, post on vietnamnet.vn at July 31, 2021. This is cached page on VietNam Breaking News. If you want remove this page, please contact us.