Hai Duong to postpone receiving foreign employees and experts from August 1
Hai Duong will stop allowing foreign employees and experts to enter the province and register for isolation at hotels in the province, effective from August 1 until further notice.
Foreign employees who enter the province before August 1 will still be able to go into isolation as per the regulations. They will also be allowed to register to isolate at hotels and resorts outside the province.
This decision was issued on July 26 after the province has reported a new COVID-19 case after going 47 days without an infection.
Hai Duong has 14 established industrial zones. 11 of these, covering 1,732 hectares of area, have had their infrastructure completed with an average occupancy rate of 82 per cent.
The province is a manufacturing hub for numerous groups, including An Phat Holdings, Ford Hai Duong, printing machine manufacturer Brother Industries (Vietnam), Sumidenso Vietnam, and Hyundai Kefico Vietnam.
Apple looks for personnel working in Vietnam
Apple on July 26 posted recruitment announcement on its official website to look for Regional Operations New Product Manager working in Hanoi.
Recruited personnel will be in charge of developing and launching new products in Asia.
Recently the firm has continuously recruited personnel in Vietnam.
Statistics show that Apple posted recruitment notices to look for employees working in Vietnam for 23 times since April./.
HCM City getting 'abundant' supply of essential goods
Supply of essential goods such as vegetables and foodstuffs to HCM City is abundant and will even exceed demand during the rest of the social distancing period, according to the Ministry of Agriculture and Rural Development.
According to a special working group set up under the ministry, as of July 24 some 367 wholesale suppliers of agricultural products in the southern region have registered on its system to supply the city.
They can supply 1,442 tonnes of vegetables, 1,185 tonnes of fruits, 1,973 tonnes of other foods, 111 tonnes of aquatic products, 114 tonnes of livestock products, and 54,000 poultry eggs every day.
Dong Nai Province, for example, sells only 15 per cent of its supply of nearly 9,000 pigs a day locally and ships the rest to HCM City and other markets. Of its 85,000 chickens, 95 per cent are sold elsewhere.
Tra Vinh, Kien Giang, Bac Lieu, and Vinh Long provinces and Can Tho City also plan to increase output, and thus supply to the city, of fruits and aquatic produce from next week.
"Supply of items such as cucumber, longan, pineapple, lime, sweet potato, white-feathered chicken, saltwater crab, and shrimp is expected to exceed demand in the coming days," according the working group.
To ensure smooth circulation of goods, the ministries of Agriculture and Rural Development and Industry and Trade will work with the city administration to set up locations to gather agricultural products for transport to wholesale and traditional markets in HCM City and provinces.
The agriculture ministry, warning the supply chains of agricultural products and goods should not be disrupted amid the social distancing, had told city and provincial authorities to create the most favourable conditions for smooth circulation of agricultural goods.
Currently 19 southern provinces and cities are under Directive 16, which would affect the production, supply and consumption of agricultural items, it said.
Deputy Minister of Agriculture and Rural Development Phung Duc Tien, said there would be abundant supply of food, but the issue now is distribution because of the social distancing in the south.
The city Department of Industry and Trade has set up 3,001 price-stabilisation points at supermarkets and convenience stores and 388 mobile sales points around the city and in Thu Duc City to ensure prices remain steady.
It has also worked with suppliers to organise mobile sales to help the poor and disadvantaged and people living in quarantine and locked-down areas.
City authorities have instructed supermarkets and convenience stores to strictly control the selling of goods at higher prices, following public complaints about speculators taking advantage of the pandemic to buy goods in bulk and resell them at sky-high prices.
Upgrade expected to raise capacity at int'l port cluster in the south
The Cai Mep – Thi Vai port cluster in the southern province of Ba Ria-Vung Tau is investing in upgrading infrastructure to increase cargo-loading capacity, according to Tan Cang Sai Gon Corporation.
The port cluster in the province's Phu My Town is an important international transit port, contributing greatly to the country's socio-economic development.
The corporation said the port cluster had reached over 90 per cent of its designed capacity.
The upgrade could help operating seaports at the port cluster receive large container vessels and service ships.
By 2023, the port cluster's capacity is expected to increase by 53 per cent compared to 2020.
In the last five years, the volume of goods passing through the port cluster grew at an average of 20.3 per cent per year.
In the first six months of the year, the total volume of goods passing through the port cluster reached more than 54.4 million tonnes, a year-on-​year increase of 16 per cent.
Of the total, the volume of container cargo was estimated at more than 4.5 million twenty-foot equivalent units (TEUs), up 41 per cent over the same period last year.
In January, Gemalink International Port's first phase opened at Cai Mep-Thi Vai port cluster, with an annual capacity of 1.5 million TEUs, raising the port cluster's annual capacity to 8.3 million TEUs.
Last year the port cluster handled cargo amounting to 7.75 million TEUs, equivalent to 91 per cent of its designed capacity, according to the Viet Nam Maritime Administration.
Only eight transport routes were linked to the Cai Mep – Thi Vai port cluster in 2013.
There are now 32 transport routes connecting to the ports, including 25 international routes and seven domestic routes.
The volume of goods is expected to increase in the coming time because of growth in trade and cargo volume in service routes connecting Cai Mep – Thi Vai port cluster and other continents such as Europe and America, and Intra Asia Pacific shipping routes.
Construction work is being sped up on several transport projects to improve connections between the port cluster and other localities in the region, such as Bien Hoa-Vung Tau and Ben Luc – Long Thanh expressways, Phuoc Hoa – Vung Tau Route, and an inter-port road.
Cai Mep – Thi Vai port cluster began operating in 2009. It is expected to be developed into an export and import gateway for the southern key economic region and a world-class seaport hub by 2045.
SBV considering proposal for developing framework for tackling NPLs
The State Bank of Viet Nam is studying a proposal for developing a law on resolving the non-performing loans (NPLs) of credit institutions over the risk of rising bad debts as the COVID-19 pandemic weighs on production and business.
Four years after implementing Resolution 42/2017/QH14 regarding resolving NPLs, the system's overall bad debt ratio was reduced to below three per cent.
However, the pandemic has heavily affected the financial situation of enterprises and businesses increasing the risk that NPLs might increase in the post-pandemic period.
According to BOS Securities Company, bad debts saw a slight increase in the first months of this year compared to the end of 2020. Bad debts of listed banks were estimated to total more than VND91.4 trillion as of March 31, nearly VND4 trillion higher than at the end of last year.
BOS Securities also pointed out that maintaining debt classifications made the picture of bad debts fail to reflect the real situation.
As the COVID-19 pandemic is becoming worse in many provinces and cities with strong social distancing measures in place, it is also heavily affecting production and business. As a result bad debts are expected to increase, forcing the State Bank of Viet Nam to develop a way to resolve bad debts after the pandemic.
The Banking Inspection and Supervision's statistics show that the on-balance sheet NPL ratio was on an increasing trend in the first months of 2021, from 1.69 per cent at the end of 2020 to 1.78 per cent at the end of April 2021, adding that bad debt ratios by the year end could be higher than previously forecast.
Under the Document No 08/TTr-NHNN submitted to the Government, the on-balance sheet NPL ratio was forecast at 1.54-1.91 per cent by the year end and the overall ratio of bad debts, including on-balance sheet NPLs, debts sold to the Viet Nam Asset Management Company which remained unsolved and debts which could turn into NPLs at 3.43-3.84 per cent.
Financial and banking expert Can Van Luc said that it was necessary to complete early the project for restructuring credit institutions in the 2021-25 period to effectively resolve bad debts.
The central bank should also review credit policies and enhance risk management to prevent increases in NPLs, especially in the context of the COVID-19 pandemic.
Luc said that it was necessary to develop a law on resolving bad debts to increase efficiency.
The State Bank of Viet Nam was studying the proposal which would aim to create the legal framework for thoroughly tackling existing problems in handling bad debt and other mortgage assets and ensuring the safe and sustainable development for the banking system in particular and the economy in general.
The central bank's statistics showed that bad debts were estimated to total VND425.4 trillion as of May 31, accounting for more than 42 per cent of the total outstanding loans.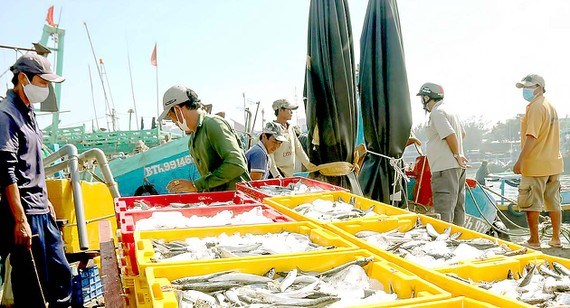 The seafood industry in Binh Thuan province has experienced stable growth amid the pandemic (Photo: sggp.org.vn)
Product quality key to boosting coffee exports to North Europe
Local firms have been urged to focus their efforts on producing high-quality coffee or organic coffee in order to make further inroads in the Northern European market, according to advice given by the Vietnamese Trade Office in Sweden.
Currently, Vietnam mainly exports unroasted and decaffeinated coffee to Scandinavian countries of Sweden, Denmark, and Norway.
Nordic nations typically import Arabica coffee beans and a small amount of Robusta coffee, while Vietnam mainly exports Robusta coffee, thereby accounting for approximately 95% of its coffee exports.
However, industry experts say there remains plenty of room for Vietnamese coffee to boost its exports to the Nordic market, particularly following the enforcement of the EU-Vietnam Free Trade Agreement (EVFTA) last year.
In line with the EVFTA, coffee products exported to the market will enjoy a preferential tariff of 0%, a factor which has helped Vietnamese coffee to boast a competitive advantage over regional peers.
To gain a firm foothold in the Nordic coffee market, the Vietnamese Trade Office in Sweden has advised local exporters to fully utilise different channels in an effort to introduce their coffee products to the region.
Moreover, domestic firms should pay attention to improving their product quality and supply capacity as both retailers and roasters are increasingly seeking direct suppliers of green beans.
FPT Software invests in a technology company in the Americas
The investment is to optimize the efficiency by combining resources of the Vietnamese firm's services centers in the US and those in neighboring markets.
Hanoi-based FPT Software has invested in Intertec International, a global information technology service provider, with an aim of advancing its effort to provide solutions, technology services and digital transformation in the Americas market.
The deal's value was not disclosed.
Under the investment agreement, FPT Software is entitled to access and allocate resources of Intertec's two service centers in Costa Rica and Colombia. This deal also enables the Vietnamese company to expand business opportunities in the US and Latin America (LATAM), and address increasing demand in these two markets.
This investment is aligned with the strategic direction of FPT Corporation's subsidiary FPT Software, which is intended to optimize the efficiency of combining resources of its services centers in the US and those in neighboring markets.
Intertec International's strength in agile software development and FPT Software's ability to advise and deploy technology solutions and services will help lay a solid foundation for their commitment to bringing quality service experiences for customers in the English-speaking market and in the US.
Together with FPT Software's newly-established production center in Costa Rica in early 2021, the two firms can cut through cultural and time-zone barriers between US customers and production centers outside the continent, saving up to 30% on operating costs.
Intertec International will also gain competitive advantages from the resonance of FPT Software's resources, including platforms, infrastructure, and proprietary technology developed by FPT Software, with a network of 22 service centers worldwide.
Costa Rica and Colombia are attractive service hubs and renowned outsourcing destinations in the LATAM region.
FPT Americas CEO Dang Tran Phuong said: "With the combination of the region's geographical advantages, business-friendly government policies, our digital solutions, and both companies' technical know-how, we aim to assist more customers at an accelerated speed while saving costs."
Vaccination 'key' to rapid economic recover
The fastest way for the economy to recover from the COVID-19 pandemic is for people to get vaccinated, RMIT's School of Business and Management lecturers and researchers Dr Greeni Maheshwari and Dr Daniel Borer have said.
"Vaccination is key to return to full economic activities," Borer said. "Vietnam would be at a disadvantage if supply chains are disrupted and the country remains closed to foreign businesses as a measure to prevent the virus spread, while other countries in the region open up thanks to successful vaccination."
He did however cede that the COVID-19 pandemic has already adversely affected productivity in Việt Nam.
"The rapid COVID-19 outbreak returning has reduced productivity and left factories operating below capacity in the manufacturing industry in Việt Nam, where suppliers for many global firms are located."
Greeni Maheshwari noted that hundreds of thousands of manufacturing workers getting vaccinated would help maintain production.
"Vaccination will be beneficial for the factories where thousands of workers are working in close proximity," Maheshwari added. "This vaccination drive will help to fight the virus and ensure the good health of workers which will enhance production, and boost the economy in general."
"Many countries including Europe and the United States have put a huge effort into vaccination programs and are now starting to enjoy dramatically decreasing infection rates, and the gradual normalisation of life."
Last week, data from the EuroCham Chamber of Commerce (EuroCham) Business Climate Index (BCI) also showed the urgent need for Việt Nam to roll out a mass vaccination programme. Of business leaders surveyed 58 per cent predicted that their companies would see a significant, negative impact if their staff could not be vaccinated in 2021.
EuroCham Chairman Alain Cany noted that local lockdowns, social distancing, and travel restrictions are not permanent solutions and will cause significant economic harm over the long term.
He added most of EuroCham and its business associations would be willing to cover the cost of vaccinating their own staff in Việt Nam.
During times of chaos and uncertainty, Maheshwari praised the Vietnamese community for coming together with the Government to fight against the outbreak by funding vaccination programs.
Meanwhile, Borer said a key challenge Vietnam now faces was to rekindle the economy gradually but safely.
"Herd immunity is said to be reached at 60-80 per cent of the fully vaccinated population. If Vietnam waits to achieve herd immunity before restoring the economy, valuable months are lost and more companies might go bankrupt," Borer said.
"The Vietnamese Government could implement a system where businesses having 60 per cent of their staff fully vaccinated, could return to regular operations," he added. "This micro-management at a business level, would allow the re-establishment of operations for an increasing number of companies and reviving the economy while keeping those sectors still restricted where the vaccinated population is known to be lower."
According to RMIT, although most businesses were facing big obstacles, Vietnam's trade surplus was recorded at about US$370 million in the first five months of 2021.
Maheshwari believes the country still remain attractive to foreign investors and its economy is set to return to growth once the acceleration of vaccination campaigns has been completed.
He added that the country had been successful in recovering from the third outbreak and when the fourth wave is controlled, it would not have much future impact on the economy.
"The vaccination drive will also help some of the industries like manufacturing and tourism sectors resume their operations and this will bring a positive impact to Vietnam's GDP growth rate in the future."
"To attract foreign investment in infrastructure some developments like improving sea-port facilities, developing new seaports, continuing the construction of roads, highways, and establishing new economic zones can be enhanced or undertaken."
"Besides, adopting friendly investor policies with reduced bureaucratic hurdles to lessen the time to start a business might boost investors' intentions to invest in Vietnam," he added.
As planned, Việt Nam was set to receive up to 150 million doses of COVID-19 vaccine this year, both from assistance and through deals with manufacturers including AstraZeneca and Pfizer.
Nguyễn Xuân Thành, manager of the Fulbright Economics Teaching Programme told local media when the Government of Việt Nam could fulfil a vaccine commitment of about 150 million doses for  local people with priority injections for industrial zones and tourist centres by year-end and reaching 70 per cent of the population vaccinated by mid-2022,  the country could fight the pandemic and maintain production activities for export, main drive for the development.
HAGL breaks losing streak with profit in Q2
After-tax profit was VND87 billion in Q2, an increase from negative VND1.3 trillion ($56.5 million) in the same period last year, ending a streak of eight consecutive quarters of loss.
The change was brought by improving gross profit from selling goods and providing services thanks to buoyant performance in the pig industry as well as the liquidation of investments in HAGL Agrico's group of companies and lower interest expenses.
Notably, after a year of investment, the pig farming segment recorded revenue of VND190 billion ($8.26 million), even higher than the group's core fruit segment. The group started to record revenue from selling pigs in Q4/2020. The gross profit margin of the fruit segment and pig segment were 22 and 49 per cent, respectively.
Meanwhile, cost of goods sold dropped by 30 per cent, increasing gross profit margin by 13 per cent, to 34 per cent. HAGL's Q2 gross profit reached VND181 billion ($7.87 million), up 36 per cent over the same period in 2020.
Revenue from financial activities decreased by 33 per cent while financial expenses increased by 34 per cent, causing HAGL to record a loss of VND50 billion (2.17 million) from this activity.
In the first half, HAGL achieved VND800.7 billion ($34.8 million) of net revenue, down 46 per cent on-year. Net profit was VND18.3 billion ($795,650), much less than the VND1.4 trillion ($60.87 million) loss in H1/2020.
As of June 30, HAGL had five direct subsidiaries, two indirect subsidiaries, and one associated company. Its main business is growing and trading fruit trees, warehousing, agricultural product processing, and agricultural services, hotel, and sports and recreational activities.
AC Energy reaches 1,000MW milestone in key Vietnam market
Vietnam becomes AC Energy's largest market to date outside of the Philippines with its Vietnam-based renewable energy projects reached 1,000 MW in operation and under construction.
"Vietnam is an ideal place for sustainable investments as it leads the race to clean energy transition in the post-COVID world," said Eric Francia, AC Energy president and CEO. "Our partners' deep market expertise bolster our leadership position in Vietnam as we aim to play a meaningful role in the green-led recovery by building climate resilience and creating jobs. We remain well-poised to be one of the largest listed renewables platforms in Southeast Asia, and reach 5,000MW of renewables capacity by 2025."
Deeming Vietnam as a priority market, AC Energy has teamed up with several partners to expand its portfolio in the country. Specifically, AC Energy has partnered with Vietnam's BIM Group to develop the 405MW Ninh Thuan solar farm, one of the largest of its kind in Southeast Asia. Meanwhile, the 80MW Khan Hoa and Dak Lak solar farms, developed in partnership with AMI Renewables, also started operations in 2019.
In 2020, as the world grappled with the COVID-19 pandemic that led to a global economic downturn, Vietnam's renewable energy sector remained vibrant, fully supported by its government through policies such as the feed-in-tariff for wind power first introduced in 2018.
To leverage Vietnam's strong wind resource potential, AC Energy and its partners have co-developed wind projects in the country with a total investment capital of $445 million. The wind projects under construction reach 440MW in capacity including the 80MW Mui Ne wind farm in Binh Thuan in partnership with The Blue Circle as well as the Lac Hoa and Hoa Dong wind farms in Soc Trang in collaboration with UPC Renewables with an aggregate capacity of 60MW.
The largest onshore wind farm in Vietnam, the 252MW Quang Binh wind farm, is AC Energy's latest partnership with AMI Renewables. Meanwhile, the 88MW Ninh Thuan wind farm with BIM Group, recently completed its foundation pour, with six turbines fully erected and installed.
"These project milestones happening in Vietnam all make for a really exciting period in our renewables expansion," said Patrice Clausse, COO of AC Energy International. "We are carving a niche for AC Energy through our landmark sustainable investments, establishing a solid track record in this country. We will continue to develop large-scale developments to support Vietnam's goal to increase the share of renewables in their energy mix."
SSI receives $100 million unsecured syndicated loan from leading Taiwanese banks
On July 26, SSI Securities JSC (HSX: SSI) announced a new $100 million unsecured syndicated loan package from a group of leading financial institutions from Taiwan.
Union Bank of Taiwan and Taipei Fubon Commercial Bank are the mandated lead arrangers and bookrunners.
The loan was arranged by the Investment Banking Division of SSI after only three months of negotiation.
This is also the largest-value foreign unsecured loan among domestic securities brokerages, which clearly illustrates SSI's credentials, resilience, and leading market position in the country.
Nguyen Vu Thuy Huong, managing director of Treasury Division cum managing director of Principal Investment at SSI emphasised, "The new additional capacity from the foreign loan package will broaden our horizon and help us bring best-in-class financial services to our customers."
She added, "SSI's new loan will be used wisely in promising segments that bring high profits and low risks, enhance our competitiveness, and facilitate customers with the most competitive expenses, particularly regarding margin lending."
FDI disbursement hits over US$10 in first seven months
The disbursed volume of foreign direct investment (FDI) capital over the last seven months of 2021 hits US$10.5 billion, up 3.8 percent against the same period last year, an encouraging signal amid COVID-19 pandemic.
Meanwhile, foreign investment inflows to Viet Nam decreased by 11.1% to US$16.7 billion as of July 20, reported the Ministry of Planning and Investment.
The above total figure include newly registered capital, adjusted capital, capital contribution, and share purchases by foreign investors.
Specifically, foreign investors pledged to pour US$10.13 billion in 1,006 new projects, up 7 percent and down 37.9 percent, respectively.
Around 561 projects registered capital adjustment with the total additional capital reaching US$4.54 billion, down 9.4 per cent.
In addition, there were 2,403 instances of capital contribution and share purchase by foreign investors worth US$2.05 billion, a fall of 55.8 per cent.
There are 18 key sectors attracting FDI inflows. Among them, processing and manufacturing industry took the lead with the capital investment valued more than US$7.9 billion, making up 47.2 percent. It was followed by electricity production and distribution with US$5.49 billion, real estate US$1.16 billion and retail sales US$631 million.
Singapore ranked first among 86 countries and territories investing in Viet Nam with US$5.92 billion while Japan occupied the second position with US$2.54 billion.
During the reviewed period, the southern province of Long An was the largest recipient of FDI capital with US$3.58 billion, followed by Ho Chi Minh City US$1.78 billion and the southern province of Binh Duong US$1.33 billion.
Vietnamese rubber producers benefit from higher prices in Q2
Many Vietnamese rubber companies recorded outstanding growth in revenue and profit in the second quarter due to higher rubber prices. Analysts expect that rubber prices will remain high through 2021 on strong demand and tight supplies.
Higher prices, higher profits
In its second quarter results, Dong Phu Rubber JSC (DORUCO, DPR) posted a rise of 11 per cent in net revenue to VND218 billion (US$9.5 million).
During the period, its consumption reached 2,431 tonnes, up 35 per cent, with the average selling price at VND45.9 million per tonne, up 50 per cent year-on-year. As a result, the company's profit after tax rose 41 per cent over the same period last year to over VND34.77 billion.
In the first six months of the year, DORUCO recorded net revenue of VND419.6 billion and profit after tax of VND86.3 billion, up 41 per cent and 66 per cent, respectively.
The positive business results helped boost DPR shares on the Ho Chi Minh Stock Exchange (HoSE). The company's shares were traded at VND60,400 yesterday, up 35.7 per cent compared to early April.
Similarly, Daklak Rubber JSC (DAKRUCO, DRG) witnessed net profit of more than VND32 billion in the second quarter due to higher rubber prices, while it lost VND26 billion in the same period last year.
In the first half of 2021, the rubber producer posted a net profit of nearly VND58 billion, while it had a net loss of nearly VND20 billion last year.
DRG shares are listed on UPCOM and traded at VND14,600 per share, up 19.7 per cent compared to the beginning of the year.
Tan Bien Rubber JSC (TABIRUCO, RTB)'s profit also jumped in the second quarter.
Accordingly, in its consolidated results, TABIRUCO reported profit after tax of more than VND84.1 billion, up 99.3 per cent year-on-year. In the first six months of the year, the company's profit after tax reached VND120.6 billion, 3.8 times higher than the same period in 2020.
RTB shares, which are also listed on UPCOM, rose by nearly 22.7 per cent compared to the beginning of the year to VND11,900 on Tuesday.
Lower production, improved demand
The Agency of Foreign Trade, under the Ministry of Industry and Trade, estimates that in the first six months of 2021, rubber exports will reach about 681,000 tonnes, worth $1.15 billion, up 41.3 per cent in volume and 79.9 per cent in value compared to the same period last year.
Meanwhile, according to estimates from the Association of Natural Rubber Producing Countries (ANRPC), global rubber production in the first quarter of 2021 has dropped by 12.5 per cent year-on-year, but rubber consumption has climbed 15.7 per cent in the second quarter.
Total rubber consumption has recovered from the bottom as world economies, especially China, suffered from the outbreak of COVID-19 since the beginning of 2020.
Total global rubber production in the first half of 2021 reached 4.5 million tonnes, while total consumption was about 5.4 million tonnes. Therefore, the supplies are short by more than 800,000 tonnes.
The decline in total rubber production started since 2020, but the supply-demand gap widened in 2021.
Analysts from ACB Securities Ltd. (ACBS) said that some reports show that farmers neglected their rubber plantations due to falling prices over a long period of time, meaning plants were easily exposed to diseases.
About 65 per cent of natural rubber is produced in Southeast Asia. However, at present, some countries in this region such as Thailand and Malaysia have rubber trees that are hit hard by disease.
Countries such as Sri Lanka and India also have large areas of ​​rubber trees affected by disease.
Faced with this situation, the Viet Nam Rubber Association has issued a warning to its members to be better prepared if the disease spreads to the country, especially for members with rubber plantations in Cambodia, which is geographically close to Thailand.
In fact, the development of rubber growing areas has been under pressure when rubber prices entered a bear market during 2013 – 2019.
In Indonesia, new industrial crop areas are dominated by oil palm trees, which have a shorter harvest time than rubber. There was a time when Thailand encouraged farmers to replace rubber trees with other crops due to prolonged low prices.
"The rubber market is experiencing a shortage of supplies in the first half of 2021. The tight supplies will continue through 2021 when the rainy season has started," ACBS said.
Moreover, with the high correlation between the price of natural rubber and the price of Brent oil and butadiene, a raw material for synthetic rubber production, rubber prices may rise again as oil prices have remained high since the beginning of the year.
While ACBS believes that the second wave of COVID-19 in India, one of the largest rubber exporter in the world, since March will prevent rubber demand from growing too much in 2021, it expects rubber prices to surge 44 per cent this year.
This will have a positive impact on rubber producers, offsetting the decrease in output.
biz
SSI gets $100 million unsecured loan from Taiwanese banks
SSI Securities Corporation has signed a contract for an unsecured loan worth US$100 million with some of Taiwan's leading banks led by Union Bank of Taiwan and Taipei Fubon Commercial Bank and with the participation of Bank of Taiwan, Taiwan Shin Kong Commercial Bank, Hua Nan Commercial Bank and others.
The loan has a maximum term of 12 months with short-term interest rates as is common in the international market, and is expected to be disbursed in two tranches.
This is the largest unsecured loan provided by foreign banks to any securities companies in Viet Nam.
SSI, which has a charter capital of nearly VND 6.5 trillion ($282.6 million), has for years been the country's largest securities company.
Its revenues and pre-tax profits in the first half of this year were VND3.2 trillion ($139 million) and VND1.2 trillion ($52.1 million), representing year-on-year increases of 38 per cent and 84 per cent.
In the past SSI has got unsecured loans of $85 million from a group of nine foreign banks and $55 million from Taiwan's SinoPac Bank.
Vietnamese overseas investment in Jan-July sharply rises
Vietnamese firms invested USD570.1 million in foreign countries in the first seven months of this year, representing a 2.3-fold increase, the Ministry of Planning and Investment reported.
According to the ministry, of the figure, USD145.3 million came from 28 newly-licensed projects, and the remainder was from the capital rise of 11 existing projects, up 9.1 folds on-year. Vietnamese businesses invested in 12 sectors abroad. Among those, science-technology projects accounted for up to USD270.8 million, equal to 47.5% of the country's total overseas investment during the period.
It was followed by the wholesale and retail sector with USD148.6 million, or 26.1%.
The US was the top destination for Vietnamese capital during the period with USD302.8 million, holding a lion's share of 53.1%. Cambodia came next with USD89.2 million, equivalent to 15.6%, followed by Laos and Canada with USD47.8 million and USD32.1 million respectively.
As of July 20, Vietnam invested in 1,423 projects abroad with a total capital value of USD21.8 billion.
The country's overseas investment mostly focused on the mining sector (36.3%) and agro-forestry-fisheries (15.3%).
Ho Chi Minh City to prioritise regional linkages via transport infrastructure projects
Ho Chi Minh City will spend more than VND45 trillion ($1.96 billion) developing a road system connecting to the Mekong Delta region to create regional linkages and promote socioeconomic growth and attract investors.
Of the projects in Long An, the first one is the expansion of the existing Nguyen Van Bua Road with the total investment capital of VND2.41 trillion ($104.8 million). The second is Vo Van Kiet extended road connecting Binh Chanh district with Hai Son and Tan Duc Industrial Zones with the total cost of VND3.3 trillion ($143.5 million). The third is Tay Bac Road which starts at National Route 1A (Binh Tan district, Ho Chi Minh City) and ends atRing Road 4 (near Hau Nghia town, Long An) with the total capital of VND6.46 trillion ($280.87 million).
The remaining three projects have the total capital of VND2.15 trillion ($93.5 million), VND4.3 trillion ($186.96 million), and VND1.03 trillion ($44.8 million), respectively.
The city will also prioritise allocating capital for the elevated road along Provincial Road 25C which will cross the Dong Nai River and connect with Long Thanh International Airport in Dong Nai. The project is designed with 7-10 lanes with the total investment capital of VND10 trillion ($434.8 million).
Meanwhile, the project connecting Ho Chi Minh City and Moc Bai district of Tay Ninh will have an investment cost of VND15.9 trillion ($691.3 million).
The Mekong Delta region contributes 50 per cent of Vietnam's rice output, 65 per cent of aquacultural products, 70 per cent of fruit output, 95 per cent of rice exports, and 60 per cent of fish exports. Its location makes it ideal for trade with ASEAN and the Greater Mekong Subregion. However, limited connection with Ho Chi Minh City and overseas destinations remains one of the major bottlenecks in the region's development.
Many businesses have voiced concerns about traffic congestions between the Mekong Delta and Ho Chi Minh City while the lack of cohesive planning and poor logistics have been racking up production costs, reducing the competitiveness of local businesses and the region.
Thai Nguyen tea gets trademark in international markets
The collective trademark "Thai Nguyen tea" has been successfully registered for copyright protection by Thai Nguyen province in the US, China, Taiwan (China) and Russia.
This information was announced by Duong Van Luong, Vice Chairman of the Thai Nguyen Provincial People's Committee.
Thai Nguyen is the province with the largest tea area in the country. Tea is the main crop of the province, contributing to the enrichment of the people. However, Thai Nguyen tea products are still mainly consumed domestically, exports account for only about 20% of total sales, not commensurate with potential.
According to the Thai Nguyen Tea Association, Thai Nguyen tea exports in the first five months of 2021 were estimated to have reached over 700 tonnes of dried bud tea, export of high quality green tea tends to increase to fastidious markets such as Poland, Germany, the US, and Japan.
Currently, Thai Nguyen tea exports have two product lines, one is exported in the form of raw materials with very low prices, about US$ 1.5-2 per kilogramme. Second, some businesses have reached into difficult markets, exporting high-class tea products with prices above US$ 10 per kilogramme, even up to US$ 100 per kilogramme, but only up to about a few hundred tonnes.
According to Nguyen Thi Nga, Chairwoman of the Thai Nguyen Tea Association, Thai Nguyen tea's potential for export is huge, as the locality has high-quality tea areas. At the same time, the province also has a lot of policies to develop tea plants, from input materials to trade promotion, market development and brand building.
Currently, Thai Nguyen province has assigned the Thai Nguyen Tea Association to build the project "Application of digital technology to manage production, traceability and trade of Thai Nguyen tea products" according to Blockchain technology.
Duong Van Luong said that Thai Nguyen currently has one local tea brand in the form of geographical indication protection and 7 brands in the form of collective trademark protection. In the coming time, Thai Nguyen will strengthen the management and application of information technology and digital transformation in the agricultural sector, especially in the planting and processing of tea products.
Along with these, it is necessary to focus on promoting the province's tea products to the international market, managing the quality of tea plants, and creating international confidence in Thai Nguyen Tea products.
At the same time, it is necessary to attract investment from domestic and foreign enterprises in tea growing, processing and creating high quality, and focusing on diversifying tea products to meet the needs and tastes of the international market.
Vietnam aims for dual goal in 2022 economic development plan
The Prime Minister has issued a directive on formulating the 2022 socio-economic development plan, in which Vietnam strives to achieve the dual goal of virus containment and economic growth.
In the directive, the head of government asked ministries, agencies and local authorities to identify opportunities and challenges next year, and set out general goals for the year.
He also called for the thorough and accurate assessment of all achievements and difficulties in 2021, especially the impacts of the COVID-19 pandemic, so that remedies can be prepared.
With regards to the dual goal, Vietnam is determined to implement effective COVID-19 prevention measures, notably a widespread vaccination campaign so that herd immunity can be achieved in early 2022.
In his directive, the PM also outlined the major orientations for drawing up the state budget estimates for 2022 and the finance-budget plan for the next three years.
IMF maintains Vietnam GDP forecast at 6.5% in 2021
Vietnam remains on track to be the fastest-growing economy in Southeast Asia.
There would be no change to Vietnam's GDP forecast for 2021, which stands at 6.5% from the previous projection in April, according to the International Monetary Fund (IMF)'s latest World Economic Outlook report.
This came on the back that the IMF has revised down the prospects for emerging markets and developing economies by 0.4 percentage points to 5.2% for this year.
In emerging and developing Asia, the growth forecast has been cut down by 1.1 percentage points to 7.5% against April, which is partly due to a 3-percentage points contraction in GDP outlook for India to 9.5% and 0.3% down for China to 8.1%.
For the ASEAN-5, including Malaysia, the Philippines, Thailand, and Vietnam, the forecast is cut to 4.3%, 0.6 percentage points lower than the prediction in April.
According to the IMF, the emergence of the Delta variant has turned Southeast Asia into a Covid-19 hotspot, forcing countries to adopt strict restriction and social distancing measures that have a negative impact on growth.
Apart from Vietnam, all major economies in the region face a decline in growth forecast, including Indonesia (-0.4 percentage points) at 3.9%, Malaysia 4.7%(-1.8 percentage points); the Philippines 5.4% (-1.5 percentage points); and Thailand 2.1% (-0.5 percentage points).
In this context, Vietnam is poised to remain the fastest growing economy in Southeast Asia this year.
The global economic outlook, however, remains unchanged with estimated GDP growth at 6%, as the forecast for advanced economies is revised up, which reflects pandemic developments worldwide.
"Vaccine access has emerged as the principal fault line along which the global recovery splits into two blocs: those that can look forward to further normalization of activity later this year (almost all advanced economies) and those that will still face resurgent infections and rising Covid death tolls," stated the IMF.
The IMF, however, warned that the recovery is not assured even in countries where infections are currently very low so long as the virus circulates elsewhere.
Gita Gopinath, Chief Economist and Director of the Research Department at the IMF, said the projected global growth for 2022 is estimated at 4.9%, up from the previous forecast of 4.4%.
"But again, underlying this is a sizable upgrade for advanced economies and a more modest one for emerging markets and developing economies," she noted.
To keep economic recovery staying on track, Gita called for policy effort at the national level to be tailored to the stage of the pandemic, which is to escape the acute crisis by prioritizing health spending, including vaccinations and targeted support for affected households and firms.
"The next step would be to secure the recovery with more emphasis on broader fiscal and monetary support, depending on available space, including remedial measures to reverse the loss in education, and, finally, to invest in the future by advancing long-term goals of boosting productive capacity, accelerating the transition to lower carbon dependence, harnessing the benefits of digitalization, and ensuring the gains are equitably shared," she concluded.
Hanoi to have 60% of OCOP-labeled products to be protected by IP law by 2030
The city's Intellectual Property Development Program by 2030 is aimed at protecting IP rights of craft villages.
By 2030, at least 80% of enterprises will be aware of IP protection through training courses, according to the latest decision on the program by 2030 signed by Deputy Chairman of the municipal People's Committee Chu Xuan Dung.
The number of patent and trademark applications will increase by an annual average of 16-18% and 8-10%, respectively. Among 60% of  specialties whose IP rights are protected, at least four would be exported to overseas markets.
The registration for protection and effective management of IP rights for specialty products will contribute to maintaining and developing brands for enterprises, business households and cooperatives in the capital's rural areas, then boosting the socio-economic development of the city, according to local insiders.
The city will continue to mobilize resources with the strong participation of people and businesses to implement the program in the coming time.
Acting Director of the Hanoi Department of Industry and Trade Tran Thi Phuong Lan said the city has deployed activities to support business households and cooperatives in the city to build and promote brands through training courses on brand identity system for many years.
Nguyen Anh Tuan, Deputy Director of the municipal Department of Science and Technology said products recognized by OCOP and protected by IP law will be enhanced in quality, value and competitiveness on domestic and potential foreign markets. For OCOP products with export potential, brand protection becomes even more essential.
He recommended the city needs to improve management efficiency, exploit and develop certification and collective marks, geographical indications and OCOP-labeled products associated with growing area codes, food safety, as well as quality and authentication certification, product traceability, thereby fostering and implementing other trade promotion activities.
The department counseled and guided 31 organizations and individuals to complete procedures for industrial property protection (25 trademark applications, six patent applications, one utility solution application and eight industrial design ones), he added.
Last year, the municipal department's IP Management Division organized 18 training courses on brand development for handicraft villages with 1,260 participants.
In 2020, among 27 approved IP projects according to Decision No. 4506, twenty-two were related to OCOP products.
The chosen projects were Yen Nghia safe vegetable (Ha Dong District), Dan Phuong flowers (Dan Phuong District); Do Dong rice (Thanh Oai District); Huong Ngai potatoes (Thach That District), and Dong Cao red pomelo (Me Linh District).
ABBANK expects to have credit rating upgraded after excellent H1 results
Moody's Investors Service has assigned a B1 rating for An Binh Commercial Joint Stock Bank's long-term domestic and foreign currency deposit, one spot higher than the lender's baseline credit assessments.
It assessed ABBANK's liquidity as strong.
In the second quarter, ABBANK's profitability and status of problem assets improved significantly, and it is expected to get a higher credit rating for the rest of the year.
Moody's said that it could upgrade the long-term rating of ABBANK if its ratio of tangible common equity to risk-weighted assets is above 9.3 per cent.
The bank recorded an 85 per cent increase in pre-tax profits in the first half of the year to VND1.2 trillion (US$52.3 million).
Return on assets and return on equity were 2.2 per cent and 25.33 per cent.
Its capital adequacy ratio at the end of June was 11.97 per cent, well above the State Bank of Vietnam's prescribed level of 8 per cent and the industry average of 10.63 per cent.
It has got approval from the State Bank of Vietnam to further increase its charter capital to nearly VND10 trillion ($435.96 million). —
Vissan proposes operation halt due to Covid-19 infections
Leading food processor Vissan in Vietnam has proposed suspending its operations for 3-4 weeks after 43 employees tested positive for Covid-19.
Vissan has applied the stay-at-work process since June 28 to maintain its operations. However, four workers in the firm tested positive for Covid-19 on July 17 and the figure rose to 43 as of July 23.
The company has reported the situation to local authorities.
Two options have been proposed. In the first, the firm wants all Covid-19-infected workers to quarantine elsewhere, while the remaining workforce would be provided Covid-19 tests. People who have negative results will be separated to continue working. They then will be given a Covid-19 test every three days.
The company will try to ensure conditions for their workers in order to avoid cross-infection.
If all the workers agree to stay at work later, the company will continue operations. The firm will cooperate with Binh Thanh Medical Centre for Covid-19 testing.
For the second option, Vissan will send all people who had close contact with Covid-19 patients (F1) to their home after being tested positive for Covid-19; while those who come into close contact with F1 will be quarantined. In this case, the company would have to suspend work for 3-4 weeks.
Dinh Minh Hiep, Director of the HCM City Department's Agriculture and Rural Development, said that to ensure the food supplies for the city in case of Vissan's suspension, other local slaughter facilities need to enhance their capacity. The city would seek supplies from other cities and provinces.
At present, three slaughter facilities in HCM City have halted their operations due to Covid-19 infections.
Source: VNA/VNS/VOV/VIR/SGT/SGGP/Nhan Dan/Hanoitimes
VIETNAM BUSINESS NEWS JULY 29 have 7615 words, post on vietnamnet.vn at July 29, 2021. This is cached page on VietNam Breaking News. If you want remove this page, please contact us.