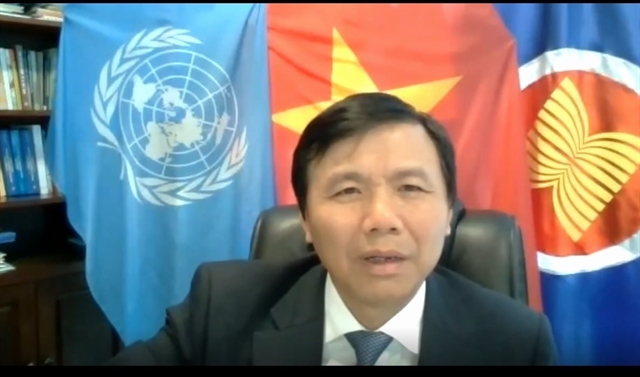 Ambassador Đặng Đình Quý, Permanent Representative of Việt Nam to the United Nations. — VNA/VNS Photo
NEW YORK — The COVID-19 pandemic has revealed many inequalities between countries, including the anxious gap in vaccinations that could threaten peace-building efforts and development achievements, Ambassador Đặng Đình Quý, Permanent Representative of Việt Nam to the United Nations, has said.
Quý was speaking on July 27 (Hà Nội time) at the UN Security Council's first consultation on the implementation of Resolution 2565 which was adopted on February 26 on the equitable distribution of COVID-19 vaccines.
He emphasised the need to ensure that everyone is vaccinated, has access to COVID-19 testing and treatment services, and called on countries to provide financial support and vaccine supplies for the COVAX Facility.
The Ambassador also highlighted the importance of long-term measures such as preventing and ending conflicts, boosting economic development, enhancing people's livelihoods, providing finance for development and responding to economic, climate, and epidemic challenges.
At the meeting, Assistant Secretary-General for Peacebuilding Support Oscar Fernandez-Taranco and Acting Assistant Secretary-General for Humanitarian Affairs Ramesh Rajasingham delivered reports on the impact of the COVID-19 pandemic on the humanitarian and socio-economic situation in conflict zones and efforts by the UN system to support vaccine distribution to these areas.
UNSC members called for increased cooperation among countries as well as international organisations and mechanisms to distribute vaccines fairly and at low prices to countries in crisis.
They agreed that the global pandemic has caused many serious socio-economic consequences for countries in conflict, and at the same time increased political tensions in many places.
The UNSC members urged the international community to continue to support efforts to cope with the increasing number of infections and also the indirect consequences of the pandemic in the context that many people are not ready for vaccination.
Since the adoption of Resolution 2565, the vaccination in lower- and middle-income countries has been slow. However, with large supplies of the vaccines expected to become available later this year and in early 2022, the UNSC is making timely preparations for medical human resources as well as a coordination mechanism to distribute this vaccine sources most effectively and fairly, through COVAX, a global initiative aimed at working with vaccine manufacturers to provide countries worldwide equitable access to safe and effective vaccines, once they are licensed and approved.
It is expected that the COVAX Facility will deliver 2 billion doses of vaccines worldwide in 2021 and 1.8 billion doses to 92 poorer economies by early 2022. However, as of July 23, the programme has only distributed 136 million doses. — VNS
Việt Nam concerned about unequal COVID-19 vaccination among nations have 583 words, post on vietnamnews.vn at July 27, 2021. This is cached page on VietNam Breaking News. If you want remove this page, please contact us.