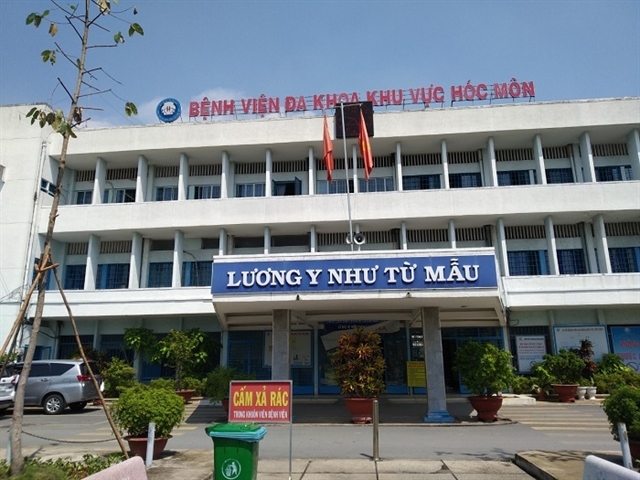 Hóc Môn District's General Hospital, over a week ago, was upgraded to receive treatment for 493 symptomatic COVID-19 patients. Photo benhvien.org.vn
HCM CITY – Hóc Môn District in the outskirts of HCM City, plans to establish six isolation areas to accommodate symptomatic COVID-19 patients for treatment.
On July 26, the district recorded a total of 3,320 positive cases in the fourth wave of the pandemic. Since then the number of infections in the areas has continued to increase by more than 100 cases every day.
Director of Hóc Môn District Health Centre Nguyễn Văn Trường said that previous positive cases were taken to hospitals in the inner city for treatment. Hóc Môn District General Hospital, however, over a week ago, was upgraded so that it could receive 493 symptomatic COVID-19 patients.
The hospital director, Đặng Quốc Quân said that in the future, the hospital will be able to accommodate up to 700 patients. Additional advanced medical equipment will be acquired to help treat COVID patients.
"Currently, 15 beds for mechanically ventilated patients in the intensive care unit of the hospital are full," he said.
"We are doing everything to promptly handle severe cases to minimise mortality," he went on.
The district currently has an isolation area that is treating 332 COVID cases, but there are only three doctors and three nurses. The local health department has asked the HCM City Department of Health to send more doctors to assist.
Lê Thụy Mỹ Châu, Vice Chairwoman of Hóc Môn District People's Committee, said that there were few motels and hotels in the local area, so schools were being used as temporary isolation areas.
Medical staff were on duty at isolation areas to classify patients. Those with underlying diseases and clear symptoms were transferred to city hospitals immediately.
The district also organised quick tests for random cases at quarantine checkpoints in 12 communes and towns.
Almost every day, up to 20 COVID cases are detected through random testing.
Transporting patients to high-ranking hospitals in the city had been difficult due to the increasing number of infections.
When receiving news that a patient is seriously ill, the district's medical staff immediately contact the emergency portal 115 HCM City to call a car, and actively enter all the patient's data, for quick transfer to the city hospital, a local doctor said. – VNS
Six isolation areas to be established in Hóc Môn District have 535 words, post on vietnamnews.vn at July 27, 2021. This is cached page on VietNam Breaking News. If you want remove this page, please contact us.