If the number of severe Covid-19 cases that need endotracheal intubation, ventilators and resuscitation rises too high, Vietnam's medical resources will be overloaded, experts have warned.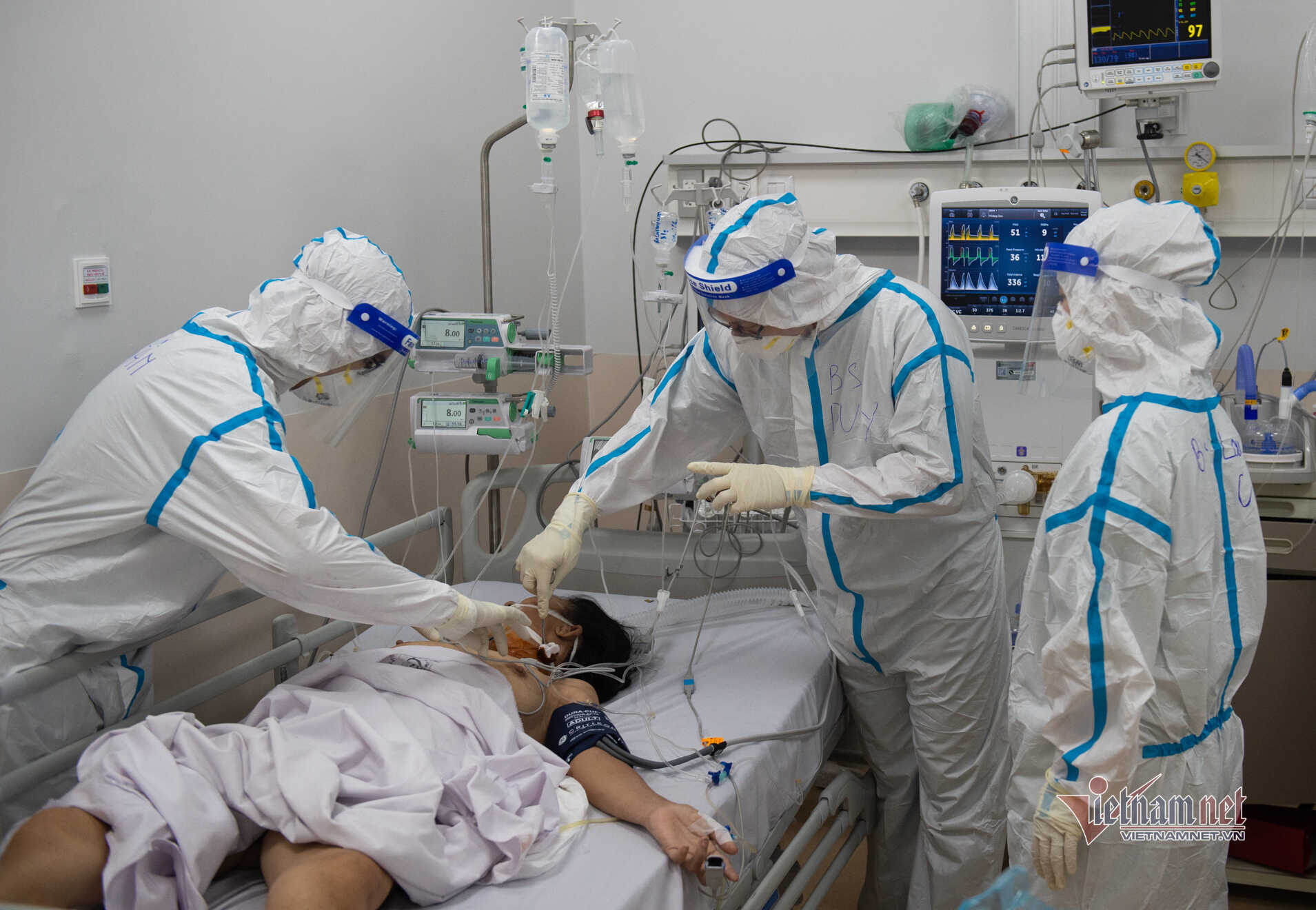 Reports show that 80 percent of Covid-19 cases have no symptoms or just have mild symptoms, while the remaining 20 percent have severe symptoms and need medical intervention.
Of the 20 percent, 15 percent have severe illness and require oxygen therapy, and of this, 15 percent, and approximately 5 percent will need breathing machine and require intensive care unit treatment.
The fatality rate of Covid-19 patients in the world is 2.1 percent. It is 1.78 percent in the US, 2.35 percent in the UK, 2.49 percent in Russia, 2.45 percent in Germany, 5.02 percent in China and 1.79 percent in Japan, according to Worldometers as of July 20.
In Vietnam, in the first pandemic outbreak, only 3 percent turned severe and less than 1 percent of patients became critically ill who required a ventilator or ECMO. The fatality rate, according to Ministry of Health, was 0.55 percent.
In the first period, the figure in Vietnam was just 0.03 percent at certain moments, which was much lower than the average rate of the world.
However, as the virus has been spreading among the community, Vietnam is at risk of no longer being outside the world's severe morbidity and mortality rate, an experienced physician said.
Vietnam's severe illness and fatality rates in the first outbreaks were low because of some reasons, he said.
In the first period, Covid-19 broke out in Industrial Zones in Hai Duong, Bac Ninh and Bac Giang. The patients were young and strong and only a small proportion of workers became severely ill. The hotbeds in the community were stamped out while the number of patients was not too high.
As the number of patients turning severe was small, Vietnam's medical system was not overloaded and physicians still could focus on severe cases. Some patients with multiple circulatory arrests or severe multi-organ failure complications still could be saved.
However, the virus has been spreading rapidly among the community with very high number of positive cases (56,530 cases from April 27 to now). The patients include older people, children, and people with chronic and acute disease.
The risk is very high among old people. In some areas in the world. The fatality rate among very old people is up to 80-90 percent.
"Moreover, when the number of infections is too high, the number of seriously ill people also increases, Vietnam's medical resources can hardly deal with the situation as it could in the past. This is a reality we have to anticipate," he said.
He denied the claim that Vietnamese people are strong and easily adaptable, so the fatality rate was low.
He said that developed countries such as the US and Europe, though having very powerful medical resources, also have high fatality rates at the time when the virus broke out strongly in the community. This may happen with Vietnam once the number of patients becomes too high.
The expert noted that in Wuhan, when the medical system became overloaded, doctors had to give up serving severely ill patients who needed ventilators because of the lack of labor force and machines. The fatality rate among seriously ill people who needed ventilators in China was up to 97 percent.
"The risk will be visible if we fall into a similar overloading situation," he warned, adding that good doctors belonging to the 'elite force' who have been used over the last year, are getting exhausted.
Living with the pandemic?
The answer is 'no' at this moment, he said.
According to the physician, some people keep the view that Covid-19 is just a type of seasonal influenza, and that Vietnamese can 'live with the influenza' because the mortality rate is not high.
But he said that this is a wrong point of view and Vietnam still cannot satisfy the requirements to 'live with virus'.
Vietnamese people can only live together with SARS-CoV-2 if they have the shield that helps avoid the mortality. Only when Vietnam can obtain herd immunity, will it have a 'lifebuoy'.
He stressed that one must not compare Covid-19 with seasonal influenza, because the rate of patients turning severe is increasing. Only vaccinations or herd immunity can keep Covid-19 under control.
Nguyen Lien
Public told to remain hyper-alert as Covid-19 spreading rapidly in community have 837 words, post on vietnamnet.vn at July 23, 2021. This is cached page on VietNam Breaking News. If you want remove this page, please contact us.