A film about fishermen living in a coastal village in Binh Thuan Province has impressed audiences after its release last week on a YouTube channel owned by MCV Media.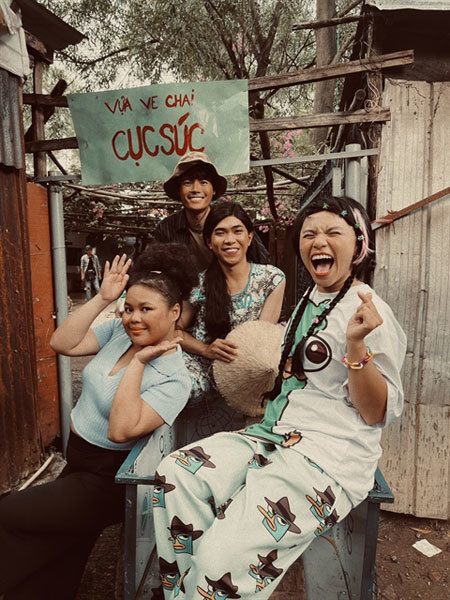 Actors perform in the web drama Gia Đình Cục Súc (Great Family), produced exclusively for online entertainment. Photo courtesy of the producer
The work, Hậu Duệ Của Biển (The Children of the Seas), focuses on the lives of fishermen and their children who face challenges in life and love, and their difficulties in developing the family's traditional business.
The film, produced by Mnet Media, stars Xuan Nghi and Khong Tu Quynh.
The screening aims to attract audiences during the COVID-19 pandemic social distancing.
"There's no way to release films in cinemas as the fourth wave of COVID-19 since April 27 has still not ended. We decided to post our film on YouTube to entertain fans at home these days," said a representative of the film's producer MCV Corporation.
The film attracted more than 1 million views four days after its release on June 4.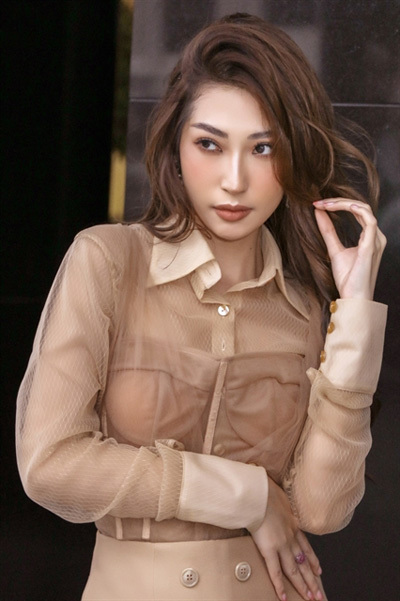 Singer-actress Khong Tu Quynh performs in Hậu Duệ Của Biển (Children of The Seas), a film featuring the lives of fishermen in a coastal village in Binh Thuan Province. The work was released on YouTube last week to attract audiences during the COVID-19 pandemic social distancing. Photo courtesy of the producer
Another series, Gia Đình Cục Súc (Great Family), is a new web-drama produced exclusively for online entertainment.
The first part of the show was uploaded on YouTube last month. It has attracted more than 8.3 million views.
The film revolves around the daily life of a father, who works as a garbageman, and his two daughters. Love and family issues are highlighted.
"Online distribution of movies and web dramas has met the needs of audiences as the COVID-19 pandemic has caused an increase in demand for such services," said film director Vo Tan Phat, producer of Gia Đình Cục Súc.
Movie producers' profits depend on ticket sales and other forms of distribution such as DVDs, the internet and copyright sales to foreign markets.
"However, with online entertainment, filmmakers cannot neglect the market anymore. Online movie streaming helps producers make the most of their products," he said.
A number of Vietnamese films have changed their screening schedule and have been released online instead of in cinemas this summer.
Five short films by young directors Dan Thanh, Chau Tran, Phan Hy, Quoc Tuan and Le Phuong will be posted on YouTube and Vietnamese entertainment platforms such as FPT Play, Galaxy Play, Danet and VieOn in August.
Điên Tối (Darkness), an action-thriller by producer Vietal Media starring young star Lien Binh Phat and Yu Duong, was released on YouTube, TV360, Mocha and FPT Play last week. The film has attracted more than 2.1million views.
"I think online movie screening will continue to develop after the pandemic," Nguyen Ngoc Tram, a resident of Binh Phuoc, said.
"Many people, including the elderly and disabled who cannot visit the cinema freely, can watch online films. Locals in remote areas can see certain movies at the same time as those shown in big cities."
Galaxy Play, owned by Thien Ngan (Galaxy) Studio, has plans to produce 20 films between 2021-2022 to meet internet users' growing demand and to compete with big firms such as Netflix or HBO Go.
"The movie segment on Galaxy Play grew two to three times during the social distancing periods," said Luu Thi Thanh Lan, director of Galaxy Play.
Similar growth was seen on other platforms. New web dramas, exclusive content and shows from overseas made the market very competitive, she added.
In response to increased demand, film and music producers have worked with local entertainment platforms to create and release films, theatre shows and concerts for online entertainment sites.
They have also researched consumer habits and formed new business rules and standards.
Source: Vietnam News
Vietnamese movies released online during COVID-19 pandemic have 694 words, post on vietnamnet.vn at June 24, 2021. This is cached page on VietNam Breaking News. If you want remove this page, please contact us.