Stock market hits historic peaks
Vietnam's benchmark VN-Index rose 3 points on June 3 to reach a record-high of 1,340.78 points.
Liquidity on the Ho Chi Minh Stock Exchange (HOSE) also posted a new record of nearly 26.14 trillion VND (1.13 billion USD).
The southern bourse saw 222 codes rising, 187 codes declining, and 49 remaining unchanged.
The HNX-Index on the Hanoi Stock Exchange, meanwhile, rose 3.58 points to 322.05 points, also a new high.
Liquidity stood at more than 4.41 trillion VND. It had 112 codes increasing, 79 declining, and 80 staying flat.
The UPCOM-Index (Unlisted Public Companies Market) gained 0.52 points to 89.39 points, with more than 2.11 trillion VND injected into the market, equivalent to over 117.1 million shares traded.
In the market as a whole, liquidity stood at a record of more than 32.67 trillion VND.
In the first five months of this year, domestic investors opened 480,490 new securities accounts, 20 percent higher than the figure of the whole year of 2020./.
FDI inflows into IPs and Ezs surge over five-month period
Industrial zones (IPs) and economic zones (EZs) nationwide attracted a total of 291 foreign direct investment projects during the five-month period with newly-registered and additionally increased capital reaching approximately US$6.02 billion, a year-on-year increase of roughly 10.3%.
According to details given by the Ministry of Planning and Investment, industrial zones and economic zones across the country have had roughly 10,853 valid foreign direct investment (FDI) projects during the opening five months of the year with total registered capital reaching US$228.4 billion, of which FDI disbursement was at some 69.6%.
During the reviewed period, there were 38 investment projects on construction of IP infrastructure, thereby bringing the total number of established local IPs to 394.
In line with the master planning for the development of Vietnamese coastal economic zones until 2020, with a vision ahead to 2030, the nation is set to have 19 coastal economic zones with a total area of 871,500 hectares.
Digital transformation – key to bringing local agricultural products to global market
Digital transformation is widely considered to be a crucial solution in both production and trade activities, thereby helping to introduce Vietnamese agricultural products to the international market.
With lychees currently entering the harvest season, the Ministry of Industry and Trade has recently co-ordinated alongside major domestic and foreign e-commerce platforms, such as Alibaba, Lazada, and Sendo to help farmers sell their products.
According to details given by the Vietnam Trade Promotion Agency, roughly three tonnes of Thanh Ha lychees from Hai Duong have been sold on Lazada since May 14, while six tonnes of lychees were sold through the Sendo trading platform on May 24.
Hoang Minh Chien, deputy director of Vietnam Trade Promotion Agency, underscored the importance of applying modern technologies, especially digital platforms, in production activities as a means of boosting economic efficiency.
This comes following plums and Yen Chau mangoes from the northern province of Son La being listed on Shopee and subsequently being distributed in Hanoi and Ho Chi Minh City.
All products listed on e-commerce platforms have received support from the Vietnam Trade Promotion Agency in relation to boosting product traceability, labeling, and transparency of their products.
Dao Ha Trung, chairman of the Ho Chi Minh City High-Tech Association, said that promoting the application of technology is an inevitable trend and plays a crucial role in bringing local agricultural products to consumers in both domestic and international markets in a more convenient manner.
Vietnam, China to speed up customs clearance for fresh fruits
Competent forces of Vietnam and China on June 2 reached consensus on plant quarantine to simplify procedures and shorten customs clearance time for fresh fruit exports.
During their talks on same the day, the two sides discussed fruit quarantine activities at border gates over the past time, focusing on quarantine for Vietnam's fresh fruits to be exported to the neighbouring country in the time ahead.
Accordingly, China's customs and quarantine agencies will examine Vietnamese fruits randomly, and exempt check-up for fresh lychees from Vietnam.
Vietnam has exported nine types of fruits to China, namely dragon fruit, longan, mango, lychee, banana, jackfruit, rambutan, watermelon and mangosteen. However, eight of them have been subject to plant quarantine as the two sides have yet to sign agreements on this regard.
Given the complex developments of the COVID-19 pandemic, the two sides agreed to study the possibility to build a joint mechanism to speed up plant quarantine at border gates./.
Cement exports soar by 50 per cent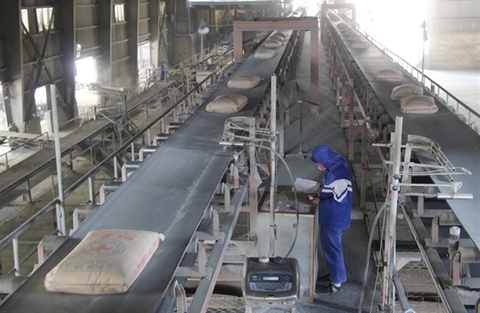 A cement production line at La Hien Cement VVMI JSC in the northern province of Thai Nguyen.
Cement consumption is estimated at 45.83 million tonnes from the beginning of the year, up about 16 per cent year-on-year.
Consumption in the domestic market reached about 26.57 million tonnes, a year-on-year growth of 9 per cent.
Data from the Building Materials Department, Ministry of Construction, estimated cement consumption would reach about 10.79 million tonnes last month, up about 12 per cent from last year.
Domestic consumption was about 6.49 million tonnes and exports estimated at 4.3 million tonnes.
In terms of prices, the domestic price of cement last month is comparable to that of April. Meanwhile, export prices saw a slight increase.
Explaining the strong growth in cement export volume, Luong Duc Long, vice president cum general secretary of the Viet Nam Cement Association (VNCA), said the country had expanded its cement exports in developing countries.
However, Long also said exports of cement to these markets were unsustainable because these countries were also focusing on developing the domestic cement industry to meet the demand for domestic cement consumption.
Therefore, Viet Nam's cement manufacturing and exporting enterprises should focus on improving their competitiveness and product quality in the export markets to be more stable and sustainable.
US gives preliminary conclusions on anti-dumping of local PTY products
The Trade Remedies Authority under the Ministry of Industry and Trade has received information regarding the US Department of Commerce making preliminary conclusions on the anti-dumping investigation into Polyester Textured Yarn (PTY) products of Malaysia, Indonesia, Thailand, and Vietnam.
Most notably, the preliminary dumping margin of Indonesian enterprises ranges from 7.45% to 26.07%, while that of Thai enterprises hovers between 14.8% to 56.08%. Meanwhile, all Malaysian businesses are subject to a flat tax rate of 17.35%.
After issuing the preliminary conclusions of the case, according to the practice of previous cases, the US Department of Commerce (DOC) may choose to conduct on-site verification of firms in the near future as a means of verifying the information submitted in the questionnaire.
Despite these plans, due to the impact of the novel coronavirus (COVID-19) pandemic, the DOC have announced that it will not conduct on-site verification, but will instead require businesses to provide additional information in order to verify data before making a final conclusion.
Therefore, the Trade Remedies Authority recommends that in the future relevant PTY yarn manufacturers and exporters continue to co-operate closely with the investigation agency and the Trade Remedies Authority as a means of ensuring positive results.
The investigation was initiated by the DOC on November 17, 2020, with the DOC expected to issue a final conclusion before October 9.
IIP grows 10% in May
The index of industrial production (IIP) grew by 9.9 per cent in the first five months of this year over the same period last year.
By sector the processing and manufacturing industry increased by 12.6 per cent; the electricity production and distribution industry increased by 8.3 per cent; water supply, drainage and waste treatment 7.5 per cent; while the mining industry fell by 7 per cent.
Among the secondary industries, a number of key industries had a high production index in the five months compared to the same period last year.
Metal production grew by 38 per cent; motor vehicle production 35 per cent; production of beds, wardrobes, tables and chairs 18.3 per cent; and production of electronic products, computers and optical products 15.5 per cent.
In the opposite direction, a number of industries saw a decrease. Crude oil and natural gas exploitation dropped by 11.5 per cent; print, copy records of all kinds 5.1 per cent; hard coal and lignite mining 3.8 per cent; drainage and waste treatment 1.6 per cent; production of coke and refined petroleum products 0.4 per cent.
The number of employees working in industrial enterprises as of May 1 rose by 1.2 per cent compared to the same period last month and by 2.2 per cent over the same period last year.
Industrial production last month was estimated to grow by 1.6 per cent over the previous month and 11.6 per cent over the same period last year despite the complicated developments of the COVID-19 pandemic from the end of April, which directly affected a number of industrial zones in the two provinces of Bac Giang and Bac Ninh.
Of which, the mining industry dropped by 6.4 per cent month-on-month and by 9.8 per cent year-on-year; processing and manufacturing rose by 2.6 per cent and 14.6 per cent respectively.
Electricity production and distribution increased by 12 per cent year-on-year; and water supply, drainage and waste treatment increased by 6.8 per cent.
Consumer debts put for sale for first time in Viet Nam
Commercial banks have made public the sale of unsecured consumer debt for the first time in the country.
Vietnam Joint Stock Commercial Bank for Industry and Trade (VietinBank) recently announced it would sell consumer loans to recover debts. Accordingly, the debts belong to many borrowers and are valued from VND1.68 million to VND17.58 million. The book value of the debts includes principal, interest and penalties.
Notably, these consumer debts are unsecured and the starting price is equal to the book value. The bank also requires deposits equal to the starting selling prices from customers who want to buy the debts.
The sale of unsecured consumer debts is uncommon in Viet Nam as previously banks often made public only bad debts for sale to handle and recover them, and they always had collateral such as real estate, machinery, equipment, factories and cars.
According to a representative of VietinBank, selling consumer debts is one of the bank's legal business operations to handle and recover debts. Though the debts aren't non-performing loans, banks can still sell them.
Financial expert Huynh Trung Minh said customers often repay consumer debts on time, such as instalment purchases or small consumer loans, so the bad debt ratio of such loans is very low.
Minh believed the sale of consumer debts are useful for buyers who would like to have the address and information of the borrowers so they can enlarge their database and access new potential customers. In foreign countries, the refinancing business segment, or relending to customers who are in debt but solvable in the future, is common and profitable.
However, according to another financial expert and lawyer Truong Thanh Duc it is not easy to sell consumer debts at full cost of principal, interest and penalties because the sale seems less attractive than that of bad debts. Currently with bad debts with collateral, banks can only sell them at a price equal to only 50-70 per cent of book value.
Recently, commercial banks and financial companies have promoted the consumer lending segment to meet the urgent capital needs of people. In particular, the Government also encouraged the development of consumer lending in a move to fight against usury.
Though consumer lending has been thriving with increasing risk of bad debts, financial expert Dinh The Hien said there had been no legal debt trading market in this segment. After the Government banned the debt collection service, financial companies and banks have to deal with bad debts from consumer loans by themselves.
According to experts, if VietinBank's sale of consumer debts succeeds, it can stimulate other banks to follow suit, thereby creating a more bustling consumer loan trading market, contributing to handling bad debts from this segment.
VIB increases charter capital, issue bonus shares at 40%
The Vietnam International Bank (VIB) has announced its plan to issue 40 per cent bonus shares to increase charter capital to over VND15.5 trillion (US$665 million).
The plan was published by the bank on Monday after receiving approval from the State Bank of Viet Nam and the State Securities Commission.
As per the plan, each shareholder who owns 100 existing shares will receive 40 new ones. Shareholders should register to receive bonus shares no later than June 10, according to the bank.
Currently, VIB shares are traded at around VND64,300 apiece, up nearly 100 per cent compared to the beginning of this year. VIB now ranks 18th in the group of companies with the largest market capitalisation at over VND70 trillion.
VIB continues to affirm its impressive business performance thanks to the diversified credit portfolio that has helped reduce concentration risks, especially the negative impact of the COVID-19 pandemic.
As of May 2021, the bank's bad debt ratio was as low as 1.25 per cent while its restructured debt balance for COVID-19 affected borrowers decreased to about VND200 billion, accounting for 0.1 per cent of the total outstanding loans.
Earlier on March 26, Moody's Investors Service upgraded the credit rating outlook of VIB to "positive" from its previous "stable". According to Moody's, VIB had a stable asset quality and high profitability while ensuring sufficient capital sources for sustainable development.
VIB is known as a leading retail bank with an average annual growth rate of over 50 per cent over the past five years. The retail outstanding balance was 87 per cent of total outstanding balance, of which over 95 per cent of retail loans have collateral. VIB is one of few banks with such a high proportion.
The bank has kept leading in growth rate with four key products of auto loans, mortgages, bancassurance and credit cards. VIB has also held the No 1 position in terms of auto loans and bancassurance market share for many years.
Meanwhile, VIB has also pioneered in digital transformation thanks to its focus on developing digital banking and products with high technology and automation content. The bank's MyVIB app has been recognised as the best digital banking application of the year and the best customer experience in Viet Nam by The Asset magazine for four consecutive years.
In April, VIB launched VIB Online Plus 2in1 – the first integrated credit card and payment card line in Southeast Asia. That marked the pioneering step of a Vietnamese bank in cashless payment in the region.
MOF extends fee cuts to support listed firms until end of 2021
The Ministry of Finance (MOF) just announced the extension of Circular 14/2020/TT-BTC issued on March 18, 2020 for another six months to cut fees for fifteen securities services, the State Security Commission of Viet Nam said.
The aim is to support the country's stock market amid a surge in COVID-19 cases.
Accordingly, nine services' fees will be reduced by 10 – 50 per cent and six others will be exempt.
Previously, Circular 14/2020/TT-BTC was extended once under Circular 70/2020/TT-BTC issued on July 17, 2020. Of which, charges for securities services will be reduced or exempt for 10 more months, from August 31, 2020 to June 30, 2021.
After December 31, all fees for securities services applied at stock exchanges and Viet Nam Securities Depository Centre will be in force under Circular 127/2018/TT-BTC.
POW faces risk of being kicked out of VN30-Index
PetroVietnam Power Corporation (POW)'s market capitalisation has fallen significantly for more than a year, meaning its shares might be eliminated from the VN30-Index during assessments.
On Tuesday, POW shares were traded at VND12,100 per share, making VND27.4 trillion (US$1.2 billion) in market capitalisation.
With the value, PetroVietnam Power is standing in 36th in the top listed companies on the Ho Chi Minh Stock Exchange (HoSE) with the greatest market capitalisation. The rank was down sharply since January 2020 when it was in the top 20 companies by market capitalisation and listed in the VN30-Index, which tracks the 30 biggest stocks on HoSE.
The downgrade in POW's rank was not due to the decrease of its stock price as the price is similar to late 2019.
The reasons were that the market has recorded the appearance of the series of companies with high market capitalisation and many shares have surged tens to hundreds of per cent since early 2020.
Some companies that were listed after PetroVietnam Power, like Vietnam Rubber Group JSC (GVR), is worth VND113.4 trillion (US$4.9 billion), standing in the top 13 companies by market capitalisation.
Especially, a series of banks that were newly listed or transferred from other exchanges like Vietnam International Commercial Joint Stock Bank (VIB), Asia Commercial Bank (ACB) and SEABank (SSB) all surpassed PetroVietnam Power in market capitalisation.
With the current rank, PetroVietnam Power's position will be threatened during the portfolio assessment of the VN30-Index this July.
According to regulation version 3.0 issued on November 9, 2020, the assessment is based on criteria including listing date, liquidity, and stocks rank from 21 to 40 by market capitalisation in the last 12 months. Also those in the VN30 basket in the previous assessment will get priority, then come newly listed stocks.
However, with the downgrade to the bottom rank in the priority group, if POW share prices don't improve soon, there is a risk of being kicked out of the VN30-Index.
The VN30-Index is an important index that attracts many passive funds as the country's stock market rises dramatically.
Bank stocks witness upswing in prices
Bank stock prices have witnessed a dramatic increase since the end of March after plenty of banks announced positive first-quarter business results, as well as news on rising mergers and acquisitions (M&A).
Among the listed banks, Vietnam Prosperity Commercial Joint Stock Bank (VPB) has been the strongest performer in the stock market since the beginning of this year. VPB closed the trading session on December 31 at VND32,500 (US$1.41) per share, it now is being traded at VND67,600 per share, equivalent to an increase of 108 per cent.
VPB's gain was attributed to the news that VPBank has sold 49 per cent of its charter capital at FE Credit to Japan's SMBC Group at a valuation of $2.8 billion. VPB shares are also attractive thanks to its leading position in the consumer finance segment and the private placement plan for foreign strategic partners.
Lien Viet Post Commercial Joint Stock Bank (LienVietPostBank) has also witnessed an increase of more than 104 per cent since the beginning of this year, currently trading at VND25,400 per share.
Nguyen Duc Thuy, a founding shareholder of Thaiholdings Joint Stock Company (THD), has officially been elected as Vice Chairman of the Board of Directors of LienVietPostBank since early May.
After less than a year after listing, the market price of THD has increased 13 times, from the reference price on the first trading day of VND15,000 per share to VND197,100 per share on May 26 this year.
At LienVietPostBank's 2021 Annual General Meeting of Shareholders held at the end of April, shareholders shared that they hope the same gain will also happen to the bank's shares.
Saigon Thuong Tin Commercial Joint Stock Bank (Sacombank) also underwent an increase of more than 74 per cent since the beginning of this year. Vietnam International Commercial Bank (VIB) rose by 94 per cent compared to the end of 2020; Southeast Asia Commercial Joint Stock Bank (SSB) gained by 84 per cent so far this year and has maintained its upward momentum after two months of listing on HOSE.
National Commercial Joint Stock Bank (NVB) witnessed an impressive increase of more than 80 per cent and Vietnam Joint Stock Commercial Bank for Industry and Trade (CTG) rose 49 per cent so far this year.
In a recent report, SSI Securities Joint Stock Company said that banks' plan to raise charter capital can be a supportive factor for the movement of bank stock prices from now until the end of 2021.
In 2021, there are about 16 banks with plans to increase their charter capital significantly, according to the report. Specifically, charter capital at these banks will be increased by VND82.7 trillion, up 31 per cent compared to 2020. Of the estimate, about 75 per cent will be increased through stock split; 22 per cent from private placement and the rest is through the employee stock ownership plan (ESOP).
From 2020, the State Bank will tighten the payment of cash dividends by banks. Instead, the State Bank encourages them to pay dividends in stock.
Laptop, computer prices on the rise
Due to the scarcity of goods and components, the price of laptops, computers and accessories has increased in local retail stores, and the trend looks set to continue.
A representative of The Gioi Di Dong (Mobile World) told VnEconomy online newspaper said that due to the scarcity of chips, it had slightly increased the price of some new models and might increase the price of other models in the near future.
A retailer said that normally, for many laptop and computer models, the price would gradually drop after three to six months after launching. But from the beginning of this year, the price of laptops and computers had increased.
In the short term, demand was very large in the low-price segment under VND16 million (US$696). Meanwhile, those in the segment above VND16 million were still enjoying promotions, he added.
Nguyen The Kha, Senior Director Mobility Groups of FPT Shop, said increased prices and the shortage of components did not affect the shop much as FPT Shop had taken careful preparations for changes amid the pandemic.
Key products have been forecasted and stocked, ensuring there were always enough supplies for 30-45 days while waiting for new shipments to arrive, said Kha.
Nguyen Ngoc Dat, CEO of the retail chain Di dong Viet (Viet Mobile), shared that in the context of insufficient supply and demand, product price increases were inevitable. However, he forecast that the scarcity could be quickly overcome.
If purchasing power increases, product prices from now to the last quarter of the year might increase slightly, ranging from 1-3 per cent, an insignificant increase.
Most retail systems in Viet Nam forecast that the laptop, computer and accessories segment would be able to meet market demand by the fourth quarter of this year.
Market research firm TrendForce reported that global laptop sales exceeded 200 million units for the first time last year.
This is a new record high for the global laptop market. It is forecasted that global laptop shipments will have a chance to reach 217 million this year. Thus, personal computer (PC) growth will be 8.1 per cent compared to last year.
Meanwhile, Gartner estimated the number of PCs (including desktops and laptops) sold rose by 32 per cent in the first quarter of this year compared to the same period last year.
With the potential for demand and the growth of the laptop and computer market, many retailers are racing to expand their business chains and take advantage of new opportunities despite the COVID-19 pandemic.
For example, Viet Mobile recently opened a new store in Bien Hoa City, Dong Nai Province. To date, this retail system has up to 18 stores in HCM City and 11 stores associated with the 'shop in a shop model' with network operator MobiFone.
In the first quarter of this year, FPT Shop also opened 70 laptop retail centres nationwide.
Contractors of Cam Lo-La Son highway relapse contract for numerous times
A series of contractors of Cam Lo-La Son highway, a component project of the North-South Expressway, have violated committments on construction progress.
The Ministry of Transport (MoT) submitted a document to Ho Chi Minh Road Project Management Board to ask the board to carefully monitor the progress and quality of work provided by the contractors of Cam Lo-La Son section.
The MoT has also asked the management board to look for contractors to replace Hoang Nguyen Construction Co., Ltd. – the developer of the XL03 construction package. Hoang Nguyen missed its committed timeline for the third time.
Regarding contractors committing violations for the second time, the MoT asked the management board to issue a third warning to The 36 Corporation JSC, Material Equipment and Civil Engineering Construction JSC No.624 and request the contractors to deal with their violations.
At contractors, who violates the construction progress for the first time, they will be warned for the second time.
Besides, the MoT ordered these contractors to complete the delayed work before June 5 or shoulder the penalties laid out in their project contracts.
The construction of Cam Lo-La Son was kicked off in September 2020.
This section has a total investment capital of over VND7.6 trillion ($330.43 million) sourced from government bonds. The section was designed with two lanes of 12m width to run for 98km, allowing maximum travel speed of 80kmph. In the next phase from 2030-2040, the section will be expanded to 4-6 lanes.
The Cam Lo-La Son section is the first of the 11 subprojects of the Eastern part of the North-South Expressway to be constructed in 2019.
The section was scheduled for completion in 2021 to connect to La Son-Tuy Loan Expressway to form Cam Lo-La Son-Tuy Loan Expressway, diverting pressure from National Highway 1A on which traffic slows down around the Hai Van and other mountain passes while contributing to national security and fueling the development of the whole central region. However, these delays put it at risk of missing this deadline.
Strong growth in exports in first five months
Exports to key markets such as the United States, the European Union, China, ASEAN, and South Korea grew strongly in the first five months of the year.
In the first five months, export turnover of goods reached $130.94 billion, up 30.7 per cent over the same period last year.
Accordingly, the domestic economic sector reached $33.06 billion, up 16 .6 per cent and accounting for 25.2 per cent of the total export turnover. Meanwhile, the foreign-invested sector reached $97.88 billion ((including crude oil), up 36.3 per cent, accounting for 74.8 per cent.
Notably, there were 22 items with an export turnover of over $1 billion, accounting for 87.3 per cent of total export turnover. There were six items with export turnover exceeding $5 billion, accounting for 63.8 per cent.
Heavy industrial and mineral products reached $70.7 billion, up 33 per cent compared to the corresponding period last year. Additionally, light industrial products and handicrafts were estimated at $47.32 billion, up 33 per cent, while the agricultural and forestry products reached $9.69 billion, up 13.5 per cent. Finally, seafood products reached $3.24 billion, up 12 per cent.
Most impressively, exports to key markets have reached record growth. Especially, exports to the US, Vietnam's largest export market, accounted for the largest portion with a turnover of $37.6 billion, up 49.8 per cent over the same period last year. This was followed by China with $20.1 billion (up 26 per cent), the EU with $16.1 billion (up 20.8 per cent), ASEAN with $11.5 billion (up 23.7 per cent), South Korea with $8.9 billion (up 17.1 per cent), and Japan with $8.4 billion (up 7.7 per cent).
Agricultural products the next big move in e-commerce
Putting agricultural products on online trading is growing as a new trend of the local e-commerce sector this year.
Both Lazada and Sendo have carried out several programmes to support the northern province of Hai Duong's farmers to sell litchi products on their e-commerce platforms. According to Dang Dang Truong, PR lead at Sendo, just between May 24 and 27, a total of 12 tonnes of litchi were sold through the platform.
Similarly, at a recent conference promoting the export of agricultural products from Hai Duong held by the Vietnam Trade Promotion Agency (Vietrade), newly-established online shopping sites such as Voso (Viettel Post) and Postmart (Vietnam Post) also announced to start focusing on agricultural items instead of fast-moving consumer goods, clothes, and cosmetics like other platforms.
The new segment also lured in the involvement of startups such as Vietnam-based FoodMap and Indonesia-based TaniFund. So far, TaniFund has successfully mobilised $65.5 million Series B funding, led by MDI Ventures, while harbouring plans to enter Vietnam at the soonest.
In a previous talk with VIR, Sendo founder and CEO Tran Hai Linh said that agricultural goods have solid trade potential on e-commerce sites in Vietnam because they have been one of the most consumed commodities in Vietnam. However, to date, due to obstacles related to logistics and transportation, agricultural items, especially fresh food, have yet to reach popularity on online shopping sites.
He explained the hardest part of entering the segment is ensuring the best quality of fresh food products during transportation. There need to be suitable packaging and transporting processes to keep produce fresh and undamaged on short and longer trips.
Pham Ngoc Anh Tung, founder of FoodMap has also highlighted the high investment costs that come with entering this retail segment.
According to Development Reimagined, a China-headquartered organisation specialised in diplomacy, environment, and public relations, selling agricultural products online cost a long time and large investments before reaching success. For example, in China, e-commerce giant Alibaba in 2015 carried out the "Taobao villages" programme to help farmers sell their products on its Taobao platform. However, until 2020, purchasing agricultural goods online reached common in the country.
Funds key for delta bottleneck
Mekong Delta provinces are actively accelerating the development of transport infrastructure to remove logistics bottlenecks for better regional connectivity. However, some of the proposed projects are depending on finding sufficient financial backing from the government and other sources.
The section crossing the region is 700km long, of which 52.5km are in Ben Tre. The road is slated to be developed within the next five years. However, as this would be a brand new and large coastal route in the Mekong Delta, the development needs to mobilise various resources. The province intends to call for public investment and mobilise resources from the society to jointly develop the project.
Nhan said that this new coastal road will significantly reduce the commuting distance between Ben Tre and Ho Chi Minh City to 50km instead of 90km via the National Highway No.1A. Once completed, the road will open opportunities for coastal economic development by reorganising new industries such as urban construction, tourism, aquaculture, manufacturing, and processing. There is also a synchronous plan to create space for a land fund, employment, and climate change response.
Likewise, Long An province is focusing on completing the procedures to carry out the construction of a number of important traffic projects in the area. In the next five years, the province will focus on investing in the construction and expansion of many important transport projects connecting the province and other localities in the region. Long An will mobilise about VND30 trillion ($1.3 billion), including more than VND18 trillion ($782 million) from the central government as well as local budgets, with the rest of nearly VND12 billion ($521 million) coming from other sources on infrastructure development.
According to Nguyen Hoai Trung, deputy director of Long An Department of Transport, once these projects are in operation they will smoothly connect industrial zones and clusters of the province to Long An International Port, Ho Chi Minh City, and neighbouring provinces.
"Additionally, these projects will contribute to creating favourable conditions for people and businesses to travel and transport goods, promoting the socioeconomic development of the locality," he added.
Meanwhile, Can Tho city gives priority to eight key projects in the 2021-2025 period including the ring road to the west of the city connecting the National Highway No.91 and the National Highway No.61C; four provincial roads; and two bridges. The total investment capital is estimated at VND7.5 trillion ($325.2 million).
Can Tho has proposed the government to prioritise investment of key projects connecting the region such as My Thuan-Can Tho Expressway and Can Tho-Kien Giang Highway. Also, the city will implement transport routes and public passenger transport terminals to increase the carrying rate to 10 per cent by 2025 and 20-30 per cent by 2030, boosting the interprovincial connection between Can Tho and its neighbouring provinces.
The Mekong Delta region contributes 50 per cent of the rice crop, 65 per cent of aquaculture, 70 per cent of fruit, 95 per cent of exported rice, and 60 per cent of exported fish of the whole country. With its suitable location, it offers convenient trade opportunities with other ASEAN countries and the Greater Mekong Subregion. However, the connection with Ho Chi Minh City and overseas remains one of the tightest bottlenecks of the region's development.
The Annual Mekong Delta Economic Report 2020 by the Vietnam Chamber of Commerce and Industry and Fulbright University showed that the investment demand in the region for all types of basic transport infrastructure such as roads, waterways, aviation, and even railway is huge. However, development in the last 10 years has been modest.
Many businesses have voiced their concerns about traffic congestion from the Mekong Delta to Ho Chi Minh City. Lack of well-aligned planning and poor logistics also led to cost increase in all stages of the production value chain, reducing the competitiveness of businesses and the regional economy.
Minister of Transport Nguyen Van The said that the ministry will focus on some breakthrough projects in the coming time, such as the expressway connecting Can Tho and Ca Mau in the form of a public-private partnership.
The ministry will also make investments in expressways from Chau Doc district to Long Xuyen city of An Giang province with the total investment of the first phase project estimated at VND23.62 trillion ($1 billion).
To support the sustainable development in the Mekong Delta, the ministry has proposed the planning of Tran De Deepwater Seaport in Soc Trang province, capable of receiving vessels of up to 100,000 tonnes. The port is expected to achieve a throughput capacity of 50-55 million tonnes by 2030. When being put into operation, products in the region will not need to be shipped to Ho Chi Minh City for export. The total capital for the plan's implementation is estimated at VND50.51 trillion (2.2 billion), with investment expected to come from private investors, not the state budget.
"At present, the Mekong Delta is at a great risk amid climate change. Therefore, the government directs the road transport sector to prioritise infrastructure investments in the region. The efforts will also create a premise for the region to change its economic structure, gearing towards sustainable development," Minister The said.
Currently, his ministry has prepared nearly new investment projects across all kinds of transportation with the total capital of $5.14 billion for the delta.
Generally, Vietnam is seeking international loans worth around $2 billion from the World Bank, France, and Germany to support the development of the Mekong Delta's infrastructure, including coastal roads like the one Ben Tre is proposing.
Carolyn Turk, World Bank country director for Vietnam said, "In partnership with government authorities at all levels, innovative pilots and large infrastructure investments have been implemented to bolster climate resilience, natural resources management, and sustainability while fostering growth for people, rural areas, cities, provinces and the region. Importantly, new perspectives, new evidence, new knowledge, and relevant international experiences and expertise have been brought to the Mekong Delta for addressing its very complex challenges."
Hanoi attracts over US$519 million in FDI in Jan-May
During the first five months of the year, the total pledged capital of new foreign invested projects and additional capital for existing ones in the capital city of Hanoi reached US$519.2 million, according to the municipal Statistics Department.
In the given period, 139 new foreign direct investment (FDI) projects were granted investment registration certificates, with total registered capital of US$76.8 million, while an additional US$442.4 million was injected into 63 existing FDI projects.
In May alone, Hanoi licensed 16 FDI projects with total registered capital of US$5.3 million, comprising 14 wholly foreign-owned projects and two foreign joint ventures. Also, foreign investors pumped an additional US$184 million into 13 existing projects.
As for the operations of domestic enterprises, the capital city saw 2,238 newly-established firms last month, improving 8% versus the same period last year, with registered capital reaching VND42.3 trillion, up 69% against the year-ago figure.
Besides this, 245 enterprises were dissolved, rising 20% compared to last year's figure; 788 signed up to temporarily suspend operations, up 28%; and 644 resumed operations, up 51%.
Vietnamese carmaker acquires South Korean retail chain E-Mart
Vietnamese carmaker Truong Hai Auto Corporation (THACO) confirmed at its shareholders' meeting on May 31 that it had signed a contract to acquire the entire E-Mart Vietnam Co. from South Korean retail giant E-mart.
Nguyen Hung Minh, vice chairman of THACO, said the firm expects to complete the purchase within six months but did not reveal the value of the deal.
South Korea's largest retailer established E-mart Vietnam Co. in 2014 and opened the first E-Mart supermarket in HCMC's Go Vap District at the end of 2015. The supermarket, which is the only E-Mart supermarket that has been opened in Vietnam until now, was built on an area of 3 hectares at a cost of US$60 million.
In 2018, E-Mart bought another land lot in HCMC to prepare for the development of its second supermarket in Vietnam. However, the project has been delayed due to legal setbacks.
South Korean newspaper The Korea Times cited the retail giant as saying that it decided to withdraw from the Vietnamese market due to difficulties in expanding the business.
Under the deal, THACO will operate the chain as a franchisee and pay royalty to E-Mart. The automaker will also distribute E-Mart's No Brand products in Vietnam.
Minh said THACO has plans to open three E-Mart supermarkets next year and expand the chain to 11 supermarkets nationwide by 2025.
Tran Ba Duong, chairman of THACO, said the firm has chosen some locations in Thu Duc City, Go Vap District and Tay Ninh's Go Dau District for the construction of the new E-Mart supermarkets.
Before E-Mart, some other foreign retailers had fled from Vietnam due to severe competition. French retailer Casino Group sold its Big C supermarket chain in Vietnam to Thai conglomerate Central Group in 2016, while METRO Cash & Carry sold its retail chain to TCC Group in the same year.
Auchan, another French retailer, sold its local assets to Saigon Co.op in 2019.
Hanoi to host first livestream on OCOP products
The first-ever livestream promoting products of Hanoi's "One Commune, One Product" (OCOP) programme will be held in the coming time, announced the organisers on June 2.
Organised by the Hanoi Coordination Office for New-style Rural Area Building together with the ASEAN Digital Conversion Research Institute (ASEAN Academy), the event aims to support stakeholders in the production, sale and marketing of OCOP products through digital technologies and e-commerce platforms, especially against the backdrop of COVID-19.
The three-hour livestream is slated for June 6, starting from 9am, and can be watched on the OCOP Live Facebook page and VTC Now.
It is hoped to motivate stakeholders in the programme in Hanoi and across the country at large to improve marketing skills and offer their products online via livestreaming, so as to reach more customers in the digital era.
Hanoi will open 40 more showrooms for goods from the local OCOP programme this year, making them more popular among domestic consumers and foreign visitors.
According to the municipal Department of Industry and Trade, products to be displayed include silk, confectionery, food, safe fruit and vegetable, and handicrafts.
They must be rated at least three-star and have been certificated as typical rural industrial products at the municipal and regional levels.
The Hanoi Department of Industry and Trade will organise five Vietnamese Goods Weeks in Hanoi this year to stimulate domestic demand and increase total retail sales, thereby helping businesses and farmers consume products.
Specifically, the five weeks will have a scale of about 100 standard booths each week.
Notably, Hanoi will support 50 percent of booth costs for participating units with a maximum of two booths per unit; similar support will be provided to each locality. In which, the city will pay attention to support localities and businesses of Hanoi and other localities in consuming agricultural products, aquatic products, and fruit, which face difficulties in consumption due to the impact of the COVID-19 pandemic.
At the same time, it will also strengthen communication and promotion, create the best conditions for businesses to reach consumers and expand the market.
In 2020, 14 OCOP showrooms were put into operation in the capital city. The city sped up necessary steps to verify and rate 370 more OCOP products in December to raise the total to 1,000 in the year.
Of the city's recognised OCOP products, 421 have been rated four stars and 195 rated three stars while 14 are expected to earn five-star rankings.
The majority of the OCOP products (74.1 percent) are foods while souvenirs, furniture and décor products account for 18.3 percent of the total. The remainders are beverages, herbal medicine, fabrics and apparel.
The OCOP was initiated by the Ministry of Agriculture and Rural Development in 2008, based on Japan's "One Village, One Product" and Thailand's "One Town, One Product" programmes. It is an economic development programme for rural areas and focuses on increasing internal power and values, and is also to help with the national target programme on new-style rural area building.
Vietnam verified, rated, and recognised a total of 3,200 products as OCOP goods last year, 800 higher than planned, according to the Ministry of Agriculture and Rural Development.
The national OCOP council is reviewing 43 products for five-star ratings, the ministry said.
OCOP products are made from a combination of local resources, traditional culture, and advanced technology, which facilitates the development of diverse products with better quality and packaging, and the ability to trace product origin.
The programme has provided farmers with the chance to come together to form cooperatives, which now account for 38 percent of 1,400 OCOP producers nationwide. The establishment of these cooperatives has allowed farmers to create products with better quality, design, and packaging as well as higher standards, and made products more relevant to market demand./.
Vietnamese goods introduced to Thailand at trade exchange
An online trade exchange programme between Vietnam and Thailand on food and building and interior products was held on June 2 to introduce local products to Thailand and help domestic producers gain broader access to the market.
The exchange was held jointly by the Trade Promotion Agency at the Ministry of Industry and Trade (MoIT) and Thailand's Central Group.
It was part of a series of events held to mark the 45th anniversary of diplomatic relations between the two countries.
Addressing the exchange, Vietnamese Trade Counsellor in Thailand Tran Thi Thanh My said this is the fifth time the programme has been held, aiming to facilitate Vietnamese products and businesses sending goods to the Thai market through the Central Group's distribution network.
To ensure its effectiveness, she went on, market research was conducted and businesses with products suitable for the Thai market were selected.
Bui Quang Hung from the Trade Promotion Agency said that in recent years it has regularly coordinated with international organisations to conduct trade promotions between Vietnamese businesses and foreign importers, including those in Thailand.
He expressed his appreciation of the efforts made by the Central Group in cooperation with the MoIT in helping Vietnamese businesses penetrate into the Thai market through the group's distribution network.
Such efforts are even more meaningful given that COVID-19 has had a profound effect on global trade, he added.
Emmanuel Francois Patrick Couronne, Director of Retail Purchasing at the Central Group, said the trade exchange helps the group meet reputable businesses and will see it bring more high-quality Vietnamese products to Thai consumers.
Held for the first time in 2016, the trade exchange has been an effective bridge in sending Vietnamese goods to the Central Group and has opened up many business opportunities for local exporters.
Vietnamese agricultural products such as lychees, dragon fruit, coffee, cashew nuts, and dried fruit have been exported to Thailand and found favour among local consumers.
A programme to promote Vietnamese goods and cuisine, called "Taste of Vietnam", is to be held in Udon Thani province in northeastern Thailand on June 24-26, aimed at promoting Vietnamese products and creating opportunities for local suppliers to export goods to the market./.
Firms in pandemic-hit Bac Ninh, Bac Giang assisted to resume operations
The northern provinces of Bac Ninh and Bac Giang, which have been hardest stricken by the COVID-19 pandemic, are working to help local enterprises resume operations, while ensuring the health of their workers, local leaders said on June 2.
Vice Chairman of the Bac Ninh Provincial People's Committee Vuong Quoc Tuan reported at a meeting with the National Steering Committee for COVID-19 Prevention and Control that as of 6 am on June 2, the province had recorded 934 cases in all of its eight district-level localities, including 219 at industrial parks and clusters.
Nearly 80,000 workers in Bac Ninh have been vaccinated against the coronavirus, and the number is expected to continue to rise in the coming days.
The neighbouring province of Bac Giang said it will speed up vaccinations, aiming to administer 102,000 doses to workers, as allocated by the Government.
A total of 13 businesses in the province, with 5,133 workers, have resumed their operations under a new model, the meeting heard.
Dang Quang Tan, Director of the General Department of Preventive Medicine under the Ministry of Health, said the pandemic has basically been contained in Bac Ninh and Bac Giang provinces.
He urged Bac Giang to continue evacuating workers from pandemic hotspots such as Nui Hieu village in Quang Chau commune, Viet Yen district.
The steering committee asked Bac Ninh to track the cause of pandemic clusters in certain communes in Thuan Thanh district, which have lasted for nearly a month.
"We have to take serious actions to soon end pandemic clusters in Thuan Thanh district," said Deputy Prime Minister Vu Duc Dam, head of the steering committee.
The steering committee also stressed the need to ensure safety for medical workers engaging in collecting samples for COVID-19 testing./.
Vietnamese farm produce introduced to Japan
Vietnamese farm produce, mostly fruits and vegetables, dried food, aquatic products and beverages, were introduced during the Vietnam – Japan trade teleconference on June 2.
Speaking at the event, Director of the Ministry of Industry and Trade's Vietnam Trade Promotion Agency Do Ba Phu said despite the COVID-19 pandemic, trade between the two nations still hit 16 billion USD in the first four months of this year, up nearly 6 percent annually. Japan has huge demand for agro-forestry-fisheries products and consumer goods while Vietnam holds potential of producing them.
Makoto Nakamura, an expert of international trade from the Japan External Trade Organisation, said Japan is one of the top countries in terms of food import, mostly fish and products processed from fish, shrimp, eel, fruits and vegetables from the US, Brazil, China and Vietnam.
Moreover, the Japanese people pay the most attention to health safety, followed by cost, convenience and luxury food. Therefore, all imported farm produce must undergo quarantine before customs clearance, he said.
He advised Vietnamese exporters to meet regulations set in Japan's law on food hygiene and safety, including those regarding artificial additives, preservation and storage, and pesticide residue levels./.
Minister: Vietnam targets shift to circular economy
Vietnam is working to shift from a linear economy to a circular economy based on the three pillars of designing and prolonging material lifespan, reducing waste and emissions, and restoring the ecological system, Minister of Natural Resources and Environment Tran Hong Ha has said.
The minister made the statement during an webinar which was held in Hanoi on June 2 on the sidelines of the World Circular Economy Forum.
Co-organised by the Ministry of Natural Resources and Environment (MoNRE)'s Institute of Strategy and Policy on Natural Resources and Environment, the Asian Development Bank Institute (ADBI) and the Finnish Innovation Fund (SITRA), the event aimed to introduce policies and case studies on the circular economy, relevant principles and recommendations, and discuss green economic recovery after the COVID-19 pandemic.
Speaking at the event, Ha said the shift to a circular, green economy with low carbon emissions is an indispensable trend of the era and a revolution of the green industry in the 21st century, presenting a chance for the global community to deliver on international commitments in environmental protection and climate change response for the sake of sustainable development.
In response to the World Environment Day (June 5), Vietnam launched a number of programmes during the Action Month for the Environment to encourage the development of the circular economy via sustainable production and consumption, he said.
In accordance with the Law on Environmental Protection 2020, the MoNRE is working with agencies concerned to build regulations on criteria, roadmaps and mechanisms to encourage the development of the circular economy in the country.
The MoNRE, in collaboration with the Finance Ministry, is restructuring the system of economic and financial tools in the field of natural resources and environment, thus ensuring national financial safety and meeting environmental protection requirements in each period.
According to the minister, the MoNRE is also partnering with the Ministry of Information and Communications, ministries and agencies to build a database in the field to serve the national digital transformation programme.
Participants at the event looked into the legal framework, national and regional policies and regulations, opportunities for the private sector and innovations in cities, and the best solutions to the shift to the circular economy./.
Source: VNA/VNS/VOV/VIR/SGT/Nhan Dan/Hanoitimes
VIETNAM BUSINESS NEWS JUNE 3 have 8211 words, post on vietnamnet.vn at June 3, 2021. This is cached page on VietNam Breaking News. If you want remove this page, please contact us.