Vietnam's economy to grow 6.7 pct. in 2021: Standard Chartered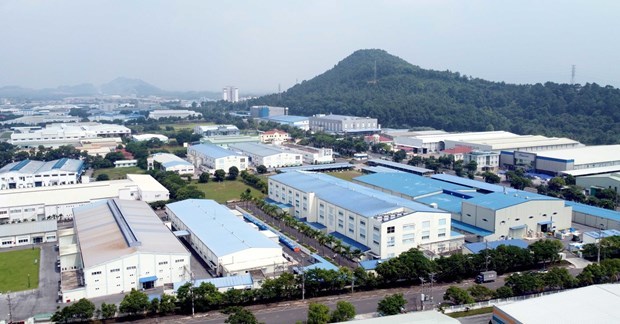 A view of Khai Quang Industrial Park in Vinh Yen city of Vinh Phuc province
Tim Leelahaphan, the bank's economist for Vietnam and Thailand, held that Vietnam's economy remains strong and the country is proving to be one of the world's best performing economies amid the COVID-19 pandemic.
However, he added, like many other countries, Vietnam is feeling the impact of the domestic COVID-19 situation, which is inevitable.
Vietnam began its COVID-19 vaccination campaign on March 8, with about 1 million people, mostly frontline health workers, receiving jabs so far. Expanding the campaign is a key condition for reopening tourism and promoting sustainable economic recovery, he said.
Other Standard Chartered specialists pointed out that the country's trade figures have remained positive since last year.
In particular, mobile phones and accessories have accounted for some 16 percent of total overseas shipments and electronic devices, computers, and spare parts about 15 percent.
Vietnam also posted a trade surplus of 1.3 billion USD in the first four months of 2021.
Rapid economic growth may boost inflation, the specialists noted, adding that rising world food prices are also affecting domestic inflation.
They forecast inflation in Vietnam at 3.8 percent this year./.
Vietnam manufacturing output remains solid amid Covid-19 outbreak
Business sentiment eased to a three-month low on worries about the Covid-19 outbreak, but firms remained optimistic overall that output will increase over the coming year.
The Vietnam Manufacturing Purchasing Managers' Index (PMI) posted 53.1 in May, down from 54.7 in April. The latest reading, however, signaled a sixth successive improvement in business conditions, and one that was solid despite weakening from the previous month, according to Nikkei and HIS Markit.
A reading below the 50 neutral marks indicates no change from the previous month, while a reading below 50 indicates contractions and above 50 points to an expansion.
"Latest data and anecdotal evidence from respondents suggested that the recent outbreak of the COVID-19 pandemic limited growth of both output and new orders midway through the second quarter of the year," noted the IHS Markit's report.
While the rate of expansion in production eased to a three-month low, it stayed in the positive trend as new orders continued to rise, it added.
The same was true for new business, which increased at the softest pace since February but for the ninth month running. Solid growth was also recorded for new business from abroad as some export markets showed signs of recovery from the Covid-19 pandemic.
Rising case numbers also impacted hiring in the Vietnamese manufacturing sector. Employment increased for the fourth consecutive month, but only modestly.
Staff shortages contributed to a near-record rise in backlogs of work as firms struggled to cope with inflows of new orders. Outstanding business accumulated to the greatest extent in more than a decade.
Operations were also hampered by a marked lengthening of suppliers' delivery times, the greatest in just over a year. Again, the pandemic was a factor behind longer lead times, with shipping delays and material shortages also highlighted.
Despite delivery delays, firms expanded both their quantity and stocks of purchases amid efforts to build reserves. That said, in both cases, rates of increase were slower than in April.
Stocks of finished goods, meanwhile, were broadly unchanged amid the use of inventories to help meet new orders while production volumes were restricted. The stabilization ended a three-month sequence of rising stocks of finished goods.
The rate of input cost inflation quickened to a 40-month high in May. Supply shortages contributed to rising raw material prices, with iron, oil, and steel all mentioned in particular as costing more. Higher freight prices were also signaled.
In turn, manufacturers raised their own selling prices at a substantial pace. Moreover, the rate of inflation was the fastest in just over a decade, and the third-steepest since the survey began.
Businesses remain optimistic
Business sentiment eased to a three-month low on worries about the Covid-19 outbreak, but firms remained optimistic overall that output will increase over the coming year. Hopes that the virus will be brought back under control and the prospect of further new order growth supported confidence.
"The challenges of the Covid-19 pandemic returned to the Vietnamese manufacturing sector during May as an outbreak in the country hampered operations," said Andrew Harker, associate director at IHS Markit, which compiles the survey.
"Output, new orders and employment all grew at slower rates, while difficulties completing orders meant that backlogs of work increased at one of the sharpest rates in more than ten years of data collection. Efforts to fulfil orders weren't helped by further supply-chain disruption, which also contributed to price pressures. In fact, firms raised their selling prices at the fastest pace in more than a decade," said Harker.
"Firms will be hoping that the Covid-19 outbreak can be brought under control quickly, as has been the case in the past in Vietnam. Confidence took a hit in May, but firms remained optimistic regarding the 12-month outlook for production," he noted.
In May, Hanoi's index of industrial production rose by 1.8% against last month and 5.1% year-on-year, leading to an overall growth of nearly 10% year-on-year in the five-month period and contributing a major part to the city's push for economic recovery.
The manufacturing and processing sector, accounting for 96% of total production value in the local industry sector, remained key driving force with an expansion rate of 9.7% year-on-year.
Trade deficit returns in May
Vietnam incurred a trade deficit of US$2 billion in May, after earning trade surplus of US$1.63 billion in Jan-April, according to the General Statistics Office.
The complicated developments of Covid-19 in some localities affected trade, transport and tourism activities in May, the local media reported.
The country earned US$26 billion from exports and spent US$28 billion on imports in May, up 35.6% and 56.4% over the year-ago period.
Despite an increase by 33% in the country's import-export turnover in the first five months of the year to over US$262 billion, the country suffered a trade deficit of US$369 million in the period.
In the first five months, the country exported more than US$130.94 billion worth of products, surging nearly 31%.
The United States remained Vietnam's largest buyer with a revenue of US$37.6 billion, soaring nearly 50% over the same period last year. Exports to China also rose 26% to US$20 billion.
Meanwhile, the country spent US$131.31 billion on imports in January-May, up 36.4% year-on-year.
China was the largest supplier to Vietnam with US$43.3 billion, surging 53%, followed by South Korea, ASEAN, Japan, the European Union and the United States.
Agricultural products the next big move in e-commerce
Putting agricultural products on online trading is growing as a new trend of the local e-commerce sector this year.
Both Lazada and Sendo have carried out several programmes to support the northern province of Hai Duong's farmers to sell litchi products on their e-commerce platforms. According to Dang Dang Truong, PR lead at Sendo, just between May 24 and 27, a total of 12 tonnes of litchi were sold through the platform.
Similarly, at a recent conference promoting the export of agricultural products from Hai Duong held by the Vietnam Trade Promotion Agency (Vietrade), newly-established online shopping sites such as Voso (Viettel Post) and Postmart (Vietnam Post) also announced to start focusing on agricultural items instead of fast-moving consumer goods, clothes, and cosmetics like other platforms.
The new segment also lured in the involvement of startups such as Vietnam-based FoodMap and Indonesia-based TaniFund. So far, TaniFund has successfully mobilised $65.5 million Series B funding, led by MDI Ventures, while harbouring plans to enter Vietnam at the soonest.
In a previous talk with VIR, Sendo founder and CEO Tran Hai Linh said that agricultural goods have solid trade potential on e-commerce sites in Vietnam because they have been one of the most consumed commodities in Vietnam. However, to date, due to obstacles related to logistics and transportation, agricultural items, especially fresh food, have yet to reach popularity on online shopping sites.
He explained the hardest part of entering the segment is ensuring the best quality of fresh food products during transportation. There need to be suitable packaging and transporting processes to keep produce fresh and undamaged on short and longer trips.
Pham Ngoc Anh Tung, founder of FoodMap has also highlighted the high investment costs that come with entering this retail segment.
According to Development Reimagined, a China-headquartered organisation specialised in diplomacy, environment, and public relations, selling agricultural products online cost a long time and large investments before reaching success. For example, in China, e-commerce giant Alibaba in 2015 carried out the "Taobao villages" programme to help farmers sell their products on its Taobao platform. However, until 2020, purchasing agricultural goods online reached common in the country.
Bank stocks witness upswing in prices
Bank stock prices have witnessed a dramatic increase since the end of March after plenty of banks announced positive first-quarter business results, as well as news on rising mergers and acquisitions (M&A).
Among the listed banks, Vietnam Prosperity Commercial Joint Stock Bank (VPB) has been the strongest performer in the stock market since the beginning of this year. VPB closed the trading session on December 31 at VND32,500 (US$1.41) per share, it now is being traded at VND67,600 per share, equivalent to an increase of 108 per cent.
VPB's gain was attributed to the news that VPBank has sold 49 per cent of its charter capital at FE Credit to Japan's SMBC Group at a valuation of $2.8 billion. VPB shares are also attractive thanks to its leading position in the consumer finance segment and the private placement plan for foreign strategic partners.
Lien Viet Post Commercial Joint Stock Bank (LienVietPostBank) has also witnessed an increase of more than 104 per cent since the beginning of this year, currently trading at VND25,400 per share.
Nguyen Duc Thuy, a founding shareholder of Thaiholdings Joint Stock Company (THD), has officially been elected as Vice Chairman of the Board of Directors of LienVietPostBank since early May.
After less than a year after listing, the market price of THD has increased 13 times, from the reference price on the first trading day of VND15,000 per share to VND197,100 per share on May 26 this year.
At LienVietPostBank's 2021 Annual General Meeting of Shareholders held at the end of April, shareholders shared that they hope the same gain will also happen to the bank's shares.
Saigon Thuong Tin Commercial Joint Stock Bank (Sacombank) also underwent an increase of more than 74 per cent since the beginning of this year. Vietnam International Commercial Bank (VIB) rose by 94 per cent compared to the end of 2020; Southeast Asia Commercial Joint Stock Bank (SSB) gained by 84 per cent so far this year and has maintained its upward momentum after two months of listing on HOSE.
National Commercial Joint Stock Bank (NVB) witnessed an impressive increase of more than 80 per cent and Vietnam Joint Stock Commercial Bank for Industry and Trade (CTG) rose 49 per cent so far this year.
In a recent report, SSI Securities Joint Stock Company said that banks' plan to raise charter capital can be a supportive factor for the movement of bank stock prices from now until the end of 2021.
In 2021, there are about 16 banks with plans to increase their charter capital significantly, according to the report. Specifically, charter capital at these banks will be increased by VND82.7 trillion, up 31 per cent compared to 2020. Of the estimate, about 75 per cent will be increased through stock split; 22 per cent from private placement and the rest is through the employee stock ownership plan (ESOP).
From 2020, the State Bank will tighten the payment of cash dividends by banks. Instead, the State Bank encourages them to pay dividends in stock.
Japan licenses two more fresh lychee processing facilities in Hai Duong
Japan has licensed two more lychee processing facilities in Hai Duong Province, the hometown of "thieu" lychee specialty, to facilitate the fruit export to Japanese market.
According to the Plant Protection Department under the Ministry of Agriculture and Rural Development, the facilities commenced the processing of lychees for export to Japan on May 29.
The two treatment facilities are owned by Ameii Vietnam Joint Stock Company and Rong Do Limited Liability Company, featuring three processing chambers, each with a capacity of 2.5-3 tonnes/batch.
To date, Japan has recognised a total of four lychee processing facilities for export to this market, with five chambers operated by four local units, helping to increase the total processing capacity to 35-40 batches/day, many times higher than the processing capacity last year.
In 2020, only from 7.5-8 tonnes of lychee were treated each day before leaving for Japan.
Safety procedures have also been strengthened so that plant quarantine officers can rest assured to work in the current complicated COVID-19 situation, not to affect lychee exports.
Regarding the quality of this year's lychee crop, Japan customers have rated it as having a higher quality than that of 2020. Lychee exported to Japan in the past few days has been sold out in only 2-3 hours.
Currently, Thanh Ha early-ripen lychee in Hai Duong's Thanh Ha District has consumed about 65% of production and is expected to produce about 30,000 tonnes, while main season lychee are expected to reach about 25,000 tonnes this year, an increase of 15,000 tonnes compared to 2020.
The main lychee season will begin from June 1 and reach its peak of harvesting from June 5 in Hai Duong.
This year, thanks to the promotion of sales channels, Hai Duong lychee prices are higher. For lychees produced under the export process to Japan and Singapore, businesses are purchasing at VND7,000-10,000 per kg higher compared to lychees grown outside the export areas.
Ho Chi Minh City's State budget revenue enjoys year-on-year rise of 22.8%
Ho Chi Minh City's State budget collection is estimated to hit VND174.6 trillion (US$7.57 billion) during January-May, equivalent to 49 percent of the yearly estimates and up 22.8% year-on-year.
The figure also represented a rise of 5.7% compared to that of the same period of 2019 when the COVID-19 pandemic had yet to break out around the world.
Of the total, domestic revenue in the city was estimated at VND123.69 billion, equal to 49.8% of the estimates and accounting for 70.8% of the total and up 21.1% over the same period. Revenue from import-export activities is estimated at VND50.9 trillion, equal to 47.1% of the estimates and up 27.3% year-on-year. Revenue from crude oil is estimated at VND5.86 trillion, equal to 68.6% of the estimates and up 3.2% year-on-year.
Meanwhile, local budget revenue in the period is estimated at VND34.18 trillion, accounting for 19.6% of the total collection, equivalent to 41.6% of the estimates and up 7.5% year-on-year.
This year, the largest city of Vietnam is assigned to collect VND364.89 trillion for the State budget, down 10.1% from the 2020 estimates and 1.7% compared to last year's real revenue.
Buyers hedge their bets on premier apartment purchases
It remains to be seen if a plan to open for sale the first products of a 6.4-hectare residential apartment project developed by FLC Group this year will go ahead on schedule as wary buyers wait on further pandemic developments.
Located in a 6.4-hectare area in Hanoi, the Premier Parc apartment complex started construction in January this year. Currently, the project is developing its infrastructure system with water drainage, inner roads, and lighting.
In June 2019, FLC Group formed a joint venture with South Korean Lotte Land to develop this project. However, in this February, the cooperation was terminated and FLC Group has continued development on its own.
Premier Parc will provide 145 shophouses, villas, semi-detached houses, and two high-end apartment buildings which are set to be handed over to buyers by the third quarter of 2022.
However, there are signs that staying on schedule will be difficult, especially as COVID-19 continues to make its presence felt in the country.
Nguyen Van Minh, a sales agent in Hanoi, said that his customers have been waiting for this project for a long time. However, with current pandemic restrictions in place over the past month, Minh doubts that the products will actually go on sale anytime soon.
FLC Group won the auction for the land in 2017 at a price of VND860 billion ($37.4 million), nearly three times higher than its initial quotation. The project was initially expected to be completed in mid-2019.
FLC is known as a major real estate developer with 400 projects nationwide – however, the developer has something of a track record for slow progress, leading to disputes with buyers. For instance, FLC Coastal Hill – Quy Nhon committed to hand over units to buyers by the fourth quarter of 2018 but FLC Group delayed it to this year.
Other reported violations include slow progress of construction, lack of committed facilities, and failing to hand over pink books to buyers at other projects such as FLC Quang Binh Beach and Golf Resort, FLC Sea Tower Quy Nhon, and FLC Garden City.
The prolonged pandemic has slowed many projects nationwide. According to a recent report released by the Ministry of Construction, more than 9,000 residential units were unsold across Vietnam as of the end of 2020.
Reasons for unsold units piling up were many but it was mostly due to the legal bottlenecks as well as the incapability of developers, leading to buyers hesitating during the pandemic.
Dat Xanh Group, as of the end of 2020, reported 55 per cent of total asset value, equivalent to $433 million, in stockpile, mostly in the An Vien, Luxgarden, Pho Duc Chinh, and Ngo Quyen projects.
Phat Dat Real Estate Development JSC, meanwhile, is also shouldering a stockpile of more than VND9.3 trillion ($404.35 million), accounting for 60 per cent of its total asset value, mainly in The EverRich 2, Nhon Hoi Eco-tourism Area, and Binh Duong Astral City.
Meanwhile, An Gia Real Estate Investment and Development Corporation is holding a large number of units in The Song, The Westage, River Panorama 1 and 2, Sky 89, and Signial.
Vietnamese bank rushes for digitalised products and services for import – export companies
Several banks are exploring digital ways to simplify the hefty paperwork that comes with international trade to enhance operational efficiency and support export-import companies. Military Bank (MB) – one of Vietnam's largest commercial banks – is also accelerating its strength to bridge the gap between local enterprises and international markets and drive long-term resilience.
Founded in 2014, Ant Group's origins begin with digital payment service Alipay. As of now, based on a strong technological foundation, Ant Group has expanded into many other financial services and even erodes the profits of Chinese traditional financial institutions.
A contender to one of the major banks now, Ant Group's roots reach back to digital payment service provider Alipay. Since then, utilising its strong technological foundation, Ant Group has expanded into many other financial services and even erodes the profits of Chinese traditional financial institutions.
Ant CEO Eric Jing said in 2017 that Ant Group named itself after a small insect because it serves "the little guys". However, the next few years showed that with digital transformation as the catalyst, "ants" can beat "elephants", according to Business Insider.
In Vietnam, as fintech companies receive initial success, traditional banks are accelerating the digital transformation by developing new products and services. Several years ago, e-banking systems were mostly for account inquiries and domestic fund transfers. However, now, more robust products and services have been launched online to support tax payment, bill payments, as well as payroll and terms deposit management. Notably, even corporations can now open a bank account without visiting any physical branch.
That being said, the number of digital products and services for export-import activities remains limited. Realising this gap, some commercial banks have pioneered new features such as international payment and trade finance on online channels to enhance customer experience. Military Bank (MB) is one of the outstanding players in this competition.
The online international payment feature on BIZ MBBank, which was officially launched in July 2020, received a warm welcome from customers. The feature meets a variety of customers' demands related to international payment, including making transfers, buying foreign currency, creating amendment/tracing/cancellation, submitting required documents, and making transfer inquiries.
Customers can conduct these activities online without spending time at brick-and-mortar counters. In addition, MB is one of the four banks in Vietnam to apply the SWIFT gpi initiative, which helps speed up transactions. Courtesy of SWIFT gpi, customers are allowed to benefit from real-time transaction tracing without additional costs.
Compared to conducting international transfers at counters, the process is significantly less time-consuming via BIZ MBBank, courtesy of automation. Customers can also save time and costs on paperwork and transportation. Those choosing to make transactions with MB can access favourable exchange rates without any conditions.
Being one of the very first companies to use online international payments on BIZ MBBank since the first days, Epi Viet Nam Technologies Co., Ltd. highly appreciates the experience BIZ MBBank has offered their customers.
"Both the bank and corporates are able to benefit from online international payment. It helps eliminate duplicated steps, enhancing efficiency and speeding up the overall processing time," said Nguyen Thi Thuong, finance director at Epi Viet Nam.
"It used to take us hours to process paperwork and get the SWIFT messages. Since the launch of international payment on BIZ MBBank, the entire processing time has been reduced to less than an hour," she added. "This particularly comes in handy in the context of the COVID-19 pandemic."
Furthermore, to enhance customer experience, BIZ MBBank allows customers to sell foreign currency automatically. The process is 100 per cent automatic, enabling customers to exchange foreign currencies into Vietnam Dong as soon as they approve the transactions. MB is also planning to launch a new feature called "chat box" to provide customers with tailored and unique experiences.
MB has been known for its transformative initiatives in offering international payment – trade finance products in the market. In December 2020, MB successfully executed the complete life cycle of two blockchain-enabled import letters of credit (LCs) over the CONTOUR network. With these pioneering actions, MB is constantly affirming its position in the digital transformation race, especially in developing products for corporates and those conducting export-import activities.
Hanoi welcomes nearly three million visitors over five-month period
Hanoi welcomed approximately 2.89 million visitors during the course of the opening five months of the year, representing a year-on-year decline of 6.7%, according to figures compiled by the Hanoi Department of Tourism.
Total tourism revenue from domestic tourists stood at an estimated VND8.1 trillion, down by 50.7% compared to the same period from last year.
May alone saw the number of domestic tourists to the capital fall by 53.3% to 115,000 against the same period from last year, with revenue from domestic tourists being estimated at VND322 billion, an annual drop of 60.3%.
Since the beginning of the year, hotel room occupancy in Hanoi has reached just 23.6%, largely due to the adverse impacts of the novel coronavirus (COVID-19) pandemic, marking a decrease of 8.6% on-year.
The average occupancy rate of one to five star hotels in Hanoi was at 26.4% in May, down 1.7% from the previous month, but marking a rise of 7.12% compared to the same period last year.
The decline in the number of travelers visiting the capital can primarily be attributed to the complicated developments relating to the COVID-19 pandemic. This comes as tourist attractions in Hanoi temporarily stopped receiving tourists from May 3.
Custom watchdog tightens control over origin fraud of Vietnamese rice
The Ho Chi Minh City Customs Department has detained three shipments of rice passing through Cat Lai port after detecting signs of fraud relating to their Vietnamese origin.
According to the Saigon port area 1 Customs Branch, the unit moved to seize dozens of containers of rice imported from India due to suspicions that their Vietnamese origin was fraudulent.
The shipments belonged to two import declarations registered by an enterprise based in Hanoi, with import procedures being carried out through Cat Lai port at the end of February and March.
According to information released by the customs declaration, these batches of rice actually originate from India. However, after a thorough examination and inspection was carried out, customs officials successfully discovered that all of the packages and labels on the imported rice stated that they had Vietnamese origin.
Most notably, the package of each bag of rice had the brands and addresses of factories and businesses located in the nation.
After being suspicious of the origin of these goods, the unit moved to seize all shipments for the purpose of investigation and clarification.
Furthermore, there has also been signs of origin fraud in Vietnamese white rice. According to Vietnam's Special Preferential Import Tariff relating to the implementation of the ASEAN-India Trade in Goods Agreement, 5% broken and 100% broken white rice imported from India enjoy a tax rate of 0%.
Moreover, the price of these two types of rice from India is only approximately US$400 per tonne and US$280 per tonne respectively, roughly US$100 per tonne lower than the price of Vietnamese rice.
The price of imported rice from India to Vietnam is therefore much more competitive compared to Vietnamese rice.
The Ho Chi Minh City Customs Department has recently devised a plan aimed at strengthen inspection over origin fraud and counterfeiting of labeling of goods, the infringement of intellectual property rights, and the illegal transshipment of Vietnamese white rice.
HCMC pledges to ensure sufficient food supply for local residents
The HCMC Department of Industry and Trade has worked out plans to provide more than 10,000 tons of food per day to local residents and implemented programs to connect with 22 other provinces to ensure the sufficient supply of food for residents during the social distancing period.
Bui Ta Hoang Vu, director of the municipal Department of Industry and Trade, said the department would ensure market stability while fighting the pandemic, and residents in the city do not need to flock to supermarkets and convenience stores to buy food for stockpiling.
Some 8,000 tons of vegetables and fruits will be available daily at the Binh Dien, Hoc Mon and Thu Duc wholesale markets. The volume will meet 70% of the demand from local residents. The remaining 30% will be met by supermarkets and large distributors.
As for meat and fish, the city has some 700 tons of pork, while the supply of poultry and seafood is abundant.
As many local residents have been rushing to stock up on food, Vu said they should not be worried about the shortage of food. He has asked enterprises to enhance online sales channels to reduce contact and gatherings.
Many large supermarkets in the city have increased their supplies and worked out long-term plans to ensure sufficient essential commodities.
According to Saigon Co.op, besides increasing supplies, it will make contact with Covid-19 checkpoints and quarantine facilities to provide products.
The Domestic Market Department under the Ministry of Industry and Trade has coordinated with the HCMC Department of Industry and Trade to ensure the provision of products and deal with obstacles hindering the transportation of products.
Massive airplanes face difficulties in overnight parking shortage
Director of the Civil Aviation Authority of Vietnam (CAAV) Dinh Viet Thang has just required the Airports Corporation of Vietnam, the international airports of Noi Bai and Tan Son Nhat to handle the parking shortage of airplanes overnight due to limited operation amid the current complicated Covid-19 pandemic situation.
According to the Civil Aviation Authority of Vietnam, the Covid-19 pandemic had hugely affected civil aviation activities nationwide. The flight exploitation has reduced, leading to the surge of airplane volumes parking overnight, especially in Noi Bai and Tan Son Nhat International Airports, where placing the maintenance facilities of the airlines.
To overcome the overload, CAAV required the relevant units to promptly clarify the demand of the overnight parking of the airlines, plan the allocation, arrange the parking lots at several airports during the long-lasting pandemic.
Particularly, the head of CAAV stressed that the relevant units need to maximize the parking lots overnight at the approved home-base of airlines, avoiding the concentration at Noi Bai and Tan Son Nhat International Airports.
If the airlines do not have the main maintenance and management facilities at Noi Bai and Tan Son Nhat airports, the relevant units have to review and restore the temporary parking lots overnight or allocate the parking at closed taxiways and the limitedly operated ones to minimize the influence of the airports' exploitation.
Winners of Vietnam Specialty Coffee Competition announced
Khe Sanh Arabica coffee of Pun Coffee Co. Ltd. has won the first prize at the Vietnam Specialty Coffee Competition 2021 held by Buon Ma Thuot Coffee Association in the Central Highlands province of Dak Lak.
The second and third prizes were presented to products of Quang Tri specialty coffee group and Ngoc Linh Gingseng Joint Stock Company in Kon Tum province, respectively.
Regarding to Robusta coffee, Ea Tu Cooperative in Buon Ma Thuot city took the first prize. Mori Coffee Co. Ltd. in Gia Lai province and Phuc Minh Co. Ltd. in Buon Ma Thuot city received the second and the third prizes, respectively.
According to the organisers, the competition aims to discover and honour coffee products meeting specialty coffee standards, and to create a motivation for the coffee production industry in increasing the added value of coffee products.
It also offers an opportunity to introduce their specialty coffee products of Vietnam to consumers and producers at home and abroad.
This year's competition saw the participation of 41 companies and units from Ho Chi Minh City, Hanoi, Son La, Quang Tri, Dak Nong, Gia Lai, Lam Dong and Dak Lak with 45 Robusta and 29 Arabica products.
With a cultivation area of about 5,000 hectares, Huong Hoa district in central Quang Tri province is one of the key areas for Arabica coffee growing in Vietnam. The district is famous both in and outside the country for its Khe Sanh Arabica coffee brand.
It is chosen by the Ministry of Agriculture and Rural Development (MARD) to build a Vietnamese specialty coffee brand with an area of about 60 hectares in Huong Phung commune.
Le Quang Thuan, Vice Chairman of the Huong Hoa District People's Committee, said the district has been carrying out a number of measures to build specialty coffee brand on the cultivation area selected by the MARD and gradually expanded the model to communes and towns of Huong Hoa district.
Local authorities asked communes and towns to review their existing coffee areas to improve the quality of coffee and propose conversion for inefficient cultivation area.
Recently, the MARD has approved a project on the development of Vietnamese specialty coffee in the 2021 – 2030 period.
The project is in line with the international economic integration process, meeting the growing demand for specialty coffee in both domestic and export markets. It will contribute to enhancing the competitiveness of Vietnamese coffee products in the world market. The project is implemented in eight provinces including Dien Bien, Son La, Kon Tum, Gia Lai, Dak Lak, Dak Nong, Lam Dong and Quang Tri./.
Vietnam remains attractive among foreign investors despite COVID-19
Vietnam is still a popular investment destination for foreign investors, who poured 14 billion USD into the country during the first five months of the year.
With COVID-19 raging, the Regent Garment Factory Ltd., a subsidiary of Hong Kong (China)'s Crystal International Group Limited, still submitted a request to the northern province of Hai Duong to open a new 35 million USD garment factory in the locality. The request was approved last week.
The investment in the third factory confirms the company's long-term interest in Vietnam.
Five other investors also received investment licences in the southern industrial hub of Binh Duong province. The largest investment came from Taiwan (China)'s Far Eastern Group, with an additional 610 million USD for its Polytex Far Eastern factory, which already has investment of nearly 600 million USD.
Meanwhile, the Cheng Loong Group from Taiwan (China) decided to inject an additional 100 million USD into its 1 billion USD paper factory. The project was licenced in late 2015.
Another big name – Procter & Gamble – has poured 44.8 million USD into a project, raising its investment in Vietnam to 247.8 million USD. At the same time, Singapore's New Motion Private Company Limited launched a new project worth 184 million USD this year, while the Logistics ECPVN Binh Duong project will have investment of over 34.4 million USD.
A number of other large-scale projects have also received licences since the beginning of this year.
These projects prove that Vietnam remains a favourite destination for foreign investors despite COVID-19. Figures from the Foreign Investment Agency at the Ministry of Planning and Investment show that foreign investment in Vietnam rose 0.8 percent in the first five months of 2021 to 14 billion USD.
Of the total, newly-registered capital stood at nearly 8.83 billion USD, up 18.6 percent year-on-year, while additional investment totalled 3.86 billion USD, an increase of 11.7 percent compared to the same period last year. Investment through capital contributions and share purchases was 1.31 billion USD, down 56.3 percent year-on-year.
According to the agency, the disbursement of foreign investment was up 6.7 percent to 7.15 billion USD.
Experts said Vietnam boasts various competitive advantages in foreign investment attraction.
Its engagement in new generation free trade agreements (FTA), including the Regional Comprehensive Economic Partnership (RCEP), the Comprehensive and Progressive Agreement for Trans-Pacific Partnership (CPTPP), and the EU-Vietnam FTA has helped it access free markets in 55 countries and territories, including 15 G20 economies, making it more attractive to foreign investors, according to Deputy Minister of Planning and Investment Nguyen Thi Bich Ngoc.
Among Vietnam's advantages, she said, are its stable macro-economy and positive growth amid COVID-19, strong support for foreign investors, and the issuance of a series of key laws regarding investment activities as well as special incentives for large-scale projects.
However, in reality, the foreign investment attraction "race" is becoming fiercer in Southeast Asia, she noted, adding that regional countries also introduce attractive policies to promote foreign investment.
Nguyen Duc Trung, Chairman of the People's Committee of central Nghe An province, said foreign investors are waiting for a specific foreign investment attraction strategy as well as special preferential policies./.
HCM City's industrial production up 7.4 percent in first five months
Ho Chi Minh City's Index of Industrial Production (IIP) rose 7.4 percent year-on-year in the first five months of 2021, according to the municipal Department of Industry and Trade.
Data from the department shows that the five-month IIP of four key industries – electronics, mechanics, foodstuffs and pharmaceuticals – grew 8.5 percent against a year earlier and was over 1.1 percentage points higher than the overall IIP.
Meanwhile, 22 out of 30 Grade-II industries in the city saw their IIP rise, with the highest growth posted in wood processing and the production of wood and bamboo products (up 54.4 percent); metal production (37.8 percent); other processing and manufacturing technologies (32.2 percent); and electrical equipment production (27.1 percent).
According to the municipal Statistics Department, the local index of industrial consumption increased 10.1 percent against 2020.
Industries with a high consumption index included metal production, wood processing and the production of wood and bamboo products, motor vehicles, coke, and refined petroleum products./.
Hanoi attracts 519.2 million USD in FDI in five months
Total registered capital of new foreign-invested projects and additional capital in existing ones in Hanoi amounted to 519.2 million USD in the first five months of this year, according to the Statistics Department of Hanoi.
Specifically, 139 new FDI projects worth 76.8 million USD were licensed in the period, while existing projects absorbed 442.4 million USD.
In May alone, Hanoi gave the green light to 14 wholly foreign-owned projects and two foreign joint ventures, with combined registered capital of 5.3 million USD. Meanwhile, foreign investors poured 184 million USD in operational projects.
Regarding domestic enterprises, 2,238 new enterprises were established in Hanoi in May, up 8 percent year on year, which registered a total 42.3 trillion VND (1.84 billion USD) in capital, up 69 percent.
At the same time, 245 firms dissolved, up 20 percent, and 788 suspended operation, an increase of 28 percent, but 644 resumed operation, a surge of 51 percent./.
Mekong Delta needs momentum to grow further: conference
Tran Tuan Anh, head of the Party Central Committee's Economic Commission, said on June 1 that solutions are needed to create momentum for socio-economic development in the Mekong Delta.
It is necessary to identify the advantages and challenges in the region's sustainable development, especially in the new context, he told a conference in Hanoi.
The conference looked at the building of a project reviewing the implementation of Resolution No 21-NQ/TW dated January 20, 2013, on orientations, tasks, and solutions to spur socio-economic development and ensure national defence and security in the Mekong Delta in 2001-2010.
The Politburo has assigned the Economic Commission to coordinate with relevant agencies in assessing implementation.
The Mekong Delta has recorded achievements in many regards, with economic restructuring being on the right track. It has also affirmed its place as Vietnam's leading centre for rice, aquatic product, and fruit production and export, the conference heard.
However, Anh said, limitations remain, such as slow regional growth, lower living standards than the national average, and economic development yet to match the region's potential and advantages.
Given this, he stressed, new resources and measures are needed to boost regional socio-economic development./.
Vietnamese rice accounts for 84 percent of Philippines' rice imports
The Philippines imported close to 800,000 tonnes of rice in the first four months of this year, of which Vietnamese rice accounted for 84 percent.
According to the Philippine Bureau of Plant Industry (BPI), in the January-April period, the country imported about 780,069 tonnes of rice, including 656,133 tonnes from Vietnam.
The Philippines imported 778,986 tonnes of rice in the same period last year.
In a recent report, the US Department of Agriculture (USDA) projected Philippines' rice imports could reach 2 million tonnes this year, down 18.36 percent compared to the volume in 2020 as the Philippines eyes bigger rice production in 2021.
Earlier, in an executive order, Philippines President Rodrigo Duterte cut the Most Favoured Nation (MFN) tariff rates on rice to 35 percent from 40 percent for in-quota purchases and 50 percent for out-quota volume for one year.
According to the Vietnamese Ministry of Industry and Trade, the Philippines's lowering tariffs on imported rice would open up opportunities for Vietnam to maintain stable supply of the product for the country and helping it stabilise the domestic market./.
Vietnam among leading smartphone users globally
The nation has been listed among the leading 10 countries in terms of smartphone users by Statista, a search tool used for the purpose of market research.
Statista note that China has more smartphone users than any other country in the world at almost 912 million, whilst India had the second most users with 439 million, less than half that of China.
Among neighbouring Southeast Asian countries, Indonesia came fourth with 160 million smartphone users, followed by the Philippines and Thailand with 41.3 million and 37.8 million, respectively.
This comes after the country came in ninth in 2020 with a smartphone penetration rate of 63.1%, higher than Indonesia at 58.6%, and the Philippines at 37.7%.
Furthermore, Vietnam is also considered to be a potential and fast-growing digital economy in Southeast Asia, with the local digital economy likely to reach US$52 billion in value by 2025.
Source: VNA/VNS/VOV/VIR/SGT/Nhan Dan/Hanoitimes
VIETNAM BUSINESS NEWS JUNE 2 have 6592 words, post on vietnamnet.vn at June 2, 2021. This is cached page on VietNam Breaking News. If you want remove this page, please contact us.