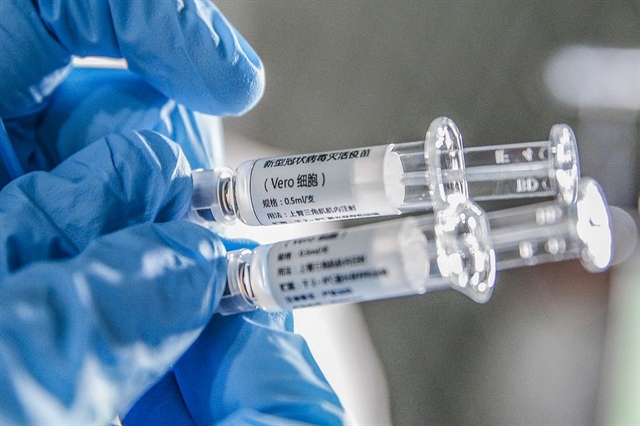 A staff member displays samples of the COVID-19 inactivated vaccine at Sinovac Biotech Ltd., in Beijing, capital of China. — XINHUA/VNA Photo
HÀ NỘI — Việt Nam's health authorities have just approved China's Sinopharm COVID-19 vaccine, Vero Cell, for emergency use.
In the decision signed on Thursday by deputy health minister Trương Quốc Cường, the request for approval of the vaccine was made by the National Institute of Hygiene and Epidemiology in Hà Nội.
The approval of conditional registration would allow the Chinese vaccine to be used during emergency situations, like the latest outbreak of local infections.
The product will come in boxes of one or three vials, with each vial/syringe containing a dose of 0.5ml.
The decision stated that the approval is based on efficacy and data provided by the institute to the health ministry.
This is the third COVID-19 vaccine to have been approved by health authorities in Việt Nam, following Oxford/AstraZeneca and Sputnik V.
There has not been public information about how many doses or when the Chinese vaccine would arrive in Việt Nam, with the mainstay of the country's vaccination to drive being AstraZeneca from its order with the manufacturer and from COVAX shipment.
The move came one month after WHO listed Vero Cell vaccine for emergency use earlier in May, the first non-Western vaccine to do so, which enables the vaccine to be used in the supply for the global vaccine sharing initiative COVAX and helps poor and developing countries access COVID-19 vaccines, as well as "allows countries to expedite their own regulatory approval to import and administer COVID-19 vaccines," according to a statement.
WHO notes that the product is an inactivated vaccine with easy storage requirements – unlike mRNA-based vaccines like Moderna and Pfizer/BioNTech which require ultra cold-chain fridges that might not be readily available in many developing nations.
WHO recommends the vaccine for people 18 years and older, in a two-dose schedule with a spacing of three to four weeks.
The vaccine's efficacy for symptomatic and hospitalised disease is estimated to be 79 per cent, across all age groups, according to reviews from the WHO's Strategic Advisory Group of Experts on Immunization (SAGE).
The National Institute of Hygiene and Epidemiology has the responsibility to work with the producer to ensure the quality of the vaccines imported into Việt Nam, as well as coordinate with the Department of Science, Technology and Training (Ministry of Health) and other capable agencies to further assess the efficacy and safety of the vaccine.
The institute is also supposed to issue guidance on storage, distribution and use of the vaccine, as well as management of risks of the vaccine during its distribution in Việt Nam.
At the time of WHO's approval, Sinopharm has made and distributed some 200 million doses of vaccine at home and abroad. — VNS
Việt Nam approves Sinopharm COVID-19 vaccine for emergency use have 643 words, post on vietnamnews.vn at June 4, 2021. This is cached page on VietNam Breaking News. If you want remove this page, please contact us.