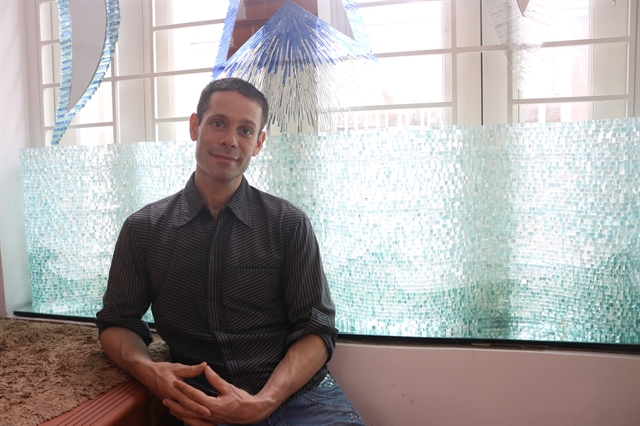 Gabriel Meranze Levitt, a US expat living in HCM City's District 2, makes beautiful art pieces with discarded glass pieces he finds on the streets. VNS Photo Diệp Phan
Việt Dũng
Many people may consider broken pieces of glass discarded on the streets as an unpleasant sight or even a dangerous hazard, but an American expatriate in HCM City has been using them to make beautiful, expressive artworks.
US expat Gabriel Meranze Levitt has been in Việt Nam for 12 years, and is a co-founder of a nine-year-old social enterprise in HCM City that focuses on domestic-helper services. He lives in District 2 with his partner and 2.5-year old daughter.
Three years ago, when he travelled to New Zealand to visit his friends, he was greatly inspired by how they had been using their free time after work on art activities, such as music and painting.
"It really wasn't until I saw that my friends were doing these things that I remembered that I used to be passionate about art. Art in general is something that was missing from my life," he told Việt Nam News .
After his trip, he began looking for old floor tiles as he had once made mosaics with this kind of material. However, when he could not find a wide variety of tiles, he soon discovered an abundant alternative: discarded glass pieces.
He began picking up pieces of glass that he found on the streets, and learned how to cut and design with glass by mostly watching YouTube videos.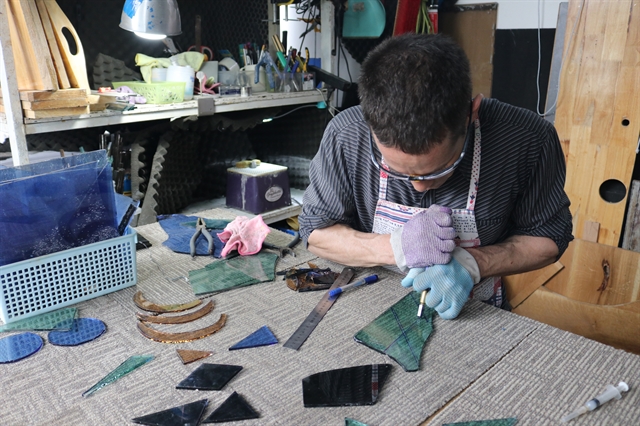 Levitt taught himself how to cut and design with glass. It can take up to a few weeks to finish a complex piece of art. VNS Photo Diệp Phan
At first he focused on making small, simple, practical items such as photo frames or mirrors to hone his skills in shaping the materials. After six months of improving his craft, he began making art pieces such as wall decorations and sculptures.
"I am constantly taking glass home with me when I see it on the streets," he said, adding that he collects everything because he does not seek out specific glass materials for specific projects.
His works rely only on what he finds on the streets.
Being self-taught, he has had to overcome many challenges, such as working out how best to distribute the weight of different parts of an art piece so that it can be safely hung, or how to correctly glue mirror pieces to maintain their reflective appeal.
"Finding time to do it is the probably biggest challenge because I work full time doing what I do with the social enterprise, and I take care of my child also. I'm limited right now to about two hours in the evening after my child has gone to sleep."
Artworks can take from around three hours to many weeks, depending on the complexity.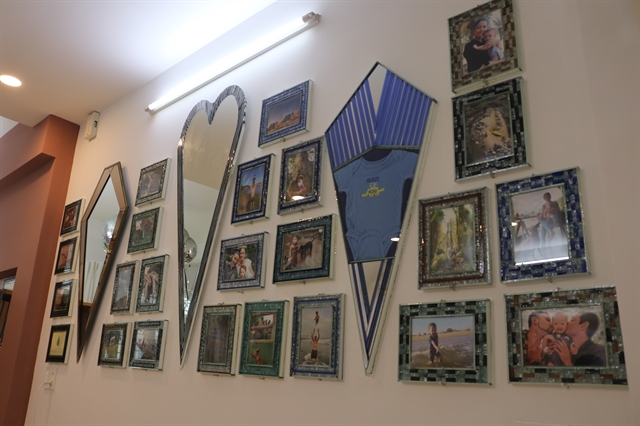 He often makes photo frames and decorations with discarded glass materials. VNS Photo Diệp Phan
Passion for glass and art
Initially, he chose glass due to its abundance but now it has become a true passion.
"Being able to take that discarded, relatively dangerous material and make it into either a work of art or something more basic like frames for mirrors, it feels incredible," Levitt said.
One look inside his house quickly reveals his artistic spirit, with walls of photos in beautiful glass frames and hanging decorations that dazzle in the wind.
He has created many pieces with high artistic appeal, such as a sculpture of a cloud with small pieces of dazzling glass raindrops hanging beneath it, or a mirror shaped like a smile, with countless small pieces of glass intricately glued together to form two lips.
His favourite work is called "Mystic Positivity" — a hanging sculpture of a little girl made with construction foam and covered with glass and mirror pieces. It took him five weeks to complete, and was inspired by his energetic daughter.
"It is trying to encapsulate the positivity – I have no idea where it comes from – of my child whenever she interacts with anything. She just has this outlook on life that is amazing. It has given me a new outlook on life, too."
His friends and families have been very encouraging towards his work, especially his partner who is very supportive of his passion, and his daughter who loves to interact and come up with names for his works.
Levitt has created mirror art pieces as gifts for people close to him, he said, adding that he feels pressure to create works that are more impressive than the last.
Currently his passion is not business-oriented; he is only focusing on making artistic expressions to keep in his home.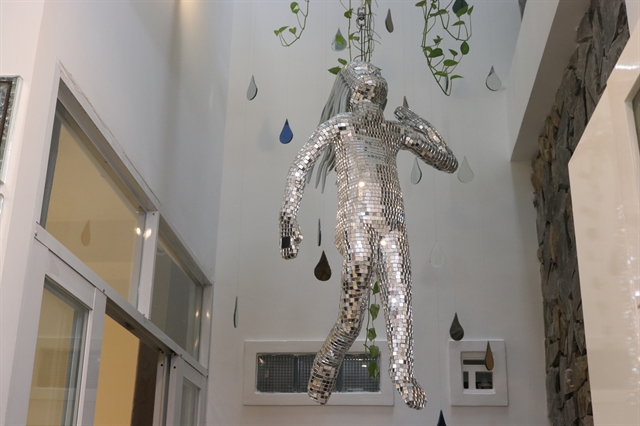 Levitt's favourite art work – "Mystic Positivity" – is meant to encapsulate the positivity of his 2.5-year-old daughter, who is a big source of inspiration for him. VNS Photo Diệp Phan
Rethinking trash
Even before deciding to work with glass, Levitt had always wanted to use old materials that people threw out, since is committed to taking care of the environment.
His artworks made with discarded glass are a testament to the fact that the raw materials of trash can be converted into useful, meaningful art, he said.
Levitt encourages people interested in art to consider materials around them that are abundant, which could mean wood or even seashells.
"By using materials around you, you don't need to use newly manufactured materials. It's a way to treat Mother Earth in a more sustainable way," he said.
"Everything you see here started out as trash, and that's certainly not the state that it's in now," he added, as he stood surrounded by beautiful, intricate art pieces made from the simplest of materials. VNS
US expat uses discarded glass to make beautiful artworks have 1047 words, post on vietnamnews.vn at June 10, 2021. This is cached page on VietNam Breaking News. If you want remove this page, please contact us.