While taking a boat trip off Phu Quoc Island, Kien Giang Province, US Sergeant Searcy and his teammate saw a capsized tourist boat and quickly saved the people on the boat, including a 10-year-old boy.
Sergeant De Freitas receives a certificate of merit from the US Consulate General.
On June 8, the Facebook page of the US Consulate General in Ho Chi Minh City posted the story of the two US marines – Sergeant Searcy and Sergeant De Freitas – who saved the group of tourists, including the 10-year-old Vietnamese boy who fell into the sea. The event occurred in January 2020.
According to Sergeant De Freitas, one afternoon he and his teammates were on a boat visiting Phu Quoc when they saw a nearby boat caught in a whirlpool, spinning and sinking. The two sergeants urged the boatman to drive his boat to the people in trouble and pick them up.
The rescue of people on the capsized boat was successful, but one person who had been picked up said that a 10-year-old boy was still in the water. Sergeant Searcy jumped into the water to search, while Sergeant De Freitas got on the bow and looked around to seek if he could find any trace of the missing boy.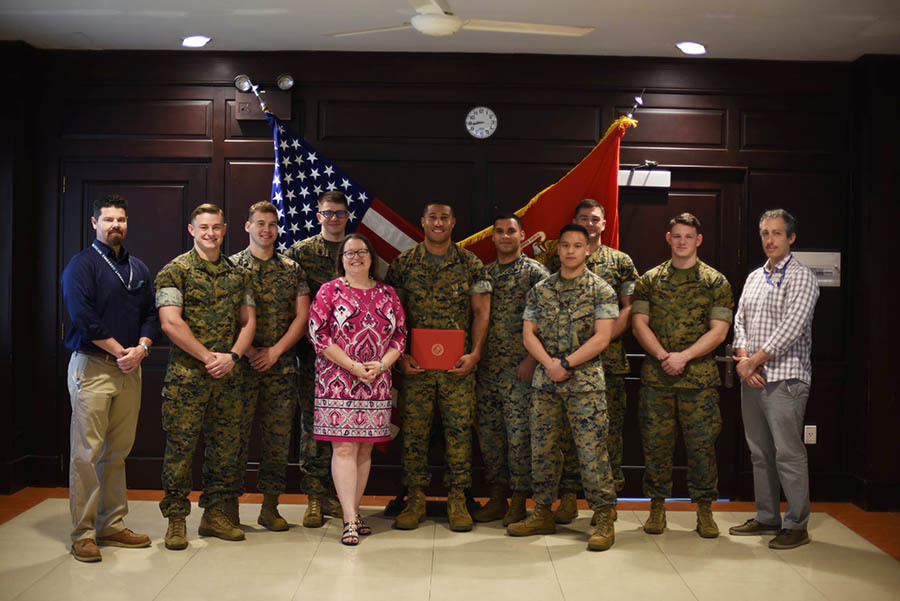 Sergeant Searcy receives a certificate of merit from the US Consulate General.
A few minutes later, a Vietnamese found the boy and brought him to the boat. At the time, the boy was unconscious. Sergeant De Freitas immediately performed CPR on the boy.
After about 10 minutes performing the life-saving method, De Freitas began to burn out and lose hope. However, hearing the boy's mother crying, Sergeant De Freitas continued to work to save the boy. The boy regained consciousness and was taken to the emergency room where he quickly recovered.
Describing his feelings upon hearing the 10-year-old boy's life was saved, Sergeant De Freitas said: "It was probably the best feeling I've ever had."
The US Consulate General in Ho Chi Minh City said that Sergeant Searcy and Sergeant De Freitas performed a "heroic" act.
Tu Anh
Two US marines save 10-year-old boy after boat capsizes near Phu Quoc Island have 483 words, post on vietnamnet.vn at June 10, 2021. This is cached page on VietNam Breaking News. If you want remove this page, please contact us.