Plastic use has become essential in the daily lives of billions of people around the world. But this reality has also led to great problems for many countries as the volume of plastic waste is increasing at a dizzying rate.
Plastic waste – Unsolved problem
A recent report by the scientific journal Science indicates that, so far, the world has produced about 8.3 billion tons of plastic and 6.3 billion tons has become plastic waste. Only 9 per cent of that is recycled while 12 per cent is incinerated and the remaining 79 per cent exists in the natural environment, including the marine environment. It is forecast that by 2050, more than 13 billion tons of plastic waste will be buried or discharged directly into the ocean. These figures show that the treatment and recycling of plastic waste has not yet brought high efficiency. Especially in a developing country like Việt Nam – one of the Top 10 countries that are most heavily affected by climate change – the bad effects from plastic waste are becoming more and more obvious.
Over the past few decades, Việt Nam has witnessed rapid urbanisation and economic development. This process not only changes the production model but also affects consumption habits, causing the source of domestic waste to increase year by year. According to a report by Ipsos Business Consulting, Việt Nam's plastic consumption per capita increased sharply from 3.8kg in 1990 to approximately 41kg in 2015. Every year, it is estimated that Việt Nam discharges 1.8 million tons of plastic waste, but only 27 per cent of which is recycled. This alarming fact not only poses a challenge for the Government but also for the business community.
Building a circular economy for plastic waste – Long-term strategy of FDI enterprises
In this context of increasingly alarming plastic waste problem in Việt Nam, the circular economy model is identified as an effective solution in the process of management, collection, and recycling of plastic waste in Việt Nam. The circular economy is a relatively new concept in Việt Nam, but has proven to be effective in reducing waste and promoting sustainable development in many developed economies.
In order to realise the "circular economy", the European Commission has called for the participation of all stakeholders from government agencies, mining and raw materials enterprises, processors, production, distribution, retail, consumers, garbage collectors to all participate. According to real estimates in Europe, the circular economy can generate benefits of 600 billion euros per year, 580,000 new jobs and help reduce greenhouse gas emissions. According to research by Accenture Strategy, the circular economy model could open up market opportunities worth up to $4.5 trillion and create millions of jobs for the global economy by 2030.
In Việt Nam, with the goal of supporting the Government and the community to reduce white pollution, Unilever Vietnam pioneered the implementation of a circular economy in effective management of plastic waste through a public-private partnership model with the Ministry of Natural Resources and Environment (MONRE) and like-minded businesses. The four pillars of this public-private partnership model to build a circular economy include knowledge sharing, technology transfer, public awareness and innovation, and constructive dialogue to develop policies to support circular economy in recycling and plastic waste management in Việt Nam.
Since 2018, Unilever Vietnam has cooperated with partners to launch the program "Zero Waste to Nature" to build the habit of segregation of household waste at source in HCM City. The event "Recycling squad to save the green planet" was also organised by this business in Hà Nội and HCM City. Unilever brands include Sunlight, Comfort, Love Beauty & Planet have accompanied the event with a commitment to always use environmentally-friendly recycled plastic packaging. In 2020, Unilever cooperated with Hanoi Urban Environment Co., Ltd (URENCO) to implement a waste segregation programme at source in many residential areas in the capital.
The waste segregation programme at source initiated by Unilever Vietnam in cooperation with URENCO, has received a positive response from the community. Up to now, the project co-implemented by Unilever has collected 997 tons of recyclable waste, of which plastic waste alone is 342 tons. In the 2020 – 2025 period, Unilever's circular economy model includes the development of projects and implementation of specific actions to synchronise the stage of waste classification at source, collection, transportation and treatment of plastic waste, and at the same time develop communication plans to disseminate knowledge to people in many provinces.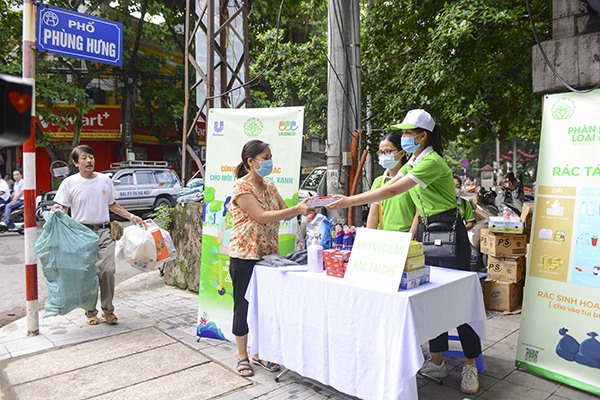 The Segregation at Source (SAS) project implemented by Urenco and Unilever
Unilever and the journey to make sustainable living commonplace
Developing a circular economy model in plastic waste management, the most recent initiative of Unilever in environmental protection, is only one of many programmes that the company has been implementing during its 25-year journey of operating in Việt Nam and realise its mission and commitment of creating a sustainable life for Vietnamese people. Right from the early days of entering the Vietnamese market, this multinational company has set out a sustainable development plan with a vision: growing business while reducing environmental impacts and increasing positive social impacts.
In particular, the effective management of plastic waste is one of the clearest signs of the environmental protection goal. Since 2017, Unilever has introduced its plan to cut plastic waste by the clear strategy "Less Plastic, Better Plastic, No Plastic". Several innovations have been made towards the objectives such as: Unilever has added new substances to the packaging of Axe and TRESemmé to make the black plastic recyclable. Since 2019, all Sunlight bottles have been made from recycled plastic. These efforts help Unilever get closer to its goal by 2025 of reducing the amount of virgin plastic by 50 per cent; increasing the use of recycled plastic in packaging production; 100 per cent of the plastic packaging by Unilever is designed to be fully reusable, recyclable or compostable; and the company will help collect and process more plastic packaging than they produce.
Besides making these commitments in plastic waste management, since 2011 Unilever has set up a monitoring report and prioritised Green manufacturing. So far, the business has successfully used renewable energy through the operation of bio-boilers, reducing water consumption by 43per cent and having no hazardous waste to landfill or generate carbon. Since 2015, 100 per cent of the electrical energy used in production has met the "Renewable Energy Credit" – iREC standard.
Along with the efforts in plastic waste management to reduce environment impacts, the improvement of the quality of life for Vietnamese people has also been persistently implemented by Unilever for more than two decades. Many community projects of the company such as Green Clean Healthy school, Hand washing with soap for a healthier Vietnam, Protect Vietnamese smiles, Enhancing livelihoods for women through business development and health education have become familiar to people in many localities, bringing positive effects to the community and benefited more than 25 million Vietnamese people.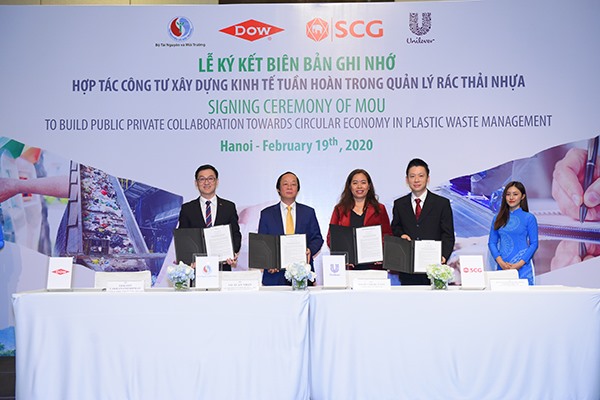 Unilever Vietnam partners with government, NGOs, enterprises to solve the environmental issue
Unilever is leveraging its famous brands as a force for good to implement sustainable development programmes, actively contributing to building a healthier, greener and more prosperous Viet Nam. With what has been done in 25 years of operation in the Vietnamese market, Unilever has not only become a reliable companion for many families but also proves the vision and mission of a multinational corporation always striving to create a sustainable future for the community on every development journey.
The story of plastic: Solutions and efforts of Unilever Vietnam towards sustainable development have 1358 words, post on vietnamnews.vn at June 17, 2021. This is cached page on VietNam Breaking News. If you want remove this page, please contact us.