Football
Midfielder Nguyễn Hoàng Đức of Việt Nam takes the ball away from Malaysian midfielder Liridon Krasniqi Syamer Kutty Abba during their 2022 World Cup qualifier on Friday. Photo zing.vn
HÀ NỘI — The absence of key players might be unfortunate for the national team but it gave an opportunity to Nguyễn Hoàng Đức who shone brilliantly in the Việt Nam's World Cup match again Malaysia.
The 23-year-old grabbed his chance with both hands when he was called to manage the central area in the absence of Nguyễn Quang Hải who was suspended for Friday's match.
The midfielder not only did a good job but also gave Park Hang-seo a 'comfortable headache' in picking his line-up for the next game when all his best players are available.
"After the win over Indonesia and Hải could not play next game, I thought Park would choose Đức," said former national coach Hoàng Văn Phúc.
"His performance in the Malaysia match explained the reason. He showed his remarkable and all-round development. He is good at keeping ball in one-on-one situations and can well manage the ball against physical and bigger rivals.
"His solo run broke through four Malaysian players before sending Trọng Hoàng a perfect ball in the 65th minute. It was regrettable that Hoàng could not convert it into a goal, otherwise, we could have secured the game at that point.
"Park will welcome all of his best players back in action next game. Đức will give his coach lots to think about when choosing his team for the Group G 'final'."
Pundit Ngô Quang Tùng agreed, saying that Đức has speed and technique which gives him confidence and bravery to attack on the break.
"From the Asian U23 championship qualification to the 30th SEA Games and now, Đức showed his special abilities. He has progressed year after year and will become a key player for the national team," said Tùng.
"His solo run that left four Malaysian players behind was an important moment that not only helped teammates build confident but also created high pressure on the opposite side."
It was Đức's second match with the national team but he did not show any signs of nervousness in the middle of the pitch.
In the whole 90 minutes, he connected defence and attack, read the game well and made some crucial tackles.
Not only did he create opportunities for the forwards, but Đức himself threatened the Malaysian goal with a number of long-range efforts.
Although he was not voted the match's most valuable player of Việt Nam, Đức received the highest points of 8.8/10 points among both sides' players from Sofa Score, a website that provides football statistics and live scores.
Sofa Score recorded Đức's as making four tackles, the highest number in the game. He had the most accurate passes among players, eight successful dribbles and two shots on target . He also won 16 in 18 times in one-on-one situations and two aerial duels.
In his first match on June 7, Đức was on the field in 30 minutes and InStat Spor noted he made up 100 per cent accurate passes.
Quick grow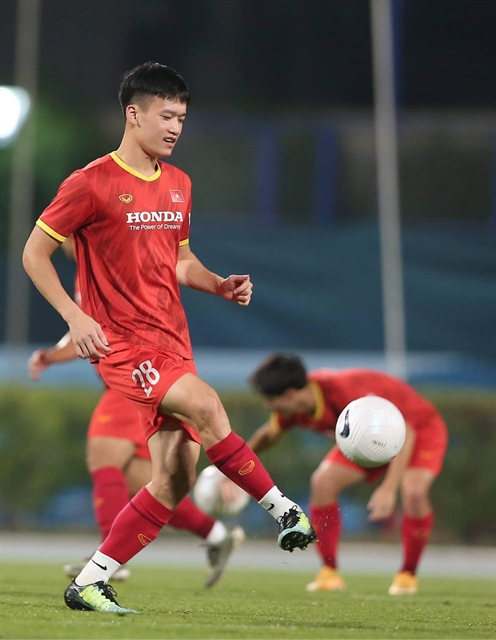 Midfielder Nguyễn Hoàng Đức trains for the World Cup qualifiers in Dubai. Photo of VFF
Đức began his football life in 2011 when he was 13 at Viettel FC training centre as scouts kept eyes on him for two years after watching him at the U11 championship when his hometown of Hải Dương won the title.
The youngster was said to be a player with a lot of potential but he struggled because of his small size and was almost rejected by the training centre.
But things changed when Viettel had not enough players to take part in the national championship in 2014 and he was added to the team. His outstanding performance changed coaches' minds who decided to keep him for further training.
With support from coach Nguyễn Minh Tiến and his own determination, Đức gradually gained recognition. He helped Viettel finish second at the national U19 tournament in 2016 and became their MVP.
He earned a place in the first team a year later and joined the national U20 squad taking part in the U20 World Cup.
2018 saw the young midfielder score nine goals and three assists, pushing Viettel to the V.League 1.
His magic left foot, which was key to help him maintain a place in the starting line-up, also helped him impress national head coach Park.
The South Korean then picked him for the U22s who won the national first gold medal at the 30th SEA Games in 2019, the Asian U23 Football Championship in 2020 and the ongoing 2022 World Cup qualification.
Viettel skipper Bùi Tiến Dũng said: "Đức has made huge steps in career. He owns great qualities which will definitely be better in the future.
"Not just me, but also many others believe that he will one day be a major player for the national team soon and of course at Viettel."
Pundit Tùng said 2021 would be a successful year for Đức, adding: "If he could keep on the right track, he would be the most complete midfielder of Việt Nam."
Meanwhile Đức said playing for the national team is an honour and a chance for him to improve.
"I have learned a lot from senior players and coaches here. I still need more effort to ensure my place in the team and be a regular face in the squad in the future," he said. VNS
Midfielder takes chance to shine in Việt Nam World Cup campaign have 1093 words, post on vietnamnews.vn at June 14, 2021. This is cached page on VietNam Breaking News. If you want remove this page, please contact us.