HCM  CITY On 14th June 2021,  Masan Group Corporation announced the completion of a private issuance of 5.5 per cent stake in The CrownX Corporation to a consortium led by Alibaba Group and Baring Private Equity Asia for a total cash consideration of USD400 million.
The transaction implies a post-money valuation of US$7.3 million for The CrownX, Masan's integrated consumer retail arm that consolidates its interests in Masan Consumer Holdings (MCH) and VinCommerce (VCM).
As part of the transaction, VCM will enter into a strategic cooperation agreement with Lazada, Alibaba's Southeast Asian e-commerce platform.
It will be the grocery retailer of choice on Lazada in Việt Nam.
The parties will share know-how, co-develop analytics to develop grocery as a key online category, transform VCM's offline stores into pick-up points for online orders, and explore synergies between their respective logistics platforms for service and cost optimisation for consumers.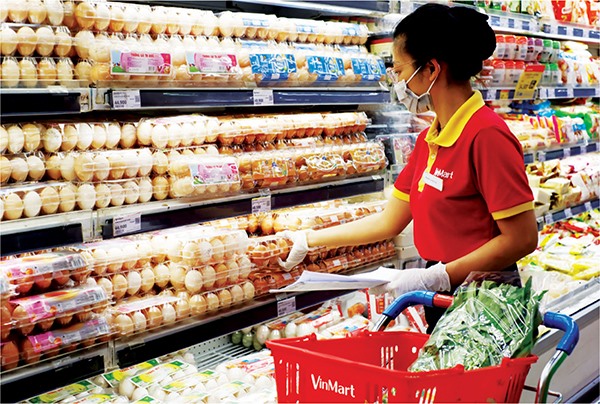 The CrownX is Masan's integrated consumer retail arm that consolidates its interests in Masan Consumer Holdings and VinCommerce.
The transaction indicates a shared vision across the company's shareholders that The CrownX has the potential to establish Việt Nam's first tech-enabled consumer-retail ecosystem and expand its reach to serve consumers nationwide.
Building a tech-enabled consumer-retail ecosystem
The partnerships are part of Masan's strategy to accelerate The CrownX's offline to online commerce transformation. Taking advantage of offline channels and penetrating online segment is the direction that Masan announced last year.
Masan has an advantage of having a leading offline distribution channel with more than 2,500 VinMart, VinMart+ retail stores across the country and more than 300,000 traditional selling points associated with Masan Consumer.
When collaborating with Lazada, Masan's goods will reach 20,000 customers of this e-commerce platform while groceries will become a key item to attract traffic to Lazada.
Masan targets The CrownX's online gross merchandise accounting for at least 5 per cent of its total sales in the near future.
As stated at its annual general meeting last month, Masan's long-term vision is to build a tech-enabled consumer-retail platform to meet consumers' essential everyday needs.
Masan calls the single platform (one-stop shop) Point of Life.
Groceries account for 50 per cent of Việt Nam's retail market and 25 per cent of consumer wallet share, and are an essential daily item, but online penetration is still in a fledgling state, meaning there is still a lot of room for growth.
It is easy to see that the majority of products sold on e-commerce sites are non-essential, high-value and low-frequency items such as electronics, fashion and cosmetics.
Essential items such as food and beverages are those that consumers frequently shop for and use every day though the value per order is usually low. But buying them online is still very limited.
Developing super apps is also part of Masan's plans. Masan has a good supply chain offline, and wants to integrate sales of goods on super apps and e-commerce platforms.
Currently customers can buy goods at VinMart on the VinID application that has nine million users, Techcombank has five million users, and the company has many other shopping apps.
Customers can order through the apps, accumulate reward points to redeem for discounts, regularly update promotions, pay online and have the products delivered home.
Online and offline customer databases are also a 'goldmine' for businesses that understand the power of data analytics.
Masan Group chairman Nguyễn Đăng Quang said: "Masan currently processes more than 1 million transactions per day and this number will increase by 5-10 times by 2025. This massive transaction volume will provide us with a valuable source of data to understand our consumers and serve them better."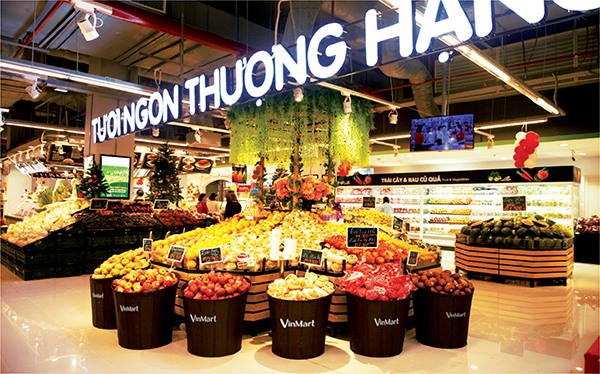 Products at VinMart meeting 'The very best of fresh' standards. — Photo courtesy of Masan
Integration of financial services
The CrownX also plans to integrate financial services in partnership with Techcombank.
Quang said: "The CrownX is where a retail network (VCM), an FMCG platform (MCH), a branded meat product (Masan MEATLife), and a financial services provider (TCB) integrate and synergise to create an inter-connected business platform. It's the first chapter in our 'Point of Life' journey."
It will be available in both urban and rural areas.
Starting this year VinMart (WinMart in future) will offer financial services provided by Techcombank at at least 50 per cent of its stores.
Quang had told the AGM: "Some 60-70 per cent of Vietnamese live in rural areas without credit or payment cards, and there is no bank nearby to serve them, but that does not mean they don't need financial services. It's just that their financial life is based on cash, on the assets they accumulate from their savings every year."
Techcombank, with 300 branches in urban areas, will combine with around 1,500 VinMart+ points of sale (this year) to offer financial services to residents there.
Benefiting producers and consumers
The CrownX would get an additional investment of $300-400 million, possibly more, to develop its system, invest in the supply chain and combine technology to expand market share and create competitive advantages.
Việt Nam's retail consumer market will change in terms of both quality and quantity, creating great value for the entire consumer value chain.
Consumers would pay 5 – 10 per cent less for essential goods, manufacturers and agricultural producers would earn 5-10 per cent more and retail franchisees would make 5-10 per cent more profits.
The CEO of Masan Group, Danny Le, said the company has a large-scale products strategy that enables it to negotiate better prices with suppliers, manufacture products itself and have a lean retail model.
This is a "win-win" model where retailers could increase sales and shoppers could have a better experience, he added.
Masan builds tech-enabled consumer-retail ecosystem have 1158 words, post on vietnamnews.vn at June 17, 2021. This is cached page on VietNam Breaking News. If you want remove this page, please contact us.