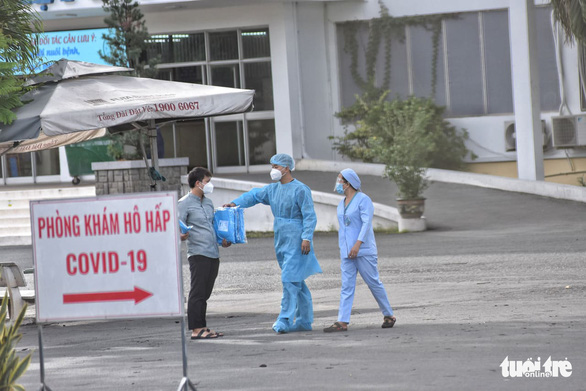 The Hospital for Tropical Diseases in HCM City is temporarily locked down for tracing contacts and stamping out the spread. Photo Tuoi Tre online
HCM CITY— The 500-bed Củ Chi COVID-19 Treatment Hospital in HCM City's Củ Chi District on June 12 was officially put into use, and the COVID-19 Treatment Unit at Phạm Ngọc Thạch Hospital in District 5 will open on the 13th.
Human resources for these facilities are health officials from departments of contagious diseases, resuscitation, and emergency services at the city's major hospitals.
The facilities will help the city adapt to the ongoing COVID outbreak. The Hospital for Tropical Diseases said three of its staff were suspected of having contracted COVID-19. This will be confirmed later by the Ministry of Health.
The Hospital for Tropical Diseases is temporarily locked down for tracing contacts and stamping out the spread. However, the hospital continues providing reverse transcription polymerase chain reaction (RT-PCR) tests for diagnosis and treatment of COVID-19 patients who are staying there.
On the same day, the city Department of Health sent an urgent dispatch about health staff compliance with regulations on COVID-19 prevention and control after working hours.
To minimize the risk of cross-infection in hospitals and from outside hospitals, the department has instructed the directors of hospitals to urgently ask their employees to improve their self-discipline in COVID-19 prevention and control.
Health staff should always comply with the Ministry of Health's 5k message:  masks – disinfection – distance – no mass gathering – health declarations. They should also wear masks during working hours.
Moreover, after working hours at hospitals, health staff should stay at home and limit contact with their neighbours and friends.
The city has recorded small COVID-19 clusters in its districts. Besides the transmission risk from COVID-19 patients who visit hospitals, health staff face other transmission risks from outside and could transmit the virus to their colleagues.
Two of the three staff at the Hospital for Tropical Diseases who may have contracted COVID-19 live in Hóc Môn District and the other resides in Thủ Đức City. VNS
HCM City opens two more COVID-19 treatment health facilities have 372 words, post on vietnamnews.vn at June 12, 2021. This is cached page on VietNam Breaking News. If you want remove this page, please contact us.