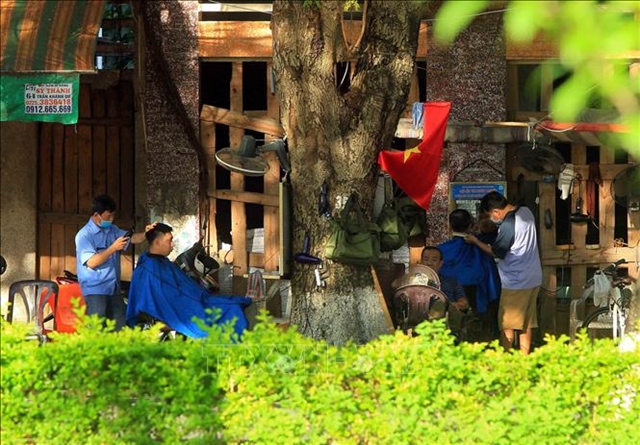 Barber shops on sidewalks are allowed to re-open in Hải Phòng City. VNA/VNS Photo An Đăng
HÀ TĨNH – With the COVID-19 situation under control, the People's Committee of Hà Tĩnh Province allowed the resumption of business, commercial and service establishments and tourism sites starting from Tuesday.
The establishments include wholesale stores, retail stores, lottery ticket sellers, accommodation facilities, restaurants, cafeterias and hair salons.
Tourism sites, relic areas, scenic spots, indoor and outdoor sport training spaces, and public places are allowed to reopen, though pandemic prevention and control measures are required.
If businesses or their customers violate regulations on pandemic prevention and control, their operations will be stopped and strictly handled.
Inter-provincial and intra-provincial public passenger transport services, excluding pandemic-hit localities and areas, can resume if they ensure measures to ensure safety such as collecting passengers' medical declarations at local clinics or using the Bluezone app or the website tokhaiyte.vn for people at high risk of infection and people travelling to or from different provinces.
Factories, production facilities and construction sites can continue to operate and must maintain strict pandemic prevention and control measures.
Meetings and conferences of the provincial Party and People's Committees and Steering Committees for COVID-19 Prevention and Control can be held.
Meetings, conferences, seminars and events serving political, economic and social purposes need written approval from the provincial Steering Committee for COVID-19 Prevention and Control.
People must continue wearing masks when out of the house.
The province has not allowed the resumption of festivals, religious ceremonies, sports tournaments or events with large gatherings in public places.
Authorities have also asked citizens to minimise the number of people attending weddings and funerals and strictly follow the pandemic prevention messages of the Ministry of Health.
The province has kept non-essential service businesses and those with a high risk of infection shut, including amusement and entertainment places, cinemas, karaoke services, bars, discotheques, saunas, massage parlours, beauty spas, gym and yoga facilities, gaming cafes and public internet access points.
Shops and restaurants on sidewalks must also stay shut.
Hải Phòng re-opens services
On Monday, Hải Phòng decided to re-open all commercial and service activities after 21 days without new COVID-19 cases in the city.
The venues must put strict pandemic prevention and control measures in place.
However, discos, karaoke parlours, sauna and massage spas, bars and pubs must stay closed.
The municipal People's Committee assigned the People's Committees of districts and wards and relevant agencies to step up inspections of business establishments that are allowed to operate, and immediately stop their operations if they do not comply with COVID prevention rules.
Those not wearing masks in public will be strictly punished.
The city's Department of Health is working with the Hải Phòng Economic Zone Authority and the Department of Industry and Trade to conduct extensive SARS-COV-2 testing and develop a plan to deploy COVID-19 vaccinations for workers and employees in industrial zones and production facilities.
Hải Dương back to new normal
After 19 days of new community cases, the People's Committee of Hải Dương Province on Tuesday allowed some businesses to re-open.
Commercial and service businesses, tourism sites and public places were allowed to re-open while non-essential business and service establishments like entertainment venues, cinemas and theatres, performing arts activities, karaoke and massage parlours, discos and bars are still suspended.
Festivals, religious services, sports tournaments and gatherings of more than 30 people in public places, stadiums or big events are still banned.
People must still follow pandemic prevention guidelines from the Ministry of Health and not gather more than 30 people in public outside of offices, schools or hospitals, and keep a distance of at least 1m between people. – VNS
Hà Tĩnh, Hải Phòng, Hải Dương re-open some businesses have 767 words, post on vietnamnews.vn at June 22, 2021. This is cached page on VietNam Breaking News. If you want remove this page, please contact us.