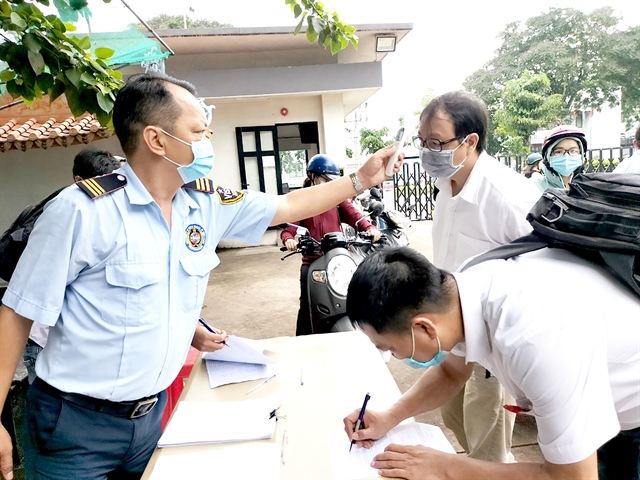 Employees fill out health declaration forms and have their temperature checked at Tong Chang Electric Machinery Company in Việt Nam Singapore Industrial Park in Bình Dương. Industrial parks in the province have been applying strict COVID-19 prevention measures. – Photo sggp.org.vn
BÌNH DƯƠNG – Companies in industrial parks in Bình Dương Province are applying stricter COVID-19 prevention measures while maintaining production activities.
Chutex International Co., Ltd. in Dĩ An City's Sóng Thần Industrial Park, for example, which has over 6,000 workers, has required staff to wear face masks and disinfect themselves as they enter the premises, as well as take temperature checks at their work stations.
Businesses in the Việt Nam Singapore Industrial Park in Thuận An City have set up pandemic prevention teams at their gates, and have had staff disinfect themselves, make health declarations, and have their temperature checked.
Lê Văn Phức, a guard at Maruei Việt Nam Precision Co., Ltd in the industrial park, said that his company began applying prevention measures when the pandemic first appeared in the country, but has been stricter since May 25 as serious outbreaks have occurred in industrial parks in the north.
Staff are required to make health declarations via paper forms or smartphones, and smartphone users must install the Bluezone tracing application.
Meanwhile, Liwayway Joint Stock Company in the same park has put up large, hard-to-miss information boards about the pandemic at their gate, and has increased the number of staff stationed at the gate to monitor the health of more than 1,000 workers.
Staff with high fever are sent to a separate clinic room to be monitored.
Banners and posters on how to protect against COVID-19 can also be found throughout the industrial parks in the province.
For more than a month, Bình Dương People's Committee and local authorities have been instructing regions, businesses and industrial parks to carry out strict pandemic prevention measures.
The Bình Dương Industrial Parks Management Board has instructed local IPs to regularly update their status on the COVID-19 safety map to keep the public informed, closely monitor workers, and form pandemic inspection teams.
The province is also working with health authorities and the management board to hold drill sessions and draw up plans to requisition factories and offices to quarantine up to 4,000 people if necessary.
According to Trần Văn Nam, secretary of the provincial party committee, Bình Dương has thousands of workers, many of whom are living within the industrial parks.
Local authorities have been asked to refer to preventive measures taken by other industrial parks and regions, and come up with their own solutions for Bình Dương.
Bình Dương Province is one of the top regions in Việt Nam in terms of FDI attraction, exports and economic growth. – VNS
Bình Dương IPs tighten COVID prevention measures have 652 words, post on vietnamnews.vn at June 14, 2021. This is cached page on VietNam Breaking News. If you want remove this page, please contact us.