New COVID-19 outbreak puts brakes on trade, transport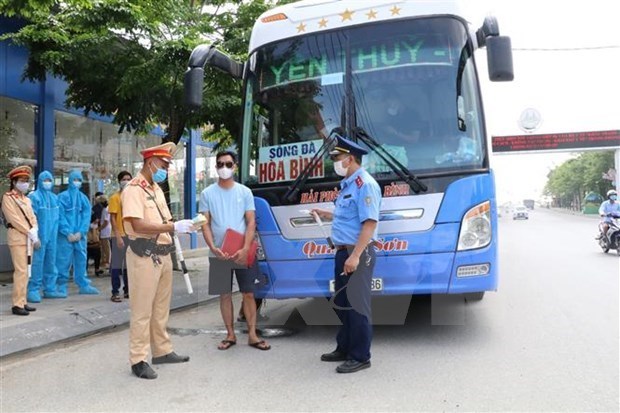 Authorities check a coach in Ninh Binh city, the capital of northern Ninh Binh province.
The current COVID-19 resurgence has put the brakes on trade, transport and tourism, with all the sectors experiencing declines in May, according to the General Statistics Office (GSO).
The turns of passengers transported across the country was estimated at 287.8 million this month, a 14.9-percent decrease from April, the GSO reported. The figure exceeded 1.59 billion in the first five months of 2021, up 4.2 percent year-on-year.
In May, transport of goods, meanwhile, increased by 2.8 percent to 139 million tonnes. This brought the total volume of freight transport from January to May to 739 million tonnes, up 10.5 percent year-on-year.
Total retail sales of goods and services valued 393.6 trillion VND (17.1 billion USD), down 3.1 percent from the previous month and 1 percent from a year earlier. The five-month sum hit over 2.08 trillion VND, up 7.6 percent year-on-year.
International visitor arrivals in Vietnam totalled 13,400 this month, down 30.8 percent month-on-month and 40.6 percent year-on-year. The five-month figure plunged 97.8 percent compared to the same period last year as international travel restriction continued to be in place./.
Experts urge wariness over firms offering lucrative investment opportunities
Experts have sounded the alarm about a new form of financial investment co-operation offering high interest rates, warning that investors could lose their capital in a rate trap.
As banks are currently offering low interest rates, many companies are advertising in a bid to mobilise idle capital from investors by offering very high interest rates, vneconomy.vn reported.
According to an advertisement on the website of Nhat Nam Real Estate and Trading Investment Joint Stock Company, despite being newly established in July 2019, the company has more than 8,000 investors participating in business co-operation. The company is offering an interest rate of up to 168 per cent for a 24-month term to investors, which is 12 times higher than the interest rate listed by commercial banks.
According to the company's staff, customers can receive high interest rates and discounted real estate and other services from the company if they invest from VND20 million to VND5 billion over two years.
After two working days of sending their capital to the company, every day customers will receive a part of the principal and interest rate sent to their personal account from Monday to Friday, except weekends and the country's holidays.
The staff claimed the company can pay such attractive profits due to its involvement in many business segments with a focus on real estate in many cities and provinces from Ha Noi, Ha Nam and Thanh Hoa to Kien Giang, Tay Ninh and Dac Lak.
Also offering high interest rates and sustainable profit, the Blue Diamond Real Estate Services Trading and Investment Joint Stock Company headquartered in HCM City is seeking investment with a dream interest rate of 105 per cent in 20 months.
The company announced it recently launched a gratitude programme to loyal investors, offering customers VND6.16 million per month with an investment capital of only VND60 million. This means as well as three SJC gold taels as a gift, the customers are promised a total of VND123 million after 20 months.
According to lawyer Truong Thanh Duc, Director of ANVI Law Firm, all forms of capital mobilisation, from bond and stock issuance to business co-operation contracts, are legal. However, the above form of investment co-operation, which commits to pay fixed high interest rates is fraudulent and ambiguous.
Duc explained under Article 468 of the 2015 Civil Code, the interest rate of a loan may be agreed upon by the involved parties but must not exceed 20 per cent of the loan amount per year, unless otherwise prescribed by a relevant law.
To dodge the law, the companies mobilise capital by calling for business investment co-operation, whose interest rate can reach hundreds of per cent legally. However, they don't warn their customers that business investment co-operation has risks and the customers must accept those risks.
If the companies claim their investment is profitable and safe without any risks, they are cheating customers, Duc noted.
VietinBank to receive over 300 million USD in State capital
The Government has approved a plan to invest an additional 6.977 trillion VND (303.2 million USD) in State capital in the Vietnam Joint Stock Commercial Bank for Industry and Trade (VietinBank) so as to maintain the State's ownership percentage at this bank.
The approval will be the basis for VietinBank to carry out procedures for raising its charter capital, helping it continue expanding operations.
The bank is expected to complete the issuance of shares to pay dividends, at a rate of 29.0695 percent, in the third or fourth quarter of 2021.
Following the issuance, the bank's charter capital will increase by 10.824 trillion VND, from 37.234 trillion VND to 48.058 trillion VND.
Last year, the bank posted 17.085 trillion VND in consolidated pre-tax profit while the non-performing loan ratio stood at 0.94 percent.
The respective figures were at 8.06 trillion VND and 0.88 percent by the end of the first quarter this year./.
Ample room for Vietnamese farm produce, food in Poland
The Polish market has ample room for Vietnamese farm produce and food, experts said at a recent online conference.
The conference was jointly held by the Vietnam Trade Promotion Agency under the Ministry of Industry and Trade (Vietrade), the Commercial Affairs Office under the Vietnamese Embassy in Poland, and the Polish Chamber of Commerce. It aims to help Vietnamese firms study and access the Central European market.
Participants shared the view that Vietnam's farm produce and food have grown strongly over the past years and affirmed their position in the international market, explaining that these products have hit the shelves of 185 countries and territories, including the US, Japan, the EU and the Republic of Korea (RoK).
Nguyen Thanh Hai, Counsellor at the Commercial Affairs Office, said Poland has huge demand for products that Vietnam has strength like rice, tra and basa fish (pangasius), shrimp, mango products, pineapple, coffee and cashew nuts.
Vietnam's ST24 and ST25 rice varieties are competitive as compared with their rivals from Thailand in terms of price and quality, according to the official.
Wojciech Gerwel, Polish Ambassador to Vietnam, said the fruitful traditional relationship between Vietnam and Poland would create optimal conditions for their businesses to cooperate.
Vu Ba Phu, head of Vietrade, pointed out the positive impact of the EU-Vietnam Free Trade Agreement (EVFTA) on Vietnam's economy, particularly its imports from and exports to the EU and Poland.
Vietnam is the EU's 10th largest goods supplier, he said, suggesting Vietnamese ministries and agencies step up the information work to help domestic enterprises stay updated on commitments in the agreement and market demand.
Following the conference, nearly 30 Vietnamese businesses conducted online transactions with more than 40 Polish firms, and introduced Vietnam's farm produce and food products that would be exported to the EU./.
Digitalization – viable option for banks' sustainable growth
By 2025, at least 50% of banking procedures and 70% of customers' transactions are expected to take place in the cyber environment.
While keeping a safe distance and remote working have become new practices since the Covid-19 outbreak, Vietnamese banks have been quick to push for digitalization to meet customers' demand for more digital banking options and pursue sustainable growth.
A study from Vietnam's E-commerce and Digital Economy Agency (iDEA) revealed Vietnam's e-commerce revenue rose by an impressive rate of 18% year-on-year to US$11.8 billion last year, or 5.5% of the total revenue of retail sales and services.
WeAreSocial & Hootsuite in its Digital report on the Vietnamese market suggested the rate of internet users from the age of 16-64 using mobile phones for online shopping rose from 55% in 2019 to 68.5% in 2020.
The use of online banking and financial services, thus, went up from 36% to 40.1% in the 2019-2020 period as people considered digital banking a normal routine in new circumstances.
Since last year, state-run Vietcombank launched its digital banking app VCB Digibank, while BIDV also kicked off its own digital transformation initiative via the BIDV iBank app.
VCB Digibank was developed based on the combination of internet banking and mobile banking platforms. For BIDV customers, the BIDV iBank allows enterprises to conduct banking transactions, including account and transaction inquiries, in a safe, accurate, and quick manner without visiting a physical bank branch.
Private banks, including Viet Capital Bank, OCB, or TPBank also launched their respective digital bank app to better meet customers' demand for quick and safe services.
To further accelerate the digitalization trend in the banking sector, the State Bank of Vietnam (SBV), the country's central bank, has recently issued a plan for digital transformation   Vietnamese banking sector until 2025, with a vision to 2030.
By that time, the SBV expects at least 50% of banking procedures and 70% of customers' transactions to be conducted in the cyber environment; 50% of consumer loans to clients have processed automatically online.
For its part, the central bank would reform its operation comprehensively by taking advantage of Industry 4.0 technologies and meeting the government's requirements for digital transformation.
SBV's Vice Governor Nguyen Kim Anh noted digitalization in the banking sector is a key task to promote financial inclusion and the establishment of e-government, eventually towards the digital government.
"In this regard, banks should give priority to new technologies application and innovation, in which customers are at the center of all services," Anh added.
According to Anh, banks and credit institutions are expected to develop digital bank models and expand services for greater customer satisfaction.
"The capability of banks to meet the customers' demand would be the measurement for their efforts in digitalization," he said.
While saying these targets are ambitious, Anh referred to a recent survey that 95% of banks are planning for digital transformation.
"Certain banks have been able to provide fully-digitalized banking procedures, including depositing money, opening and using of account, transfer wiring, personnel management, or to apply artificial intelligence, machine learning and big data in more advanced tasks including grouping customers and assisting the lending process," Anh suggested.
In the coming time, Anh said the SBV would accelerate the process of drafting the Law on e-transactions, which serves as a basis for ministries and government agencies to promote the digitalization process.
In parallel with the efforts, the SBV is scheduled to issue a decree on e-identification and verification, along with regulations to protect privacy and data in the cyber environment, Anh added.
In 2020, the number of mobile transactions surged by 114% in number and 118% in value against 2019, while payment via QR code scanning also rose by 73%.
This resulted in a sharp increase of 78% in the number of total transactions and 128% in value compared to those recorded in 2019.
Foreign enterprises place trust, raise investment in Dong Nai
The trust of investors in the local business climate and support from authorities for enterprises count among the factors that have helped southern Dong Nai province almost reach its foreign direct investment (FDI) target for the year.
The Swiss-funded Nestle Vietnam, based at the Bien Hoa 2 Industrial Park, has continually increased its charter capital since opening its first factory on-site in 1995.
Most recently, in April, it added 132 million USD to its investment in a coffee production project at the Amata Industrial Park in Dong Nai, bringing the total to over 400 million USD.
Carl Khoury, a manager at the company, said it has set up four factories in Vietnam, including three in Dong Nai, and it considers the province a key destination since it boasts industrial parks with complete infrastructure, borders Ho Chi Minh City, the country's southern economic hub, and is served by highways and expressways favourable for goods transportation.
He noted that the company has developed continually over the last 25 years thanks in part to a sound investment climate and clear legal procedures that match international practice, both nationally and in Dong Nai.
Authorities have also swiftly dealt with any problems facing businesses, Khoury added.
In late March, the Soheung Vietnam Co. Ltd, with investment from the Republic of Korea, raised its capital by 30 million USD to 80 million USD to expand its factory at the Long Thanh Industrial Park in Dong Nai.
The company said the greatest challenge foreign businesses encounter when investing in a country is a lack of understanding about local practices and legal regulations.
However, it added, local agencies have helped it handle environmental and construction-related procedures, while taxation, business registration, and insurance services have been provided online, facilitating operations.
Dong Nai has attracted 66 FDI projects worth over 680 million USD since the beginning of this year, while its target for the year as a whole was around 700 million USD, according to the province's Industrial Zones Authority.
It is currently home to nearly 1,400 FDI projects from 41 countries and territories with combined capital of 27 billion USD.
Chairman of the provincial People's Committee Cao Tien Dung said FDI projects have contributed greatly to local socio-economic development, and Dong Nai views foreign investment as a main development resource.
The province pledges to provide the best possible conditions to investors, he noted, adding that it prioritises large-scale projects using advanced technology and skilled workers in supporting industries.
In the time ahead, it will also boost infrastructure development, build modern residential areas, and invest strongly in education and healthcare, as investors come to the province not only to seek profit but also to enjoy a good life, Dung said./.
JICA provides 25 million USD for wind power project in Quang Tri
The Japan International Cooperation Agency (JICA) has recently signed a facility agreement to provide up to 25 million USD for an onshore wind power generation project with a total capacity of 144 MW in the central province of Quang Tri.
The Power Construction Joint Stock Company No. 1, a major local company in Vietnam in the field of renewable energy development and electromechanical works, and RENOVA, Inc., a leading renewable energy IPP developer in Japan, are sponsors to the project.
Three project companies namely Lien Lap Wind Power Joint Stock Company, Phong Nguyen Wind Power Joint Stock Company, and Phong Huy Wind Power Joint Stock Compan are the borrowers. The loan is co-financed by Asian Development Bank (ADB) and Export Finance Australia under the Australian government.
This project is JICA's first finance for a wind power generation project in Vietnam and is expected to serve as a model case for private sector wind power generation projects in the renewable energy sector in Vietnam, including those by Japanese and local companies.
In addition, the project will contribute to the Initiative on Overseas loan and Investment for ASEAN announced at the Japan-ASEAN Summit Meeting on November 4, 2019, and is the first investment by a Japanese company in a new-large scale wind power project in Vietnam.
According to the Ministry of Industry and Trade of Vietnam, electricity demand in Vietnam is expected to increase by 8-8.5 percent per year from 2021 to 2025, and demand for electricity is expected to be strong.
The Vietnamese government has also set a target of reducing greenhouse gas emissions by 9 percent in 2030 compared to the base-case scenario without climate change measures and has adopted the introduction of renewable energy as a specific measure.
In order to increase the supply of electricity and combat climate change at the same time, the government has set a target of using renewable energy sources for about 15-20 percent of the 125-130 GW of power generation capacity in its power development plan for 2030 of which 6000 MW will be supplied by wind power projects./.
PM orders removing difficulties in farm produce consumption for Bac Giang
The Prime Minister has tasked the Ministry of Industry and Trade with removing difficulties in the consumption of agricultural products, especially lychee, for Bac Giang province that is now the country's COVID-19 hotspot.
Accordingly, the ministry will hold working sessions with the northern province, dubbed as Vietnam's "lychee kingdom," to set forth plans on lychee purchase and consumption.
At the same time, it needs to step up activities to boost domestic consumption and export, while closely coordinating with relevant ministries, agencies and localities to facilitate the circulation of the fruit.
COVID-19 prevention and control regulations must be always observed, the PM stressed.
According to the provincial People's Committee, Bac Giang has 28,100 ha of lychee this year, with a total output of some 180,000 tonnes, up 15,000 tonnes from the previous year. The main lychee harvest season will begin in mid-June.
Amidst the pandemic, China – one of Bac Giang's major lychee buyers – finds it hard to enter the locality.
Bac Giang has decided to establish two groups in charge of supporting lychee export at border gates in the northern provinces of Lao Cai and Lang Son./.
Vietnamese customers remain loyal to local retail brands: Nielsen
Vietnamese consumers are more and more interested in locally-made products and place greater trust in local retail brands, market researcher Nielsen has said.
In a report exploring Vietnam's latest consumer trends, Nielsen wrote that 2020 left many challenges for the domestic retail industry due to COVID-19 and natural disasters, which cut into purchasing power.
In the face of the pandemic, customers tended to be more loyal to Vietnamese retail brands and sought attractive promotional programmes and products with reasonable prices, it added.
Retailers with abundant resources, strong market understanding, and updated business strategies will gain a competitive edge.
Female customers aged 25-49 prefer convenience stores such as the Co.opmart supermarket chain of the Saigon Union of Trading Cooperatives (Saigon Co.op), for their good customer services, convenient location, and offers for customers.
Saigon Co.op has moved to diversify its retail format in order to lead the market in product quality and food safety, promote the development of its own brands, and complete a modern supply chain.
It targets adding 136 stores in 44 cities and provinces to its network this year, serving 2 million shoppers every day. It is also focusing on completing logistics facilities, upgrading services, and expanding new cashless payment methods./.
Northern region enjoys record rice output in 2020-2021 Winter-Spring crop
The northern region enjoyed record rice output and productivity in the 2020-2021 Winter-Spring crop, it was reported at an online review conference on May 28.
According to the Department of Crop Production under the Ministry of Agriculture and Rural Development, the region harvested an average 6.36 tonnes of paddy rice per hectare during the crop, with total output reaching an estimated 6.9 million tonnes, an increase of 34,000 tonnes from the same period last year.
Nguyen Nhu Cuong, head of Department of Crop Production said the outstanding results are attributable to favourable weather conditions.  With greater area of high quality rice varieties and reduction in production costs, the profit has also improved for farmers.
He stressed that the achievement plays an important role in ensuring food security and  socio-economic stability in the context of complicated developments of the COVID-19 pandemic.
According to schedule, northern provinces will sow rice on 1.2 million hectares, down 7,000 ha from the same crop last year. Average productivity is expected to reach 5.18 tonnes per hectare and the estimated output at 6.3 million tonnes./.
Canadian firms seek trade, investment opportunities in Vietnam
Canada's westernmost province of British Columbia and the Asia-Pacific Foundation of Canada (APFC) held a webinar on May 27 to discuss opportunities for local firms in investing in Vietnam under the Comprehensive and Progressive Agreement for Trans-Pacific Partnership (CPTPP).
The event drew representatives from various Vietnamese and Canadian authorised agencies and more than 200 British Columbia firms.
Addressing the event, George Chow, British Columbia's Minister of State for Trade, spoke highly of the Vietnamese economy's dynamism, underlining that Vietnam is among the most open economies in terms of trade in the world.
He highlighted the important position of Vietnam in the Canadian province's economic partnership.
In 2019 when the CPTPP took effect officially for Vietnam, the Southeast Asian country became the 10th largest export market of British Columbia with total export value of 359 million CAD, Chow said.
The CPTPP has created favourable conditions for Canadian businesses to access the Vietnamese market, facilitating exports of goods and services as well as investment in various fields, he added.
For his part, Vietnamese Consul General in Vancouver Nguyen Quang Trung underscored the growing comprehensive partnership between Vietnam and Canada and British Columbia in particular, even amid the COVID-19 pandemic.
However, the diplomat said that the bilateral economic cooperation has remained modest compared to the two sides' potential.
Trung lauded the participation of experienced Canadian organisations operating in Vietnam in the workshop to provide objective information for businesses in British Columbia. He hoped Canadian firms of Vietnamese origin will work as bridges to connect businesses from the two sides.
At the event, participants gave specific information about the Vietnamese market and the advantages that the CPTPP has created for Canadian firms to do business and invest in Vietnam. They also discussed a wide range of issues, including the role of Canadian representative agencies in Vietnam./.
RoK credit card issuer wholly acquires Wirecard Vietnam
BC Card, a Republic of Korea-based credit card issuer, has acquired 100 percent stake of Vietnamese point of sale (POS) terminal provider Wirecard Vietnam in a bid to expand its foothold in Southeast Asia.
Wirecard Vietnam, the largest POS system supplier in Vietnam, offers one-stop-shop payment solutions, from back-end software to front-end hardware, to around 40 local banks and payment services firms.
The Hanoi-based company, a subsidiary of Germany's Wirecard Sales International Holding, has been present in Vietnam since 1999. Its revenue reached a record high 137.3 billion VND (close to 5.95 million USD) in 2019, up 15.5 percent from the previous year. Its after-tax profit hit 12.4 billion VND, a year-on-year increase of 2018.
The parent corporation last year filed for insolvency after it admitted 1.9 billion EUR in cash had gone missing from its balance sheet, forcing Wirecard Singapore to divest its entire holding from the Vietnam company to BC Card.
"Despite the challenging circumstances of the international sales processes amidst a pandemic, we succeeded in preserving another Wirecard subsidiary in Asia," said insolvency administrator Michael Jaffé.
BC Card, meanwhile, is the RoK's biggest payment processing company and local brand network. It has been collaborating with a number of major banking and payment services firms in Vietnam, such as National Payment Corporation of Vietnam (NAPAS), LienVietPostBank, and Sacombank.
"BC Card has decided to take over the stake of Wirecard Vietnam to directly run a business in the local market, and to increase its presence there," said BC Card CEO Choi Won-seok.
The transfer of the stake will be completed by the third quarter this year after the RoK firm pays for the acquisition./.
Vietnam – interesting potential market in Asia-Pacific: German economist
Vietnam continues to be one of the most interesting potential markets in the Asian-Pacific region, together with India, economist Daniel Müller from the German Asia-Pacific Business Association (OAV) has said.
Talking to the Vietnam News Agency correspondents in Germany, Müller stated that the Vietnamese economy has recovered significantly and dynamically, reflected through a year-on-year increase of 29.5 percent in the trade turnover in the first four months of 2021, with 206.5 billion USD – the highest in the past 10 years.
However, in the second quarter, it is difficult for the country to achieve the growth rate as high as that of the first quarter, given the new COVID-19 outbreak, which will hinder the re-opening of its borders.
He predicted Vietnam's economic growth rate would be equivalent to the average level of previous years.
In the medium term, the German expert affirmed that the industrial sector will continue to be the main driving force of Vietnam's economy.
If Vietnam continues to expand its policies to attract foreign direct investment and accelerate digital transformation, Vietnam will have good opportunities to participate more in global supply chains, for example, in electronics, computing and automotive industries, he stressed.
In these industries, Vietnam should develop a strategic development plan, in which it should connect well with potential foreign investors.
To cope with long-term challenges, the Government should adjust the relationship between the State and businesses to conform to international standards so as to make the public-private partnership more effectively, he added.
Regarding the economic relationship between Vietnam and Germany in the first half of 2021, Müller said that forums and communication channels have helped deepen the economic ties.
The European Union-Vietnam Free Trade Agreement (EVFTA) plays an important role and is a good opportunity to promote economic cooperation between the two countries' businesses. In January 2021, the OAV coordinated with the German Ministry of Economy and the Vietnamese Ministry of Industry and Trade to establish the Joint Committee on Germany-Vietnam Economic Cooperation (JEC). JEC will regularly hold discussions, with focus on the progress of implementing the EVFTA.
Regarding the prospect of the EU-Vietnam Investment Protection Agreement (EVIPA), the German expert said that Germany is interested in this pact, thanks to an increase in Germany's direct investments in Vietnam. However, it is not known exactly when the EVIPA will be ratified by the German Parliament and other EU member parliaments, he added./.
HCM City's CPI rises 0.33 percent in May
The consumer price index of Ho Chi Minh City recorded a month-on-month rise of 0.33 percent in May, according to the city's Statistics Office.
Among the groups of products and services in the CPI basket, increases were seen in transport (1.08 percent), and restaurant and catering services (0.51 percent).
Meanwhile, housing, electricity, water, and construction materials increased 0.36 percent against the previous month and beverages and tobacco 0.13 percent.
The group of post and telecommunication services saw the largest contraction of 0.68 percent in the month, followed by culture, entertainment and tourism (0.08 percent); and garment-textile, footwear and headwear (0.04 percent), while that of equipment and household appliances fell 0.01 percent.
The prices of medicine and medical services remained stable compared to the previous month.
The Statistics Office also reported that the gold price grew 1.34 percent month on month, bringing the figure up 21.56 percent in Jan-May.
The US dollar exchange rate declined 0.25 percent compared to the previous month, making the five-month figure down 1.14 percent./.
Moody affirms its long-term domestic and foreign currency deposit and issuer ratings of four Vietnamese banks
Credit rating agency Moody's on Wednesday affirmed its long-term domestic and foreign currency deposit and issuer ratings of four Vietnamese banks.
The Orient Commercial Joint Stock Bank (OCB), Tien Phong Commercial Joint Stock Bank (TPBank), and Vietnam International Bank (VIB) have been assigned B1, while the Vietnam JSC Bank for Industry and Trade (VietinBank) at Ba3, because of stable credit profiles that underpinned the affirmation of their respective Baseline Credit Assessments (BCA) and Adjusted BCAs at b1.
The ratings of TPBank and VIB reflect the banks' stable and good asset quality; good profitability; and adequate capitalisation. OCB's ratings reflect the bank's strong capital position; above-average profitability; and elevated asset risks.
The report says TPBank, VIB and OCB are reliant on market funding, a result of their small domestic franchises, but the high levels of liquid assets in their balance sheets mitigate this risk.
Moody's expects the asset quality of TPBank and VIB will remain stable in the next 12 to 18 months, as reflected by the declines in their respective non-performing loan (NPL) ratios to 1.2 per cent and 1.7 per cent as of the end of 2020, from 1.3 per cent and 2.0 per cent as of the end of 2019.
OCB's asset risks will likely remain elevated over the same period.
A common risk factor for the three banks is their rapid loan growth, which increases their risk of credit losses due to a higher level of unseasoned loans. Moody's expects profitability for the three banks to remain stable, supported by good yields from their retail and SME loans, and growing bancassurance fee income.
VietinBank's ratings reflect improvements in the bank's asset quality; its average profitability; weak capitalisation; and good deposit franchise, with Moody's expecting its asset quality to remain stable in the next year and a half.
The report said that it could upgrade the long-term ratings of the four banks if the Vietnamese Government's sovereign rating or the banks' BCAs are upgraded.
The banks' BCAs could be upgraded if there are material and sustainable improvements in their solvency metrics. Moody's could downgrade the long-term ratings of these banks if their credit fundamentals severely deteriorate, including a spike in NPLs leading to higher loan loss provisions that will weigh on the banks' profitability and capital. A significant deterioration in the banks' funding and liquidity could also be negative for the ratings.
Southern localities ensure adequate supply of essential goods
Localities in the Mekong Delta have coordinated with relevant agencies and businesses to ensure the COVID-19 outbreak does not disrupt the supply of essential goods or causes price hikes, and plan to carry out food safety inspections to ensure people can shop safely.
According to authorities, amid the epidemic, ensuring the supply of goods is the top priority.
The industry and trade departments in the region have called on all production units, distribution systems and retailers to make plans to stockpile essential goods, especially price-stabilised items, to ensure supply does not dry up.
Nguyen Van Tham, deputy director of Hau Giang province's Department of Industry and Trade, said his department has coordinated with districts, towns and cities, businesses, supermarkets, and department stores across the province to stockpile rice, pork, chicken, eggs, seafood, vegetables, instant noodles, salt, cooking oil, bottled water, antibacterial cloth masks, antiseptic liquid, and toilet paper.
In case of an emergency, authorities would use specialised vehicles to distribute essential goods to people in quarantine, he added.
In Can Tho city, 11 businesses have registered to stockpile food and foodstuffs worth a total of over 553 billion VND (23.97 million USD), especially rice, meat, seafood, vegetables, fruits, instant noodles, bottled water, processed foods, and eggs.
Some others have registered to stock other products such as masks, antiseptic liquids, toilet paper, and petrol.
The Can Tho municipal Department of Industry and Trade has coordinated with relevant agencies and departments to set up three teams to inspect traditional markets, supermarkets and businesses to ensure they comply with anti-COVID measures.
It also plans to stock essential goods to meet demand under all circumstances.
Similarly, the Dong Thap Department of Industry and Trade has instructed commercial centres, supermarkets, traditional markets, and businesses in the province to carry out an assessment of the risk posed by COVID and report plans to ensure supply of essential goods.
Businesses in the region have proactively made goods production and supply plans, and distributors are actively working with suppliers to stock a variety of goods.
Nguyen Kim Cuong, deputy director of Co.opmart Can Tho, said the volume of stocks is worth around 18 billion VND (781,476 USD).
It has stepped up sales via telephone and app to make it easier for customers.
Like other Co.opmart supermarkets across the country, it has ensured sufficient stocks of goods at the best prices, she said, adding that it could provide 1,000-1,500 hot meals a day.
Van Quoc Hoang, director of Co.opmart in Vinh Long pProvince, said currently his supermarket focuses on increasing stocks of essential items that people could store for long-term use such as canned foods, rice, spices, frozen goods, spring rolls, meat paste, milk, vegetables, fresh meat, and fish.
According to industry and trade departments in south-western provinces, along with stockpiling of goods, authorities also continue to exhort people to stay calm assuring them that the supply of essential goods is always abundant.
They also warn people not to hoard essential items, especially inflammable and explosive items such as gasoline and oil.
Ho Chi Minh City has also vowed to ensure market stable.
According to their managements, the volume of goods arriving remains normal at around 3,300 tonnes per night at the Thu Duc Wholesale Market and 4,160 tonnes at the Hoc Mon Wholesale Market in the city.
Retailers such as Saigon Co.op, Central Retail, Lotte Mart, and AEON Mall have stocked enough goods to ensure adequate supply and continue to take measures to safeguard the health of customers and staff amid the rising community incidence of COVID-19.
For instance, Saigon Co.op's retail systems, including Co.opmart, Co.opXtra, Co.op Food, and Co.op Smile, have increased stocks of basic necessities such as sugar, rice, cooking oil, salt, fish sauce, meat, poultry eggs, and dry foods besides hand sanitisers, soaps and anti-bacterial cloth masks to ensure steady supply and prices for at least the next six months.
At all stores, customers are required to wear face masks, get their temperature checked and maintain social distance while shopping and waiting to pay.
Nguyen Anh Duc, general director of Saigon Co-op, said this time anti-epidemic measures have been stepped up because the outbreak is more threatening this time.
The supermarkets' two key tasks now are to ensure food security and a safe shopping environment for people, he said.
Saigon Co.op and other retailers are working with suppliers of essential goods to offer discounts by turn on products to share the burden with consumers and minimise the increase in prices./.
Customers need more understanding about financial services
The need to increase awareness and understanding of customers' financial services is increasing globally, and Vietnam – an emerging economy, is no exception, according to a report.
The information was released from a study of 2,000 global consumers released on May 27 by Mambu, a banking and financial services platform.
According to the State Bank of Vietnam (SBV)'s statistics in 2020, 70 percent of adults in the country had a bank account, but nearly half of them lacked access to credit. According to Agribank, more than 70 percent of the population is concentrated in rural areas, but access to modern banking services in these areas is very limited.
On the other hand, in recent years, thanks to the development of digital technology and the digital transformation process among banks, mobile banking applications have played an important role in financial inclusion. Banks have been able to reach customers in places without a physical bank headquarters or branches.
Cashless transactions in Vietnam increased by 75.2 percent in the first nine months of 2020, compared to the same period the year before. Online shopping grew exponentially, ranking third in Southeast Asia in terms of visits to online shopping apps in the second quarter of 2020.
The Government's efforts to enhance financial services include aiming for 80 percent of adults to have a bank account by 2025 and piloting a mobile money programme for two years from 2021.
The above factors encourage people to learn and use financial services while promoting digital transformation among banks and credit institutions. Statistics from the SBV show that 94 percent of banks in Vietnam have gone digital or are planning to do so.
As well as banks, fintechs and telecoms firms are involved in digital banking in Vietnam. Instead of competing with each other, there's increasing collaboration between technology companies and credit institutions.
New technology solutions are changing the financial service landscape in Vietnam, include new forms of online payment such as e-wallets, QR codes, digital banking products incorporating AI, data analytics and cloud computing.
Pham Quang Minh, General Manager of Mambu Vietnam said: "Technology solutions that leverage true software as services (SaaS), cloud-native and API-first platform allow banks to compose any desired product and service by assembling best-of-breed components and independently connecting them together. The 'composable banking' approach will help banks digitise quickly, flexibly, economically, provides a 'customer-centric' experience, and meet the constantly changing needs of customers in the 4.0 era."
On a global scale, the report revealed both banked and unbanked individuals feel underserved, with 56 percent of banked customers claiming there are other services they should be able to access.
"With more than 1.7 billion unbanked adults globally, the data that's usually reported points us to emerging markets and geographical barriers to access; however, the gap in accessibility on a global level should not be ignored," said Elliott Limb, Mambu's Chief Customer Officer.
"Personalisation is going to be key for banks if they want to avoid being sidelined by new entrants that give more inclusivity and access. Banks need to be using the technology available to understand their consumers' habits and in turn, anticipate their needs, with hyper-personalised recommendations and services"./.
Agro-forestry-aquatic product exports enjoy trade surplus of 3.27 billion USD
Vietnam raked in 22.83 billion USD from exporting agro-forestry-aquatic products in the first five months of 2021, representing a year-on-year increase of 30.3 percent, reported the Ministry of Agriculture and Rural Development.
The country spent 19.57 billion USD on importing agro-forestry-aquatic products during January – May, up 51 percent year-on-year, resulting in a trade surplus of 3.27 billion USD.
Of which, the group of major farm produce earned 7.78 billion USD, up 13 percent. Meanwhile, major forestry and aquatic products brought home 7.06 billion USD and 3.24 billion USD, up 61.8 percent and 12 percent, respectively. The livestock industry recorded a 43.9 percent-growth, earning 166 million USD.
In the reviewed period, many products and groups of products witnessed increases in export values, including rubber, tea, rice, vegetables, pepper, cashew nuts, cassava and products from cassava, livestock products, tra fish, shrimp;,wood, rattan, bamboo and cinnamon.
Notably, although the pepper export volume decreased by 15.6 percent, but thanks to an increase in its average export price, the pepper export value still surged by 25.2 percent to 387 million USD.
The US remained the biggest importer of Vietnamese agro-forestry-aquatic products in the last five months, accounting for a market share of 24.6 percent. It was followed by China, Japan, and the Republic of Korea, with 22.6 percent, 6.6 percent and 4.9 percent, respectively./.
Cement stocks struggle despite surge in product price
While many stocks in the building materials sector like steel or plastic have surged recently, cement stocks are still hovering around a low price zone.
According to data compiled by the Department of Building Materials, Ministry of Construction, in the first four months of 2021, consumption of cement products is estimated to reach 34.58 million tonnes, up 16.5 percent year-on-year.
Of which, domestic consumption accounted for around 19.44 million tonnes, a slight increase over the same period last year, while exports of cement products jumped 65 percent over 2020 to 15.14 million tonnes.
Besides gains in consumption, many cement companies also raised product prices. Accordingly, Vicem Hoang Mai Cement JSC (HOM) has increased selling prices of all cement products by 30,000 VND per tonne, which apply for provinces including Thanh Hoa, Nghe An and Ha Tinh.
Bim Son Cement JSC (BCC) also raised its product prices by 30,000 VND per tonne from April 21. Hoang Long Cement JSC, Long Son Co., LTD and Duyen Ha Co., LTD increased their prices by 40,000 VND per tonne at the same time.
However, in the stock market, these companies' performance was not as good as their product prices.
After positive responses to higher cement prices for a short time, cement stocks fell sharply since early April.
Ha Tien 1 Cement JSC (HT1) shares dropped more than 17 percent since April to trade at 15,300 VND per share on May 27.
Similarly, BCC shares tumbled over 18.5 percent during the same period to 10,100 VND per share on May 28.
After climbing for ten straight sessions in early April, Vicem Hai Van Cement JSC (HVX) shares plunged 37.5 percent to trade at 4,450 VND per share on May 27.
The market prices of most cement stocks are currently hovering around their par value.
Gains in cement selling prices will be reflected in the second quarter business results of cement companies, while the first quarter business results of some companies were poor, resulting in the appeal of cement stocks declining.
In the first quarter, Bim Son Cement posted an increase of 0.88 percent year-on-year in net revenue to 1.06 trillion VND, while its profit after tax declined by 61 percent to over 7.2 billion VND.
The company explained that its profit fell in the first quarter due to higher cost of goods sold, outweighing gains in revenues and falls in expenses for financial activities, sales expenses and general and administrative expenses.
Meanwhile, Ha Tien 1's net revenue also rose slightly by 0.5 percent year-on-year to 1.74 trillion VND in the first quarter of 2021. But its profit after tax edged 9.5 percent down to 94.7 billion VND.
HT1 shares was eliminated from the portfolio of MSCIFrontier Markets Small Cap Index and the company's leaders registered to sell a huge amount of stocks, which forced HT1 shares to enter a bear market./.
Source: VNA/VNS/VOV/VIR/SGT/Nhan Dan/Hanoitimes
VIETNAM BUSINESS NEWS MAY 31 have 6835 words, post on vietnamnet.vn at May 31, 2021. This is cached page on VietNam Breaking News. If you want remove this page, please contact us.