Foodstuff prices rise, pose inflation threat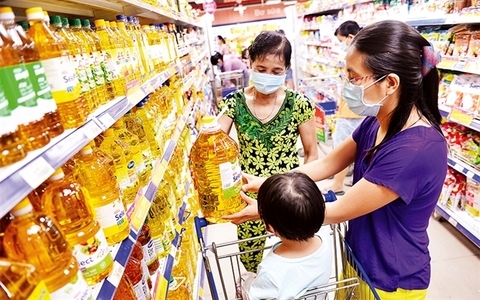 A supermarket in HCM City. With the costs of materials needed for foodstuffs rising, businesses are finding ways to cut costs so that they can keep prices steady. — Photo nhandan.com.vn
Do Van Khuol, supply director of Saigon Food Company, said the cost of both domestically sourced and imported inputs have risen, including those of rice and seafood, whose output has fallen.
COVID-19 is driving up the costs of imported ingredients, and prices could rise by 10-25 per cent in the third and fourth quarters of this year, he warned.
Suppliers of products like chicken drumstick, dried cheese and macaroni in the US or Europe are planning to increase prices by up to 50 per cent this year, according to many large supermarkets that are having to negotiate with their suppliers.
This is putting pressure on grocery shoppers struggling with falling incomes and businesses and restaurants who are forced to increase their prices to cover the rising costs of items such as cooking oil, sugar and flour.
Nguyen Anh Duc, general director of Saigon Co.op, said that in April suppliers notified that they were planning to increase prices in May, especially of cooking oil, milk and instant noodles due to a rise in production costs.
The retail chain is considering each price increase proposal to come up with a reasonable pricing roadmap for each product and spread out the price increases gradually instead.
It is asking suppliers and manufacturers to temporarily take a cut in profits to reduce the pressure on consumers, and encouraging them to work with it to launch promotions, he said.
According to foodstuff manufacturer Acecook, instant noodle production costs have been rising since the final quarter of 2020, and so it has been making efforts to cut costs and wastage before considering price hikes.
Other food businesses are also cutting costs and restructuring to avoid increases in prices.
Deputy Prime Minister Le Minh Khai has called on local authorities to keep a lid on consumer prices in the remaining months of 2021.
Nguyen Anh Tuan, head of the Ministry of Finance's price management department, said his department would monitor prices, especially of essential goods, and propose solutions to stabilise demand and supply if needed.
'Vin' stocks drag down Vietnam market
Shares dropped on Tuesday as investors dumped stocks in the 'Vin' family, weighing down the overall stock market.
The market benchmark VN-Index on the Ho Chi Minh Stock Exchange (HoSE) declined 0.48 per cent, or 6.02 points, to finish Tuesday at 1,252.68 points.
The southern market index had declined 0.60 per cent on Monday, to finish the trading day at 1,258.70 points.
The market breadth Tuesday was negative as 274 stocks declined while 143 rose and 46 ended flat.
The market's liquidity was high with over 692.5 million shares traded on the southern market, worth VND21 trillion (US$915 million).
The shares of the 'Vin' family performed poorly as IT-real-estate-manufacturing-retail conglomerate Vingroup (VIC) and real estate giant Vinhomes (VHM) dropped.
Vingroup (VIC) dropped 2.4 per cent, Vincom Retail (VRE) declined 2.3 per cent and Vinhomes (VHM) was down 1.9 per cent.
Bank stocks also performed poorly on selling pressure, including Asia Commercial Bank (ACB), Bank for Investment and Development of Vietnam (BID), Vietinbank (CTG), Saigon-Hanoi Bank (SHB), Vietcombank (VCB), VPBank (VPB) and HDBank (HDB).
"In this period, there is a lack of information supporting the market, thus, VN-Index is likely to continue fluctuate with alternating ups and downs in the 1,200-1,220 zone to 1,275-1,285 zone to accumulate and create a new base in the short term," said Bao Viet Securities Co.
"Investors should maintain the proportion of shares in the portfolio at 30-35 per cent, prioritising holding medium-long term positions and consider taking a short position in the short term when the index is testing the support zone of 1,200-1,220 points," it said.
On a sector basis, 28 out of 25 sectors witnessed downtrend, including insurance, seafood processing, real estate, agriculture, home appliance production, logistics, construction, banking, rubber production, securities, agriculture and healthcare.
The 30 biggest stocks tracker, VN30-Index, rose 0.53 per cent to finish Tuesday at 1,378.59 points.
Of the VN30 basket, 11 stocks increased while 18 decreased.
Meanwhile, on the Ha Noi Stock Exchange (HNX), the HNX-Index declined 0.72 per cent to close Tuesday at 294.64 points.
The northern market index had risen 0.70 per cent to close Monday at 296.79 points.
During the session, nearly 123 million shares were traded on HNX, worth VND2.5 trillion.
Vietnam trade deficit with China hits record high
In the first four months of 2021 Vietnam's trade deficit with China jumped to US$17.6 billion, a record high figure over the past three years, according to the data from the General Department of Vietnam Customs.
Throughout the reviewed period, Vietnam imported US$33.9 billion worth of commodities from China, or US$11 billion more than last year's four-month figure, while it shipped its products valued at US$16 billion to China.
Its major imports include machinery, equipment and spare parts (US$7.45 billion), computers and components (over US$6.3 billion), chemicals (US$800 million), and steel (US$920 million).
Notably, garment, textile and footwear materials enjoyed an impressive growth rate among the raw material imports used in production activities.
The import turnover of fabrics from China reached US$2.68 billion, an annual rise of US$680 million, while textile, garment and leather raw materials had a turnover of over US$1 billion, up by more than US$300 million against same period from 2020 and 2019.
The increase in input material imports means the textile, leather and footwear sectors are getting back of the recovery track following the negative impact of the COVID-19 pandemic on export orders.
The high import value also indicates the heavy reliance of local firms on the supply source of raw materials from China.
At present, Vietnam is mainly importing phone and computer components, machinery and equipment from China, thereby accounting for 80% of total import turnover.
Steel consumption surges by 40% in 4-month period
Vietnam's steel industry is highly dependent on imported input materials, therefore, price hikes in the international market would lead to higher domestic finished products.
Domestic steel production and sales in the first four months surged by 38-40% year-on-year, while exports of such products also rose by 68% year-on-year, according to the Vietnam Steel Association (VSA).
Nearly 2.82 million tons of steel were produced in April, a decline of 4.8% against last month, but more than double the amount recorded in the same period of 2020, noted the VSA.
In line with the large quantity produced, the amount of steel consumption increased by nearly 57% in the month to 2.7 million tons.
Overall, steel production in the January-April period was estimated at 10.48 million tons, up 38% year-on-year, of which 9.84 million tons, or an increase of 40% year-on-year, were sold domestically.
"This shows that domestic supply remains sufficient to meet products' demand," stated the VSA.
In reality, however, domestic steel prices went up by 40-50% in the past months and put steel buyers under pressure. In its own report, the Ministry of Construction (MoC) said there have been abnormalities in steel prices.
For this issue, the Ministry of Industry and Trade (MoIT) attributed rising input materials costs for steel production in the global market in the past nine months.
"Vietnam's steel industry is highly dependent on imported input materials, therefore, price hikes in the international market would lead to higher domestic finished products," noted the MoIT, adding such price hike is not showing sign of slowing down.
Among measures to cool down steel prices in the domestic market, the MoIT is encouraging steel plants to boost production capacity and expected to tighten steel exports.
According to the VSA, iron ore was traded at US$189.4-190 per ton on May 4 at Tianjin port (China), an increase of US$20 per ton against early April. Six days later, prices of such products rose to a record high of US$231 per ton.
Meanwhile, prices of hot-rolled coils also rose by US$130 month-on-month to US$925 per ton on May 4.
"High prices of hot-rolled coils are causing difficulties for domestic steel producers, especially those who are relying on these materials for steel production," stated the VSA.
The VSA expected steel prices to continue rising in May to offset rising prices from imported input materials.
Honey exports face US anti-dumping probe
The US Department of Commerce (DOC) has officially begun an anti-dumping investigation into honey imported from Argentina, Brazil, Ukraine, and Vietnam, the Trade Remedies Authority of Vietnam has announced.
Petitioners include the American Honey Producers Association and the Sioux Honey Association.
Merchandise subject to the investigation is currently classifiable under statistical sub-headings 0409.0000.05, 0409.0000.35, 0409.0000.45, 0409.0000.56, and 0409.0000.65 of the Harmonized Tariff Schedule of the United States (HTSUS).
The agency said the period DOC will investigate is between October 1, 2020 and March 31, 2021, with Vietnam's dumping margin estimated to range from 47.56 to 138.23 percent.
The investigation is scheduled to last for 12 months and can be extended by another six months under US law./.
RoK conglomerate looking to develop hydrogen projects in Can Tho
Republic of Korea (RoK) conglomerate the SK Group said on May 18 that it wishes to set up long-term cooperation with Vietnam, including the Mekong Delta city of Can Tho, which has substantial potential in hydrogen development and high-tech production.
At a working session with municipal leaders, group representatives stressed the role of hydrogen in building a clean energy economy in the future.
SK aims to build a clean hydrogen model by optimising liquified natural gas (LNG) infrastructure and carbon capture and storage (CCS) technology in Vietnam, it said.
Deputy Director of the municipal Department of Planning and Investment Truong Quoc Trang suggested the investor pay attention to projects on building oil, gas, and petroleum depots and bonded warehouses at the Tra Noc 2 Industrial Park in Phuoc Thoi ward, O Mon district.
Regarding the group's proposal to invest in projects producing blue hydrogen, green hydrogen, and hydrogen panels, the official suggested it locate these projects at the Hung Phu and Thot Not Industrial Parks.
He also called on SK Group to pour investment into auto manufacturing and pharmaceutical projects, as well as those building infrastructure at industrial parks and logistics centres.
Chairman of the municipal People's Committee Nguyen Viet Truong expressed his hope that the group will develop a hydrogen ecosystem and LNG warehouses in the city.
He used the occasion to brief the investor on Can Tho's advantages, especially its significant demand for LNG./.
Ample room for Vietnam, Russia to forge trade ties: Seminar
Despite global trade uncertainties and COVID-19, trade between Vietnam and Russia has grown significantly, heard an online seminar in Moscow on May 18.
The bilateral trade in the first 10 months of last year hit 10.34 billion USD, a year-on-year rise of 17.98 percent, according to Dr. Vu Thuy Trang, Director of the Centre for Russian and CIS Studies at the Institute for European Studies under the Vietnam Academy of Social Sciences.
The seminar, which brought together more than 20 Vietnamese and Russian scholars, looked into trade and investment cooperation outcomes between the two countries since the free trade agreement between Vietnam and the Eurasian Economic Union (EAEU) came into force in October 2016.
The participants also pointed out limitations and proposed solutions and recommendations for boosting the ties.
Many said Vietnam's export revenue to the EAEU has still remained modest as compared with their potential.
Vietnam has signed an array of FTAs with countries worldwide and posted marked economic growth, they said, noting that there are ample room for Vietnam and Russia to step up their economic and trade links.
Lychee harvest season gets underway in Hai Duong
A ceremony took place in Thanh Hai district in the northern province of Hai Duong on May 18 to mark the beginning of the local lychee harvest season and the first shipments this year of about 100 tonnes to Japan and Singapore.
It was the first of a series of events being held to promote its signature Thanh Ha lychee.
The ceremony saw the presence of Minister of Industry and Trade Nguyen Hong Dien, Minister of Agriculture and Rural Development Le Minh Hoan, and provincial leaders.
Hai Duong is better placed to export lychee to Japan this year, as the Japanese side has authorised the Plant Protection Department to monitor the sterilisation of the fruit in Vietnam, according to Luong Thi Kiem from the provincial Department of Agriculture and Rural Development.
Major exporters such as the Ameii Vietnam JSC and the Red Dragon Co., Ltd. have linked with local growers to purchase lychees for export to Japan, she added.
During this crop, Hai Duong will export 30,000-35,000 tonnes of the fruit to China, which has been its biggest buyer for many years. About 70 packaging facilities in the province have been granted codes for export to Vietnam's northern neighbour.
The province also plans to ship around 1,000 tonnes of lychee to Japan, 1,000 tonnes in total to the US, Australia and Singapore, and 800-1,000 tonnes to Thailand, the Middle East, and Malaysia.
Hai Duong now has three facilities with qualified sterilisation equipment for the preliminary treatment and packaging of shipments to Japan. It is also home to a dozen lychee packaging facilities for exports to Australia, Thailand, the Republic of Korea, the EU, and elsewhere.
Dubbed the "lychee capital" of Hai Duong, Thanh Ha district is harvesting the early-ripening lychee and the main-crop lychee will be ready for harvest from June 5. Total production is estimated at about 55,000 tonnes this year.
The fruit is being grown on 9,186 ha in the province this year, of which 1,000 ha has been granted VietGap certification and 450 ha GlobalGap, and 8,000 ha provided with growing area codes for export./.
100 tonnes of lychees to be exported to Australia in coming days
Approximately 100 tonnes of Vietnamese lychees are due to be exported to both South Australia and Western Australia in the near future, according to the Ministry of Industry and Trade.
The move is part of the Vietnamese Trade Office in Australia's work with lychee importers to agree on a plan aimed at exporting roughly 100 tonnes of local lychees to South Australia and Western Australia.
The Trade Office will continue to deploy a scheme to develop a brand and promote the consumption of Vietnamese lychees in Australia over the course of this year. This will be done by strengthening trade connectivity and sending inspection teams to remove difficulties relating to import procedures in the Australian market.
The programme aims to stimulate demand for lychees and other Vietnamese farm products on social networks, at stores and supermarkets, as well as through other information channels.
The Trade Office has proposed that Australian agencies facilitate customs clearance procedures in order to help Vietnamese lychees make greater inroads into the market.
Last year, despite numerous difficulties occurring in air freight and marine transportation due to the COVID-19 impact, local lychee export turnover to Australia increased by 188% compared to the same period from 2019.
Regulation on apartment tax outdated: experts
The regulation that people with annual incomes exceeding VND100 million have to pay value added tax (VAT) and personal income tax (PIT), which was issued six years ago, is no longer appropriate, especially for those leasing their apartments in large cities, while the HCMC and Hanoi Tax Departments have plans to tax apartments for lease.
The HCMC Tax Department will pilot the plan in five apartment buildings in District 11–Res 11 at 205 Lac Long Quan Street, Thuan Viet at 319 Ly Thuong Kiet Street, Bao Gia at 184 Le Dai Hanh Street, Khai Hoan at 624 Lac Long Quan Street and another at 70 Lu Gia Street, the local media reported.
The rentals of apartments in these buildings are all over VND10 million per month, meaning that all apartment lessors will have to pay taxes, including a VAT and PIT rate of 5% each.
The Hanoi Tax Department has also asked its subordinates to employ measures to avoid tax losses from apartments, offices and retail spaces for lease.
With the regulation, the owners of apartments must pay higher taxes than providers of other services, such as massages, karaoke, computer repair and construction consulting and supervision, which are subject to a PIT rate of 2% and a VAT rate of 5%, and insurance and lottery agents which pay only a VAT rate of 5%.
According to lawyer Tran Xoa, director of Minh Dang Quang Law Firm, the regulation on taxing apartments for lease is outdated, causing disagreements and unfairness among taxpayers.
Therefore, Xoa proposed the Ministry of Finance amend the regulation, raising the revenue cap subject to taxes from VND100 million to VND150 million and allowing apartment lessors to deduct costs before calculating their incomes.
Sharing the view, lawyer Nguyen Duc Nghia, director of the Legal Advisory Center under the HCMC Union of Business Associations, said the revenue cap subject to taxes of VND100 million had not been changed for six years, while the consumer price index had increased remarkably. The cap should be raised by 30%-40%.
Since the Covid-19 outbreak, the Government has issued multiple support policies for enterprises but no considerable support for salaried workers and household businesses.
Taxing apartments for lease is aimed at creating fairness among business entities but experts were concerned that many investors would withdraw from this sector.
Dr Vu Dinh Anh, an economic expert, said paying taxes for the State is compulsory. However, unused land and real estate products should also be taxed to prevent wastefulness.
Auto imports from China surge in Jan-Apr
Vietnam spent US$247 million importing more than 6,600 completely-built-up (CBU) cars from China in the first four months of the year, soaring 480% over the same period last year, according to the General Department of Vietnam Customs.
In the four-month period, the country bought nearly 50,200 autos worth a total of US$1.12 billion, jumping 56.5% in volume and 58.2% in value.
Of the total, there were some 33,400 cars with fewer than nine seats and nearly 12,000 trucks.
Thailand continued to be Vietnam's largest supplier of autos with 25,700 units, valued at US$474.8 million, followed by Indonesia with 13,900 units worth US$172.8 million.
The number of auto imports from Thailand, Indonesia and China accounted for up to 92.2% of Vietnam's total car imports in the four-month period.
In April alone, nearly 14,900 CBU autos, valued at US$310 million, were shipped to Vietnam, mainly from Thailand, Indonesia and China. The number of autos imported from these three markets accounted for 94% of the country's total car imports last month.
Of the total, over 10,300 under-nine-seat cars worth US$156 million underwent customs clearance procedures, making up 69.4% of the total number of CBU car imports to Vietnam in April and down 4.7% in volume month-on-month.
Moreover, 29 vehicles with more than nine seats, 2,500 trucks and 1,980 special-use vehicles were delivered to Vietnam.
Among the special-use vehicles, nearly 1,700 units, or 84%, were imported from China through a border gate in Lang Son Province.
Promoting proactiveness and flexibility in consumption of agricultural products
Due to the new and complicated developments of the COVID-19 pandemic in the country and the world, the production, business and consumption of agricultural products in many localities continues to face difficulties, especially those entering the harvest season of fresh vegetables, tubers and fruits.
In order to promptly remove difficulties, reduce inventories, and avoid the situation of "having to rescue" a large amount of goods like during previous outbreaks, the Ministry of Agriculture and Rural Development (MoARD) has sent an official dispatch to the Ministry of Planning and Investment, proposing additional support policies and measures, focusing on synchronous solutions and the joint participation of ministries and agencies to reduce the damage to affected localities. Accordingly, the Ministry of Agriculture and Rural Development will conduct trade promotion activities to help localities enhance the consumption of agricultural products using online forms.
In addition, the ministry has coordinated with the trade and diplomacy agencies and management boards at border gates to promptly handle difficulties and obstacles in exporting agricultural products. The MoARD has also proposed the Ministry of Industry and Trade (MoIT) direct provinces and cities to create favourable conditions for the smooth consumption of safe agricultural products from provinces affected by COVID-19 epidemic. The MoIT has asked businesses providing logistics services, warehousing and cold storage and shipping lines to support the preservation of goods and reduce reservation costs, especially for agricultural products that need special preservation techniques.
It can be seen that during this epidemic outbreak, ministries and agencies have promptly sent out official dispatches with proposals and recommendations, avoiding the passive handling and congestion of agricultural products due to the epidemic. However, in order to make the consumption of agricultural products smooth and effective in the context of the epidemic being forecasted to last for a long time, localities should take the initiative in coming up with appropriate solutions for each item.
For example, the Hai Duong provincial People's Committee is expected to cooperate with the MoIT and relevant agencies to hold a virtual conference to promote the consumption of Thanh Ha lychee and other typical local agricultural products on May 18. The main point is Hai Duong, which will be connected with hundreds of places around the country and dozens abroad including the UK, Australia, Belgium, Germany, the Netherlands, the Republic of Korea, the US, Japan, France, Singapore and China. These will be the first steps in terms of the online sales trend that has been increasingly popular in the world, especially during the COVID-19 outbreak.
In addition, Luc Ngan district in the northern province of Bac Giang has developed different measures to support farmers in the harvesting, processing and consumption of lychees. Accordingly, the province will focus on consuming fresh fruit or putting it into processing depending on the epidemic situation in the country and its ability to export.
Obviously, the COVID-19 pandemic has created many challenges for the production, business and consumption of agricultural products in the country and for export. However, the epidemic is also an opportunity for both producers and enterprises to find new approachs to accessing partners and customers, ensuring epidemic prevention and avoiding logistical congestion.
This will bring valueto the country's agriculture sector, including online trade promotion, online sales and the improvement of deep processing of many agricultural products with high economic value.
Steel exports surge 50% despite steel price upsurge
Vietnam's exports of steel and iron increased over 50% in the first four months of 2021 despite a surge in domestic steel prices, according to the General Department of Vietnam Customs.
Data of the department showed that the country exported 3.9 million tons of steel and iron worth US$2.79 billion from January to April, surging 50.4% in volume and 96.3% in value compared with the same period last year.
In the second half of April, the country exported nearly 593,700 tons of steel and iron worth US$471 million, increasing 58% in value compared with the month's first half.
Domestic steel prices have soared 45% since the beginning of this year, making life difficult for enterprises and contractors. Many contractors have had to walk away from projects.
The Vietnam Industry Agency attributed the steel price upsurge to the high prices of imported materials for steel production. The longer shipping time triggered by Covid-19 has contributed to the hike.
Besides businesses, many households said the steel price upsurge has raised the construction cost of their houses by some 15%.
The Ministry of Industry and Trade has suggested the Government and related departments take measures to restrict the exports of steel to stabilize domestic steel prices.
In addition, the Vietnam Steel Association has asked its members to raise the steel production capacity. In the first four months of the year, the raw steel volume picked up 17.4%, while the rolled steel volume surged nearly 62%.
The association had earlier forecast that domestic steel prices would decline at the end of the second quarter of 2021. However, based on the current situation, it said steel prices would continue to rise until the end of the third quarter.
Ca Mau builds geographical indication certification for black tiger shrimp
In order to promote the branding of Ca Mau black tiger shrimp, the provincial Department of Science and Technology has coordinated with the Centre for Sustainable Rural Development to develop a geographical indication and common logo.
Ca Mau black tiger shrimp have been certified by many international organisations such as ASC, B.A.P, GlobalGAP, EU, and Nuturland, present in over 90 countries and territories.
According to the provincial Department of Science and Technology, the project "Build and manage the Ca Mau geographical indication for the provincial black tiger shrimp development" under the intellectual property (IP) development programme for the 2016-2020 period has been completed and put into operation.
In the coming time, the unit will transfer knowledge about IP and the system of tools to manage the geographical indications of Ca Mau black tiger shrimp to the localities.
Accordingly, in order to preserve the Ca Mau black tiger shrimp brand, producers, businesses, and state management agencies must make greater efforts to ensure the ecological environment, seed, food sources and nutrition.
The provincial Department of Science and Technology has organised training courses and disseminated knowledge on IP; while at the same time organising seminars to collect opinions on improving the system of management tools for the geographical indication of Ca Mau black tiger shrimp.
The goal of successfully protecting geographical indications for local natural black tiger shrimp products is essential, creating a basis for sustainable production, protecting the reputation and value of products in the market.
In addition, successfully protecting geographical indications for local natural black tiger shrimp contributes to promoting the application of technical advances in farming, preservation and processing to improve productivity and product quality.
Vietnamese labour exports to Taiwan suspended until mid-June
The Department of Overseas Labour (DoLAB) announced on May 18 that labour export activities to Taiwan (China) will be suspended as of May 19 until June 18 as part of efforts to deal with a recent surge in the number of COVID-19 cases in Taiwan.
Exceptions may be made for individuals who obtain entry permission for emergency or humanitarian reasons.
The Taiwan CDC also added that the move will be adjusted on a rolling basis, with future decisions based on the status of the pandemic and the effectiveness of new measures.
The DoLAB requested that firms inform Vietnamese labourers who are waiting for their exit procedures, and contact Taiwanese counterparts to adjust their recruitment plans for local migrant workers.
The department also asked that businesses co-operate with the labour management board in Taiwan to handle the situation.
During the first four months of the year, Taiwan received a total of 15,055 Vietnamese labourers, including 5,255 female workers.
HCM City to develop riverine infrastructure, economy
HCM City is focusing on developing riverside infrastructure and space for businesses there by 2045.
According to a plan submitted to the city's Department of Planning and Architecture, it plans to build multi-purpose infrastructure along the Saigon River, improve the scenery and public utilities there, and reinforce the city's capabilities in combating flooding, climate change and erosion.
Architect Ngo Anh Vu, deputy director of the HCM City Urban Planning Institute, said the Saigon River's two banks have 3,100-5,000 hectares of land that could be used to plant trees, build traffic infrastructure and public spaces and provide space for businesses.
The river passes through the city centre, and offers great potential for developing the riverine economy, Nguyen Thanh Nha, the director of the department, said.
Therefore, the areas around it should be prioritised in terms of infrastructure investment, such as embankments, bridges and open green spaces, he added.
Architect Ngo Viet Nam Son, chairman of consulting and design company NgoViet Architects & Planners, said riverside areas could be used to develop public spaces, something the city lacks, and transportation, parking and amusement.
The plan focuses on renovating its banks in the city centre and investing in several key green infrastructure projects.
The investment will focus on areas along the sides which are culturally and historically important and suitable for developing commercially, and those that are connected to infrastructures such as metro lines, roads and bridges.
The city will encourage and help companies invest in green infrastructure.
HCM City has a total of nearly 8,000 kilometres of rivers, canals and channels, accounting for around 16 per cent of its area.
Viet Nam wants to quadruple mango exports by 2030
Viet Nam plans to expand the area under mango and production by 2030 to achieve exports of US$650 million to take advantage of the growing global demand for the fruit.
According to the Ministry of Agriculture and Rural Development's Agro Processing and Market Development Authority, last year mango exports were worth $180 million, or 1.15 per cent of the global export share, with China according for nearly $152 million.
Viet Nam also exported to Russia, the US, Korea, the EU, Australia, and Japan.
Nguyen Dinh Tung, chairman of Vina T&T Group, which has been the fruit since 2019, said his company's preservation technologies keep the fruit for around a month and the free trade agreements Viet Nam has signed markets is helping it enter many new markets.
Mango could be grown throughout the year without much change in quality, which helps his company easily clinch export deals, he said.
Viet Nam has around 87,000 hectares under mango, with the Mekong Delta accounting for nearly half of it.
Dong Thap Province has identified mango as a key crop in its agricultural reform plan.
The province, the largest mango producer in the delta, uses advanced farming techniques and processes fresh mangoes for both domestic consumption and export.
Pham Thien Nghia, chairman of its People's Committee, said the province has more than 12,000ha under mango, mostly in Cao Lanh District and Cao Lanh City. The Hoa Loc variety accounts for 70 per cent of its output and Cat Chu for 20 per cent, two speciality varieties that are in high demand.
Dong Thap plans to increase its area under various fruits to more than 35,000ha from 33,000ha now by 2025 with a focus on environment-friendly farming methods and developing value chains for them.
It also plans to enhance origin tracing for fruits and tourism services involving orchards.
It hopes to have 928ha of fruits grown to Vietnamese good agricultural practices (VietGAP) standards and 53ha to GlobalGAP standards.
Besides mango, longan and citrus fruits are the key produce here and they are grown in large, concentrated farming areas.
Under the province's agriculture restructuring plan, many farmers with low-yield rice fields have switched to fruits and adopted VietGAP and GlobalGAP standards and advanced techniques to produce quality fruits that are exported.
The Government wants the delta provinces to register mango farming zones and assign codes, push for safe farming practices and carry out frequent inspections of processing and packing facilities.
Thanh Hoa attracting more agriculture investment
Thanh Hoa Province has seen increasing investment in agriculture in the last five years, especially from big investors.
In late 2019, a joint venture between Gia Phu Agricultural Joint Stock Company and Master Good Group from Hungary inaugurated a modern poultry export and slaughter plant in the province, worth VND300 billion (US$12.9 million) with a capacity to slaughter 8 million chickens per year.
Other big firms have invested in agriculture projects in the northern province, showing their confidence in the local mechanisms, policies and investment environment.
According to the provincial Department of Agriculture and Rural Development, Thanh Hoa has attracted 176 investment projects, covering 3,700ha with a total investment of more than VND20 trillion in agriculture including seven foreign direct investment (FDI) projects with a total investment of nearly VND3.9 trillion
A representative of the department said: "The major projects are expected to completely change the lives of rural residents."
According to the department, Thanh Hoa aimed to prioritise projects applying scientific and technological advances, associated with product processing and consumption, contributing to job creation for local workers.
It mentioned some projects that complete all production process in the province, including Vinamilk, which runs a farm with 16,000 cows with a total investment of VND1.6 trillion, as well as the dairy cow project with a scale of 20,000 cows with total investment capital of VND3.8 trillion of TH True Milk Company.
In addition, Singaporean Hope Co invested in a breeding farm project with a scale of more than 10,000 sows and production of 500,000 pigs with a total investment of more than VND1.1 trillion, while An Phuoc Import Export and Production Development Investment Joint Stock Company invested in a textile fibre factory project with a total value of VND628 billion.
Most recently, the department said Xuan Thien Group was completing investment procedures for 18 projects with a total registered capital of about VND32.4 trillion while the AVG Group plans to invest in a pork processing complex in Nghi Son Economic Zone with a total value of $1.4 billion.
A representative from the department told local media: "Agriculture is an investment channel with risks but full of potentials and advantages in the province.
"Thanh Hoa has determined that agriculture has many strengths and great development and created many policies to attract investment in this field," he added.
He said the province ran annual investment promotion conferences to attract agriculture projects, which the province offers preferential mechanisms and policies.
Le Duc Giang, deputy chairman of Thanh Hoa Provincial People's Committee, said the province has a very large agricultural land area with more than 900,000 ha with three ecological regions of mountains, plains and coastal areas, all with great potential.
Giang said though nearly 900 enterprises invest in agriculture, with more than 700 farms and about 2,000 co-operatives, there is still plenty of room to grow.
CIMB and Finhay join hands for debit card
CIMB and Finhay have announced a partnership to issue a co-branded debit card on the Finhay app to enable customers to enjoy benefits from the CIMB and Finhay ecosystems.
Under the deal, Finhay users will be able to open a virtual account and co-branded debit card on the Finhay app with eKYC solution by CIMB to take control with all-in-one spending, saving, investment and more. With only a bank account and debit card, users can instantly invest, save, transfer and withdraw money free of charge at more than 17,000 ATMs nationwide.
Finhay and CIMB customers will also enjoy smart and modern financial – banking solutions, enabling them to plan and optimise the implementation of financial solutions with small amounts from VND50,000 (US$2.1) or VND100,000.
"Consumers and businesses will no longer see banking as a separate sphere or sector, and will instead come to expect that day-to-day financial tasks will be carried out within their favourite brand ecosystems.
"And if you're a traditional bank, it's time to start gearing up for a battle of your own – one that isn't necessarily going to be on home turf," said Thomson Fam Siew Kat, CEO of CIMB Vietnam.
Nghiem Xuan Huy, CEO of Finhay, said: "Thanks to the strategic partnership with CIMB Vietnam, we now can provide solutions to open bank accounts, money transfer and withdrawal. We would introduce some new financial services to our customers in the future.
"I think there are relatively attractive changes in the embedded finance in the market. I don't know how long that trend is going to go on, but it's something that we're starting to see demand for."
Export of iron and steel soaring sharply
As the scarcity of iron ore supply pushed prices up and Beijing is passing heavy restrictions to reduce emissions, the recovery in global steel demand have sparked a "steel fever" recently and increased Vietnam's iron and steel export value in the first four months.
The latest report by the General Department of Vietnam Customs highlighted that in the second half of April 2021, steel exports rose by $173 million, equivalent to 58.1 per cent compared to the first half of the month.
Thereby, manufacturing industrial products in the first four months of 2021 rose significantly on-year, while rolled steel products increased 61.8 per cent, and crude iron and steel rose 17.4 per cent.
The Vietnam Steel Association (VSA) reported that steel production reached more than 10.4 million tonnes in the first four months, up 38.3 per cent on-year. Sales reached 9.4 million tonnes, up 40.3 per cent on-year, and exports were 2.1 million, a rise of 67.8 per cent on-year.
Over the past months, local steel prices have increased sharply by 40-45 per cent over the last quarter of 2020. The steel sector heated up due to the consecutive rises in input material prices, while Vietnam's steel production mainly depends on import materials like iron ore, scrap steel, graphite electrode. Delays in delivery and the interruption of global logistics have also contributed to the increase in steel prices.
Specifically, the VSA reported that the price of iron ore (Fe 62 per cent) on May 4, 2021 was at $189.4-189.9 per tonne, a $19 over early April, and increased to $210-212 per tonne on May 7, 2021.
Premium hard coking coal exported from Australian ports on May 4, 2021 was at $103.75 per tonne, down $5 over early April, while in China it rose high.
Heavy melting steel (HMS) I/II 80:20 imported through East Asian ports cost $466, a rise of $24 over early April. The price of HSM in the US has increased slightly, while in Europe and Southeast Asia it remained stable.
Hot-rolled coiled steel (HRC) on May 4 was at $925 per tonne at East Asian ports, up $130 over early April.
"Generally, the world market of HRC has been fluctuating, so the local market faces a lot of challenges because enterprises that produce flat steel (galvanised sheet, steel pipe) use HRC as manufacturing material," VSA reported.
In order to adjust the supply of steel and stabilise prices, reduce speculation and price pressure, in early February 2021, the Ministry of Industry and Trade (MoIT) in collaboration with relevant ministries and agencies submitted Document No.724/BCT-CN to the government.
The MoIT also asked the ministry's units to check and build some technical barriers and quality standards to improve competitive climate and ensure customers' rights, and apply some trade remedies for steel products in accordance with trade regulations and international laws.
SBV clamping down on credit risks
Despite stringent requirements applicable for risky sectors such as securities, real estate, and build-operate-transfer projects, credit is envisaged to grow in the coming quarters given the favourable interest rates and a much-improved risk management mechanism.
Last week, the State Bank of Vietnam's (SBV) Supervision Agency cautioned that potential risks might arise from credit institutions that provide loans in specific areas, such as real estate, securities, and transportation.
To ensure the safety of banking operations and limit risks, the SBV asked credit institutions to strictly follow Directive No.01/CT-NHNN from January 3 on organising the implementation of the key tasks of the banking sector.
"The central bank has paid special attention to banks' appraisal and supervision of loan purposes and valuation of real estate collaterals at some areas that experienced land fever," said Yen Tran, analyst at KIS Securities.
The SBV highlighted potentially risky sectors, including real estate, securities, and build-operate-transfer (BOT) and build-transfer (BT) projects as usual but with more specific notices.
Furthermore, the SBV would also keep a firm hand in promoting capital contributions into manufacturing and for supporting customers vulnerable due to the pandemic, natural disasters, and climate change.
Tran explained, "For real estate, banks must concentrate on alleviating risks arising from large clients, the land fever phenomenon, and the trade of real estate. For BOT and BT projects, credit institutions must balance their capital flow and use loans for medium- and long-term projects to limit liquidity risks and continue to strictly comply with the instructions of the SBV."
For consumer loans, she added, banks must improve appraisal and supervision processes to control credit quality for consumption purposes.
In terms of securities, the SBV also reminded both local and foreign credit institutions to tighten their regulations about investment, trading equity, and corporate bonds.
The SBV cautioned banks about provisions and bad debt recollection on debt classification and accrued interest recognition – for example, pandemic-induced restructured loans and debt recovery – to ensure the government and shareholders' interests are kept.
"These are official messages for banking operation in 2021 to maintain system stability amid the unpredictable pandemic. We believe the entire banking system will revise its credit policies, risk management, and supervision to be compatible with the SBV's guidance and sustain healthy assets," Tran noted. "However, we do not expect these to stamp down credit growth in the coming quarters given the favourable interest rate environment and dynamic local economy."
Particularly, the margin loan balance of securities companies is in an upward trajectory. In Q1 of 2021, it increased by 53 per cent compared to the same period last year. At some securities companies, the total outstanding loans for margin loans have almost exceeded the ceiling, twice as much as their equity. Last month, a number of securities companies have approved plans to increase capital, such as MBS, VNDIRECT, and HSC. Thus, margin loans are anticipated to rise considerably.
Experts at VNDIRECT Securities also believed that the current risk management of the banking and brokerage system has been much improved.
According to Circular No.36/2014/TT-NHNN on limits and prudential ratios in operations of credit institutions and foreign bank branches, the total outstanding credit that commercial banks and branches of foreign banks extend to clients for stock investments and business is not allowed to exceed 5 per cent of their charter and allocated capital.
As investors are more aware of financial leverage-related risks, bad debt ratio arising from securities loans is relatively low.
Economist Vo Tri Thanh said, "The SBV has urged credit institutions to strictly control credit in some risky sectors, but actually, no specific measure has been taken so far."
Likewise, economist Le Xuan Nghia emphasised, "The SBV does not need to take any further actions to tighten real estate credit. In fact, real estate credit has long been managed in a prudent fashion."n
The State Bank of Vietnam has sent document to credit institutions warning about the 10 signs of potential risks appearing in the sector last year and asked them to follow Directive No.01/CT-NHNN on key tasks in 2021 as follows:
– On balance sheets, the non-performing loans (NPL) ratio in 2020 increased versus 2019.
– Some consumer finance companies witnessed strong increase in NPLs and ratios.
– Accrued interest from credit activities increased versus 2019.
– Real estate credit increased robustly and still has strong weight in the country's credit.
– Investment into corporate bonds of development and real estate trade has a high weight in the total corporate bond investment portfolio. Some banks accelerated corporate bond investment, particularly focusing on development and trading real estate.
– Credit for investment and trading securities skyrocketed versus 2019.
– Credit quality of loans to real estate, consumer, and card decreased heavily compared to 2019.
– NPLs of the large corporate segment with a total balance of over VND500 billion ($21.7 million) per client has shown signs of increase.
– The rise in accrued interests may lead to the fact that reported income in 2020 has yet to reflect the true outcome.
– Some credit institutions have not yet tried their best in recollecting bad debts and off-balance-sheet debts.
Vietnam's industrial production index rises 24.1% y-o-y in Apr
Vietnam's industrial production index increased by 1.1% month-on-month and 24.1% year-on-year in April thanks to robust external and recovering domestic demand, according to the World Bank's "Vietnam Macro Monitoring May 2021" report.
The high year-on-year growth rate was to a large extent due to the low base effect as production was hit hard by the Covid-19 pandemic-related lockdown in April 2020.
The continued expansion also reflected recovering domestic consumption in addition to solid external demand for hi-tech manufacturing products.
The most dynamic sub-sectors included beverage, clothing, home appliances, basic metals, electronics, computers, optical products and machinery.
Industrial production continued its solid expansion, while retail sales rebounded after two consecutive months of decline.
Retail sales grew by 2.3% month-on-month in April, reflecting the partial recovery of consumer demand from the third outbreak of Covid-19 in late January 2021. This rebound was driven by a 1.9% increase in the sales of goods, while services grew by 3.8%. However, the overall sales were still lower than in January.
The report also showed that merchandise trade continued to perform exceptionally well, driven by robust demand from the United States and other major trading partners.
The expansion of goods exports eased slightly by 3.4% month-on-month while imports continued to grow by 2.6% in April.
Over the first four months of 2020, exports and imports grew by 26% and 31% year-on-year, respectively. Trade expansion was fueled by the recovery in the U.S. and China and to a lesser extent by the EU, ASEAN and South Korea.
Credit to the economy grew by 2% month-on-month, reflecting increased demand for credit as businesses responded to the stronger consumer demand during the national holidays in late April and early May.
The average overnight interbank interest rate also increased from 0.29% in March to 0.48% in April.
The consumer price index increased by 0.5% month-on-month, mainly driven by higher prices of consumer goods, including food, beverage, clothing, household supplies and appliances. This reflected the recovery of household consumption from the third local outbreak of Covid-19.
Prior to the fourth Covid-19 wave, which started in late April, mobility was improving fast, but it is deteriorating again with the new restrictions.
During most of April, most mobility indicators improved significantly as the third Covid-19 outbreak was brought under control. They also spiked at the end of the month as Vietnamese celebrated the second-longest national holidays in observance of National Reunification Day and International Labor Day. However, such indicators are deteriorating in May due to stronger mobility restrictions.
The World Bank warned that domestic economic activities will be affected by the fourth Covid-19 wave, especially those in sectors such as tourism, transport and retail, depending on the magnitude of the outbreak and how quickly the Government will be able to bring it under control.
The Government should consider boosting domestic demand by adopting a more accommodative fiscal policy, including increasing its support to the affected businesses and people.
Alibaba, Baring Private Equity Asia invest $400m in Masan retail arm, The CrownX
Masan Group Corporation (HOSE: MSN) and a consortium led by Alibaba Group and Baring Private Equity Asia on May 18 announced the signing of definitive agreements for the acquisition of a 5.5 per cent stake in The CrownX for a cash consideration of US$400 million.
The CrownX is Masan's integrated consumer retail arm that consolidates its interests in Masan Consumer Holdings (MCH) and VinCommerce (VCM). The transaction implies a pre-money valuation of $6.9 billion for the company, or $93.5 per share.
Masan will own 80.2 per cent of the company after the consortium's investment.
The formation of The CrownX last year brought together two industry leaders to form a consumer and retail powerhouse. As part of Alibaba's investment, The CrownX will now partner with Lazada to build the company's digital presence and capabilities and accelerate the offline to online (O2O) market in Viet Nam.
The transaction marks a shared vision across the company's shareholders that The CrownX has the potential to establish Viet Nam's first tech-enabled consumer ecosystem and expand its reach to serve consumers nationwide.
Danny Le, chief executive officer of Masan Group, said: "This strategic partnership will accelerate our ability to achieve our goal of transforming The CrownX into a one-stop shop to serve consumers' everyday needs, whether offline or online, 'Point of Life.'
"Our immediate priority is to modernise Viet Nam's grocery market and develop an unparalleled consumer proposition from assortment to shopping experience.
"I strongly believe that this partnership will reduce our learning curve and enable us to reach our endgame more efficiently and effectively."
Janice Leow, managing director at BPEA, said: "We are delighted to be partnering with Masan and Alibaba, and believe this strategic investment has the potential to supercharge The CrownX's growth in a nascent retail market and create the largest consumer ecosystem in Viet Nam.
"As a long-term investor in the country, we think Viet Nam has a long runway for growth supported by strong macroeconomic tailwinds and attractive demographics.
"The CrownX also has tremendous digital potential, particularly in e-commerce and data analytics. BPEA prioritises digital transformation in all of our portfolio companies, and we look forward to working with the company in its next stage of growth."
As a part of the transaction, VCM will enter a strategic cooperation agreement with Lazada, Alibaba's Southeast Asian e-commerce platform.
It will be the grocery retailer of choice on Lazada in Viet Nam.
The parties will share know-how, co-develop analytics to develop grocery as a key online category, transform VCM's offline stores into pick-up points for online orders, and explore synergies between the respective parties' logistics platforms for service and cost optimisation for consumers.
Grocery accounts for 50 per cent of Viet Nam's retail market and 25 per cent of consumer wallet share and is of essential daily use, but online penetration is still nascent.
Masan targets The CrownX's online gross merchandise accounting for at least 5 per cent of its total sales in the near future.
Credit Suisse (Singapore) Limited and Deutsche Bank acted as the exclusive financial advisors respectively to Masan Group and BPEA. The transaction is subject to customary corporate regulatory approvals.
Masan is also in advanced discussions for a further strategic investment of $300 – 400 million in The CrownX from other investors, and these are expected to be wrapped up in 2021.
Conference aims to boost consumption of Hai Duong farm produce amid COVID-19
Authorities in the northern province of Hai Duong held an in-person and online conference on May 18 to bolster the consumption of local lychees and other outstanding agricultural products.
The conference was linked with 31 cities and provinces around Vietnam and more than 10 countries and territories, along with 200 international export companies and over 50 major distributors.
Hai Duong held the event amidst the current situation of COVID-19 with the aim of seeking markets for local agricultural products.
Minister of Agriculture and Rural Development Le Minh Hoan said the province needs to develop its processing industry in line with the taste and consumption trends of different markets.
The Ministry of Industry and Trade will pay more heed to trade promotions to help Hai Duong boost the export of its farm produce in general and lychee in particular. It will provide assistance with origin tracing and sales on e-commerce platforms.
For his part, Secretary of the provincial Party Committee Pham Xuan Thang said Hai Duong has been working to improve value and quality in agricultural production.
The consumption and export of local farm produce, however, face major challenges against the backdrop of the pandemic, he noted.
Total fruit output in Hai Duong is estimated to reach 260,000 tonnes this year, including about 55,000 tonnes of lychees. Last year, the province exported 25,000 tonnes of lychees despite COVID-19, accounting for nearly one quarter of Vietnam's total shipment of the fruit abroad (98,000 tonnes).
It is now working to promote export to existing markets such as China, the United Arab Emirates, France, Malaysia, and the US, while also seeking new markets./.
Source: VNA/VNS/VOV/VIR/SGT/Nhan Dan/Hanoitimes
VIETNAM BUSINESS NEWS MAY 19 have 8617 words, post on vietnamnet.vn at May 19, 2021. This is cached page on VietNam Breaking News. If you want remove this page, please contact us.