Digital banking – A new era for Vietnam's banking industry
Thanks to breakthroughs in technology, customers can now open online banking accounts anywhere, anytime with just a smartphone, utilising facial recognition technology – also known as eKYC (or "electronic know your customer"). Banks are now in a race to use eKYC to build their digital banking platforms.
Use the facial recognition feature.
Upload ID card photos and complete other information and you have finished the eKYC process.
With just these simple steps, customers can open an account without having to visit a bank.
eKYC technology has reduced the workload of bank staff, and transactions require the same process to ensure security.
There are still threats that customers may face in using this technology, however.
There is no national database for this type of information, so each bank has to build their own biometric identification system from their existing customer database. Thanks to the application of new technology, customers are receiving a great deal of benefits./.
PM approves Quang Tri Airport Project
The prime minister has asked Quang Tri People's Committee to carry out a pre-feasibility study report about the Quang Tri Airport Project.
On April 6, Quang Tri People's Committee said Deputy Prime Minister Trinh Dinh Dung also signed an official document approving the project and let them carry out the pre-feasibility study report. The Ministry of Transport will help determine the most suitable time frame to call for investment based on the air traffic development planning for the 2021-2030 period.
It will be a civil and military airport with a capacity of one million passengers and 3,100 tonnes of goods a year. The investment is around VND4.4trn (USD188m) and the estimated ground clearance cost is VND250bn. Quang Tri authorities said the ground clearance cost will come from the provincial budget and will be completed in 2021.
Quang Tri People's Committee proposed to start the airport project as a public-private partnership project. They already have a suitable plot of land and good infrastructure. Investors will be given preferential treatment to complete procedures as soon as possible.
According to Quang Tri People's Committee, Quang Tri Airport Project is an essential part of the country's transportation system and economic development plan. The province is in the central of Vietnam and on the East-West economic corridor.
Several investors have shown interests including T&T Group and FLC Group.
Last year, Quang Tri received 2 million visitors to historical sites like Quang Tri Citadel and La Vang Sanctuary.
Shares rise on growth of pillars and energy stocks
Shares ended on a positive note on Tuesday thanks to cash flow that continued pouring into pillars as well as oil and gas stocks.
The benchmark VN-Index on the Ho Chi Minh Stock Exchange (HoSE) rose 0.32 per cent, equivalent to 3.91 points, to 1,239.96 points. The market breadth was negative as 190 stocks climbed while 248 stocks fell and 47 ended flat.
The market liquidity was high with a trading volume of over 694 million shares, worth over VND16.9 trillion (US$737 million).
"The VN-Index dropped from the beginning but quickly regained the rally and closed with a slight increase. In the market, investment cash flow improved," said BIDV Securities Co.
Foreign investors were net sellers on both HoSE and HNX. Besides, market breadth turned negative with an increase in liquidity compared to the previous session.
According to the current assessment, VN-Index can continue to fluctuate in the coming sessions and it is likely that there will be a slight decrease, the company said.
Foreign investors net sold VND2.43 billion on HOSE, including Vietinbank (CTG) (VND297.8 billion), dairy firm Vinamilk (VNM) (VND50.8 billion) and Masan Group (MSN) (VND34.7 billion). They were net sellers on the HNX with a value of VND48.73 billion.
The VN30-Index, which tracks the 30 biggest stocks on the southern bourse, increased 0.44 per cent, equivalent to 5.46 points, to 1,255.36 points.
In the VN30 basket, 14 stocks rose, while 13 declined and three stayed unchanged.
The afternoon trading session was somewhat quiet as system overload from the morning session continued to worry traders, said financial news site cafef.vn. But pillar stocks and energy stocks still posted good performance on Tuesday, supporting indices.
Notable gainers included insurer Bao Viet Holdings (BVH), Vietinbank (CTG), Eximbank (EIB), Hoa Phat Group (HPG), Novaland (NVL), VinGroup (VIC), Vincom Retail (VRE), PetroVietnam Technical Services Corporation (PVS), The PetroVietnam Drilling & Well Service Corporation (PVD), PetroVietnam Construction Corporation (PVC), PetroVietnam Gas JSC (GAS) and Binh Son Refining and Petrochemical Company Limited (BSR).
On the Ha Noi Stock Exchange (HNX), the HNX-Index rose 0.15 per cent to close Tuesday at 291.68 points.
In Tuesday's trade, some 198 million shares were traded on the northern bourse, worth nearly VND3.7 trillion.
The market is expected to encounter fluctuations with alternating increases and decreases in the next session, said Bao Viet Securities Co.
"VN-Index may correct to 1,225-1,230 points before challenging the resistance zone of 1,250-1,265 points. The domestic cash flow continues to be the key driver supporting the current market's trend.
"Large-cap stocks, especially the leading ones, will increase to support the market's uptrend," it said.
Stable supporting industries crucial to local manufacturing
Stable supporting industries and restructuring of chains for industrial production are crucial to improving the country's manufacturing sector, according to Vietnam Chamber of Commerce and Industry (VCCI).
VCCI has worked out a plan to develop appropriate policies for supporting industries towards minimising reliance on imports of raw materials as well as reducing prolonged, simple and low-value-added processes, like packaging, production of manuals, and plastic components.
This will enable Vietnam to not only create more value and put the country in a better position in the global supply chain, but will create more opportunities for Vietnam in terms of free trade agreements (FTAs).
According to VCCI, high dependence on imports for supporting industries will lead to higher risks and increase the costs for enterprises.
Dau Anh Tuan, Director of VCCI's Legal Department, said Vietnam's COVID-19 response could make it an attractive investment destination as economies seek to make their supply chains less dependent on China.
Foreign investors were considering shifting investments to Vietnam due to their trust in Vietnam's safety amid the pandemic. With a number of new generation FTAs, Vietnam would have more opportunities if the Government could offer better policies and clear targets to encourage and create favourable conditions for Vietnamese businesses and attract foreign investment into prioritised manufacturing sectors.
Deputy Minister of Industry and Trade Do Thang Hai said that from March, the ministry was asking businesses to promote production and boost the construction of large-scale energy and industrial projects to ensure sufficient electricity supply, contributing to the country's economic growth.
The ministry also planned to conduct appropriate solutions and generate incentives for businesses relating to raw materials, production plans, processing, markets and distributions as well, he said.
Vietnam's industrial sector still grew 6.5 percent year-on-year in the first three months of 2021, with the manufacturing and processing sector expanding 9.45 percent and remaining the main engine of economic growth.
Despite the effects of COVID-19, local manufacturers have sought new ways to do business. In the first quarter of this year, textile, garment and footwear manufacturers showed more positive signals compared to the same period last year.
Le Tien Truong, CEO of Vietnam Textile and Garment Group (Vinatex), said while many firms involved in industrial production were concerned about the lack of orders due to the influence of the COVID-19 pandemic, textile and garment businesses were enjoying a surge in orders.
He said that at present, Vietnamese textile and apparel enterprises, including those of the group, had orders until the end of April 2021.
Notably, items such as knitwear and popular goods have orders until July and August of 2021.
"It is a good signal for the recovery process of Vietnam's garment and textile sector, especially when Vietnam is in a good position in the global supply chain after the COVID-19 crisis," said Truong.
Many manufacturing industries have experienced difficulties and challenges over the last year.
According to the Vietnam Steel Association, from the beginning of this year, Vietnam's steel market has seen a low sales volume with stagnant production due to decreasing demand from construction businesses.
Nguyen Chi Sang, General Secretary of the Vietnam Association of Mechanical Industry (VAMI), said the biggest problem for enterprises was a lack of orders.
New decree expected to boost social housing development
The Government has issued a new decree aiming to promote the development of social housing.
The decree will amend Decree No 100/2015/ND-CP dated October 20, 2015, which was expected to remove bottlenecks for the development of social housing projects amid a serious shortage of affordable homes in the market.
Taking effect from the beginning of April, the new decree includes new regulations for the percentage of land in commercial housing projects, urban areas and industrial zones that must be used for social housing, as well as preferential interest rates for social housing developers and buyers.
Statistics of the Ministry of Construction show there are a total of 1,040 social housing projects nationwide, including 507 built independently on a total area of 1,375ha and 533 projects built on the 20 per cent of the land of commercial housing projects and urban areas designated for social housing development with a total area of 1,983ha.
Of them, 248 projects are complete with 103,500 apartment units or 5.1 million sq.m, 264 projects with 216,500 units are being constructed and the rest have not started construction or are conducting investment procedures.
The ministry said the 5.1 million sq.m of completed social housing area only met 41.1 per cent of the goal set in the national housing development strategy to 2020 with a vision to 2030. In this strategy, the Government aimed to develop 12.5 million sq.m of social housing space by the end of 2020.
The new decree is expected to promote the development of social housing projects to meet market demand.
Per the decree, commercial housing and urban area projects with a total area of 2ha or higher in urban areas classified as special or type one or from 5ha in urban areas of type two and three must designate 20 per cent of their total land with adequate technical infrastructure for social housing development.
The planning of industrial zones must designate appropriate land for social housing development with adequate technical and social infrastructure.
Social housing apartments must be sized from 25 sq.m to 70 sq.m. The number of apartments with areas of higher than 70 sq.m must be less than 10 per cent of the total units in social housing projects.
In addition, the interest rate for social housing buyers can't exceed 50 per cent of the average lending rate in the same period.
In addition, the maximum lending duration was extended to 25 years from 15 years in the previous decree.
On April 1, Prime Minister Nguyen Xuan Phuc also issued a decision about the preferential interest rate provided by the Vietnam Bank for Social Policies on outstanding social housing loans at 4.5 per cent, taking effect on January 1, 2023.
HCM City real estate market to look up this year: experts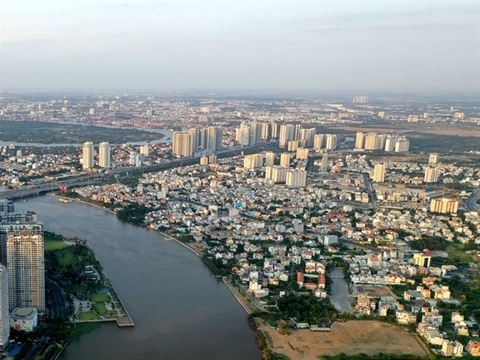 Legal bottlenecks will be removed this year, the real estate industry believes.
The Viet Nam Real Estate Brokerage Association assured that legal bottlenecks faced by property projects would continue to be resolved, and apartment supply would increase sharply from 2020.
Su Ngoc Khuong, a senior executive at Savills Viet Nam, said the pandemic had weakened demand and frozen the market in early 2020.
The Government had since taken a number of measures to address the difficulties, including promulgation of legal regulations for condotels, he said.
In 2021 it would be set to remove difficulties faced by the market by amending the Land Law, Construction Law and Investment Law.
It planned to carry out further administrative reforms and issue policies to select potential investors in accordance with the Investment Law and regulations for bidding procedures with priority given to large urban projects that use smart technology.
It would make public land-use plans along with a price framework that is close to market prices, and put in place regulations for electronic land buying and selling transactions.
Stronger FDI inflows would provide an impetus to the market this year, Khuong said.
The association said projects that had problems relating to laws would continue to solve the issues, and so apartment supply would increase sharply this year.
In HCM City alone some 20 projects in all segments were expected to be launched in the first half of 2021 with 30,000 units.
The association said since the economy would grow this year, demand for housing would recover.
The apartment segment was expected to account for a large proportion of the Ha Noi and HCM City housing markets, with 90,000-100,000 two-bedroom apartments expected to be traded in those markets.
Real estate prices were expected to increase by 10 per cent this year, Nguyen Van Dinh, deputy general secretary of the Viet Nam Real Estate Association, said.
New opportunities for sugar industry
Vietnam's sugar industry has encountered many difficulties due to falling prices and declining cultivationareas, causing inefficiency and losses to many sugar mills for many years.
In particular, after the ASEAN Trade in Goods Agreement (ATIGA) took effect from January 1, 2020, tariff on sugar imported into Vietnam has decreased from 85% to 5%. Thus, the quantity of imported sugar has increased dramatically, affecting domestic production of sugar.
According to the Vietnam Sugarcane and Sugar Association, due to declining prices of sugarcane over recent years, farmers have switched to planting other crops, resulting in planting area being reduced from 300,000ha to 130,000ha.
At the same time, sugar imports have risen, creatingheavy impacts on domestic sugar production. Sugar factories produced nearly 750,000 tonnes of sugar in the 2019 – 2020 sugarcane crop while the annual average is more than 1.2 million tonnes.
Through statistics of the authorities, the total amount of sugar imported into Vietnam in 2020 soared dramatically to more than 1.5 million tonnes. Due to difficulties and losses, there are only 29 sugar factories in operation while many others are forced to close.
It is forecast that sugarcane area will continue to drop in the 2020 – 2021 crop, posing risk of shortage of raw materials for sugar factories.
To remove difficulties for the sugar industry, the Ministry of Industry and Trade issued Decision No. 477 on February 9, 2021, to apply anti-dumping tax and temporary anti-subsidy tax to several sugar products originated from Thailand. This Decision came into forcefrom February 16 and will be applied for a 120-day period.
After Decision 477 took effect, there have been positive signs for the domestic sugar industry. Accordingly, the selling price of domestically produced sugar has increased from VND1,500 to VND2,000 per kg compared to the end of 2020. Meanwhile, the purchasing prices of raw sugarcane have also risen by10% to 13% compared to the previous crops.
The increases in raw material purchasing prices will encourage sugarcane growers to expand their acreage to ensure raw materials for the stable operation of sugar factories and gradually restore the domestic sugar industry.
Vietnam is one of the major producers and consumers ofsugar in the world and in ASEAN. The imposition of trade defence tax is a timely intervention aimed at creating equal competition for domestic sugar mills.
However, it cannot be denied that the domestic sugar industry still has many shortcomings includingfragmented cultivation area, causing difficulties to the application of science – technology and mechanisation to production; outdated technology of sugar factories, leading to high production costs and selling prices; and alack of diversification of post-sugar products.
Therefore, the sugar industry needs to accelerate restructuring in the long term to improve its competitiveness and expand the market.
Furthermore, sugar factories need to invest in modern technology equipment, diversify products after sugar, anddevelop policies to support sugarcane farmers.
They should invest in mechanisation and expansion of large fields to develop concentrated raw material areas toimprove productivity and quality of sugarcane while promoting links between farmers and enterprises to ensure profits for farmers and the consumption ofproducts. In addition, the authorities need to continue to control sugar imports and strictly handle any trade fraud.
Growth pressure
Overcoming the negative impacts of the Covid-19 outbreak in Hai Duong and Quang Ninh provinces, economic growth in the first quarter of 2021 reached 4.48%. This is a lower level than in the operating scenario but compared to the first quarter of 2020, when the epidemic began to appear in Vietnam, this result is positive.
Basically, the Vietnamese economy is moving in the predicted direction – production and business activities have recovered; some industries such as metals, wood products and electronic components have recovered growth equivalent to the times before the Covid-19 outbreak.
The General Statistics Office (GSO) General Director Nguyen Thi Huong said that the first quarter of 2021 saw a good recovery and growth in many important economic sectors. Specifically, industry increased by 6.5% over the same period, higher than the figure of 5.1% in the first quarter of 2020, contributing 2.2 percentage points to the overall increase of total added value in the whole economy. The processing and manufacturing sector continued to play a leading role in growth with an increase of 9.45%, contributing 2.37 percentage points. The construction sector also grew well at 5.17%, contributing 0.32 percentage points. Survey results on the business trends of enterprises in the processing and manufacturing industries also showed more positive signals: 68.6% of enterprises had a more stable production and business situation in the first quarter of 2021 compared to the fourth quarter of 2020.
In addition, 85.1% of enterprises assessed that the production and business situation in the second quarter of 2021 would be better compared to the first quarter of the year. The first quarter of 2021 also saw a strong recovery in import and export activities as total import and export turnover was estimated at US$152.65 billion, up 24.1% over the same period last year. The trend of trade surpluses continues to be maintained, with six commodities reaching export turnover of more than US$ 1 billion, contributing to the country's trade surplus of US$ 2.03 billion. Textile and garment export has gradually recovered, while footwear exports showed relatively high growth.
Import turnover started to increase again, considered a positive signal of production recovery, with the reconnection of supply chains. Another signal of the production and business recovery is that budget revenue has fared well. Budget revenue from the beginning of the year to March 15, 2021 reached more than VND320 trillion, equaling 23.8% of the yearly estimate, while budget expenditure was just over VND264 trillion, equivalent to 15.7% of the estimate.
The service sector grew 3.34%, mainly thanks to the growth of retail sales of goods, reaching 6.8% over the same period, showing that consumer demand is gradually recovering. The attraction of foreign direct investment (FDI) has recovered positively. This is the first time since the Covid-19 epidemic broke out, where FDI showed positive growth. As much as US$ 10.13 billion worth of FDI was injected into Vietnam in the first three months of the year to March 20, a year-on-year increase of 18.5%. Notably, newly registered capital and total additional registered capital increased sharply, by 30.6% and 97.4% respectively, much higher than before the outbreak of the epidemic.
Growth results in the first quarter showed the drastic and timely direction and administration of the Government, the Prime Minister and the efforts of all levels, sectors, people and businesses to continue to effectively implement the dual goals of COVID-19 containment and socio-economic development.
"The covid situation in the first quarter of this year was longer than that in the first quarter of 2020, but the economic picture is brighter thanks to flexible management. The government's policy response is zoning areas of infection off immediately, ensuring enough goods, and avoiding hoarding of goods, has been effective. Even in epidemic hit areas, production was still organised in industrial zones, so industrial production activities were maintained", according to GSO General Director Nguyen Thi Huong.
According to the operating scenario in the Government's Resolution 01 / NQ-CP on major tasks and solutions guiding the realisation of the socio-economic development plan in 2021, in order to reach a growth rate for the whole year of 6.5%, the consecutive quarters must reach growth rates of 5.12%, 7.1%, 6.71% and 6.67%, respectively.
Updating the growth scenario after the Covid-19 epidemic outbreak earlier this year, Minister of Planning and Investment Nguyen Chi Dung said that in the remaining three quarters, there must be two quarters of more than 7% growth. Thus, growth pressure is present from the second quarter with a requirement to grow by 7.19%, 0.08 percentage points higher than the operating scenario. This is a very challenging task because the growth drivers are not really clear. Consumption has not recovered strongly, while government spending is not as plentiful as last year, with no major new projects planned or projects in operation.
Although the consumer price index (CPI) in the first quarter was at its lowest level for 20 years, experts recommend being cautious about the management and regulation of prices because inflationary pressure at the end of the year was very high.
The world crude oil price is forecast to increase by about 30% in 2021 and the recovery of the world economy in general and the Vietnamese economy in particular will put pressure on the prices of many goods and services in the coming time. According to experts, the CPI is at a low level, while the budget balance is guaranteed to be favorable and help expand fiscal policy, stimulate economic growth and consider rational adjustments of the prices and charges of some goods managed by the state according to the roadmap.
However, Nguyen Thu Oanh, the Director of the Price Statistics Department under the GSO, said the Government should balance and harmonize the adjustment of prices of essential goods at the right levels and at the right time, towards ensuring people's lives, production and the business activities of enterprises. Adjusting health service prices according to the roadmap should be implemented in July and August, instead of at the end of the year as it will create inflationary pressure next year.
Notably, since the beginning of the year, the domestic retail price of petrol has been adjusted 5 times with an average increase of 11% compared to the first quarter of 2020.
Therefore, the Ministry of Finance – Ministry of Industry and Trade should closely monitor world crude oil price movements, combined with the Price Stabilization Fund, so that the domestic petroleum retail price does not rise too high.
Some major socio-economic indicators in the first quarter of 2021: Gross domestic product (GDP) increased by 4.48%; the Index of industrial production (IIP) increased by 5.7%; there were 29,300 newly established enterprises; total retail sales of consumer goods and services increased 5.1%; realized investment capital for the whole society increased by 6.3%; total export turnover increased by 22%; total import turnover increased by 26.3%; the trade surplus was US$2.03 billion ; The average consumer price index increased by 0.29%; Core inflation increased by 0.67%.
GDP growth in the first quarter of 2021 was estimated at 4.48%, not as high as expected, but demonstrating economic recovery in accordance with forecasts and the government's scenario, contributing to maintaining and improving people's sense of confidence.
All three sectors of the economy have seen good growth. The agricultural, forestry and fishery sectors continue to be a bright spot in the economy with a growth rate of 3.16%. Industry and construction also prospered, with growth of 6.3%, of which, manufacturing – the main driving force of the economy, approached double-digit growth rate as it was before the pandemic.
The service sector which was directly and most heavily affected by the pandemic also rose up with a growth rate of 3.34%. Average inflation returned to its lowest level forthe past 20 years.
Foreign investment attraction saw positive growth for the first time since the outbreak of the pandemic while the disbursement of public investment continued to increase. The monetary and credit market remained stable, something which had significantly supported the production and business activities of enterprises.
An indicator of great interest in the general economic picture is State budget revenue. Revenue from the production activities of all three business sectors increased over the same period last year, of which, revenue from the non-state economic sector soared by 22.4%.
Domestic revenue and revenue from import and export activities also reached a high level compared to estimatesand increased over the same period last year.
A good sign was that revenue from the business sector reached over 28% of the yearly estimate with the most levels in the non-state economic sector.
Although several localities are still being affected by the recurrence of the COVID-19 pandemic, production and business activities have essentially returned to normal, contributing positively to State budget revenue, showingthe increasing adaptation, resilience and recovery of the economy.
However, some important sectors of the economycontinue to face difficulties and have yet to recover.
This is the first time since 2016. That Vietnam hasrecorded a decrease in the number of newly established enterprises in the first quarter along with a decrease in the amount of registered capital while the number of enterprises suspending operation or being dissolved still remains at a high level.
The prosperity of Vietnam's economy in the first quarter was mainly contributed to by the foreign direct investment (FDI) sector. FDI enterprises dominate the import and export activities of the country with the mainproducts being the processing and manufacturing industries.
Thus, economists recommend that, during the recovery of enterprises, attention should be paid to the recovery of domestic enterprises so that they will not be inferior to the FDI sector. Domestic enterprises also need to prepare a good foundation to stand ready to rise up strongly, instead of ending up in a state of disarray.
The impressive growth in 2020 and the first quarter of 2021 has shown Vietnam's ability to control the crisis caused by the COVID-19 pandemic and to turn the crisis into an opportunity and successfully implement thecountry's dual goals.
This is an important foundation for our country's economy to recover after the pandemic, aiming to become a fully developed country.
Along with short-term policies being implemented to reduce the negative impact of the COVID-19 pandemic, domestic and foreign research organisations recommend that Vietnam should persevere with long-term reforms to drastically improve the macro foundation and reduce riskin the future.
Long-term solutions should be implemented with the highest levels of determination and a focus on renewing agrowth model based on technology and innovation; encouraging entrepreneurship; improving institutions towards respecting and protecting equality among all economic sectors; promoting the private sector; and others.
Van Phong to be developed into coastal EZ by 2025
The central coastal province of Khanh Hoa will develop the Van Phong Economic Zone (EZ) into a coastal one that focuses on multi-sector development, turning it into an economic driving force of the province and the south central region.
According to an action programme on the development of the Van Phong EZ for the 2021-2025 period, the economic zone is expected to draw at least 150 trillion VND (6.5 billion USD) in investment, disburse at least 75 trillion VND, and contribute about 30-40 percent to the local State budget.
Its industrial – construction value will account for nearly 40 percent of the province's gross regional domestic product (GRDP) while around 10,000 jobs will be generated.
The province will focus on adjusting the master plan on the Van Phong EZ, effectively performing polices on investment promotion and investor support, pooling capital for key infrastructure in service of its function areas, reforming administrative procedures, protecting the environment, and ensuring national defence-security./.
Oil and gas companies expect good performance in Q1
Many Vietnamese companies in the oil and gas field might post positive results in the first quarter of 2021 thanks to the strong rally of crude oil in the international market.
As of March 31, crude prices rose more than 23.6 percent. It even broke over 70 USD a barrel in March.
The gain received support from lower global oil stocks. The Organisation of the Petroleum Exporting Countries and its allies, known as OPEC , agreed to extend production curbs, and supply from the US was estimated to fall 4 million barrel a day.
The bullish oil price might have positive effects on business activities of oil and gas companies in this year's first quarter. In early April, PetroVietnam Gas JSC (GAS) reported revenue of over 17.8 trillion VND in the first quarter, equivalent to 102 percent of its quarterly target.
Its profit after tax was more than 2.23 trillion VND, equivalent to 127 percent of its plan, GAS said in a statement on its official website.
The company said that despite unstable demand from customers, lower than GAS' estimation and that of the same period last year, and some transportation issues to transfer oil and gas to the mainland from offshore basin, GAS still achieved business targets on higher oil prices.
GAS' price policy is normally 46 percent of furnace oil (FO) price. Once oil prices rise, GAS will directly benefit from the higher sale price of gas and liquefied petroleum gas (LPG). It is holding a 100 percent market share in natural gas and is accounting for the largest part in wholesale LPG.
Binh Son Refining and Petrochemical Company Limited (BSR) also expected good results in the first quarter. In an announcement, BSR estimated that it gained nearly 21 trillion VND in revenue in the first quarter, with a profit of over 1.8 trillion VND.
The company stated that the strong rally in the international oil price is the main reason for the good results.
Meanwhile, fuel demand is also expected to improve as the pandemic has been contained.
PetroVietnam Oil Corporation (OIL) said that the increase in oil prices might help it revert the provision for devaluation of inventories in the first quarter of 2021, as well as to improve domestic fuel output, especially aviation fuel when international routes are reopened.
The group of oil and gas companies providing services and products such as PetroVietnam Technical Services Corporation (PVS), PetroVietnam Drilling & Well Services Corporation (PVD), Petrovietnam Transportation Corporation (PVT) and PetroVietNam Chemical and Services JSC (PVC) also witnessed positive signs on stable operations and development of new projects.
Shares of these companies were also boosted by the higher oil prices and good business result outlooks.
In the first quarter, BSR shares increased sharply by 73.5 percent compared to the beginning of the year, followed by PVD (30.6 percent), PVT (17.2 percent), PVS (22.3 percent), OIL (17.2 percent) and GAS (1.8 percent)./.
Techcombank eyes consolidated pre-tax profit of 863 million USD
The Technological and Commercial Joint Stock Bank (Techcombank) has set a target of posting consolidated pre-tax profit of 19.8 trillion VND (863.76 million USD) this year, a year-on-year surge of 25.3 percent.
It also targets credit growth of 12 percent or higher and deposit growth of at least 14.7 percent, while keeping bad debts under 2 percent.
More than 6 million bonds worth 10,000 VND each will be issued under an employee stock ownership plan (ESOP). Techcombank's charter capital is then to surpass 35.1 trillion VND.
The bank posted a pre-tax profit of 15.8 trillion VND in 2020, an increase of 23.1 percent against 2019.
As of the end of December, its total assets had risen 14.6 percent from the start of the year to nearly 440 trillion VND.
Mobilised capital hit 289.78 trillion VND last year, up 22.1 percent year on year, while outstanding loans were valued at 318.03 trillion VND, up 23.3 percent.
Its capital adequacy ratio stood at 16.1 percent, higher than the 8 percent stipulated by the State Bank of Vietnam. Bad debts contracted to 0.5 percent from 1.3 percent, after overdue outstanding debts of 3.36 trillion VND were handled.
According to Brand Finance, Techcombank's brand value rose 30 percent last year to 524 million USD, from 401 million USD a year earlier.
It also leapt 57 places to 270th in the world's 500 most valuable banking brands in 2021./.
Fruit, vegetable exports bounce back in Q1
Following a year of negative growth, the export of fruit and vegetables reeled in about 944 million USD in the first quarter of 2021, up 6.1 percent from the same period last year, according to the Ministry of Industry and Trade's Agency of Foreign Trade.
China remained the biggest exporter, spending 352.83 million USD buying vegetables and fruit from Vietnam during January-February. The figure made up 62.5 percent of Vietnam's total export value of the products and represented an annual increase of 17.5 percent.
In March alone, Vietnam shipped fruit and vegetables overseas for approximately 380 million USD, increasing 6.3 percent year-on-year.
The country expects to gain 8-10 billion USD from exporting fruit and vegetables, with revenue of processed products accounting for at least 30 percent of the total by 2030.
Vietnam salt company to conduct IPO on April 12
The Vietnam Salt One Member Limited Liability Company (Visalco) will put nearly 1.28 million shares up for sale at its initial public offering (IPO) on April 12.
The shares will be listed on the Hanoi Stock Exchange (HNX), the northern bourse has announced.
The initial price for the shares, representing ownership of 29.28 percent, is set at 21,300 VND (0.93 USD).
Visalco expects to receive more than 43.69 billion VND from the IPO, according to HNX. The State will hold 65 percent of the firm's capital after it becomes a joint stock company.
Visalco is a State-owned subsidiary of the Northern Food Corporation, one of the most prestigious food suppliers in Vietnam. It produces and sells salt and salt products. Revenue in this field fell sharply from 2018 to 2020 as the company halted supply contracts with several mountainous localities.
After that, it moved to the rice business, with revenue rising from 65.05 billion VND in 2018 to 163.96 billion VND last year.
Under its production and business plan, Visalco forecasts earning 99 billion VND in revenue this year and posting 870 million VND in pre-tax profit. By 2023, revenue is predicted to be more than 110 billion VND, with pre-tax profit to top 1 billion VND.
HCM Ciy gives top priority to marine economy
The development of the marine economy is a top priority for HCM City as it aims to keep pace with other countries and exploit the potential of sea activities.
Vo Van Hoan, deputy chairman of city's People Committee, said that the city should identify a strategic direction to develop its marine economy and connect marine urban areas with global and regional economies.
One focus will be on Can Gio District, which will be tied to preservation of the environment and ecotourism.
Located 50 km from the city's centre, Can Gio is the only district of HCM City bordering the sea, with a coastal length of 23 km. The district covers more than 71,300 hectares, 70 per cent of which is taken by mangrove forests and waterways.
Nguyen Duc Hien, deputy head of the Central Economics Committee, noted at the meeting that Viet Nam has a 3,600 km long coastline. Twenty-eight coastal cities and provinces had attracted foreign direct investment (FDI) accounting for 58.2 per cent of total FDI in the country.
Their import and export value reached 36.6 per cent of the country's total import-export turnover, and the number of businesses accounted for 58 per cent of the total number of enterprises.
These localities played an important role in economic development of the country.
"HCM City is considered the largest economic centre in the country, but the city's ocean economy has not been developed in accordance with its potential," Hien added.
The Party Central Committee's Resolution 36, passed in 2018, targets that by 2030 the marine economy will contribute about 10 per cent of the national GDP and 65-70 per cent of economic growth of 28 coastal provinces and cities.
The resolution envisages that by 2045 Viet Nam will become a powerful, prosperous and secure maritime country with sustainable development.
Ministry imposes anti-dumping duties on imported steel from Malaysia
The Ministry of Industry and Trade (MoIT) has decided to temporarily apply anti-dumping measures on some H-shaped steel products which originate from Malaysia, according to the Trade Remedies Authority of Vietnam.
In line with the decision, the temporary anti-dumping duties imposed on Malaysian exporters currently stands at 10.2%.
The MoIT originally began to conduct the investigation back in August, with findings based on the results from appraising dossiers submitted by representatives of the domestic manufacturing industry last July. These conclusions led to the request to begin swiftly applying anti-dumping measures.
During the course of eight months of preliminary investigations, the MoIT has co-operated alongside relevant agencies in carefully assessing the impact of the dumping margin of imported goods, especially H-shaped steel products, on both the domestic manufacturing industry and consumers.
The results indicate that the import volume recorded a sharp increase during the investigation period, thereby causing significant damage to the local H-shaped steel industry.
The MoIT said acts of dumping continue to exert considerable pressure on the Vietnamese manufacturing industry's performance indicators, including production output, sales volume, and revenue, all of which have been on a downward trend throughout the duration of the investigation period.
The Trade Remedies Authority of Vietnam noted that the MoIT will continue to work alongside relevant stakeholders in order to assess the impact of the dumping act on domestic steel producers. The investigation period is anticipated to conclude ahead in the second quarter of the year.
Vietnamese rice exports to Thailand enjoy surge
Vietnam's rice exports recorded a sharp increase in the first half of March in comparison to the previous period from last year, with Thailand emerging as a key market, according to the Ministry of Industry and Trade (MoIT).
The MoIT revealed that businesses shipped a total of 214,670 tonnes of rice worth US$117.58 million in the reviewed period, representing a boost of 38.5% in volume and 40.5% in value.
Most notably, the rice export volume to Thailand skyrocketed by 30 times to 16,250 tonnes from last year's corresponding period.
Meanwhile, the rice export volume to other markets, including Ghana, the United Arab Emirates (UAE), Fiji, and Indonesia, also witnessed strong growth rates of 74.4%, 302.9%, 500.5%, and 2,180%, respectively.
The first half of March witnessed rice export orders to the Philippines bounce back, with the nation purchasing 53,620 tonnes of Vietnamese rice worth US$28.84 million, up 53.8% in volume and 51% in value. The Filipino market accounts for 25% of the total Vietnamese rice export volume.
However, statistics show as of April 6, the export price of local 5% broken rice plummeted by US$5 – 10 to below US$500 per tonne, following the downward trend in rice prices globally. Thailand and India lowered their rice prices for export due to the depreciation of their Baht and Rupee currencies against the US dollar.
Pakistan, one of the world's rice exporters, also offered its 5% broken rice at US$418-422 per tonne, a fall of US$20 compared to the previous week.
This plunge can largely be attributed to the Indonesian Government's decision not to import rice until at least June 2021, despite agreements already reached with both Thailand and Vietnam, according to the Ministry of Agriculture and Rural Development.
Indonesian farmers have put mounting pressure on their Government to not import rice during the ongoing harvest which is anticipated to generate high yields.
Investment proposal for route linking Ha Giang with Noi Bai-Lao Cai Highway
The project on building the route connecting Noi Bai-Lao Cai Highway with Ha Giang province was proposed to draw on official development assistance from South Korea.
According to VNA, the Project Management Board No.2 has requested the Ministry of Transport to send an official document to the Korea Economic Development Cooperation Fund (KEDCF) to confirm the official development assistance (ODA) component of the project constructing the route connecting Ha Giang with the Noi Bai-Lao Cai Highway.
The estimated total investment value of the project is VND7.702 billion ($334.87 million). Of this, the ODA loan from the KEDCF is expected to contribute about VND6.103 billion ($265.35 million) for construction, equipment, technical design, building supervision, and corresponding contingency costs. Meanwhile, counterpart funds will contribute around VND1.599 billion ($69.5 million) for value added tax, site clearance, project management, construction investment consultancy, as well as other costs and corresponding provisions.
As proposed by the Project Management Board No.2, the 83km route will begin at intersection IC14_Km149+705 of the Noi Bai-Lao Cai Highway and end at Bac Quang district in Ha Giang. In addition to 1.12km of tunnels and 16 bridges with a total length of 2.24km with continuous girder structure across the Red River and Chay River to be built.
The construction will be implemented in two phases. Phase 1 will be a Grade 3 motorway including a 12m-wide, two-lane road surface. Once completed, the route will be upgraded to four lanes with the total width of 22-24.75m, accommodating travelling speeds of 80-100 km per hour.
To date, Ha Giang is known for its great potential in tourism, culture, and minerals. However, it has yet to fully utilise these advantages partly due to its undeveloped transport system. Therefore, the construction of the route linking Ha Giang with Noi Bai-Lao Cai Highway will significantly shorten travel time from Hanoi to Ha Giang, promote economic and trade development and reduce the load on the National Highway No.2.
If the KEDCF approves the ODA loan, Project Management Board No.2 will prepare and appraise the pre-feasibility study and the feasibility study to sign loan agreements and implement the project from 2023 to 2027.
Source: VNA/VNS/VOV/VIR/SGT/Nhan Dan/Hanoitimes
VIETNAM BUSINESS NEWS APRIL 7 have 6872 words, post on vietnamnet.vn at April 7, 2021. This is cached page on VietNam Breaking News. If you want remove this page, please contact us.