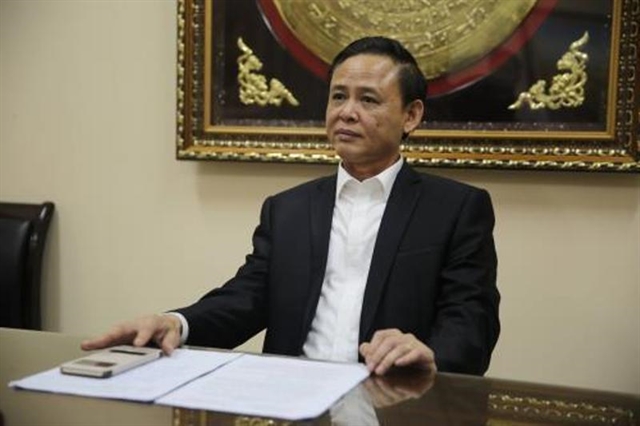 Hà Công Tuấn
Hà Công Tuấn, Deputy Minister of Agriculture and Rural Development, told the press that the target of US$15 billion of exports in lumber and forest products is achievable this year
How did Việt Nam's wood processing exports perform last year?
Việt Nam faced quite a big challenge in its lumber export and wood processing in 2020 due to the impacts from the COVID-19 pandemic.
However, in such a context, the wood processing industry still gained exports of some $13.23 billion – an increase of 19.7 per cent against the previous year.
Such successes should be attributed to the big efforts from the Government and Vietnamese companies to overcome the huge negative impacts and changes in the international markets, as well as the application of the digital economy to keep up with the fast development in the international market.
This year, challenges from COVID-19 and international markets remain. Yet Việt Nam has still achieved remarkable successes in the international market thanks to its high-quality products, particularly all products that can now be traced easily and are safe from trade fraud.
Việt Nam has set a target to achieve exports of more than $15 billion in the year 2021, an increase of some 14-15 per cent against that of 2020.
What should Việt Nam do to achieve such a high target?
The first thing we have to do is to make sure we have a steady supply of raw materials. Of course, to achieve this target we have to import a certain volume of wood from abroad while paying attention to making sure the wood is all legal. Last but not least, we have to increase the forest acreage having been granted certificates of forest sustainable development in our own country.
From the side of the enterprises, they should quickly apply high technology on a large scale in their forest plantation and in the international market.
Vietnamese lumber enterprises want the Government to adopt a more specific mechanism to help them expand their business in terms of both finance and human resource. Last but not least, they want the Government to grant them a special policy on land lease prices – a very important element to help them lower their products' prices on par with those produced in the high technology industry.
In the first quarter of 2021, Việt Nam earned $3.944 billion from lumber and other forestry products – an increase of 41.5 per cent against the same period last year. Do you have any comments on what the Vietnamese lumber sector has earned in the first quarter?
We all know that our wood industry is facing a very familiar issue – its development is always coupled with high risks. Việt Nam ranks second in Asia in wood export, with an average increase of between 16-17 per cent each year. This year, Việt Nam also sets a target to earn some $15 billion from its wood exports.
In the year 2020, Việt Nam earned $7.412 billion from exporting wood and other forest products to the US – an increase of 34.7 per cent against that of the year 2019. In the first quarter of the year 2021, the export rate hit a very high figure – between 36-37 per cent.
Former Prime Minister Nguyễn Xuân Phúc set a target that by the year 2025, Việt Nam should earn $20 billion from wood exports.
If we hit exports of $15 billion this year, I have no doubt that the 2025 target is achievable. VNS
Việt Nam targets $15 billion in forest exports have 677 words, post on vietnamnews.vn at April 14, 2021. This is cached page on VietNam Breaking News. If you want remove this page, please contact us.