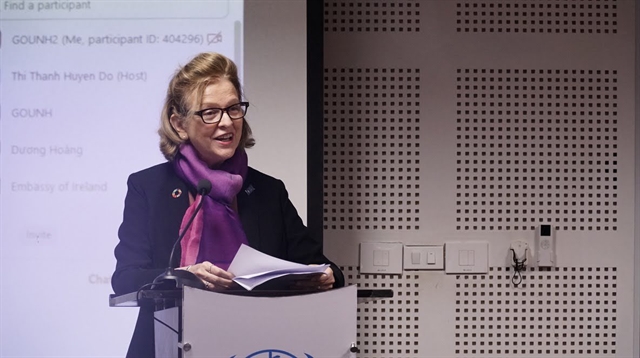 Caitlin Wiesen, UNDP Resident Representative in Việt Nam. — VNA/VNS Photo
by Caitlin Wiesen, UNDP Resident Representative in Việt Nam
In April, as Việt Nam assumes the Presidency of the United Nations Security Council, a key priority on the agenda is addressing the consequences of mines and maintaining sustainable peace.
Despite significant progress, landmines, and unexploded ordnance (UXO) still endanger villagers in many provinces throughout Việt Nam with an estimated 20 per cent of land considered contaminated.
We would like to share our thoughts on overcoming this deadly legacy of war.
On 4 April, the United Nations and its Member States marked International Mine Awareness Day, a day to remember the thousands of civilians around the globe, including many Vietnamese citizens, killed or injured by weapons indiscriminately left from wars and conflict.
The renowned actor Daniel Craig and UN Global Advocate for the Elimination of Mines and Explosive Hazards, reminded the world of the contamination remaining in Việt Nam.
This is also a day to remember the many brave men and women, working tirelessly throughout the country to rid the earth of this deadly legacy of war.
Last year, Mr. Cho Han-Deog, Country Director of the Korea International Cooperation Agency (KOICA) in Việt Nam, and I called for a Decade of Mine Action and a shared ambition of working with the leadership of the Government of Việt Nam and partners, to eliminate the impact of unexploded ordnance and landmines on the population of Việt Nam, as well as putting a complete stop to civilian casualties from explosive remnants of war by 2030.
It is a call worth repeating on this special day of remembrance, and this year's theme of Perseverance, Partnership, Progress resonates particularly well in Việt Nam.
Placing mine action at the forefront of Vietnamese chairmanship of the UN Security Council (UNSC) during this month is signal of global commitment, rooted in a conviction that the issue can be dealt with through strong regional and national institutions.
It is a message which will be highlighted during the upcoming Vietnamese-led UNSC Open Debate on 8 April titled "Mine action and sustaining peace: Stronger partnerships for better delivery."
The mine action sector in Việt Nam is blessed with a strong and genuine partnership between government and development partners. This strong sector coordination and collaboration are a key driving force to reach the milestones required to make Việt Nam impact free by 2030.
To the extent possible, the international community should commit to making the support predictable and long-term to align resources with government plans.
The important progress made over the past few years is a clear indicator that it is indeed feasible for the mine action sector to think big and make ambitious, yet realistic strategies and plans to reach the finish line.
Last year, we celebrated the issuance of Decree 18 on implementation and management of mine action and the related Circular 195.
This year, we can applaud the continued efforts to update the national regulatory framework through the development of regulations and procedures in line with International Mine Action Standards.
This is the kind of steady improvement of the sector makes it possible to set even more ambitious goals.
Almost three years ago, Việt Nam, the Republic of Korea, and the United Nations Development Programme (UNDP) established a strong triangular partnership with the Korea-Việt Nam Mine Action Project.
The combined resources and perseverance of the Việt Nam National Mine Action Center (VNMAC), KOICA Việt Nam and UNDP Việt Nam have resulted in remarkable achievements, from surveying more than 16,880 hectares of land and clearing 9,000 hectares of confirmed hazardous areas in Quảng Bình & Bình Định, to providing more land for development projects in these provinces.
At the same time, a database was created with 75,000 persons with disabilities, of which 9,100 were caused by unexploded ordnance or landmines.
In addition, nearly 87,720 local students, boys and girls, and 362,792 community members, women and men, were educated about how to remain safe in areas with potential UXO contamination.
This progress was made further possible through the continuous development of VNMAC's capacity to fulfil its new mandate outlined in Decree 18 and Circular 195.
Michelle Yeoh, accomplished actress and UNDP Goodwill Ambassador will join the UNSC Open Debate on Mine Action on 8 April.
As an action star she has worked to break stereotypes about what roles women can assume.
Likewise, there are mindset changes needed to create the space for women to fully participate in mine action. Last December, Việt Nam hosted an important conference on 'Women, Peace and Security'.
Following the conference, the 'Hà Nội Commitment to Action' with 75 co-sponsors was formally submitted in February, to the President of the UN Security Council and the President of the General Assembly.
It highlights the importance of including women in building and sustaining peace, including in mine action.
Women play an important role in mine action in Việt Nam, leading as well as being members of clearance teams.
We continue to encourage all partners to join this call for a Decade of Mine Action to give back cleared land to local communities, leave no-one behind and ensure we persevere in fulfilling the development aspirations of those most in need.
As emphasised by the UN Secretary General: "The United Nations Charter calls us to complete the work: to survey, clear and destroy these deadly devices. Let's make this the last decade when we need to devote ourselves to this task."
Perseverance, Partnership, Progress have 1037 words, post on vietnamnews.vn at April 8, 2021. This is cached page on VietNam Breaking News. If you want remove this page, please contact us.