Minister of Information and Communications Nguyen Manh Hung posed key questions and outlined solutions to digital transformation issues at a recent meeting with officials of the southern province of Ba Ria – Vung Tau.
VietNamNet would like to introduce the full text of Mr. Hung's speech.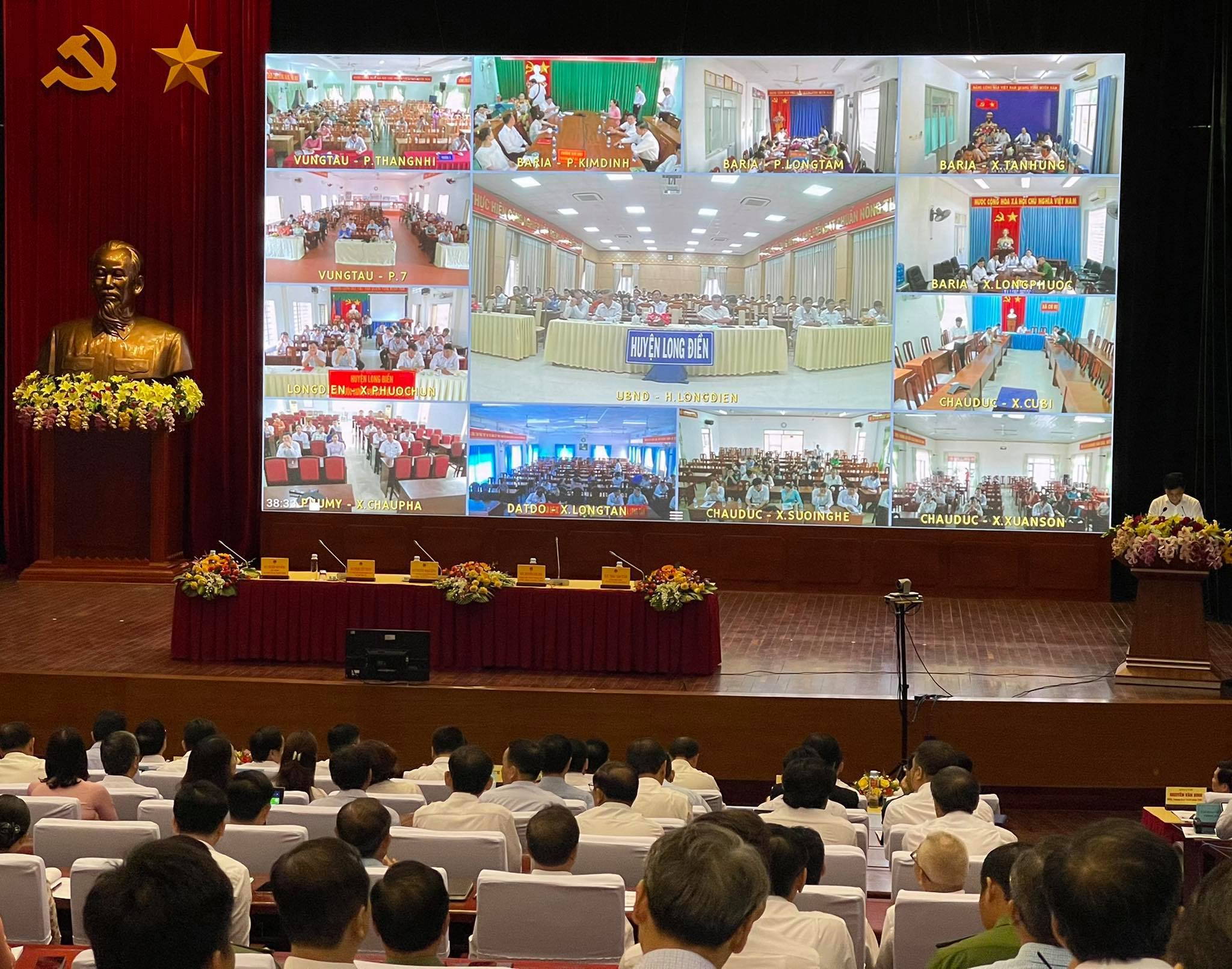 New challenges, new dreams will change Ba Ria – Vung Tau. The conference on digital transformation in Vung Tau, held on March 29, attracted 1,500 local officials. Photo: Le My
What is the difference between information technology (IT) and digital technology?
Digital technology is the next development of IT with the emergence of a number of breakthrough technologies of the industrial revolution 4.0.
IT refers to software, computers, often individually, automating the things that we are doing manually, for example, word processing software, staff management, and accounting software. Digital technology refers to new technologies of the Industrial Revolution 4.0 such as artificial intelligence, big data, cloud computing, block chain, Internet of things. These technologies are revolutionary because they replace human intelligence, and IT replaces manual labor. It is also revolutionary in the creation of a new resource, data. It is also revolutionary in that it brings everything into cyberspace, and when entering the cyberspace, everything becomes alive as humans.
What is the difference between IT application and digital transformation?
Digital transformation is the next development of IT applications. IT application is to use computers and software to write reports to send to superiors. Digital transformation is no longer sending data reports to the superior. Data at all levels is already on the system. If you want to get the information you need, you can enter the system to take it and analyze. IT application is to use Power Point software to compile lectures, and the lecture becomes more vivid, without the use of chalk. Digital transformation is when the teacher will no longer teach lessons. Teachers become teaching assistants. Students will listen to lectures by the best teachers via video, and teachers in the class will manage the class, and explain more when needed. And thus students nationwide can learn from the best teachers.
How is digital transformation implemented when IT applications are in progress?
Generally, digital technology is more efficient than IT, while the approach to digital transformation is more efficient than IT application approach. For example, if using computers and software, it is necessary to deploy 11,000 systems for 11,000 communes, if using cloud computing, all 11,000 communes share the same system. Using separate software is expensive, requires more time for implementation and training. Using the platform of digital transformation, the implementation will be very fast and cheap, and the platform is easy to use and requires no training. It is similar to the use of Zalo and Facebook – without training, everyone still uses them well and the more they use them, the better they will become.
Why it is said that Industrial Revolution 4.0, digital transformation is an institutional revolution rather than a technological revolution?
A new industrial revolution has two main contents: technology and transformation. For 4.0 technology, especially digital technology, the more it is used, with the more users, the cheaper the price per capita. Digital technology is related to data processing and the more data it gets, the smarter it is. The users decide the intelligence of the system, not the original technology. That is, the user plays a more important role than the creator of the original technology. The original technology is not as important and decisive as it was in the industrial revolutions 1,2,3. But the Industrial Revolution 4.0 requires a change in the operating model and institutions. For example, do you dare to turn teachers into teaching assistants? Do you dare to abandon the reporting mechanism of inferiors to superiors? Do you dare allow the operation of digital banks without real employees, or digital colleges without real lecturers? So, digital transformation is the issue of daring to do or not? And so it depends on one person – the leader. If the head does not have political determination, digital transformation will not happen.
The questions for digital transformation are what to do first, what to do after, what will be effective, how much is the market price, who does it well?
These things can be difficult for your province, but it is not for the Ministry of Information and Communications. Therefore, your province should consult the Ministry.
Regarding the issue of what should be done first, there is this approach: What is the hardest thing for your province to do or what is considered the greatest pain, what is a long-standing problem or a millennium problem, what is the hottest issue that people are most frustrated about. You should bring it out to see whether or not it can be solved by digital technology. Industrial Revolution 4.0 and digital transformation has breakthrough solutions to many difficult problems and for millennium problems – for example, poverty reduction, the gap between rural and urban areas, and universalization of high-quality services to remote and isolated areas.
How much spending on digital transformation is enough?
The average spending by many countries on IT applications and digital transformation is 1% of their annual budget.
More than 2% is high. We have not seen any country spending more than 4%. Vietnam's current average is 0.3%. So your province should spend about 1% of the annual budget. If you want to speed up digital transformation, especially in the early years when you need to build platforms right away, you can spend 2%.
Is there a way to know whether or not spending on digital transformation is effective?
When implementing digital transformation, it is necessary to calculate the value brought about by digital transformation, for example, labor savings, working hour savings, recurrent cost savings, and the new value brought about by digital transformation. Long-term intangible values should be quantified, too. If the value created by digital transformation is higher than the cost of digital transformation, it is effective. Digital transformation is not an incremental cost, but an added value. To avoid accidents that happened with the IT sector in the past, your province should consider spending on digital transformation as an investment project. An investment project must be profitable.
There is also a new way: posing a problem for businesses to find a solution. For example, Vung Tau city welcomes 16 million tourists a year, but on average, each visitor stays here for 1.1 days only. If there is a business that has measures to attract tourists to stay for an additional 0.5 days, that means an additional 8 million days for tourist stays in Vung Tau. If the added value per tourist a day is VND500,000, the added value each year is VND4 trillion. The province authorities can pay these businesses 1% or VND40 billion/year, or 5% – VND200 billion a year. Likewise, your province can pose other problems in this spirit. With this approach, the province can develop dramatically but also create a great development for businesses. This is win-win situation. It's a big win. Therefore, digital transformation has a successful formula: what you find difficult, if you cannot do it, you should publicize your problems for society to do. Someone out there will solve it.
Minister of Information and Communications Nguyen Manh Hung
Will digital transformation create unemployment?
The worry about job losses happens with the emergence of new industrial revolutions. But all three previous industrial revolutions did not create unemployment, but the unemployment rate tended to decrease. Unemployment rises mainly due to economic recession. The new industrial revolutions have taken some jobs away but created many new jobs. The issue is to retrain workers. But digital transformation can positively support retraining, as well as create tools and foundations for new jobs to be easier to learn and to do. Digital transformation creates digital universities, distance learning platforms make retraining easier, allow study at any time, practice at any time, and testing at any time through our cellphone and iPad.
Where does your province get digital technology experts for digital transformation?
This question is true of IT. Because we have to implement and operate IT systems and to train users. These things have to be done in each unit, commune, district and province, so there is a lack of IT staff. With digital technology, there are no such problems. Everything is on cloud computing, so communes and districts only need to register to use. There is no IT system in each commune or district. One system is common to all. It is so easy to use that no training is needed. Processes and working methods are put on the digital platforms, and users don't need to remember or learn.
For new problems, provincial leaders only need to raise the problem, set the target to be achieved, and quantify the value to be created to know the maximum possible cost. The leaders must also do one more thing: create institutions for the new to be allowed to operate. The leaders do not need to be concerned much about how to do. This is for the business to do, this is their job, and they are better than leaders.
Another very effective approach is to let people and businesses propose to the provincial authorities the things and values they can create for the province. The provincial leaders can allow them to do if the value created for the province is greater than the cost. This is a way to bring the entire population to participate in innovation.
What does it mean to be people-centered?
IT application and digital transformation have gone through different stages of development. Initially, technology enterprises have solutions and applications to offer the government, the government will consider buying and applying them. This is the stage where technologists and businesses are the guide. Then the government understands technology more, believes in technology more, and starts to pose the government's problems to technology enterprises to solve with technology. The guide is the government. The third step is to take the people as the center, the problems posed by the government come from the people's opinions, derive from the needs of the people, bring value to the people. Step four is the participation of four parties from the beginning: people, authorities, experts and businesses. These four parties will discuss what and how to address the needs of people, businesses, and the government. So the right approach is: it's all for the sustainable development of the province, and everything has always been discussed by all four parties from the beginning.
Is it unsafe to implement digital transformation?
Any living environment is not safe. That is the nature of life. We have lived in the real world for tens of thousands of years; institutions, laws, the state apparatus have been perfected for thousands of years and there are still risks. It is still not absolutely safe; there is still theft, murder. Digital transformation creates a new living space, called cyberspace. Life has been entering cyberspace faster than the legal system and law enforcement apparatus and so the risks are not small. But luckily, the whole world is facing these challenges, and countries are perfecting the legal system in cyberspace. We can learn from others to perfect institutions and apparatus in cyberspace. But we will always have to deal with cyber threats. Aside from the rules, each of us has to be equipped with digital skills to live safely in cyberspace.
Vietnam will have to prosper in cyberspace and, therefore, Vietnam must become a cyber-security power to protect its prosperity in cyberspace. The cybersecurity powerhouse is the same as the military power in the real world.
Do we use the approach of catching up with, going along and then surpassing others in digital transformation?
If we keep going behind, we will forever be the follower and never change our national ranking. Only at the forefront for the new will we have the opportunity to make breakthroughs to become a developed country.
Digital transformation is the same for all countries. There is not much experience to learn from. Developed countries are often not enthusiastic about the new because they are at peace with the old. Only someone who is hungry and in difficulty can be enthusiastic about the new. For example, a poor African country like Kenya applied mobile money 12 years ago, but it was not until 2020 that the US did. In Vietnam, we do not need to wait for anyone. If we see anything effective, we have to apply it immediately to solve our problems and thus become the pioneer. Because of being at the forefront, new technology will move to Vietnam, the world technology manpower will move to Vietnam. Because these resources are always moving where there is a market. By being at the forefront of the new, we create the market for the new. The market is always a magnet bar. The market is also the place where technology is created and technology is perfected. Having a market means having technology, developing technology, not as before when we had technology to have a market. In addition, by taking the lead, we become the best and the world will have to come to Vietnam to learn. Vietnam can become the center of the world through the application of the new, using the new to solve our problems, using the new for breakthrough development.
Minister of Information and Communications Nguyen Manh Hung
ICT Minister answers key questions about digital transformation have 2314 words, post on vietnamnet.vn at April 6, 2021. This is cached page on VietNam Breaking News. If you want remove this page, please contact us.