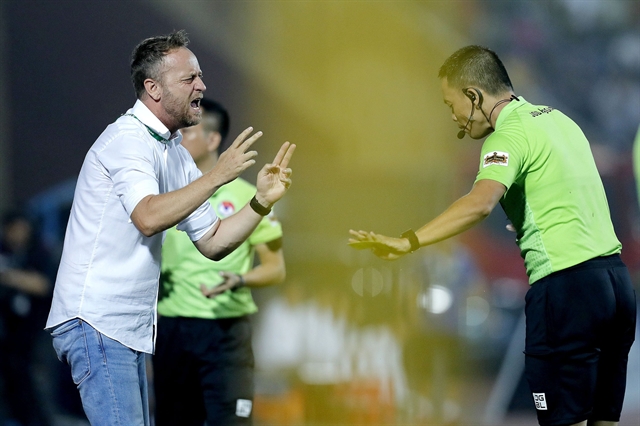 HCM City FC's coach Alexandre Polking criticised Nam Định after the 3-2 loss. Photo thanhnien.vn
NAM ĐỊNH — HCM City FC coach Alexandre Polking slammed Nam Định for time-wasting at the end of his side's 3-2 defeat on Sunday, but Nam Định coach Nguyễn Văn Sỹ insisted what his side did was within the limits of fair play.
At Thiên Trường stadium in Nam Định, the home team won thanks to two goals by Ossou Konan and one from Rodrigo Dias while Lâm Ti Phông's brace wasn't enough for HCM City to take anything.
The turning point came after a beautiful free-kick from Rodrigo Dias in the 67th minute to make the score 3-2. Tempers flared in the dying minutes and Phan Văn Hiếu of Nam Định and City star Lee Nguyễn received red cards in extra time.
After the match, Polking said he wasn't happy to see the home team wasting time by committing fouls to preserve their lead.
"What I saw here today in the last 12 minutes is not good for the league at all. It's a shame for me to see that. I would never do that for a team to win a game. Never," he said, referring to time-wasting from Nam Định.
Polking congratulated Nam Định's players and said the referee did the right thing in adding on a lot of extra time but lambasted the home team's efforts to slow the game by throwing the ball away when it went out of play and players staying down.
"It's not good for the league he said," adding, "this is (from) 20 years ago."
Nam Định's coach Nguyễn Văn Sỹ disagreed with Polking's statement and said his opponents would have done the same thing if roles were reversed.
"HCM City would have done that too if they had been in the same situation," Sỹ said.
"The dedication of the players in this match was amazing. I hope they keep their determination in the next matches. This is a worthy result for the club and the fans of Nam Định.
"They said my team bought time, but they also have to look in the mirror. HCM City also injured my players. What we did to preserve the score is completely within the limits of football," said the 49-year-old.
Nam Định currently sit sixth in the table with 15 points after 10 games, while HCM City are in 12th place with only 10 points – only one point away from bottom.
In the next match, Nam Định will meet Than Quảng Ninh, while HCM City will face defending champions Viettel. VNS
HCM City coach slams Nam Dinh time-wasting have 555 words, post on vietnamnews.vn at April 19, 2021. This is cached page on VietNam Breaking News. If you want remove this page, please contact us.