Land prices in the HCM City suburban district of Can Gio have been soaring following the news that Can Gio will become an inner city district, or a city in the future. The local authorities have prohibited civil servants from acting as land brokers.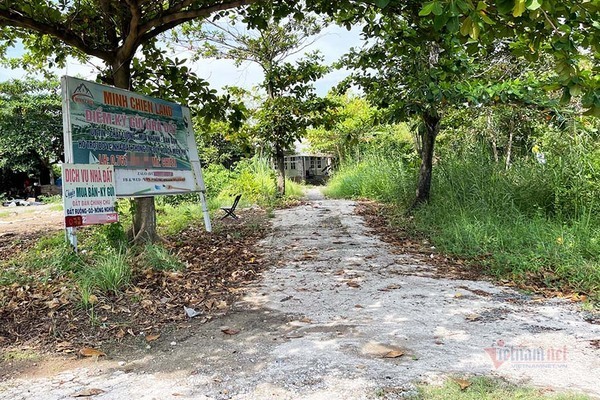 More than a year ago, the HCM City Department of Home Affairs submitted a statement to the People's Committee on a plan to convert some suburban districts into inner city districts, or into cities in the 2021-2030 period, which showed that the conversion of Cu Chi and Can Gio were scheduled to be carried out in from 2025 to 2030.
The Prime Minister recently released a decision on recognizing Can Gio district as a "new-style rural area"and recognized Thanh An commune as an island commune belonging to HCM City.
Though the conversion plan is still on paper, the information immediately had a great impact on the real estate market.
Can Thanh Town is the hottest area in the Can Gio real estate market. A local land broker said that many landlords rushed to sell land after hearing the news, and that land prices were going up every day.
A 600-square meter land plot on Giong Ao Road in Can Thanh Town is priced to sell at VND15 billion, or VND25 million per square meter. On the same road, a 180-square meter land plot is for sale at VND19 million per square meter.
Garden land is cheaper. A landlord in Can Thanh Town is offering a land plot of 6,400 square meters, adjacent to Can Gio sea, at VND11 million per square meter.
According to the land broker, the price of land in Can Thanh Town, which is not closer to the sea encroachment project than Long Hoa commune, is a bit cheaper. However, the price has risen by 20-50 percent compared to the previous year. Investors have flocked there every weekend to buy land.
VietNamNet reporters had previously surveyed the land prices in Long Hoa commune not a long time ago, when the news about the conversion of some suburban districts into inner city districts or cities was released, and found that local land prices were relatively high.
A 1,000-square meter land plot with the width of 20 meters in Long Hoa Town was offered at VND12 billion. This was part of 10,000-square meter land area reserved for long-term crop cultivation.

Amid the land price escalation, the Can Gio District Party Committee released a resolution on improving state management of land and construction order in the locality in the 2021-2025 period.
Many land plots along An Thoi Hoa Road in An Thoi Dong commune were also on sale. A land plot of 18,000 square meters on a 5 meter-wide paved road was offered at VND28 billion.
The landlord said the land plot was in high demand because its length is 300 meters, which allows it to be easily divided into smaller lots for sale or for a garden house development. However, reporters found that the land had been reserved by local authorities for aquaculture.
Civil servants banned from land brokerage
Amid the land price escalation, the Can Gio District Party Committee released a resolution on improving state management of land and construction order in the locality in the 2021-2025 period.
If local Party organizations do not discover unlicensed construction works and do not handle the cases in a timely manner, they will not be recognized as fulfilling their tasks in an excellent way. The heads of the Party committees and local authorities will also not be recognized as fulfilling tasks.
The resolution strictly prohibits local civil servants from using office hours for making transactions and mediating land transactions.
Also, the district will punish people who shift the land-use purpose without advance notice or plans, violate regulations on construction and land leveling, or illegally transfer land. Meanwhile, land areas used for wrong purposes and unlicensed construction works will be taken back.
Nguyen Thi Phuong Kieu, chair of Can Thanh Town, confirmed with VietNamNet that the land prices in the locality have rapidly increased, by 20-30 percent.
"The district People's Committee at regular meetings with local departments and civil servants has repeatedly asked officials not to work as brokers in land transactions during office hours," she said, adding that no violation has been found so far.
The same thing occurred with the land in Thu Duc, following the news about the establishment of Thu Duc City by merging the districts of Thu Duc, 2 and 9.
Tran Nguyen Dan, an economist, said that real estate investors mostly expect profits from land buying and selling, rather than a regular income brought by properties.
This has been exploited by speculators to push land prices up, thus creating a real estate bubble in the market.
Dan said that investors should only inject money into 'living land', i.e., land that creates an income, and should not invest in 'dead land', i.e., land that doesn't bring a regular and stable income.
Phuong Anh Linh
Amid 'land fever', Can Gio district prohibits civil servants from working as land brokers have 951 words, post on vietnamnet.vn at April 30, 2021. This is cached page on VietNam Breaking News. If you want remove this page, please contact us.