By Lê Hương
After parking his car on the side of the road, 51-year-old Lưu Văn Thanh from Hà Nội, knows it's time for a photoshoot.
His wife and friends are ready, posing on the mountain side with spectacular views of rice field terraces in the background.
Perfect pictures for their social media pages and to share with friends, capturing the breath-taking moments at the push of a button.
Thanh isn't the only one who has had the same idea. Camera phones are clicking away all around but there isn't a tour bus in sight.
He is among of group of 150 people taking part in the first 'self-driving' holiday hosted by Hà Nội Travel Agents' Association and VGreen Sustainable Tourism Club along with the National Museum of Vietnamese History.
"I have been travelling a lot both inside and outside the country," Thanh says. "But this is the first time I have experienced self-driving tourism.
"It's really interesting. I received a warm welcome from local ethnic minority people."
The tour called "Northwestern Region – Season of Orchid Flowers" sees a convoy of cars leave the capital city before stopping at various locations in the northwest of Việt Nam.
These include: Ngọc Chiến (Sơn La Province), Mù Cang Chải (Yên Bái Province), Tam Đường (Lai Châu Province), Lai Châu Town,  Điện Biên City, Quỳnh Nhai (Sơn La Province) and Hòa Bình Province.
The member cars, which all have logo of the club on the doors, follow one another on the route. They are all equipped with walkie-talkie radios and take rests, eat meals and spend the night at the same location.
"The tour followed the route that soldiers in Điện Biên Strategy marched to fight against the French in 1954, which moved me as it reminded me of my time training hard in the army," Thanh says.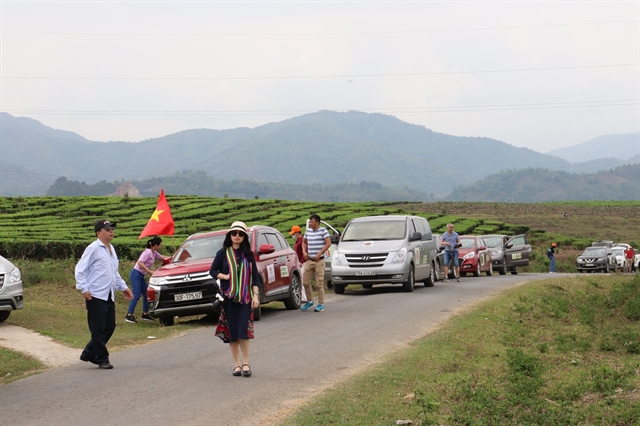 Cars parked on the self-driving tour themed "Northwestern Region – Season of Orchid Flowers" in the northern province of Lại Châu. VNS Photos Thúy Hà
Thanh says he will definitely join other self-driving tours in the future to broaden his travelling experiences.
He adds: "The trip is a little scary because many people are not used to driving on mountain roads but is worth it because of all the interesting things we see that you might not on normal tours."
Phùng Quang Thắng, chairman of VGreen Sustainable Tourism Club says the highlight of the new tour product is experiencing culture on offer from the comfort of your own vehicles.
Tourists and cars meet at the museum in downtown Hà Nội – where information about the trip is explained including the landscapes of the roads, the historic Điện Biên Phủ Campaign and ethnic groups they will meet along the way.
"The self-driving tour was built on the foundation of cultural stories of more than 20 ethnic groups in the northwestern region," Thắng says.
"Tourists have the chance to meet with Thai people in Ngọc Chiến Commune (Sơn La Province), Dao people in Sì Thâu Chải Village, Mông people in Lao Chải 1 Village (Tam Đường District, Lai Châu Province) or Lự people in Thẳm Village (Tam Đường District, Lai Châu Province)."
Vũ Thu Hường, who is on the trip with her husband, says: "We have lived with the ethnic minority people at their homes, we worked with them on the field, weaved cloth with them, enjoyed their traditional food and played their folk games."
Tourists can stop by various locations on the way.
Tourist Dương Văn Tình cannot hide his excitement after meeting the ethnic community in Trại Village (Hòa Bình Province) and learning about their early lives.
"I'm also impressed with actions to preserve relic sites, limit plastic rubbish, protect nature and improve community tourism models at the destinations during the trip," Tình says.
"The trip is so relaxing, full of fun but there is also responsibility to respect local communities and protect the environment."
Nguyễn Thiền Hậu, from the southern province of An Giang says he was also impressed with local customs and the landscape of the northwestern region.
"I will tell my friends at home to join such a tour," he says.
New trend
After the success of the first self-driving tour, the next tour of its kind in mid-April, is already fully booked.
Vũ Giang Biên, deputy chairperson of VGreen Club says: "On the next self-driving tour, we will gather 10 to 15 cars to ensure the best conditions for tourists."
She says nearly 100 tourists have signed up for the tour.
VGreen has prepared other trips for many smaller cars, connecting one another by walkie talkie. The club has also co-ordinated with localities to prepare health care support, first-aid services and rescue support when needed.
"All preparations for preventing the virus like health declarations, face masks and hand-washing gels have been prepared," she says. "So whatever the circumstances, the tour can go ahead and ensure safety for tourists."
Biên says Việt Nam has great potential to develop these types of holidays.
"From the north to the south, anywhere, interesting self-driving tours can be designed," she says.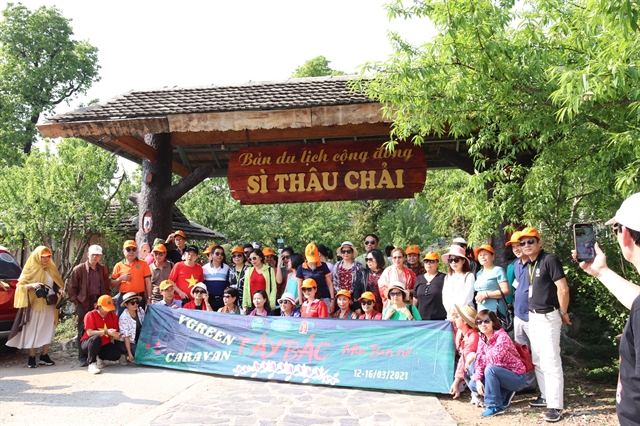 Members of the tour take a photo at Sì Thâu Chải Community Tourism Village in Lai Châu Province.
VGreen club has built up various tours for self-driving holidays that can take place over two, five and 10 days.
In the upcoming months, the club will consider routes along the central coastal areas and the south.
"We hope the self-driving tours will be not only a product in the pandemic but also a trend in the future with interesting experiences on routes with impressive landscapes and distinctive cultures," Biên says.
"With such a good quality and sustainable product, VGreen Club is targeting not only domestic tourists but also foreign visitors," she says.
Vũ Thế Bình, chairman of Việt Nam Tourism Association says: "In the past few years, the awareness of tourists has been enhanced.
"They travel, explore the foundations of culture, history, architecture and cuisine. So they need guidance and information.
When the pandemic is controlled tourists can join self-driving tours to neighbouring countries.
"What challenges this type of tourism is transportation of people and the driving experience of the tourists," Thắng says.
Phạm Thị Hồng Thu, director of Đức Minh Trade and Tourism Company says such tours need careful research of the destinations and resting places by the host travel agents.
"Travel agents should also let an experienced driver lead the group and also have drivers for tourists when they feel tired," she says.
Great potential
A recent survey by booking.com reflects new choices of Vietnamese people during the pandemic.
It found 75 per cent of tourists saying safety while travelling is their top priority while 42 per cent choosing less crowded destinations.
Half said they would not choose public means of transport and would prefer to drive by themselves.
Trương Đức Hải, Chairman of the Board of Hòn Ngọc Viễn Đông Company, which specialises in organising self-driving tours says the company sells more now than before the pandemic.
"Our customers tend to choose travelling with their family or friends to form small groups and travel by their own car with our guide or they may hire our small buses including guides," he says.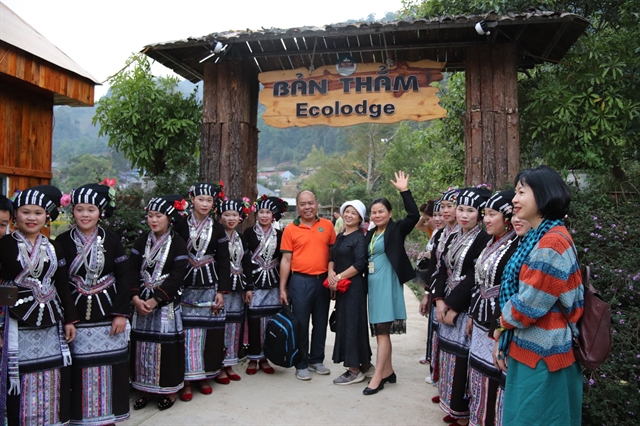 Discovering the culture of local ethnic groups is a highlight at the tour.
Trần Văn Ngọc, director of Phong Hà Service Ltd Company says these trips help tourists reach more remote areas and contribute more to the local community than tours travelling in big buses.
"This helps tourists access new places known by very few people, where they can support charity programme for locals," he says.
Last year, self-driving tour Returning to Central Region brought hundreds of tourists to help in areas that had been seriously damaged by strong storms.
Self-driving tour titled "West of Nghệ Region" combined trekking on Pu Xai Lai Leng Peak, a visit to the local border station and handed gifts to local people in need.
The tours often include professional photographers, who are ready to take photos for tourists during the trip.
And no matter what time of year, there is always a place worth visiting.
"Each season has its own attraction for people to travel and explore," says Hải.
"The departing and returning routes are designed differently so that tourists can experience different destinations and resting places, which make self-driving tours more interesting than normal tours." VNS
A new tourism trend for the pandemic and beyond have 1634 words, post on vietnamnews.vn at April 14, 2021. This is cached page on VietNam Breaking News. If you want remove this page, please contact us.