Many elderly people join 2nd stage of Nano Covax vaccine trials
A total of 367 volunteers, including 30 aged over 60, have been injected with Nano Covax, Vietnam's first homegrown COVID-19 vaccine candidate, in the second phase of its human trials, according to the Military Medical University.
The second stage has been conducted by the university and the Ho Chi Minh City-based Pasteur Institute since February 26. It has been carried out at the university in Hanoi and the medical centre of Ben Luc district in the southern province of Long An, with the participation of 560 volunteers aged from 12-75, including 80 aged over 60.
They will receive two doses of either the vaccine or the placebo AIPO4, with an interval of 28 days. Each volunteer will be monitored for 12 months after the first dose.
Volunteers receiving shots on the morning of February 26 will receive the second doses in late March.
Lieutenant-General Do Quyet, Director of the Military Medical University, said since the trial sees the participation of volunteers with underlying health conditions, competent authorities have been prepared for all scenarios and ensure safety for all volunteers.
Results of the trial will be announced in May 2021 before preparing for the third-stage trial during which only one single shot of the vaccine will be administered to 10,000-15,000 people from both domestic and foreign pandemic-hit regions, Quyet added.
Developed by the Nanogen Pharmaceutical Biotechnology JSC and the Hanoi-based Military Medical University, Nano Covax is Vietnam's first COVID-19 vaccine to reach the human trial stage.
The first-stage trial of the Nano Covax vaccine showed that it is likely to be effective against the B117 variant from the UK.
Vietnam is one of 40 countries and territories in the world to have begun human trials of a COVID-19 vaccine, after successfully producing coronavirus test kits early in the pandemic./.
National university processes complaint of lecturers in Korean Studies Faculty
The task force of VNU-HCMC began its work in USSH on March 4. Therefore, in pursuance of Point C, Clause 2, Article 25 of the Press Law, USSH temporarily stops providing related information to the press.
According to Mr. Tran Nam, Head of the Communications and Public Relations Department of USSH, his university strictly observed the procedure to process a complaint, from mediation, formal dialogue, to instruction on sending an official complaint to the Management Board for a feasible solution.
However, USSH did not receive any formal complaint from concerned lecturers. Instead, these teachers directly sent their complaint to the Government Inspectorate of Vietnam (GIV). After receiving the forwarded complaint from GIV, USSH immediately established a task group to handle the case in accordance with regulation.
The 12 lecturers have then sent their complaint for the second time to GIV, which transferred it to VNU-HCMC.
USSH issued a formal criticism to the Dean of the Korean Studies Faculty for the weakness in management tasks, along with a request to adopt a proper solution to tackle this problem. The university also criticized the 11 lecturers because of their lack of respect towards USSH and certain wrong details of the objective truth in their complaint, negatively affecting the organization's reputation.
USSH proposed to transfer these lecturers to another more suitable department, yet these people unilaterally terminated their work contract. Therefore, the university agreed to their request and offered detailed instruction on the procedure to ensure employee's rights.
Simultaneously, USSH is hiring visiting lecturers and recruiting new ones so that the operation and training of the Faculty is properly maintained, minimizing the adverse effects of this incident on learners.
First day after social distancing lifted in Hai Duong
biz news 9
Strict social distancing measures were lifted in the northern province of Hai Duong, Vietnam's latest COVID-19 hotspot, on midnight on March 3. Local people have begun to resume normal life while still following strict prevention regulations.
Though social distancing has ended in Hai Duong province, Kim Thanh district is one of four localities to still comply with Directive No 15 from the Prime Minister. On March 3, the district intensified its prevention and control efforts, handling violations and taking tests in high-risk communes to prevent community transmission.
Thanh Ha district is among the low-risk districts in Hai Duong. Overjoyed after social distancing ended, local people remain vigilant against the pandemic.
With one commune still implementing Directive No 15, non-essential service and business activities remain suspended in the whole district. Restaurants and eateries are only serving take-away customers.
In Hai Duong city, the number of people going out on to the street has increased compared to the day before. After half a month of social distancing, the rhythm of daily life has yet to return, but local people are seeing some level of normality while remaining vigilant against the pandemic./.
Toddler falling from apartment building discharged from hospital
The three-year-old girl named N.P.H. who fell out of the 13th floor at Nguyen Huy Tuong Apartment Complex in Hanoi was discharged after five days in the Central Children's Hospital on March 05.
The girl had a dislocated hip joint upon arriving at the hospital on February 28, 2021, whereupon doctors decided to relocate the joint and apply a cast.
According to Head of Pediatric Orthopedics Department at the hospital Dr. Hoang Hai Duc, she has responded well to treatment, and X-ray as well as head CT results upon her discharge showed no abnormal signs.
N.P.H. is scheduled for another hospital visit after two to three weeks to have her health re-evaluated.
The head of the Social Work Department at the Central Children's Hospital visited and gave presents to the girl before she was discharged. The hospital also assigned helpers to visit little H. at her home for future check-ups.
Previously, the unsupervised little girl fell out of the balcony of her home on the 13th floor and was caught in time by the heroic Nguyen Ngoc Manh, a truck delivery driver who happened to be in the vicinity at the time.
Youngsters join social activities to celebrate Youth Month 2021
Various social activities have been launched by Youth Unions nationwide to celebrate Youth Month 2021.
On March 4, Quang Binh Provincial Youth Union said that local youths have simultaneously joined many activities to help boost local new rural area construction movement, including building houses of gratitude in Van Phu Village (Quang Van Commune) and the Martyrs Cemetery in Quang Loc Commune in Ba Don Town, with a total budget of more than VND200 million. A school construction has been launched in the upland commune of Thuong Trach (Bo Trach District), while in Dong Hoi District, houses for poor households in Phu Hai Ward, Duc Ninh Commune have been repaired. Local Youth Union establishments visited and gave gifts to families in difficult circumstances, as well as joined in garbage collection in residential areas and beaches and promoting communications on prevention and control of COVID-19.
* On the same day, the Council of Young Pioneers of Thai Binh Province coordinated with its affiliate in Vu Thu District to launch the "Thai Binh's children responding to the Youth Month 2021" movement, with specific practical activities towards children. The organising committee awarded presents and a number of youth projects serving children in Minh Khai Commune (Vu Thu District). A contest to learn about the history of the Ho Chi Minh Communist Youth Union was also launched.
* The Provincial Youth Union and the Steering Committee for the implementation of the Youth Development Programme in Tay Ninh Province have launched the Youth Month 2021. At the ceremony, the organisers awarded 150 scholarships, a social house and 30 gifts to the families of young volunteers in difficult circumstances with a total budget of VND80 million. On the occasion, the Youth Union of Go Dau District awarded VND100 million to youths' start-up projects.
* Until March 14, the University of Da Nang will receive dossiers for a contest on "Technology start-up among students", aiming to find and support ideas and initiatives to apply advanced technologies in entrepreneurship. The contest will run until May 15, with four preliminary rounds and then a final round with the participation of the 15 best projects.
Embassy hosts New Year gathering with overseas Vietnamese in Belgium
The Embassy of Vietnam in Belgium held a get-together with overseas Vietnamese on March 4 to celebrate the Lunar Year of the Buffalo.
At the event, Ambassador to Belgium Vu Anh Quang extended his greetings to the local Vietnamese community, and voiced his encouragement to the community after a year full of hardships caused by COVID-19, while expressing his gratitude for their activities in support of the homeland.
Quang, who is also head of the Vietnamese mission to the EU, also informed the participants on future activities, along with the results of the fight against COVID-19 in Vietnam, the country's socio-economic development and success of the 13th National Party Congress which took place before Tet (Lunar New Year) festival.
Despite difficulties, the association of Vietnamese people in Belgium raised 6,000 EUR (7,170 USD) for flood victims in Vietnam's central region last year, which helped farmers at a cooperative to resume production and stabilise their lives, according to a member of the organisation./.
Hanoi ready to restart socio-economic activities with Covid-19 under control: Mayor
Hanoi's mayor called for local governments to provide support for businesses affected by the pandemic, and review current existing supporting programs to ensure greater efficiency.
Hanoi is ready to restart and accelerate socio-economic activities as the Covid-19 situation in the city has been put under control.
Chairman of the Hanoi People's Committee Chu Ngoc Anh gave the remarks at the city's monthly meeting on March 4.
"The priority in March is to strictly comply with anti-Covid-19 measures and boost socio-economic development," Ngoc Anh said.
Among measures to boost the local economy, the Hanoi's mayor requested greater efficiency in global integration to boost exports, while adopting a more selective approach in attracting high quality foreign direct investment (FDI).
"Hanoi aims to create a favorable business environment to further attract investment capital, along with more support to spur the growth of the private sector and pubic investment," he noted.
As public investment continues to be a key solution to aid economic recovery this year, Ngoc Anh urged local authorities to closely monitor the progress of public projects and those financed by ODA funds.
Ngoc Anh called for local governments to provide support for businesses affected by the pandemic, and review current existing supporting programs to ensure greater efficiency.
Hanoi's economic performance in the first two months stayed positive with the Index of Industrial Production (IIP) expanding by 7.5% year-on-year, higher than the 5.8% rate recorded in the same period last year.
The city's trade turnover also witnessed strong recovery as exports in the two-month period reached US$2.3 billion, up 12.7% year-on-year, staying in stark contrast with a contraction of 19% in first two months of last year.
Foreign direct investment (FDI) commitments to Hanoi in the year to February 23 hit US$58.9 million. The investors registered to pour US$14 million into 28 fresh projects, and an additional US$4.1 million into nine existing projects. They have also injected US$40.8 million to acquire stakes or contribute capital in local companies.
This year, Hanoi targets an economic growth of 7.5-8%, a strong rebound from the 3.98% in 2020.
Volunteers sought for second homegrown COVID-19 vaccine trials
People, aged from 18-59 and residing in Hanoi, can register for human trials of Vietnam's second COVID-19 vaccine candidate COVIVAC from March 5 morning.
In the first phase of the trials, 150 healthy volunteers will be injected with two doses of 0.5ml with an interval of 28 days.
They will be divided into five groups, including one group provided with placebo shots, and their health will be closely monitored within 24 hours after injections.
Each volunteer will have their health checked-up eight times in 12 months.
After 43 days since the first phase starts and shows good results, the second phase will be carried out at the medical centre of Thai Binh province's Vu Thu district, with 300 volunteers.
The homegrown vaccine has been developed by the Nha Trang-based Institute of Vaccines and Medical Biologicals (IVAC) and the Hanoi Medical University since last May, using primary chicken embryo cell culture, a technique the institute used previously to successfully produce seasonal flu vaccines.
COVIVAC has undergone pre-clinical trials in India, the US, and Vietnam, said IVAC Director Dr. Duong Huu Thai, adding that results showed that it satisfies all conditions to be tested on humans.
The vaccine candidate demonstrated high immunogenicity during pre-clinical trials. It was created based on studies of new SARS-CoV-2 strains.
This vaccine is expected to have a price of around 60,000 VND (2.59 USD) per dose.
Exhibition: "Those who do not move, do not notice their chains"
The exhibition, held by international and Vietnamese female artists in Hanoi to commemorate life and work of Rosa Luxemburg, will be opened to public from March 5 to April 12
In commemoration of the 150th birth anniversary of Rosa Luxemburg, the Non-governmental organization of Rosa-Luxemburg-Stiftung in Hanoi will organize an exhibition titled "Those who do not move, do not notice their chains", showcasing artworks from five female artists.
The title of the exhibition is taken one of Rosa Luxemburg's famous quote: "Those who do not move, do not notice their chains."
"This presentation is a response and an echo to Rosa Luxemburg's life of fighting for a fair society," noted by Tuan Mami, the curator of the exhibition.
The idea of this exhibition is built upon Rosa's inspiration and her revolutionary theory, to keep the link between people whose strive to devote their lives for humanity and who always act to make society better.
This unique showcase brings together five female voices who have contributed significantly to society and culture through their arts and activities.
The five artists (Veronika Radulovic, Nguyen Trinh Thi, Nguyen Phuong Linh and Joyce Ho) come from different backgrounds, societies, and generations. They will be creating a dialogue to discover various aspects of lives and continuously 'Reform' themselves to adapt to changes in life.
The exhibition is opened to public from March 5 to April 12, 2021 at 8C, 76 To Ngoc Van street, Tay Ho district, Hanoi.
Along with this special event, Rosa Luxemburg Stiftung – Southeast Asia will also launch a book titled "Immortal Rose", which is written upon her political legacy, and portrays a revolutionary woman she was through concise yet vivid narrative, embellished with artistic illustrations.
Rosa Luxemburg (March 5, 1871 – January 15, 1919) was a Polish Marxist, philosopher, economist, peace activist, and revolutionary socialist.
E-health declaration compulsory for all air passengers: CAAV
All passengers have to make e-health declaration before boarding flights at airports across Vietnam as requested by the Civil Aviation Authority of Vietnam (CAAV), part of efforts to prevent COVID-19 transmission.
To implement the Prime Minister's recent directions on COVID-19 prevention and control, the CAAV has asked relevant agencies and units to coordinate closely with localities to apply anti-coronavirus measures appropriate to the risk level in each area and site.
It demanded that related parties must not lower their guard while minimising adverse impacts on goods transportation, production and business activities, and people's lives and pushing ahead with the 5K principle: khau trang (facemask), khu khuan (disinfection), khoang cach (distance), khong tu tap (no gathering) and khai bao y te (health declaration).
The security force at airports has to instruct passengers to make e-health declaration so as to ensure that all passengers will complete the procedure before getting on board.
The CAAV also told airport authorities to disseminate the abovementioned information to all foreign airlines, as well as agencies and units operating at airports nationwide./.
PM urges completion of draft resolution on specific policies for Thua Thien-Hue
Prime Minister Nguyen Xuan Phuc on March 4 urged relevant agencies to promptly complete a draft resolution on specific mechanisms and policies for Thua Thien-Hue central province based on the conservation and development of Hue's heritage and cultural identity, to be submitted to the National Assembly Standing Committee.
More than one year ago, the Politburo issued a resolution on the construction and development of Thua Thien-Hue to 2030, vision to 2045, aiming to turn the province into a centrally-run city in tandem with the conservation and development of heritage and cultural identity of the former imperial capital.
As a step to implement the resolution, the Government has been working on a draft resolution of the NA Standing Committee outlining some specific mechanisms and policies for the province.
The draft resolution allows the application of specific criteria on population size and density, budget balance and per capita income, and stipulates specific mechanisms and policies to help Thua Thien-Hue capitalise on its potential and resources for development while harmonising economic growth and cultural development, thereby raising people's income.
It puts forward four major policies regarding entrance fees to relic sites, a fund for the conservation of Hue relics, loans to the province and the handling of land and properties managed by central State agencies, which are viewed as important in creating optimal conditions for Thua Thien-Hue to become a centrally run city as targeted in the Politburo's Resolution./.
VFF to conduct inspection and supervision over elections in localities
The first phase of supervision and inspection over the upcoming elections of deputies to the 15th National Assembly and People's Councils at all levels in the 2021-2026 term will be implemented from March 15 to April 13 with five inspection teams, each covering three provinces and centrally-run cities and one district in each locality.
The teams will focus on examining affairs related to the guidance of procedures in introducing candidates, communications on the elections, the organisation of negotiations to introduce candidates to the 15th National Assembly and People's Councils at all levels in the 2021-2026 tenure, the submission of candidates' documents, and the collection of voter's opinions on the candidates, among others.
Speaking at the second meeting of the Steering Committee for the Elections of Deputies to the 15th NA and People's Councils at all levels in the 2021-2026 tenure in Hanoi on March 4, President of the Vietnam Fatherland Front (VFF) Central Committee Tran Thanh Man hailed the VFF's specialised agencies in advising the steering committee on the organisation of training courses on election activities, inspection, introduction of candidates, and meetings to collect voters' opinions.
He asked the agencies to assign officials to take the charge of citizen reception, giving voting guidance, and receiving and handling complaints and denunciations related to the elections.
Man requested the steering committee to continue focusing on guiding localities and member organisations in holding the elections, while discovering their difficulties to give timely solutions, ensuring that the elections take place in a democratic, safe and economical manner in line with the law.
Along with the inspection and supervision activities, the VFF should focus on organising the second negotiation conference at the central level, while continuing to gathering voters' opinions on the candidates and verifying problems discovered by voters.
The elections of deputies to the 15th NA and People's Councils at all levels in the 2021-2026 tenure is slated for May 23./.
COVID-19 patient in Hanoi relies on ECMO due to critical condition
A COVID-19 patient given treatment at the National Hospital of Tropical Diseases in Hanoi is currently receiving extracorporeal membrane oxygenation (ECMO), a sophisticated form of therapy aimed at saving individuals who are in a critical condition.
Furthermore, the patient is also showing signs of edema, bleeding of the skin, and gum bleeding.
However, according to Dong Phu Khiem, deputy head of the Department of Positive Recovery, the patient still has a chance to be saved as his heart, liver, and kidneys are working properly.
Vietnamese doctors are also treating several seriously-ill COVID-19 patients in both Hanoi and Quang Ninh.
As of March 3, the country has recorded a total of 2,482 positive COVID-19 cases, including 1,566 domestic infections and 916 imported ones.
Visitors wearing ao dai to receive free entrance to Hue's relics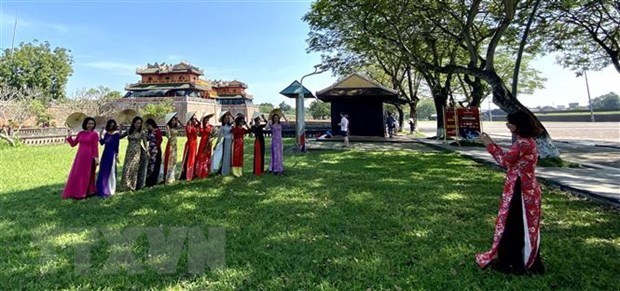 Visitors in ao dai at the Hue Imperial City (Photo: VNA)
Free entrance to relics in Hue city of central province of Thua Thien-Hue will be offered to visitors wearing ao dai (Vietnamese traditional dress) during three days from March 6-8 , announced the provincial People's Committee on March 4.
It is part of activities in response to the "Week of Ao Dai" event launched by the Vietnam Women's Union (VWU) and a project highlighting Hue as the capital of ao dai, and to celebrate the 111th International Women's Day on March 8.
Relevant agencies in the province have been asked to join hands with the provincial women's union to take part in the "Week of Ao Dai" event and the aforementioned project.
Thua Thien-Hue has organised a panoply of programmes to honour the charms of ao dai and promoted Hue city as a capital of the traditional costume, calling on local residents to wear ao dai regularly at schools and workplace.
Upcoming National Assembly election to have 184 constituencies
There are 184 constituencies across Vietnam in the election of deputies to the 15th National Assembly (NA), according to a new resolution.
The resolution was adopted by the National Election Council on March 3, specifying the number and list of constituencies and the number of NA deputies to be elected in each constituency nationwide.
Hanoi and Ho Chi Minh City have the largest number of constituencies, 10. HCM City will have 30 NA deputies, the highest number among centrally-run cities and provinces, followed by Hanoi, 29.
The election is scheduled to take place on May 23, which falls on Sunday./.
Heat wave strikes southern Vietnam
Ho Chi Minh City and other localities throughout the south are in the midst of a long heat wave with temperatures reaching up to between 35 and 36, even 38 degrees Celsius.
Moving forward over the coming days, Quyet anticipates that the region's UV Index will remain at a 'very high' level, from nine to 10.
He therefore predicts that the next five days will see the average temperature in the southern region remain around 34 to 36 degrees Celsius. In Ho Chi Minh City, average temperatures will be around 35 to 36 degrees Celsius, although the real feel may be higher, around 37 to 38 degrees Celsius.
Local residents are therefore advised to wear sun protective clothing alongside sunglasses, hats, face masks, and sunscreen when going out during the daytime. They are also encouraged to drink more water to avoid dehydration in the scorching sun.
Mekong Delta faces peak saltwater intrusion in March, April
Saltwater intrusion in the Mekong Delta will continue to increase in March and April, according to the National Centre for Hydro-Meteorology Forecasting.
The peak of saltwater intrusion will occur during high tide on March 12 -16, March 27 – April 1, April 9 – 14 and April 24 – 30.
The delta, the country's largest rice, fruit and seafood producer, is facing a higher than normal level of saltwater intrusion from the sea through river mouths in the ongoing dry season. However, it is not as severe as the level of the previous dry season.
The delta's provinces have dredged irrigation canals to store more water and upgraded and built dams and sluices to prevent saltwater intrusion and store fresh water.
Nguyen Thien Phap, head of Tien Giang province's Irrigation Sub-department, said the province has built eight dams to store fresh water for agricultural production and supply daily use water for 800,000 households.
Farmers in Tien Giang, the country's largest fruit producer, have stored irrigation water in their orchard ditches for fruit and other crops.
In Ca Mau province, farmers have stored fresh water in containers and have switched to growing drought – resistant crops.
The delta sowed the ongoing winter-spring rice one month earlier than normal to avoid a shortage of irrigation water at the end of the crop. Farmers are now harvesting the winter-spring rice and have had a bumper harvest. The harvest of the winter-spring rice is expected to be completed in May./.
Quang Ninh strives to recover tourism, service sectors
Authorities of the northeastern province of Quang Ninh have pledged to work with business and tourism associations to recover the tourism and service sectors against the backdrop of the COVID-19 pandemic.
Secretary of the provincial Party Committee Nguyen Xuan Ky requested local firms and people to bolster communications towards promoting Quang Ninh as a safe, stable and developing locality in a new normal situation.
He called on businesses to join hands with local authorities and people in taking advantage of every chance to stabilise production and business, while staying vigilant and ready to battle the pandemic.
With the new wave of COVID-19 outbreak contained, the province reopened activities at tourist attractions and places of worship at 0:00 on March 2, while preventive measures are still in place.
Activities at Ha Long Bay, a UNESCO World Heritage Site, have also been resumed.
However, the sites are temporarily only open to those who are living and working in the province.
To support tourism firms, Quang Ninh has launched four promotion packages worth billions of VND in an effort to maintain incentives for the sector, and offer ticket discounts at numerous famous tourist destinations since last year.
It has also worked to devise new products and hosted various cultural, sports and tourism events, as well as introduced tourism promotions.
A member of security staff at Quang Ninh's Van Don International Airport tested positive for the coronavirus SARS-CoV-2 in January, forcing the closure of the airport until March 3./.
MoLISA proposes keeping region-based minimum wage unchanged in 2021
The Ministry of Labour, Invalids and Social Affairs (MoLISA) is collecting ideas on a draft proposal to the Government in which the National Wage Council suggests it not raise the region-based minimum wage in 2021 after considering the socio-economic circumstances.
The ministry explained that amid the impact of COVID-19, the raising of the minimum wage would affect employment, as businesses are still facing various concerns.
According to calculations by the National Wage Council, with the consumer price index (CPI) estimated to have risen 4 percent each year in 2019-2020, the minimum wage applied in 2020 was still higher than the minimum living conditions, by 1.51 percent. The council added that with a real CPI increase of 3.23 percent in 2020, the regional minimum wage was actually higher than the minimum living conditions, by 2.28 percent.
Therefore, the council recommended that the region-based minimum wage be kept unchanged in 2021 and that adjustments be made in 2022.
According to the draft proposal, upturns were seen in unemployment as well as the number of dissolved enterprises or those suspending operations. Last year, 101,700 companies ceased operations, up 13.9 percent over 2019.
MoLISA said that experts and management officials agree that amid the difficulties in socio-economic conditions, business operations, employment, and incomes in 2020, it is necessary to choose prioritised areas for support, with careful consideration given to wage policy to ensure social sustainability.
The ministry underlined that if the socio-economic situation and relevant factors are favourable, adjustments to the minimum wage could be considered on January 1, 2022 instead of July, as proposed by the Vietnam General Confederation of Labour, which also matches international practice.
Vietnam has made adjustments to the minimum regional wage 18 times since 2000.
The ministry added that if there are any abnormal developments, the National Wage Council will submit a report to the Government for consideration./.
Consulate General supports Vietnamese in Preah Sihanouk during COVID-19
The Vietnamese Consulate General in Preah Sihanouk has called on Vietnamese-Cambodians and Vietnamese people working in the province to be cautious given the local spread of the COVID-19 pandemic, while following prevention and control measures set by authorities, in particular reducing travel in the current context. The Consulate General has also suggested relevant agencies in the province provide the best care for Vietnamese citizens who tested positive to the coronavirus SARS-CoV-2 in the locality.
When help is required, Vietnamese-Cambodians and Vietnamese citizens in Preah Sihanouk can contact the Consulate General via its consular service hotline on 0882 248 888 or the overseas Vietnamese affairs hotline on 0977 988 666.
Cambodian Prime Minister Samdech Techo Hun Sen on the night of March 3 instructed competent authorities to stop people's movement out of Preah Sihanouk in order to prevent the spread of COVID-19 to other provinces, according to the Khmer Times.
He also advised boosting vaccinations in the coastal province, underlining that more vaccines, both Sinopharm and AstraZeneca, would be sent there on March 4.
Since the third wave of COVID-19 hit Cambodia on February 20, Preah Sihanouk has recorded 80 cases, comprising 60 Chinese, five Vietnamese, and 15 Cambodians./.
More than 390 Vietnamese citizens flown home from Myanmar
More than 390 Vietnamese citizens were flown home from Myanmar on two flights on March 4, which were arranged by Vietnamese agencies, the Vietnamese Embassy in Myanmar, and Vietnam Airlines in coordination with Myanmar agencies.
Passengers on the flights included under-18 children, people with illnesses and those in other especially disadvantaged circumstances.
Amid the recent developments in Myanmar along with complicated COVID-19 situation, the embassy has kept a close watch on the situation and contact with citizens so as to give them specific guidance for arriving at the airport safely and on time. The embassy also sent officials to the airport to assist citizens in completing necessary procedures for boarding the flights.
In order to ensure health for the citizens and prevent the spread of the pandemic, strict security, safety and epidemiological measures were implemented throughout the flights.
Immediately after the flights landed in Da Nang airport, passengers and crews on the flights were given health check and sent to concentrated quarantine facilities in line with regulations.
The repatriation of citizens in disadvantaged circumstances abroad will be arranged in accordance with people's wish, the pandemic's development and domestic quarantine capacity./.
More subjects of Vietnamese universities enter QS ranking 2021
More subjects of Vietnamese universities have been added into the Quacquarelli Symonds (QS) ranking 2021.
The ranking rated 51 groups of subjects in five fields at 1,500 tertiary education establishments with about 14,000 training programmes.
The Vietnam National University (VNU) – Hanoi's business and management research major entered the list for the first time, apart from computer science and information system, mechanical engineering, aviation and manufacturing, maths, physics and cosmology which appeared in the previous edition of the ranking.
The Hanoi University of Science and Technology (HUST) had four subjects ranked, including computer science and information system, electrical engineering-electronics, mechanical engineering, aviation and manufacturing, and maths.
The VNU– Hanoi is the only university in Vietnam to have business and management research named in the ranking, placed in the group of 501-550 among 1,161 establishments in the list.
Its computer science and information technology moved down from the group of 501-550 in 2020 to the group of 601-650, ranking second in Vietnam, behind the HUST.
Its math major still stood in the group of 401-450 globally, taking the lead in Vietnam. It is followed by the HUST with a place in the group of 451-500.
Meanwhile, mechanical engineering, aviation and manufacturing returned to the group of 451-500 compared to 2020, behind the HUST in the group of 401-450.
In 2021, the VNU-Hanoi is also the only university in Vietnam to have its physics and cosmology ranked, in the group of 501-550.
As for electrical engineering-electronics, the HUST was still in the group of 401-450 and took the first spot in Vietnam.
The ranking is based on a methodology that assesses each institution on four criteria, including its reputation among academics and employers./.
"Da Nang by Night" piloted to revive pandemic-hit tourism
Chairman of the People's Committee of central Da Nang city Le Trung Chinh has signed a plan to pilot the "Da Nang by Night" programme, to revive tourism and services hurt by the COVID-19 pandemic while implementing the city's scheme to develop the night-time economy.
The programme will be piloted from 2021-2023, starting from April 30 this year on the occasion of the Southern Liberation and National Reunification holiday.
It will include lighting shows, night-time tourism and service activities at selected places of interest, and cultural events along the Han River, such as street dances, music, food, and traditional arts.
There will also be night tours along the Han River.
As part of the programme, there will be happy hours when tourists can enjoy special discounts at local shops, supermarkets, shopping centres, and restaurants, in order to boost demand after 10pm.
Director of the municipal Tourism Department Truong Thi Hong Hanh said the programme seeks to create new distinctive tourism products to enhance the experience of tourists to the city./.
National contest launched to promote reading
A national contest for students has been launched to seek Việt Nam's Reading Culture Ambassador 2021.
The contest 'Reading Culture Ambassador' run by the Ministry of Culture, Sports and Tourism aims to inspire the passion and the habit for reading among young people.
"The contest will affirm the role and value of reading culture in building the human capacity of Vietnamese people," said Phạm Quốc Hùng, head of the culture ministry's Library Department.
"Reading culture will contribute to improving people's knowledge, developing thinking and creating ability and enhancing personality and soul."
Under the Government's project of 'Fostering a reading culture within the community, with an orientation to 2030', the contest is among a wide range of activities to spread and develop reading culture.
As well as encouraging reading and the creation of a learned society, the contest also aims to help improve understanding of the rich national culture.
Last year, the contest opened for visually impaired people, and the Việt Nam Association of the Blind is in charge of it.
Pupils and students can take part in the preliminary round from now to July 31.
In the final round, entries will be submitted to the organising board before August 5, 2021. The awarding ceremony to honour the Ambassador of Reading Culture will be held by the end of October 2021.
The organising board wants entrants to write about their favourite book which changed their mind and their life, compose a story or poem or write a continuation of a story or a book.
The entries have to answer the question: "If you will be the Ambassador of Reading Culture, what would you do to promote reading in the community?"
Last year, the contest attracted more than 1 million entries from 5,400 schools.
Đặng Phương Nam from the People's Police Academy and Nguyễn Hoàng Yến from the Đông Triều High School in the northern province of Quảng Ninh were given the title 'Ambassador of Reading Cutlure 2020'.
More than 250 prizes were presented to outstanding collectives and individuals at the contest.
Families install safety nets after Hanoi child apartment fall
Many families living at apartment buildings in Hanoi and HCM City have installed balcony safety nets after a baby girl in Hanoi fell from the 12th floor of an apartment building.
A resident from Hanoi's Nam Tu Liem District, Hai Lan said, "We have just moved to this area so many things are still incomplete. But after hearing that a baby girl fell from the 12th floor, I had the balcony safety net installed immediately. I felt so careless for not installing the net sooner."
Lan said she had two small children and chose a net that cost VND180,000 (USD8) per square metre.
Another resident in Hanoi, Trung Nghia, said he had not only installed the net on the balcony, but also along the staircase.
Hai, a service provider in Hanoi, said he used to have only two or three customers a day. But recently, he received up to 60 orders a day. He said that the net was very durable and would not be much damaged by the weather.
Tran Van Toan from HCM City's District 12 said he lives on the 8th floor with two children. One of his children is five years old and the other is only 18 months old.
"After watching the clip, I felt so worried about my children. My wife and I decided to install the safety net immediately since both my children are very active and don't know how to protect themselves yet. We don't want to regret it later," he said.
He later installed 10 square metres of safety net for VND1.9m (USD82). According to Toan, many of his neighbours are also planning to install safety nets.
Even families who are not live in apartment buildings also feel worried. Nguyen Thuy Van from District 3 said she already installed the safety net for the second and third-floor of her house. "My child always plays near the balcony so we want to be more careful. It costs us about VND2.2m (USD95)," she said.
Dinh Van Sau from Go Vap District said he had received 60 calls from customers who wanted to learn more about safety nets. 20 people have ordered one for their home in the past three days. A safety net will not affect the apartment's aesthetic or become too stuffy while protecting the children. The cost of the net ranges from VND150,000 (USD6.5) to VND210,000 per square metre.
Other service providers in Tan Binh District also reported having received more orders in the past few days and their revenues had boomed five to six times.
Da Nang plans to build tunnel under airport, metro system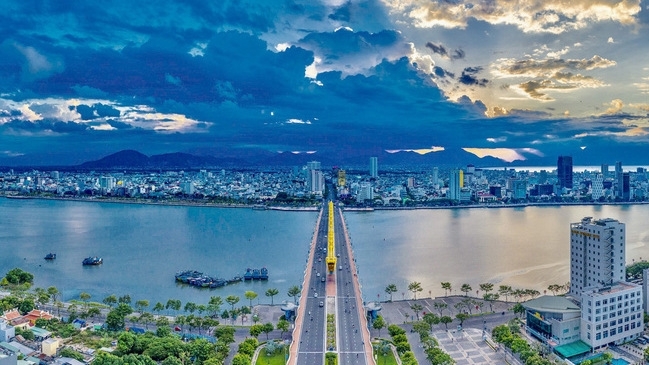 Da Nang is calling for investment in major transport projects over the next five years.
The central city of Da Nang is planning to construct a six-lane tunnel under the airport as part of its key infrastructure projects to call for investment over the next five years.
The 3.7 kilometre long project, with the main underground section running 2.8 kilometres, is expected to cost VND8.228 trillion (US$359 million) and will connect with urban zones located to the west of Da Nang Airport.
The city is also planning to build a rapid transit system with two metro lines running east-west and north-south, at an estimated total investment of VND54.5 trillion (US$2.38 billion).
The east-west line connects Nam O in Lien Chieu District with An Hai Dong in Son Tra District through the city centre, while the north-south line links Son Tra and the airport area with Khue Trung in Cam Le District.
Such metro projects will be implemented under public-private partnerships.
In addition, Da Nang is calling for investment in a rail line linking Da Nang and the old town of Hoi An in neighbouring Quang Nam Province.
Da Nang will also seek to attract investment for Lien Chieu Port, the project to relocate the Da Nang Railway Station, the Lien Chieu Port logistical centre, and Da Nang Airport.
Cultural, sports construction projects seek city's approval
The Department of Culture and Sport of HCMC has submitted construction projects of cultural and sport works and solutions to solve problems in this area to the municipal People's Committee.
Accordingly, public investment projects include the building of Phu Tho Horse Racing Ground, land allocation of the HCMC Multi-Cultural Center in Can Gio District, rebuilding HCMC Cultural Center, handing over land to the expansion of the Ho Chi Minh Museum – HCM City branch, the property right over land to upgrade the HCM City Culture and Arts College in HCMC.
Regarding to socialized projects, the department has made suggestions on land allocation for Phan Dinh Phung Sports Center; delegating The Housing Management and Construction Inspection Center (HMCIC) of the HCMC Department of Construction and functional units to complete procedures to refund to Bong Sen Yamachi Co,. Ltd; asking the HMCIC to hand over the building at No.99 on Pasteur Street in District 1 to the Department.
The Department of Culture and Sport has also proposed for an approval on expenditure allocation for Sports nutrition.
Quang Nam to expand habitat of grey-shanked douc langur
Efforts are being made toward a goal of expanding the habitat of the grey-shanked douc langur in central Quang Nam province's Nui Thanh district to 150ha by 2030.
The goal is set in a local project to preserve the endangered grey-shanked douc langurs.
A study conducted in October last year by GreenViet, a non-profit organization, showed that natural forests on 30ha in Nui Thanh's mountains are home to six families of grey-shanked douc langurs with a total 68 individuals. This is the sole visible population in the world.
According to Vice Chairman of the district People's Committee Ngo Duc An, the current priorities are to implement strict protection over the natural forest and restore 30ha of native plants to ensure food supplies and living conditions for the endangered creature.
The project worth more than 64 billion VND (2.78 million USD) will work to tranform 60 ha of production forest into special-use forest and establish a natural reserve for the langur in Nui Thanh's Tam My Tay commune.
According to the project, all fields are still owned by locals thus suitable regulations will be built to ensure the rights, interests and responsibilities of people involved, with special attention paid to growing large trees and native plants to create a habitat for the langur as well as a natural ecosystem for ecotourism. As such, the conflict between human's livelihoods and endangered fauna and flora's habitats will be eased.
Chairman of the Quang Nam People's Committee Le Tri Thanh said the expansion of habitats and diversification of food sources for rare species are an urgent but long-term work.
Quang Nam is determined not to let economic development make strong impact on or cause the loss of these precious animals, he underscored.
By 2025, Quang Nam authorities are trying to change at least 150 ha of production forest to special-use forest and cultivate native plants to ensure sustainable food supplies and living conditions for the grey-shanked douc langurs in Nui Thanh, according to the official./.
Over 5,000 runners to compete in Tien Phong Newspaper Marathon
More than 5,000 runners from 50 delegations across the country are expected to join in the 62nd Tien Phong Newspaper Marathon, slated for March 27-28 in the Central Highlands province of Gia Lai.
They comprises 500 professional and 4,500 amateur athletes who will compete in 5km, 10km, 21km and 42km categories, according to the Vietnam Sports Administration under the Ministry of Culture, Sports and Tourism.
Organisers said as of early March 2021, over 4,000 athletes had registered for the event.
The tournament is expected to help promote the image, culture and people of Gia Lai to domestic and foreign friends.
To ensure the success of the event, provincial leaders asked relevant units to quickly devise a detailed scenario, and assign tasks to departments, agencies and localities.
How to organise the tournament safely amidst the complex developments of the COVID-19 pandemic is a top priority, the organisers said. /.
Preparations underway for first phase of clinical trials for Covivac vaccine
The Institute of Vaccines and Medical Biologicals (IVAC), working in co-ordination with the Hanoi Medical University, has prepared training ahead of the first phase of clinical trials to test the effectiveness of the home-grown Covivac vaccine for the novel coronavirus (COVID-19) in mid-March.
Ahead of the trials, Hanoi Medical University has prepared all necessary facilities for vaccine injections, volunteer monitoring, and emergency aid.
The representative from the Hanoi Medical University stated that the clinical trial area will be located on the third floor of the university's dormitory, while all accommodation, medicines, and equipment for human trials has been prepared in line with standards set out by the Ministry of Health.
According to the schedule, volunteers will remain at the clinical trial area for a period of 24 hours after receiving their shots and will be subject to strict health observations by the research team.
Covivac is a homegrown vaccine that has been researched and developed by IVAC. Indeed, it will be the nation's second COVID-19 vaccine to be clinically tested on humans.
The first shot of Covivac vaccine in the first phase of clinical trials will be given to volunteers by mid-March. According to the initial assessment, Covivac is effective against the new SARS-CoV-2 strain detected in the UK and South Africa. Moving forward, IVAC plans to offer the Covivac vaccine at a price of VND60,000 per dose.
Meanwhile, as the first domestically-produced COVID-19 vaccine, Nanocovax, developed by Nanogen Pharmaceutical Biotechnology JSC, has now moved onto its second phase of human trials.
At present, another local vaccine researcher named the Vaccine and Biological Production Company (Vabiotech) is in the process of preparing to submit documents to participate in clinical trials.
Forum held to engage men in promoting gender equality
A national forum titled 'Engaging Men and Boys in the Promotion of Gender Equality and the Elimination of Gender-based Violence' was held in Hà Nội on Tuesday with 200 delegates participating both online and in-person.
The forum was held by UN Women in Việt Nam, the Institute for Social Development Studies (ISDS), and the Network for the Prevention of and Response to Gender Violence (GBVNet), with financial support from the Australian government.
It offered an opportunity for organisations, groups and men's clubs in Việt Nam to introduce and share lessons, experiences and challenges in mobilising the participation of men in promoting gender equality as well as preventing and responding to violence against women and children.
Delegates at the forum agreed to establish a network of men and boys participating in the promotion of gender equality and the elimination of gender-based violence in Việt Nam.
In his address, UN Resident Coordinator in Việt Nam Kamal Malhotra expressed his appreciation for the initiative.
"With the active participation of men and women, I believe the process of achieving the gender equality goals in the Sustainable Development Agenda to 2030 will be accelerated in Viet Nam. Because everyone has to promote gender equality, for everyone's benefit," he said.
ISDS Deputy Director Trần Kiên said many Vietnamese men have realised that to avoid being left behind in the new era they must participate more in promoting gender equality and sharing opportunities with women.
This lies behind the establishment of a network of men and boys participating in the promotion of gender equality and the elimination of gender-based violence, Kiên added.
Elisa Fernandez Saenz, Country Representative of UN Women in Việt Nam, spoke highly of the success of men's clubs in Đà Nẵng and HCM City and welcomed the initiative to set up the network.
She expressed a belief that the network will spread positive attitudes about masculinity, change rigid gender norms and help men ease the pressure caused by these norms and engage them in activities to promote gender equality and combat gender-based violence in Việt Nam.
Việt Nam's COVID-19 vaccination drive likely to begin next week: Health official
Việt Nam's COVID-19 vaccination will begin right after the health ministry receives an accreditation certificate from the Republic of Korea (RoK) for the COVID-19 vaccine batch that arrived on February 24, which is due later this week or early next week.
Deputy Minister of Health Trương Quốc Cường made the announcement at the Government's regular press conference in Hà Nội on Tuesday, in response to questions over vaccination progress after the first 117,600 doses of Oxford/AstraZeneca, manufactured in RoK, bought commercially via Việt Nam Vaccine Company (VNVC), had arrived in Việt Nam.
The Ministry of Health has assigned the National Institute for Control of Vaccine and Biologicals to verify the batch, which has been basically completed. It is now waiting for an accreditation certificate from the RoK before health authorities can begin inoculations.
According to the official, the vaccination effort is in line with the Government's Resolution No. 21/NQ-CP on the purchase and use of COVID-19 vaccines, which details nine priority groups for free inoculations – including frontline workers (medical staff, public security and military officers, workers directly involved in the pandemic efforts; customers officers, diplomats sent overseas on official missions; teachers and front-facing public administrative offices; essential service workers; elders above 65 years old, people in outbreak regions; the poor; among others).
Besides these groups, pandemic-hit localities will also be prioritised and the northern province of Hải Dương, the epicentre of the current community outbreaks that have logged nearly 700 COVID-19 cases to date, will be one of the first provinces and cities to get access to the vaccine.
According to the Resolution, individuals and organisations are also encouraged to voluntarily pay for vaccine shots.
When more vaccines are readily available, the Government is ready to expand inoculation for all having demand to achieve community immunisation.
As scheduled, another batch of Oxford/AstraZeneca vaccine along with vaccines from COVAX Facility will be delivered in late April. The ministry has prepared infrastructure and resources for storage and vaccination, Cường said.
St. Petersburg hosts virtual travel forum with Vietnam
On March 3, the administration of Russia's St. Petersburg City virtually held the second international travel forum with Vietnam to boost tourism between the two sides.
Vice Director of the Vietnam National Administration of Tourism Nguyen Le Phuc welcomed the event, saying that the forum will help boost confidence and recovery of tourism between the two countries following the unprecedented challenges posed to international travel by the COVID-19 pandemic.
Demyan O. Smilevets, head of the Russian Federal Agency for Tourism's Department for International Cooperation, said Vietnam remains a popular destination among Russian tourists. According to Russia's Federal State Statistics Service, about 572,000 Russians visited Vietnam in 2019, up 8% from the previous year while the number of Vietnamese visitors to Russia rose by 9% year-on-year to 59,000.
Russia sees Vietnam as a promising market because of the friendship between the two countries' people, he said.
He noted that Russia has started issuing e-visas for Vietnamese citizens since January 1, 2021, with Vietnamese visitors allowed to stay in Russia for 16 days. But due to COVID-19, the new policy has yet to come to reality, he said.
He urged travel agencies from both countries to work together to promote safety and convenience to attract more visitors.
Meanwhile, according to Deputy Chairman of the Committee for Tourism of St. Petersburg Nana M. Gvichia, the number of Vietnamese visitors to the Russian city was only paid 25,000 in 2019 and it is relatively small compared to Vietnam's population of 100 million.
She vowed that St. Petersburg will do its utmost to ensure safety for all visitors in the face of COVID-19.
Source: VNA/VNS/VOV/VIR/SGT/Nhan Dan/Hanoitimes
VIETNAM NEWS HEADLINES MARCH 5 (updated hourly) have 8467 words, post on vietnamnet.vn at March 5, 2021. This is cached page on VietNam Breaking News. If you want remove this page, please contact us.