Danang calls for investment in 10 projects in next five years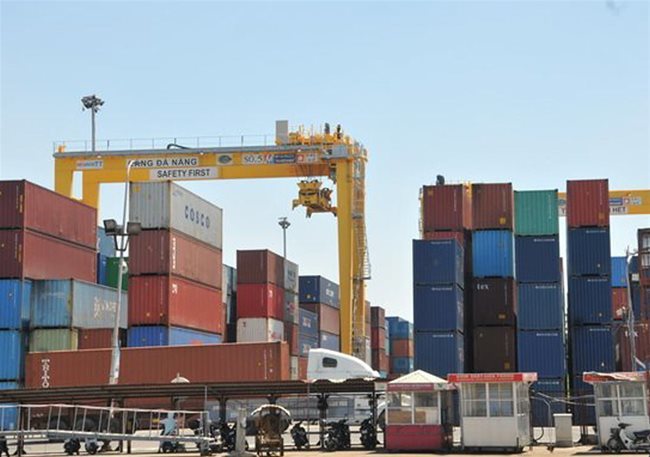 Tien Sa Port in Danang City. The city wants to call for investment in Lien Chieu Port and make the Tien Sa Port the cruise port
Six of the projects have had their scales determined, with a combined investment capital of more than VND100 trillion, while the four remaining projects depend on proposals from investors.
The project of building the city subway system will be the largest, with an amount up to VND54.5 trillion. The city wants to call for investment into this massive project under the Public – Private Partnership (PPP) mode.
The system will follow two directions. One of them is on the East-West way, connecting the Nam O region in the Northwest, adjacent to Hai Van Pass, going through the downtown area to the An Hai Dong area (My Khe beach).
Meanwhile, on the North-South way, the subway will start from the Son Tra Tinh Vien area (in Son Tra peninsula) to the vicinity of Danang airport.
Reportedly, in the Northwest region, there are many large investment projects, including Japan's Mikazuki hospitality complex and new residential areas named Golden Bay, Thuy Tu, Golden Hills and the cluster of the Danang High-tech Park and the Information Technology Park.
In addition, Danang is also calling for investment for Lien Chieu Port in this area. This project has a total investment capital of nearly VND7,400 billion (including State and private investment), developing two initial berths, capable of receiving general ships, bulk cargo with 100,000 tons and container ships from 6,000 to 8,000 TEUs, ensuring throughput of goods from 3.5 to 5.0 million tons a year.
When these projects are constructed synchronously, they will be the driving force for Danang's economic development in the Northwest region.
Among the 10 projects, there are also some prominent projects such as the railway station relocation and urban development project worth VND12,636 billion and the tunnel going through the Danang airport with a capital of VND8,228 billion, from the city budget, PPP and ODA.
These 10 projects are among the list of 57 key projects to attract investment in Danang City in the 2020-2025 period, adjusted and approved by the local government.
Market inches higher as VN-Index reverses course
Shares edged higher on the last trading day of the week as the VN-Index pared losses.
On the Ho Chi Minh Stock Exchange (HoSE), the VN-Index rose 0.01 per cent to finish Friday at 1,168.69 points. The index extended the previous losses in the morning session, down 0.22 per cent.
The market breadth turned positive as 264 stocks increased while 169 stocks dropped. And 67 stocks ended flat. More than 594.8 million shares were traded Friday, worth nearly VND15 trillion.
In a daily report, Bao Viet Securities Co. said that the index might return to test a supporting territory of 1,150 – 1,155 points. The analyst from the securities firm assessed the level as a resistance territory that helps the market recover.
"However, if the index falls under this resistance territory, it will test the supporting level of 1,100 – 1,200 points. In general, we assessed that the market's recent losses were necessary for investors to gather strength to break through the peak of 1,200 points," Bao Viet Securities said.
While the VN30-Index posted a decrease of 0.04 per cent, it pared some morning losses. The 30 large-cap tracker VN-Index declined 0.04 per cent to close Friday at 1,173.83 points after dropping 0.31 per cent in the morning session.
Of the 30 biggest stocks, 10 stocks rose and 15 stocks fell. While big stocks from banking and real estate posted poor performance, oil and gas stocks continued their morning rally.
Top five stocks supporting the market trend were PetroVietnam Gas Joint Stock Corporation (GAS), PetroVietnam Power Corporation (POW) and Vietnam International Commercial Joint Stock Bank (VIB), Vietnam Rubber Group – JSC (GVR) and Vietnam Airlines JSC (HVN).
Meanwhile, the losses in Vinhomes JSC (VHM), down 1.6 per cent, Vietcombank (VCB), down 0.92 per cent, Vingroup JSC (VIC), down 0.56 per cent and JSC Bank For Investment And Development of Viet Nam (BID), down 0.82 per cent pared the market's rally.
On the Ha Noi Stock Exchange (HNX), the HNX-Index rose 1.58 per cent to 259.8 points. The HNX30-Index, which tracks the 30 biggest stocks on the northern bourse, also climbed 1.52 per cent, equivalent to 5.72 points, to 382.14 points.
Domestic investors poured over VND2.5 trillion into HNX, with a trading volume of nearly 158 million shares.
In general, the market's liquidity was really high with total trading volume of over 752.8 million shares in the two exchanges, worth nearly VND17.5 trillion.
On the other hand, foreign investors continued to flee the market. They net sold a value of more than VND1.34 trillion on the southern market and a value of VND8.1 trillion on the northern bourse.
HoSE still struggled with overloading orders during the session.
US market offers great potential for Vietnamese craft, wood firms
The US market of handicrafts and woodwork products is predicted to grow well and offer extensive room for Vietnamese firms to increase their share in it, heard an online conference held on March 5.
Organised by the Industry the Handicrafts and Wood Industry Association of HCM City (HAWA), the conference discussed opportunities for exports of Vietnamese companies in the sector to the US this year.
Nguyen Hoai Bao, member of the HAWA executive board, said last year, despite COVID-19, Vietnam's wood and woodwork industry reeled in an export revenue of over 13 billion USD, of which more than 7 billion USD was from the US. This means the US is now a top market of the country's wood and handicrafts sector.
The US is among demanding markets in terms of product origin and legality, he noted, advising Vietnamese companies to frequently update on related laws and regulations to meet requirements and and avoid commercial risks.
Julie Hundersmarck, a specialist at the US Forest Service International Programs, said the US importers have a preference for suppliers from Asia, including Vietnam.
The US Forest Service is developing equipment for wood verification and will support Vietnam in better controlling the origin and legality of wood products exported to the country in the coming time, she unveiled.
Tom Russell, Senior Editor at US magazine Furniture Today, said according to experts, demand in the US woodwork and furniture market will recover significantly in 2021 and following years.
In addition to basic furniture, home decoration products and handicrafts are also consumed strongly due to the increasing demand for living space decoration amid the pandemic.
The sales of furniture products in the US, which reached 115 billion USD last year, is forecasted to hit 143 billion USD in the next five years./.
MoIT decides to impose self-defence measures on imported fertilisers
The Ministry of Industry and Trade (MoIT) has decided to impose self-defence measures on imported DAP and MAP fertilisers after a comprehensive review of their impact on the Vietnamese market in line with the law.
The imported DAP and MAP fertilisers are subject to self-defence tariffs in accordance with the Law on Foreign Trade Management and the World Trade Organisation's regulations.
The MoIT also consulted State management agencies, including the Ministry of Agriculture and Rural Development (MARD), about the review.
Accordingly, the tariffs will be lower and applicable for shorter time than those ruled by the WTO. They will be gradually reduced according to the schedule, towards maintaining a competitive environment to bring benefits to fertiliser consumers.
The MoIT is also working with ministries and agencies concerned to closely track the world prices of DAP and MAP fertilisers as well as input materials.
DAP fertiliser prices have recently increased due to several external factors such as hike in prices of input materials and transportation services. Domestic demand for it basically does not rise compared to previous years.
Additionally, prices of domestically-made DAP have not gone up, contributing to containing its common price increase.
Therefore, self-defence measures are necessary to bring a fair competition environment for domestic and imported goods.
The MoIT will continue partnering with the MARD and relevant units to review self-defence measures objectively and comprehensively in line with the law./.
HCMC sets higher FDI target for this year
HCMC has set a target to attract US$5.4 billion in foreign direct investment (FDI) this year, US$1 billion higher than last year, said Le Thi Huynh Mai, director of the municipal Department of Planning and Investment.
At a meeting presided over by municipal chairman Nguyen Thanh Phong on March 4, Mai said the department had set out regulations on the process for authorities to work with residents and enterprises and deal with their complaints, the local media reported.
The department has also set seven other targets, comprising establishing more than 40,000 new enterprises, being in the top five provinces with the highest Provincial Competitiveness Index, reaching a satisfaction rate of over 91% among local residents, addressing all the residents' complaints, handling 98% of procedures in a timely manner, handling all online documents of administrative agencies and 100% use of electronic tools at work among officials.
City chairman Phong said the city's growth rate reached only 1.39% last year due to Covid-19. This year, the city will carry out specific plans to build the single-tier government structure and improve the investment environment.
The city must take drastic measures to create a favorable investment environment. The biggest obstacle is investment and business registration procedures, Phong said, adding that improving the investment environment is a must and the municipal Department of Planning and Investment will play a decisive role.
He agreed with the eight targets of the department and ordered adding a target of digital transformation and making the administrative reform target more detailed.
The municipal chairman also asked the department to remove the obstacles facing long-stalled projects, including a commercial center project of the Saigon Trading Group, the Phan Dinh Phung Indoor Stadium and an international commercial center on Le Loi Street.
Besides administrative procedures, the city's infrastructure also needs to be developed, Phong noted, saying that the Government had allowed the city to change the use purposes of some 30,000 hectares of agricultural land, but only 1,000 hectares will be used for the purpose of industrial production.
Over the past five years, the city has had no new industrial parks, so Phong asked the Department of Planning and Investment to review all industrial parks and export processing zones in the city to ascertain which ones can attract more foreign investment. The department should work out specific solutions to help develop the city's economy by applying hi-tech and minimizing sectors using many laborers.
The department had earlier reported that it had licensed nearly 42,000 new enterprises with total registered capital of nearly VND 1,170 trillion last year. In addition, 13,800 enterprises suspended their operations and nearly 6,000 firms completed dissolution procedures.
Moreover, some 10,600 companies resumed their operations.
Vietnam c.bank consider to provide refinancing loans for Vietnam Airlines' lenders
Under the draft circular, the SBV would provide refinancing loans worth a maximum of VND4 trillion (US$172.85 million) for credit institutions being the carrier's lenders.
The State Bank of Vietnam (SBV), the country's central bank, is drafting a new circular with the aim of providing refinancing loans for lenders of the national flag carrier Vietnam Airlines.
The move is in line with a resolution from the National Assembly last year that authorizes the SBV to help Vietnam Airlines ease the Covid-19 fallout.
Under the draft circular, the SBV would provide refinancing loans worth a maximum of VND4 trillion (US$172.85 million) for credit institutions being the carrier's lenders.
At the same time, Vietnam Airlines, in which the state currently holds an 86.19% stake via the Commission for State Capital Management (CSCM), gets the permission to sell additional shares of VND8 trillion (US$345.68 million) to existing shareholders to raise its registered capital. As such, the government would assign its investment arm State Capital Investment Corporation (SCIC) to buy Vietnam Airlines shares.
Interest rates for refinancing loans is set at 0% per year, which is also applicable for any extension for such loans, if any.
The refinancing period would be upon the request from credit institutions in subject, but would not exceed 364 days, while the extension period is expected to be within 1,092 days.
In the Covid-19 ravaged year of 2020, Vietnam Airlines posted a pre-tax profit of nearly VND11.1 trillion (US$482 million). The figure was significantly encouraging as the airline  estimated loss of VND14.4 trillion (US$626.3 million).
As the aviation industry was among the hardest-hit sectors by the pandemic, Vietnam Airlines operated around 96,500 flights in 2020, down 48% year-on-year. This resulted in decline of 51% year-on-year in the number of passengers to 14.23 million and a fall of 47% in the amount of cargo for transportation  to 195,000 tons.
For the next five years, Vietnam Airlines targets to reestablish its operation, while continuing to push for restructuring process by streamlining its organization structure and enhancing efficiency in performance, especially in the sale and leaseback (SLB) of aircraft. Hanoitimes
Vietnamese products on show at India's engineering, technology fair
Vietnamese businesses are displaying their products via an online pavilion at the 24th International Engineering & Technology Fair (IETF 2021) of India.
Among Vietnamese exhibitors, the Rang Dong Light Source & Vacuum Flask JSC showcases fishing lights and vacuum flasks. The THACO Chu Lai Mechanical Complex Co. Ltd introduces products of precision mechanics and automobile and motorbike spare parts. Meanwhile, the Son Ha Group, with about 30 percent of its export revenue coming from India, displays water heaters, water tanks, and stainless steel pipes.
The IETF, held biennially since 1975 by the Confederation of Indian Industry, is a leading exhibition for technology, machinery, equipment, electronics, mechanics, and electrical devices.
This year's event features the most advanced machinery and technologies in such areas as environment and water and air pollution control, logistics solutions, metallurgical technology, infrastructure and property construction technology, smart building, automation, and 3D printing and related technologies.
Fairs on artificial intelligence, health and medical technology, mobile solutions, and game technology also are also taking place on the sidelines of IETF 2021.
Joining major businesses of India are a large number of firms from many countries, including the Netherlands, Germany, Romania, Bulgaria, the Republic of Korea, Malaysia, and Vietnam.
The IETF 2021, scheduled to last through March 24, also serves as a platform for specialised conferences and online events for businesses to seek partners and cooperation chances./.
Viet Nam, Slovenia eye cooperation potential in mechanical engineering
Việt Nam and Slovenia boast high potential for cooperation in manufacturing agro-forestry-fisheries machinery and equipment – an area of Slovenia's strength and Việt Nam's demand, said Vũ Bá Phú, head of the Trade Promotion Agency under the Ministry of Industry and Trade, at a recent online Việt Nam-Slovenia business exchange.
Commitments in the EU-Việt Nam Free Trade Agreement (EVFTA) regarding tax reduction for Vietnamese and Slovenian products will help the two countries expand the market share in each other country as well as other EU markets, thus motivating bilateral trade growth, Phú said.
He underlined the need for both sides to increase trade exchange activities right after COVID-19 is controlled globally, and make full use of benefits from the EVFTA by abiding by regulations on origin.
He stressed that the Trade Promotion Agency is willing to coordinate and create optimal conditions for businesses of both sides to explore effective and long-term partnership opportunities.
Phú said that the EVFTA has been opening up doors for Việt Nam to promote economic cooperation with many markets around the world, including Slovenia.
The EU is now one of the leading trade partners of Việt Nam with two-way trade reaching US$49.6 billion in 2020, with Việt Nam's exports of $34.9 billion.
This year, the deal is expected to continue fuelling the economic growth of Việt Nam as well as trade ties between Việt Nam and the EU.
Izidor Krive, Vice President, Chamber of Commerce and Industry of Slovenia, said Việt Nam and Slovenia share abundant potential for collaboration in the field of industrial machinery, equipment and automation as well as logistics solutions in garment and textiles and the food industry which are booming in Việt Nam.
Meanwhile, Lê Dũng, Vietnamese Ambassador in Austria and Slovenia, said that since the EVFTA took effect on August 1, 2020, Việt Nam has seen positive signs in trade with the EU and Slovenia.
The diplomat expressed his belief that after COVID-19 is controlled in Europe, the investment flow will rise. The 97-million strong market of Việt Nam could become a gateway for investors to enter a 660-million-strong ASEAN market, he said.
Slovenian businesses affirmed that Việt Nam is a promising market thanks to its political stability, low-cost workforce and developed infrastructure system.
At the event, jointly held by the Office of Commercial Affairs at the Vietnamese Embassy in Austria and Slovenia and the Chamber of Commerce and Industry of Slovenia, 21 Vietnamese firms and 12 Slovenian companies sought cooperation opportunities in each other's market and introduced their products and services.
Experts approve delaying corporate taxes amid COVID difficulties
The Government needs to extend the deadlines for the payment of taxes and fees to support companies since the COVID-19 pandemic continues to affect them, experts have said.
Chu Tien Dung, chairman of the HCM City Union of Business Associations, said a recent proposal by the Ministry of Finance to defer taxes is timely and good for businesses.
HCM City is the country's economic hub, and companies there have been badly affected by the lack of human resources, since workers from other provinces have failed to come back in time after the Lunar New Year in mid-February.
On top of that, social distancing and cleaning up the workplace have pushed off their costs, he said.
"Though the economy grew last year, businesses faced great difficulty.
"The first quarter is the time a new year begins, and so the Government should defer taxes to enable businesses have cash for the short term."
It would be effective if the extension lasts two quarters instead of three to five months as recommended by the ministry, he said.
Economist Le Dang Doanh too backed the ministry proposal, saying the tax and fee deferment would enable companies to have money to pay for expenses at the beginning of the year.
"The State budget might be facing difficulties, but a three-month delay is practicable."
Experts however emphasised that tax delays are only a short-term solution, and the driving force would be an improvement in the business environment.
According to the proposal made by the ministry, value-added tax, corporate income tax, personal income tax, and land rental tax will be extended by three to five months.
They will amount to VND68.8 trillion worth of value-added tax-deferred by five months and VND40.5 trillion worth of corporate income tax delayed by three.
The deferred taxes on business households and individuals will be around VND1.3 trillion and land tax will be worth VND4.4 trillion.
The ministry said the taxes and fees would be paid by the end of this year, and so the Government's 2021 revenues would not be affected.
Vaccines pave way for new investment
With the first batch of COVID-19 vaccines officially arriving into the country, Vietnam is increasing its pandemic prevention measures and therefore remaining on the road to strong economic recovery.
Deputy Minister of Health Truong Quoc Cuong said, "The vaccine arrives timely for the country's fight against the pandemic. While Vietnam has strived to control the virus spread, community vaccination plays an important role to achieve the dual goals of fighting against epidemics and developing the economy."
The vaccine has been shown to be effective at preventing symptomatic COVID-19, and has been granted conditional marketing authorisation or emergency use approval in more than 50 countries, with the World Health Organization Emergency Use Listing accelerating the pathway to access in up to 145 countries through the COVAX Facility, the global procurement arm of COVID-19 Vaccines Global Access.
The Ministry of Health (MoH) is now moving to increase further import of vaccines from other suppliers in line with the government directions, while making preparations to quicken inoculations in order of importance with the 11 priority groups of people to receive the COVID-19 vaccination already announced.
According to Minister of Health Nguyen Thanh Long, the MoH is working to ensure supply of 100 million doses of the vaccine, including 30 million doses from the COVAX Facility, 30 million from AstraZeneca, 30 million in negotiation with Pfizer, and perhaps more from Russia's Sputnik V, which could possibly supply up to 60 million doses for Vietnam.
Together with the vaccine import, which makes Vietnam together with Thailand the two first countries in ASEAN to receive the COVID-19 vaccine, Vietnam's domestically-made COVID-19 trials are in line with the schedule, and it is expected that production will begin next year.
Vietnam was one of the first countries to successfully control SARS, A/H5N1 flu and A/H1N1 flu, and prevent a number of emerging dangerous epidemics such as influenza A/H7N9, Ebola, and MERS.
Vietnam's latest battles with the coronavirus have been contained, with the latest wave from the end of January hitting 13 cities and provinces. As of last week nearly all of the localities experienced well over a week of suffering no new cases.
Swift and continued control of the situation is doing wonders for economic recovery compared to other nations worldwide. As more countries quicken the vaccination process so as to bring trade and life back to the normal, economic movements and national attractiveness is beginning to rise again this year.
Vietnam's GDP grew 2.91 per cent in 2020 despite the pandemic challenges, making it one of the three countries in Asia that gained positive growth.
The economy continued to show signs of recovery in January on the back of the government's supporting policies when the index of industrial production rose 22.2 per cent on-year, registration of newly-established businesses ascended 21.9 per cent in number and 25.9 per cent in capital, and public investment disbursement increased 24.5 per cent.
According to the General Department of Vietnam Customs, from January 1 to February 15, the economy's total export and import turnover hit $74.16 billion, up 31.1 per cent on-year – tantamount to a rise of $17.58 billion. The country's successful control of the pandemic has won confidence of business community, and has become a target for a range of new plans for investment shifts.
According to statistics from the Ministry of Planning and Investment, in the first two months of 2021, the disbursement of foreign capital reached $2.5 billion, up 2 per cent on-year.
The World Bank forecast that the global economy is expected to expand 4 per cent in 2021 after shrinking 4.3 per cent in 2020. In this recovery, Vietnam's prospects appear positive as the economy is projected to grow by about 6.8 per cent in 2021 and, thereafter, stabilise at around 6.5 per cent.
Buoyant steelmakers still hoping for more
Listed steel companies announced breakthrough business results in the fourth quarter of 2020, enticing potential investment in the sector, and ending a successful year that they could hardly have imagined after the first period of the year was negatively affected by the pandemic outbreak.
For the galvanised steel industry, it was difficult for any business 6-8 months ago to imagine the price of hot rolled coil reaching $700 per tonne in 2020, especially when prices plunged just before then. Hoa Sen and Nam Kim reported strong growth in this area too, while Hoa Phat continues to firmly build a leading position in the construction steel segment with market share increasing to 32.5 per cent in 2020. The company achieved net revenues of nearly VND91.3 trillion in 2020 ($4 billion) and a record net profit of VND13.5 trillion ($587 million).
Vietnam-Italy Steel JSC (VIS) returned to profit after two years of heavy losses. Steel trading companies such as SMC Commercial Investment (SMC) and Tien Len Steel (TLH) simultaneously reported big profits in the last quarter of 2020 thanks to favourable changes in steel prices, thereby ending a year of success.
As the only company in the industry that owns a distribution network of hundreds of points across the country, Hoa Sen plans to expand its business product portfolio through the development of a home furniture and building materials retail chain with a strategic partner.
At its January annual general meeting, Hoa Sen chairman Le Phuoc Vu said that the group will no longer be a mere manufacturing enterprise, but move towards becoming a distributor of building materials and interior decoration items.
While it would continue to produce the same items, it would not expand production capacity but instead invest in opening new Hoa Sen home stores and upgrading existing ones. The group is expected to reach VND33 trillion ($1.43 billion) in revenues this year and post-tax profits of VND1.5 trillion ($65.2 million), 20 and 30 per cent higher than in 2020 respectively.
Nam Kim Steel meanwhile said it will focus more on distribution in the south, with plans to build a warehouse and steel pipe factory in the first quarter in the southern province of Binh Duong. Elsewhere, SMC Steel Ltd. wants to go deeper in the field of processing, becoming a supplier for manufacturers operating in Vietnam. Earlier this year, SMC together with Samsung C&T agreed to establish a steel processing joint venture with a planned factory located Ba Ria-Vung Tau province's Phu My Industrial Park.
Vietnam's steel industry sales volume is expected to increase by nearly 16 per cent in 2021, three times higher than originally forecast thanks to new demand including infrastructure funding and foreign investment inflows, which are also helping to promote civil engineering along infrastructure and foreign-invested projects.
According to a Mirae Asset Vietnam research report, it is estimated that output of the Dung Quat project will add 2.2 million tonnes of total output to the country's steel industry, while the Pomina Phu My plant will increase construction steel output by 1.1 million tonnes.
The report noted that in 2021 the real estate industry "will gradually recover alongside the recovery of the global economy, which would benefit Vietnam's steel industry. Output in 2021 is expected to reach 28.67 million tonnes, an additional 15.7 per cent on-year".
More stable global supply is likely to lead to more intense competition in the market, and with the risk of COVID- 19 still present, the increases could also affect the overall recovery as well as production capacity and export markets.
Tax deferral to ease business operations
To support businesses to recover operations soon, numerous policies related to deferring tax and land rent payments are to be put in place, while a reduction in corporate income tax is being considered.
The Ministry of Finance (MoF) has proposed that the government approves a decree on extending the payment of taxes and land fees in 2021 with particular measures for every tax, beneficiary, and business sector.
The MoF suggested delaying VAT payments for five months, reducing the total state budget by VND68.8 trillion ($3 billion) during the period. For corporate income tax (CIT), the MoF proposed deferring for three months – consequently, around VND40.5 trillion ($1.76 billion) will be paid to the state budget later, while VAT made by household and individual businesses to be delayed is estimated at VND1.3 trillion ($56.5 million).
Additionally, the MoF asked to put off land rentals for the first term of 2021 for corporations, organisations, and household and individual businesses, estimated at a total of around VND4.4 trillion ($191.3 million). Accordingly, total payments to be extended would be estimated at VND115 trillion ($5 billion).
An MoF representative said that deferring taxes and land rental payments will be considered as non-interest loans the government provides for companies, household businesses, and individuals to overcome challenges caused by the global health crisis, and which will not affect the annual state budget. "Around 96 per cent of businesses in the country will be eligible for such assistance if it is approved," said the representative.
Vang Vien Thong, general director of Ho Chi Minh City-based Nam Anh Co., Ltd., a supplier of Japanese clothing giants, explained that the policy will greatly help businesses, especially ones enjoying huge incomes. "It is favourable for us if the VAT payment is delayed for five months. For a firm generating millions of US dollars in revenue annually like Nam Anh, this policy will be a good resource for us to maintain and develop the business," said Thong.
In another case, Tay Bac Construction and Trade Co., Ltd. in Hanoi had taxes and land rental payments delayed last year at more than VND400 million ($17,400). Director Nguyen Trung Hieu was happy with the policy, which helped keep the company afloat during the pandemic. "If these payments remain deferred this year, this will be a key driver for businesses to operate and contribute to the state budget moving forward.".
However, some experts and enterprises said that in addition to the deferral, ministries and agencies should ask the government to reduce CIT, depending on scale and industry. One example is that the rate could be 15 per cent for micro-sized enterprises and 17 per cent for small enterprises, instead of 20 per cent at present.
Nguyen Van Duoc, director general of Trong Tin Tax Consulting and Accounting Co., Ltd., said that according to the Law on Support for Small- and Medium-sized Enterprises enacted in 2018, relevant small- and micro-sized enterprises were to have 15-17 per cent applied in CIT – however, this has yet to be applied. So, Duoc said, the government and agencies should work on reducing the tax for them in line with the timeline of the law.
"In some special sectors, we should consider reducing 50 per cent of VAT in addition to extending the tax payment for five months. Especially, we should reduce 30 per cent of the total CIT payable in 2020 to apply in 2021," said Duoc.
The policy should be adopted quickly in order for business operations and the economy to recover quicker. "If the process takes too long, fewer will recover, at the expense of the state budget," added Duoc.
Businesses said the proposal of reducing 30-50 per cent of land rent should be submitted to the government and the National Assembly soon, along with the proposal of decreasing CIT and VAT at the National Assembly meeting in March.
This is the third time the MoF suggests such a delay to support businesses during the pandemic. Last April, the government issued a five-month deferral on tax and land rent, then in September extended the deadline for special consumption tax payment applying for domestically-manufactured or assembled cars.
Health crisis fails to impede business confidence
Despite the aftermath caused by the COVID-19 pandemic, confidence within the business community has been on the rise, which is being backed by the government's sturdy efforts to provide enterprises a more friendly-business climate to participate in.
In June last year, Ngo Dinh Vuong halted the operation of his garment factory in Quang Minh Industrial Park in Hanoi's Dong Anh District due to the health crisis. The factory was opened in late 2018 and is the third to have been opened by Vuong in the northern region of the country since 2016.
Then in July, the second factory, based in Hung Yen Province, faced the same plight, leaving the first factory operating moderately also in Hung Yen. The three factories are managed by Hoang Yen Garment and Trading JSC, established in 2016, where Vuong is the director.
However, in early January, the two factories with halted operations began resuming operations as some big contracts have been landed with local and foreign experts. This would allow 800 workers to have incomes.
"We are happy that all of our three factories are in full operations now," Vuong told Nhan dan Online.
Hoang Yen Company's case is among more than 11,000 enterprises resuming operation in the first two months of this year nationwide.
According to the General Statistics Office (GSO), also in the first two months of 2021, the economy saw 18,100 newly-established enterprises with total registered capital of VND334.8 trillion (US$14.55 billion), employing 172,800 new labourers – up 4% in the number of enterprises, 52.2% in capital, and 9.7% in the number of labourers as compared to those in the same period of last year.
In particular, the average registered capital of each newly-established business in the two months of the year is VND18.5 billion (US$804,347), up 46.4% year-on-year. If an additional VND385.6 trillion (US$16.76 billion) registered by 6,500 operational enterprises is included, the total registered capital inserted into the economy in the first two months is VND720.4 trillion ($31.32 billion).
In February, despite the Lunar New Year, the number of newly-established firms hit more than 8,000 registered at VND179.7 trillion (US$7.81 billion), down 20.3% in the number of enterprises but up 15.9% month-on-month and 85.6% year-on-year in capital. The average registered capital of each business in the month reached VND22.4 billion (nearly US$974,000), up 45.5% month-on-month and 111.6% year-on-year.
Also, in February, the number of businesses with halted operations reduced 80.1 month-on-month and 21.3% year-on-year. Furthermore, the number of those with halted operations and waiting for dissolution decreased 53.5% month-on-month and 32.2% year-on-year.
"These are extremely positive signals for the economy in the context that the COVID-19 pandemic remains very complicated, badly affecting the business and production activities of businesses," said a GSO report on the economy's two-month economy.
A leader from the Ministry of Planning and Investment stated, "Despite the health crisis, domestic production and business have been gradually recovering. However, Though the economy is still facing massive difficulties, it is expected to bounce back strongly in this year."
Optimistic expectations
According to global data analyst and provider FocusEconomics, after economic growth gained further momentum in the fourth quarter of last year, whose growth hit 2.91% in 2020, signs for the first quarter of 2021 are generally positive.
"Economic growth is projected to rocket this year amid strengthening domestic and foreign demand, with Vietnam set to continue outperforming its regional neighbours. The recent spike in COVID-19 cases and associated implementation of restrictions are a cause for concern, however, while a possible prolonged downturn in the tourism sector remains a key downside risk," FocusEconomics told Nhan dan Online in a statement. "Our panellists expect GDP to expand by 7.4% in 2021, which is unchanged from last month's forecast, and by 6.9% in 2022."
A few weeks ago, Standard Chartered released its fresh forecast for Vietnam's 2021 GDP growth.
"Standard Chartered expects Vietnam's GDP growth to rebound to 7.8 per cent in 2021, from 2.91 per cent in 2020, with manufacturing likely continuing to drive the economy and helping Vietnam outperform the rest of Asia," said the bank on a statement.
"The economy emerged from the worst of the COVID-19 downturn in the third quarter of 2020, and we think the recovery remains intact. Vietnam has been one of the best-performing economies globally for the past decade, and we expect this to continue," said Tim Leelahaphan, Standard Chartered economist for Thailand and Vietnam.
Standard Chartered's economists anticipated that improving public investment and services growth should support the economy in the coming years. Effective COVID-19 containment measures have further enhanced Vietnam's appeal to overseas investors, making it an attractive destination globally for foreign direct investment.
Spurring confidence
With a view to fuelling the economy and support enterprises and investors, on January 1, 2021, Prime Minister Nguyen Xuan Phuc signed and enacted Resolution No.01/NQ-CP on key tasks for implementation of the socioeconomic development plan and state budget estimates for 2021, as well as Resolution No.02/ND-CP on continuing implementation of measures to improve the domestic business climate and enhance national competitiveness in 2021.
According to Resolution 01, in order to realise the socioeconomic development plan for 2021-2025, the government has identified "solidarity, discipline, innovation, and aspiration for development" as guidelines for action this year.
The government defined 11 key missions and measures, including effective implementation of tasks to serve the organisation of the Party Congress, election of deputies to the National Assembly and all-level people's councils, and preparation, issuance, and implementation of action programmes to carry out the resolutions.
The government will also continue implementation of tasks in a flexible and effective manner to simultaneously fight the pandemic and boost economic growth; while completing institutions for the socialist-oriented market economy, thus facilitating economic recovery and development based on stabilising the macro-economy and curbing inflation rate, as well as improving the economy's resilience.
Meanwhile, according to Resolution 02, the government requested ministries, municipal and provincial people's committees, and other governmental agencies to comprehensively and effectively enforce main tasks and solutions to enhance Vietnam's business environment and national competitiveness in 2021.
The government ordered priority to be given to improving several indexes and indicators regarding construction permit issuance, asset registration, settlement of contract disputes, bankruptcy of enterprises, land administrative management quality, application of information technology, quality of vocational training, students' skills, patent granting, fighting against corruption, online transactions, job opportunities in knowledge-intensive sectors, and a sustainable ecosystem.
Notably, Resolution 02 underlined the mission for the national digital transformation programme by 2025 with a vision towards 2030 approved under Decision No.749/QD-TTg last June, which must align with public administrative reforms.
The resolution emphasises solutions to improve the country's preparedness for new production in the era of the Fourth Industrial Revolution.
Both resolutions 01 and 02 aim to reach the ultimate goal of securing an economic growth rate of at least 6.5% for 2021, with improvements in national economic competitiveness and in the local investment and business climate in favour of investors and enterprises.
The resolutions demonstrate the government's unceasing efforts to drive the economy forward, though last November the NA seemed to take great caution when it set the economic growth target at about 6% only.
Each percentage of growth can create 300,000 direct jobs and many other hundreds of thousands of indirect jobs, according to experts.
Ngo Dinh Vuong of Hoang Yen Garment and Trading JSC said that he expected the resolutions will be materialised via specific solutions and programmes by ministries, agencies, and localities.
"The economy is bouncing back, and we hope the solutions will continue helping enterprises like us to not only stay afloat but also to weather all difficulties now and ahead. This will help the economy ensure the government desired economic growth," Vuong told Nhan dan Online.
USTR names three notorious markets for counterfeiting and piracy in Vietnam
The Office of the United States Trade Representative (USTR) has included Vietnam's traditional markets of Ben Thanh and Dong Xuan and online platform Shopee in the list of online and physical markets that reportedly engage in or facilitate substantial piracy or counterfeiting.
The 2020 Review of Notorious Markets for Counterfeiting and Piracy (Notorious Markets List, or NML) of USTR focuses on examining the use of e-commerce platforms and other third-party intermediaries to facilitate the importation of counterfeit and pirated goods into the United States.
"The rapid growth of e-commerce platforms has helped fuel the growth of counterfeit and pirated goods into a half trillion-dollar industry. This illicit trade has an enormous impact on the American economy by eroding the competitiveness of American workers, manufacturers and innovators," stated the report.
Commenting on this report, the Vietnam Directorate of Market Surveillance under the Ministry of Industry and Trade said the report was done carefully, earnestly and constructively. Related parties can use this report to encourage the private sector and governments to take proper measures against piracy or counterfeiting.
"However, NML neither gives specific evidence on the violations nor reflects the official standpoint of the U.S. Government about the protection and enforcement of intellectual property rights in related countries," said Nguyen Ky Minh, deputy chief of office at the Vietnam Directorate of Market Surveillance.
For Shopee, the report mentions the entire Shopee platform that covers many countries including Singapore, Malaysia, the Philippines, Thailand, Indonesia, Brazil and Vietnam.
According to the Vietnam Directorate of Market Surveillance, Shopee in Vietnam (Shopee.vn) has the mechanism to resolve complaints about intellectual property rights as well as solutions to manage the products and vendors on its platform.
Regarding the Dong Xuan and Ben Thanh markets, two hotspots of piracy or counterfeiting for many years, the directorate issued Plan No. 3972 in 2019 to address the problems at these two famous traditional markets.
The number of vendors selling counterfeit goods at these markets has dropped significantly over the past two years. Beside this, thanks to sudden inspections by the local authorities and strict sanctions, many stores selling counterfeit products have been closed.
Prudential, Maritime Bank extend bancassurance partnership for 15 years
Prudential Vietnam Assurance Private Limited, a subsidiary of Prudential Plc, and Vietnam Maritime Commercial Joint Stock Bank have renewed their strategic bancassurance partnership for another 15 years.
The new agreement significantly expands the geographical scope to include the north, where MSB is headquartered, and make Prudential the lender's only partner.
They have been collaborating since 2013 and built a highly successful bancassurance partnership which delivered a 34 percent compounded annual growth rate in annual premium equivalent between 2014 and 2020.
Under the renewed partnership, the two sides will also expand into new segments, including digital, to deliver holistic protection solutions to customers.
With a digital-focused approach that is aligned with MSB and Prudential's plans to leverage existing digital tools such as the latter's artificial intelligence-powered application Pulse, they hope to seize further growth opportunities.
Nic Nicandrou, Chief Executive of Prudential Corporation Asia, said: "Vietnam is an important market and source of growth for Prudential. The renewal and expansion of our long-term partnership with MSB represents a tremendous opportunity for Prudential to build on its strong presence in the market. It is a clear demonstration of our commitment to serving MSB's customers, helping them get the most out of life with our leading suite of health and wealth solutions."
Phuong Tien Minh, Chief Executive Officer of Prudential Vietnam, said: "Prudential Vietnam has built a highly-effective bancassurance partnership with MSB since 2013.
"We are delighted to be taking the partnership to the next level as we deliver our innovative offerings to MSB's customers through existing as well as new channels, including digital. We look forward to continuing our strong relationship with MSB for another 15 years."
Nguyen Hoang Linh, Chief Executive Officer of MSB, said: "We have enjoyed a very successful partnership with Prudential Vietnam and this reinforced our decision to extend the partnership and expand its scope to cover all of Vietnam.
"Together with Prudential Vietnam, we will remain focused on providing best-in-class financial and investment solutions to consumers across the country, helping them fulfil their evolving needs and providing them with a secure future."
Source: VNA/VNS/VOV/VIR/SGT/Nhan Dan/Hanoitimes
VIETNAM BUSINESS NEWS MARCH 6 have 7219 words, post on vietnamnet.vn at March 6, 2021. This is cached page on VietNam Breaking News. If you want remove this page, please contact us.