Vietnam-UK trade deal to officially take effect from May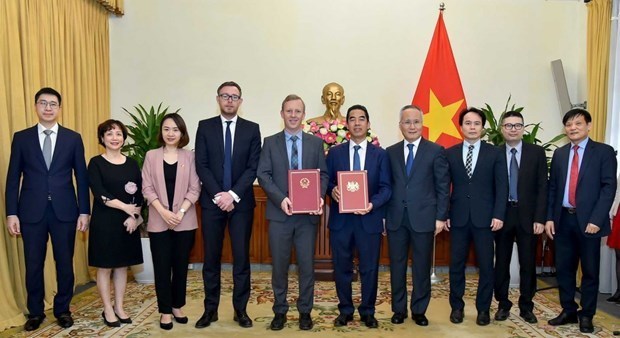 Representatives of Vietnam and the UK hand over notes confirming the date when the UKVFTA comes into force.
Vietnam will announce to the UK side its ratification of the UK-Vietnam Free Trade Agreement (UKVFTA) this month, so the deal can officially come into force from May 1.
According to the European-American Market Department under the Ministry of Industry and Trade (MoIT), the ministry has promptly and closely coordinated with the UK in the signing and completion of necessary procedures in order to put the pact in place as soon as possible.
The Vietnamese Government's recent adoption of a resolution ratifying the UKVFTA will see the deal, which temporarily took effect from January 1, become officially effective.
Figures released by the General Department of Vietnam Customs show that in the first two months of this year, trade between Vietnam and the UK reached over 1.02 billion USD, up 20.05 percent year-on-year.
The figure reflects the momentum created by the UKVFTA to recover bilateral trade.
Economic and trade cooperation will continue to be a bright spot in the relationship between the two sides, given the UK has rolled out mass COVID-19 vaccinations and has a positive economic outlook according to international institutions.
After Vietnam and the UK signed the UKVFTA in London on December 29, 2020, the two sides completed domestic procedures to temporarily put the pact in place from January 1 (Vietnamese time).
The MoIT will continue to coordinate with other relevant ministries and agencies to complete an implementation plan to bring into full play the opportunities generated by the agreement./.
Stocks finish higher while foreign investors continue to flee market
Markets edged higher on Monday as many big stocks across all sectors made gains. Foreign investors were still net sellers.
The benchmark VN-Index on the Hồ Chí Minh Stock Exchange (HoSE) closed Monday at 1,175,68 points, up 1.16 per cent. During the session, 392 stocks rose while 83 stocks decreased.
The market liquidity was still high with local investors pouring over VNĐ14.49 trillion into the southern market, equivalent to a trading volume of nearly 660.55 million shares.
Monday's gain was opposite to forecasts from securities firms like Bảo Việt Securities Co.
Analysts from Bảo Việt expected that the market might face correction earlier this week before bouncing back at the end of the week.
The 30 large-cap stock tracker VN30-Index also posted a rise of 1.1 per cent to 1,180.07 points. Twenty-nine of the 30 biggest stocks in market capitalisation in the VN30 basket rose while only one stock declined.
Stocks in all sectors recovered from last week's volatile trend with the VN-Index losing 2.67 per cent for the week.
Stocks from banking, real estate, construction, materials, utilities, logistics, retail and information technology sectors all posted good performance.
Of which, top five stocks dominating the market's trend were from the bank and materials segment. These stocks included Vietinbank (CTG), up 2.43 per cent, Việt Nam Dairy Products JSC (Vinamilk, VNM), up 1.64 per cent, VPBank (VPB), up 2.53 per cent, Việt Nam Rubber Group – JSC (GVR), up 2.01 per cent, and MBBank (MBB), up 2.73 per cent.
Meanwhile, Việt Nam National Petroleum Group (Petrolimex, PLX) post the biggest loss. Followed by Kinh Bắc City Development Share Holding Corporation (KBC) and Becamex Infrastructure Development JSC (IJC).
On the Hà Nội Stock Exchange (HNX), the HNX-Index gained 1.92 per cent to 276.16 per cent on the rise of the biggest stocks.
The HNX30-Index, tracking the 30 large-cap stocks in market capitalisation on the HNX, rose 2.58 per cent to finish Monday at 406.64 points.
More than 178.19 million shares were traded on the northern exchange, worth nearly VNĐ2.72 trillion.
On the other hand, foreign investors continued to flee the market. They net sold a total value of VNĐ180.15 billion, of which VNĐ153.64 billion on HoSE, VNĐ19.93 billion on HNX and VNĐ6.58 billion on UPCOM.
In the global market, shares were mixed in Asia and the EU while rising in the US.
Nikkei 225 index increased 0.71 per cent, Shanghai index rose 0.5 per cent while ASX 200 and Kospi index slid 0.16 per cent and 0.36 per cent, respectively. S&P 500 index climbed 1.66 per cent and Nasdaq index was up 1.24 per cent.
Regarding the vessel stuck in the Suez Canal, a statement from the Suez Canal Authority on Monday said that the cargo ship blocking the canal was partially freed.
VN Keeps Close Watch on Rescue Mission of Ever Given
The Ministry of Industry and Trade (MoIT) has directed the Viet Nam Trade Office in Egypt to keep a close watch on rescue mission of Ever Given in order to timely inform Vietnamese exporters.
The move was made in response to the Suez Canal blockage as The Ever Given, a huge container ship, carrying 18,300 containers had been wedged in the Suez Canal since last Tuesday.
Vietnamese exporters are facing with heavy difficulties of container shortages, soaring shipping costs due to the COVID-19, and the Suez Canal blockage.
The ministry alerted Vietnamese exporters to raise their adaptability capability to market fluctuations, diversify export markets, and prepare backup plans to minimize negative losses.
Last year, Viet Nam earned US$ 43.7 billion from exporting goods to the Europe and imported US$ 18.5 billion of goods.
In the first two months of 2021, the Southeast Asian country's exports to and imports from the Europe reached US$ 7.5 billion and US$ 3.1 billion, or up 18% and 12%, respectively.
So far, commodity exchanges between Viet Nam and the Europe are chiefly shipped by sea via Suez Canal while a small amount of cargo transported by air and rail, thus the blockage will pose heavy impact on trade activities between the two sides.
The ship is operated by Taiwanese transport company Evergreen Marine and is one of the world's largest container vessels.
It became stranded on Tuesday, after running aground and becoming lodged sideways across the waterway. At first a gust of wind was thought to be to blame.
Over the weekend, 14 tugboats pulled and pushed the Ever Given at high tide to try to dislodge it and were able to move the ship "30 degrees from left and right".
​Then on Monday, after several reports that the ship had been partially refloated, the Suez Canal Authority (SCA) issued a statement saying that the Ever Given had been "successfully refloated".
The SCA said it would resume manoeuvres later on Monday high tide, "allowing for the full restoration of the vessel's direction so it is positioned in the middle of the navigable waterway"./
LNG driving FDI picture so far in 2021
Vietnam is quickly becoming one of the most promising liquefied natural gas import markets in Asia, with major foreign players pouring billions of US dollars into the country this year.
The $3 billion LNG venture accounted for almost 30 per cent of the value of FDI attraction in the first three months of 2021.
This follows another mega-investment project from last year, when in January Delta Offshore Energy Pte., Ltd. registered $4 billion into an LNG-to-power complex in Bac Lieu province last year.
The list of registered LNG projects has been growing longer in recent years, including Japan's Tokyo Gas, Sojitz, Kyushu, JERA, and J-Power, the United States, with familiar names such as ExxonMobil and AES Corporation, and South Korea with Kogas and GS Energy.
The demand for natural gas presents significant LNG opportunities in Vietnam not only due to the growing demand for energy. In anticipation of the declining supply of natural gas from domestic sources, Vietnam is expected to become an LNG importer as early as 2021. This will require significant upfront investments to build infrastructure across the LNG-to-power chain and Vietnam will be looking to strategic investors and sponsors for foreign capital and expertise according to the international law firm White and Case.
"As Vietnam transitions into an LNG importer, policies on LNG import prices (for instance to allow the ability to pass on increases in gas prices to consumers), technical standards for LNG infrastructure, and the liberalisation of the electricity and gas markets, among others, will be important considerations in the creation of a transparent and competitive market," said Saul Daniel from White and Case.
He added that foreign investors looking to invest in large-scale infrastructure projects globally are looking for a stable legal and regulatory framework and a risk allocation model that adequately allocates the risk between the private sector and government, and which will ultimately be acceptable to third-party lenders to the foreign investors. Ongoing regulatory reform will play an important part in supporting the growth of the LNG sector at a pace to meet Vietnam's energy ambitions.
While the pipeline is full to the bursting, how these projects could meet their promise in time remains a question as LNG-to-power infrastructure projects are very complex to execute. These are multi-stage development projects with numerous moving parts and multiple risks – involving upstream, downstream, counterparty, and construction interests.
For instance, Sembcorp Group expressed interest in building a thermal power project, but then in 2017 suddenly changed direction to utilise gas from the Blue Whale field. The nuances of the switch have kept the project from taking shape ever since. The project is still preparing investment procedures and negotiating a build-operate-transfer contract with the Ministry of Industry and Trade.
The National Steering Committee for Power Development has issued a proposal to approve the mechanisms on electricity pricing and electricity market participation of LNG power plants ahead of schedule, as well as soon complete policies and mechanisms to promote the progress of Blue Whale gas resources and other power projects.
The latest draft National Power Development Plan 8 so far proposed a four-fold increase of the current gas-fired power capacity to 28GW by 2030, or 21 per cent of the system capacity. The majority of the new capacity is expected to be fuelled by imported LNG.
Market players will also be paying close attention to how senior decision-makers address actions that will determine the affordability of LNG and shape the economic impact of Vietnam's pivot to gas. Regulators are aware of the cost implications of LNG-fired power plants, according to a report by the Institute for Energy Economics and Financial Analysis.
Asian LNG spot prices have soared in recent months as a reminder that LNG prices will almost certainly trend higher and experience continued volatility as the market seeks a new post-pandemic equilibrium, the report concluded.
HCM City firms in price stabilisation programme seek to improve competitiveness
Businesses in the HCM City price stabilisation programme have been encouraged to become more innovative in the face of tougher competition, experts have said.
The city programme has attracted the participation of 37 enterprises, including major firms with popular brands. Firms in the programme have to register their prices with the city's Department of Finance. Prices must be 5-10 per cent lower than market prices.
Face masks and hand sanitisers have been added to the list of essential goods in the 2020-2021 programme. The 10 other items are rice, noodles and vermicelli; sugar; cooking oil; eggs; cattle meat; poultry meat; vegetables; processed foods; seafood; and seasonings.
According to the experts, the essential goods under the programme are facing high competition in the market, especially products of cattle meat, poultry, eggs, processed foods, and dairy products.
Firms that use science, technology and innovation will be able to improve their productivity and competitiveness.
In recent years, Viet Nam Nutrition Food JSC (NutiFood), which participates in the programme, has invested and cooperated with world-famous dairy corporations to develop raw materials for domestic and export markets.
In 2018, NutiFood contributed 50 percent of the investment in strategic cooperation with Sweden's Skånemejerier Ekonomisk Förening Company, the second largest nutrition group in Sweden and Backahill Group to build the Nutifood Sweden plant.
In 2020, Nutifood officially took over 100 per cent of the project and established the Swedish Nutifood Research Institute (NNRIS) to standardise milk lines for the Viet Nam market.
Swedish companies have experience in providing safe, sustainable and environmentally friendly manufacturing solutions.
They are helping Vietnamese enterprises develop the nutrition sector, said Björn Savlid, Trade Commissioner of Sweden to Viet Nam.
Meanwhile, Nguyen Ngoc An, general director of Vissan Joint Stock Company, the leading processed foods in Viet Nam, said that 100 per cent of pork and meat supplied for processing meets VietGAP standards and traceability requirements.
Vissan has also shifted from purchasing pigs from hundreds of different farms to cooperating with strategic suppliers that can control food quality and safety, as well as provide stable prices. Vissan also checks and analyses the ratio of fat and meat per pig in the barn to ensure fair purchasing prices for suppliers.
Late last year, the HCM City Business Association unveiled a digital transformation programme for small and medium-sized enterprises (SMEs) to improve their competitiveness.
The programme will help SMEs gain better access to digital transformation solutions at reasonable costs. A portal will be built to support the digital transformation efforts, and a digital transformation solution package called Service Catalog will be established to support businesses.
Hanoi green-lights 5 public projects worth US$76 million
The municipal People's Council considers these projects necessary to aid the city's socio-economic development process.
The 15th-tenure Hanoi People's Council at its 19th session today [March 29] ratified a resolution on the investment of five projects using the state budget worth a combined of VND1.75 trillion (US$76 million), with the endorsement of 100% of its deputies present.
Among those projects, the city is set to allocate VND1.64 trillion (US$71.1 million) from its municipal budget for road upgrading projects, including the expansion of two national highway 21B sections in Ung Hoa and Thanh Oai districts in the city's southern area; and the construction of road connecting Do Nhuan street to Xuan Dinh market in Bac Tu Liem district.
The municipal People's Council also agreed investment in resettlement area at Hong Ky ward, Soc Son district, where will be home to residents living in the surroundings of the Soc Son waste treatment complex.
Meanwhile, the project of renovating Hoan Kiem lake area with lighting system and decoration is set to utilize fund from Hoan Kiem district.
The Economic-Finance Committee under the municipal People's Council considered these projects necessary to complete the city's transport infrastructure and serve the socio-economic development process.
Roughly 448 enterprises withdraw from market on daily basis
The opening three months of the year witnessed as many as 40,300 local enterprises suspend their operations for a definite period, or halt working as they await and finalise dissolution procedures, an increase of 15.6% over the same period from last year, according to the General Statistics Office (GSO).
The majority of companies are young, small-scale, and vulnerable businesses due to facing a range of negative external influences.
According to the GSO, the first quarter of the year saw the country record 29,300 new enterprises with a total registered capital of VND447,800 billion. In addition, the total number of registered employees stood at 245,600, marking a 1.4% fall in the number of businesses, up 27.5% in registered capital and up 0.8% in the number of staff over the same period from last year.
Survey results released by the GSO regarding enterprises trends in the manufacturing industry during the first quarter of the year indicate that 29.6% of firms assessed that their business and production situation in the first quarter is better than that of the fourth quarter of last year. Indeed, 31.4% of businesses faced difficulties whilst 39% of enterprises said that their business and production situation remained stable.
It is therefore expected that moving into second quarter of the year, 51% of enterprises would be better, 14.9% of businesses are forecast to face more difficulties, whilst 34.1% of firms think that the business and production situation will remain stable.
March CPI inches up 1.16 percent, lowest yearly rise in 5 years
The Consumer Price Index (CPI) in March inched up 1.16 percent from the same period last year, the lowest rise since 2016, according to the General Statistics Office (GSO).
Compared to the previous month, the March CPI slid 0.27 percent on the back of abundant supply and weaker demand after the Tet (Lunar New Year) holiday ended, said GSO Director General Nguyen Thi Huong on March 29.
The average CPI of the first quarter rose by 0.29 percent, the lowest increase for Q1 recorded in the last 20 years, while Q1's core inflation picked up 0.67 percent.
Huong attributed the Q1's CPI increase to the rice price which surged 8.55 percent year-on-year from January-March as a result of rising global price and high demand for premium rice during the Tet holiday.
The prices of several main groups of goods and services also moved upward, pushing up the costs of catering services by 2.08 percent year-on-year.
The cost of education services rose 4.49 percent due to the latest raise in school fees under a roadmap set in Decree 86/2015/ND-CP dated October 2, 2015.
Meanwhile, the government's activation of aid packages for people and businesses affected by COVID-19 was among factors helping ease the pressure on Q1's CPI, according to the GSO official. The Vietnam Electricity (EVN)'s power bill cut in the second and fourth quarters of last year caused the electricity price to decline 7.18 percent in January, which contributed to a CPI decrease of 0.24 percentage points during the period.
The average petrol and oil prices in Q1 also fell by 9.54 percent year-on-year, making the three-month CPI to drop 0.34 percentage points. The resurgence of COVID-19 in early 2021 has weakened travel demand, causing airfares, train fares and holiday packages costs to decrease by 24.28 percent, 10.03 percent and 4 percent, respectively.
Domestic gold price in March was down 2.97 percent month-on-month but up 16.84 percent year-on-year, making the average gold price in Q1 increase 23.27 percent./.
Green growth – A new approach in economic growth: Planning minister
Green growth has become an inexorable trend and a goal that all countries are aiming for, Minister of Planning and Investment Nguyen Chi Dung told a consultation conference on compiling a national strategy on green growth in the 2021-2030 period, with vision to 2045 towards 2050, held in Hanoi on March 29.
Choosing green growth is considered a new approach in economic growth to achieve comprehensive prosperity, especially in countries seriously affected by climate change, Dung said, adding that green growth contributes to reforming the growth model, strengthening the economy's resilience and reducing humanity's vulnerability to external shocks.
Vietnam is among the countries most severely affected by climate change, natural disasters, and diseases. It is stepping up the transformation of the growth model in an intensive and effective manner and speeding up post-pandemic recovery.
Therefore, the development of the national strategy on green growth in conformity with the new context is a goal and priority to achieve economic prosperity, Dung affirmed.
Le Viet Anh, head of the Ministry of Planning and Investment's Department of Science, Education, Natural Resources and Environment, said that the strategy demonstrates Vietnam's responsibility, sharing, and cohesion in realizing international commitments and serves as a basis for balancing domestic resources, mobilizing international resources effectively, and harmonising the socio-economic development roadmap with emission reduction goals, thus helping to increase the efficiency of public investment allocation and monitor and evaluate the implementation of climate change and green growth projects in the medium and long terms.
At the conference, representatives from ministries, sectors, and the embassies of the Republic of Korea, the Netherlands, and the UK in Vietnam, and international organisations and development partners such as the World Bank, the Asian Development Bank, and the UN Development Programme contributed ideas to the strategy and agreed with its new features.
They committed to supporting and standing side-by-side with Vietnam during implementation.
The draft strategy is expected to be submitted to the Prime Minister in June./.
Number of foreign visitors plunge 98.7 percent in Q1
The number of foreign visitors to Vietnam in the first quarter of this year fell 98.7 percent year-on-year to just over 48,000, as the COVID-19 pandemic continued to throw cold water on the country's inbound tourism sector, the General Statistics Office (GSO) reported on March 29.
As the country has closed its borders to nearly all foreign arrivals in a bid to contain the pandemic, the number of visitors arriving by air, land, and sea has fallen substantially.
Most arrivals have been foreign experts and technical workers working for Vietnamese projects or drivers bringing goods through border gates, according to the GSO.
The pandemic has been brought under control in Vietnam, with frontline workers now receiving vaccine shots. Authorities have bolstered negotiations with international partners on vaccine procurement while speeding up home-grown vaccine development to ensure accessibility for local people.
The Vietnam National Administration of Tourism (VNAT) under the Ministry of Culture, Sports and Tourism said that although it is necessary to reopen the door to foreign tourists, the country must remain prudent in the task of assuring effective pandemic prevention and economic development.
VNAT has worked with representatives from relevant ministries and sectors to discuss a pilot plan on bringing foreign visitors to Vietnam.
Source markets must have sound pandemic prevention measures in place and have bilateral agreements with Vietnam on the issue, such as Japan, the Republic of Korea, and Taiwan (China). Travel companies and destinations must also meet State requirements on pandemic prevention./.
VNR plans expansion of shopping centers at train stations in Vietnam
The railway station area is expected to become the location of amusement parks, supermarkets and services, then earning profits.
The state-owned Vietnam Railways Corporation (VNR) continues raising its expansion of a network of retail centers at nearly 300 train stations which would provide income for the development of the national railway industry.
The railway station area would accommodate amusement parks, supermarkets and services for residents and visitors, Vu Anh Minh, Chairman of the VNR told a recent conference.
"The added value here is even greater than that of other areas. They provide services not only for passengers but also surrounding residents and this is a great advantage that we have to tap into," Minh suggested, adding that many countries have built retail centers at railway station premises with central and local budgets, including private businesses.
The proposal is aimed at raising capital for renewing the outdated infrastructure of the railway industry, especially the train stations. With the current infrastructure system, it is hard for the industry to be profitable.
Among 297 train stations, only ten can earned profits from passenger and cargo transport, so that it is necessary to step by step upgrade them so as for these stations to become economically efficient, Minh added.
"As a result, the residual value of upgraded stations will be bigger by 2030, then the capital sourced from the stage budget for the maintenance and upgrading of railway infrastructure will be gradually diminished," Minh said.
He believed this is the only solution, the most breakthrough and also the greatest hope of the industry to promote the development of the railway industry.
At the seminar entitled "Challenges and Opportunities for the Development of Vietnam's Railway Industry" on March 25 on Hanoi, Dang Quyet Tien, Director of the Corporate Finance Department under the Ministry of Finance, said that the VNR has worked out plan to tap into the well-positioned stations for the purpose of improving the passenger transit handling and building supermarkets, hotels or cultural centers.
In 2019, the corporation submitted its plan for upgrading the railway infrastructure and is waiting for the Prime Minister's approval on assigning railway stations to them to manage. Some local experts said that, to attract passengers, the railway sector needs improve service quality rather than upgrading a station with a commercial centre.
According to the country's railway development strategy for 2016-30, the industry would require an estimated VND110 trillion (US$4.8 billion) by 2030 to revamp the existing network.
Vietnam to reopen int'l tourism market with COVID-19 preventive measures in place
The Vietnam National Administration of Tourism (VNAT) have emphasised the need to reopen the international tourism market, while simultaneously highlighting the importance of setting out a roadmap and various conditions in order to open borders for tourists once COVID-19 preventive measures have been put in place.
According to data released on March 29 by the General Statistics Office (GSO), the number of foreign arrivals to the nation during the first quarter of the year stood at an estimated 48,000, representing a decline of roughly 99% compared to the same period from the previous year.
The first quarter of the year witnessed the overall number of visitors from Asia make up 88.6% of the country's total number of foreign arrivals, representing a year-on-year fall of 98% as visitor numbers from several major markets recorded a sharp drop.
The decline can primarily be attributed to the nation continuing to take COVID-19 preventive measures whilst not yet reopening its borders for international travelers.
Most notably, the number of international visitors arriving in the country mainly consists of foreign experts and technical workers who are working on various local projects.
Currently, the COVID-19 epidemic in the nation has largely been brought under control, with frontline workers now getting vaccinated.
Relevant authorities have therefore been negotiating with international partners in order to quickly import the COVID-19 vaccine while also promoting the research and development of domestically produced vaccines in an effort to ensure a consistent supply source for the entire population as swiftly as possible.
Furthermore, domestic tourism has bounced back with localities deploying a range of promotional activities in a bid to attract tourists for the summer season and the upcoming holiday, National Reunification Day on April 30, and May Day.
The VNAT has therefore collaborated with relevant agencies in order to devise a pilot plan aimed at welcoming international visitors moving forward under the Prime Minister's direction on the proposal to open borders for foreign arrivals amid complicated developments relating to the COVID-19 pandemic.
It has also underscored the importance of launching a pilot scheme to welcome international visitors by selecting countries which have effectively contained the pandemic, including Japan, the Republic of Korea, and Taiwan (China).
According to the VNAT, flights must be direct ones which are conducted by travel firms that the required level of human resources and financial backing to fully meet the conditions set by state agencies.
Moreover, the destinations of international visitors will be required to full abide by disease preventive measures, with top priority being given to renowned tourist sites such as those located by the sea or on the mountain, that can suit the needs and tastes of tourists amid the complex nature of the pandemic.
HCM City's agro-forestry-fisheries value up in first three months
Ho Chi Minh City's agro-forestry-fisheries value increased 1.65 percent year-on-year in the opening three months of the year, the municipal Department of Agriculture and Rural Development has reported.
Cultivation grew 2.41 percent, aquaculture 1.8 percent, and animal husbandry 0.95 percent.
Pig and milch cow heads, however, fell year-on-year.
There are now 105,386 heads of cattle in the city, down 3 percent year-on-year. Of these, 51,329 are beef cattle, up 0.3 percent, and the remainder milch cows, down 6 percent. Pigs totalled 147,168 heads, down 9.1 percent.
The total output of aquatic products was estimated at 13,756 tonnes in the first three months, up 1.8 percent year-on-year. Of this, 7,902 tonnes were farmed, up 1.5 percent, while those caught totalled 5,854 tonnes, up 2.1 percent.
Regarding cultivation, the vegetable area was 5,508 ha, up 13.6 percent and with an output of 150,453 tonnes, up 9.6 percent.
Local companies exported some 76.9 tonnes of seeds, including 66.9 tonnes of vegetable seedss and 10 tonnes of rice seeds, down 31.2 percent year-on-year.
Since the beginning of this year, 137 cultivation establishments in the city with a total area of 309 ha and output of 35,905 tonnes per year received VietGAP certificates, raising the total number to 600 with 966 ha and annual output of 153,367 tonnes.
Director of the municipal Department of Agriculture and Rural Development Dinh Minh Hiep said that, this year, the city's agriculture sector strives to achieve gross regional domestic product (GRDP) growth of 2-2.5 percent and will grant VietGAP certificates to 76 percent of vegetable growing area.
In the near future, the city will step up its agriculture restructuring and instruct farmers, cooperatives, and businesses on how to develop key farm produce such as vegetables, flowers, milch cows, pigs, brackish-water shrimp, and ornamental fish, and adopt bio-technology to produce quality seedlings and breeding animals, towards turning the city into a hub of seedlings and breeding animals in the region./.
Enterprises should anticipate risks to restrict arising of disputes
How to avoid scams when signing investment agreements with foreign enterprises? Is there any way to make use of incentives from free trade agreements? These concerns of some enterprises are also common questions in the process of Vietnamese enterprises integrating into the global playground.
The hundred-million-dollar bogus contract
Attorney Bui Van Thanh, Head of New Sun Law Firm cum Arbitrator of the Vietnam International Arbitration Center (VIAC), told the story of a Vietnamese enterprise suddenly receiving a large order from its partner, asking for the supply of medical masks for the prevention of the Covid-19 pandemic, exporting to the US, with the contract value of up to US$270 million. Due to the large value of the order, this enterprise consulted lawyers to get advice on setting up the contract and instructions on how to fulfill commitments.
He advised that enterprise, through information channels, finding out whether its partner is just a blogger or a real buyer. Besides, the terms on down payment must be strictly established.
'After reviewing the enterprise's capability, and supply and production capacity, it asked its partner to deposit 30 percent with the guarantee. As soon as receiving feedback from the company, its partner disappeared,' said Mr. Bui Van Thanh.
A few days ago, the Ho Chi Minh City Center for International Integration Support (CIIS) in association with the VIAC organized a seminar on the Regional Comprehensive Economic Partnership (RCEP) and business strategy implies for enterprises in the new context. At the seminar, many economists acknowledged that free trade agreements (FTAs) in general, and the RCEP in particular, are expected to open up many export opportunities for Vietnam, and at the same time help Vietnamese enterprises to be able to better connect to the global supply chains. However, there are also challenges of trade deficit, the degree of autonomy in the supply chain, as well as the competitiveness of Vietnam compared to member countries in the RCEP.
Enterprises should be cautious
Mr. Nguyen Anh Duong, an economist at the Central Institute for Economic Management, said that in the current context, enterprises need to focus on improving their competitiveness, at the same time, thoroughly study market regulations to promptly change and make use of the benefits brought by FTAs.
Adding to this content, Mr. Tran Ngoc Binh, Head of the Import and Export Management Office of Ho Chi Minh City under the Import and Export Department of the Ministry of Industry and Trade, analyzed new points and differences related to the rules of origin of RCEP compared to FTAs that Vietnam has implemented. For instance, some products, such as textiles and processed seafood, have advantages when exporting to RCEP member countries, it is not too difficult for enterprises to implement. Noticeably, according to Mr. Binh, enterprises can carefully screen among the trade agreements that Vietnam has signed, which agreements have preferential tax rates and rules of origin that are easier to achieve to select.
Mr. Bui Van Thanh noted that for importers in large supply chains, normally, enterprises will have separate agreements on confidentiality and detail regulations, including what a trade secret is, in which cases it will be considered a violation of trade secrets, and the scope of application. If enterprises are large importers, they will require to apply those agreements and regulations to the importers, as well as all related enterprises of the importers or distributors, and manufacturers. Moreover, for sanctions, it is assumed that according to Vietnam's Commercial Law, the highest fine is only 8 percent of the violated obligation, but non-disclosure agreements can give specific numbers with high penalties. It relates to applicable law.
In fact, to enter the global playground, enterprises need to prepare lots of things, especially knowledge and understanding of domestic as well as international laws. Attorney Chau Viet Bac, Deputy General Secretary of VIAC, said that FTAs that Vietnam has participated in have created an open business environment, but they also set out requirements for signing contracts and conducting transactions strictly. Therefore, enterprises need to correctly understand the regulations to effectively apply them.
Forestry exports up 41.5 percent in Q1
Vietnam earned about 1.52 billion USD from wood and forestry exports in March, raising the value in the first three months of this year to over 3.94 billion USD, up 41.5 percent year-on-year.
Of which, exports of wood and wooden products nearly touched 3.7 billion USD, up 41.5 percent, and exports of non-timber forestry products reached 243 million USD, up 38.4 percent.
According to the Vietnam Administration of Forestry under the Ministry of Agriculture and Rural Development, major export markets for Vietnamese timber and forestry products were the US, Japan, China, the EU, and the Republic of Korea (RoK), accounting for up to 90 percent of the total value.
Meanwhile, the import value of wood and wooden products was estimated at 227 million USD in March and 709.6 million USD in the first quarter, up 31 percent over the same period last year.
The domestic forestry sector ran a trade surplus of over 3.23 billion USD in the three-month period, up 43.4 percent year-on-year.
Vietnamese enterprises have been importing wood and forestry products from China, the US, Cameroon, Thailand, and Chile, accounting for about 55 percent of the accumulative import revenue.
The rise in the import value was due to higher prices of raw materials and increasing demand.
The Vietnam Administration of Forestry also reported that localities nationwide planted 31,498 hectares of forest so far this year, up 16 percent as compared with the same period last year./.
Can Tho promotes investment attraction from Japan
Deputy Chairman of the People's Committee of Can Tho Nguyen Van Hong on March 29 discussed with Chief Representative of the Japan International Cooperation Agency (JICA) Shimizu Akira measures to boost cooperation and investment from Japanese businesses to the city in particular and the Mekong Delta in general.
Hong proposed JICA support Can Tho in important areas that the Mekong Delta city needs.
The city hopes JICA to conduct the component of purchasing medical equipment for the Can Tho heart hospital with 200 patient beds.
On investment promotion, the city calls for non-governmental aid projects in the fields of environmental protection and health care.
Chief Representative of JICA in Vietnam Shimizu Akira said JICA wishes to further promote existing cooperation and diversify fields of collaboration with the city, especially in the context that numerous Japanese firms want to invest in Vietnam.
He said JICA is discussing with management agencies as well as its officials in charge of health on the project providing equipment for the Can Tho heart hospital.
Can Tho is strong in certain areas such as high-tech agricultural production and aquaculture, he said, adding JICA will provide possible support in fields it is in charge.
In the coming time, JICA will pilot a small-scale project on waste classification at source, and it wishes to receive support and cooperation from the municipal Department of Natural Resources and Environment to carry out the project. The project's survey will be conducted in two weeks from April 12./.
Da Nang joins hands with central provinces to promote domestic tourism
A joint domestic tourism stimulus programme has been announced by the Da Nang Department of Tourism in coordination with three localities in the central region.
Themed "Amazing Central Heritage", the programme aims to attract more tourists to the central region, home to a range of heritages of Vietnam.
It is also to promote the tourism brand of four localities: Da Nang, Thua Thien Hue, Quang Nam and Quang Binh, in order to revive tourism after the COVID-19 epidemic.
The programme will take place until the end of December with many new packages, featuring round-trip airfare discounts and vacation promotions at famous resorts, hotels and tours in the above mentioned localities, along with MICE and golf service packages with reasonable incentives.
The local tourism industry will coordinate to monitor and inspect the implementation of commitments by enterprises participating in the programme and strictly comply with the instructions of the Government, the Ministry of Health, the Ministry of Culture, Sports and Tourism and the local People's Committees on the prevention and control of the epidemic./.
Vietnam's GDP estimated to expand 4.48 percent in Q1
Vietnam's gross domestic product (GDP) in the first quarter of 2021 is estimated to rise 4.48 percent, higher than 3.68 percent recorded in the same period last year, the General Statistics Office (GSO) General Director Nguyen Thi Huong reported at a press conference on March 29.
The GSO leader said that the agro-forestry-fishery sector grew 3.16 percent, contributing 8.34 percent to the overall GDP growth, while industry and construction expanded 6.3 percent, and service sector grew 3.34 percent, contributing 55.96 and 35.7 percent to the total growth, respectively.
Huong attributed the result to the drastic and timely direction of the Government, the Prime Minister and efforts of ministries, sectors, people and businesses to continue implementing the dual targets of preventing the spread of the COVID-19 pandemic and developing the economy at the same time.
She said that in the first quarter of this year, the agro-forestry-fishery sector saw strong growth thanks to high rice and fruit production, controlled African swine flu and expanded markets for wood and forestry products.
Despite a 6.5 percent rise, higher than the figure of 5.1 percent in the first quarter of 2020, the growth of the industry and construction sector was still much lower than that in the first quarter of 2018 and 2019.
Meanwhile, processing and manufacturing continued to be the driving force for the growth of the economy with an expansion of 9.45 percent. The mining sector suffered negative growth of 8.24 percent.
Thanks to the good control of the COVID-19 pandemic and the optimization of free trade agreements, the service sector enjoyed positive signs. The growth of wholesale and retail was 6.45 percent, while that of the finance-banking and insurance sector was 7.35 percent. However, the transportation and warehouse sector and accommodation-catering services still saw decreases of 2.17 percent and 4.49 percent, respectively.
In terms of economic structure, in the first quarter, contributions from the agro-forestry-fishery sector was 11.71 percent, while that of industry-construction was 36.45 percent; services, 42.2 percent; and product taxes less subsidies on production, 9.64 percent.
Exports of goods and services rose 17.01 percent, while imports increased 16.38 percent./.
Southern provinces to expand industrial parks
Provinces in the southern region plan to expand industrial parks (IPs) and continue improving the business climate to lure foreign investment following the containment of the third COVID-19 outbreak.
Tran Tue Hien, chairwoman of Binh Phuoc Province People's Committee, said it has sought approval from the Government to expand three IPs with an additional area of 2,500ha.
It aims to attract 6,000 new businesses, especially in processing, agriculture and supporting industry, over the next five years, she said.
Binh Phuoc has 13 IPs with an area of nearly 4,700ha, and eight industrial clusters with an area of 380ha.
Despite the pandemic, Binh Phuoc last year attracted 120 domestic projects with registered capital of VND12 trillion (US$522 million), up 17 per cent year-on-year, and 36 foreign-invested projects worth $432 million, or 96 per cent of the figure in 2019.
To date, the province has more than 270 foreign-invested projects with registered capital of $2.7 billion.
Nguyen Minh Chien, head of the Binh Phuoc Province Economic Zone Authority, said that Binh Phuoc would improve its investment climate and administrative procedures, and offer incentive policies for investors in high-tech agriculture, commerce and logistics.
Long An Province has received approval to add three new IPs to the national plan, including the Saigon – Mekong IP covering 200ha, Tan Tap IP 654ha, and Loc Giang IP 466ha.
Long An will also expand the second phase of Long Hau IP (90ha) and the third phase of Xuyen A IP (177ha).
Recently, the Phuoc Dong Industrial Park and Port opened in the province. It is located 39km from HCM City's Tan Son Nhat International Airport, 19km from Long An International Port, and 42km from Cat Lai Port.
It spans an area of 128.8ha, of which 92.39ha are industrial land with ready-built factories and warehouses.
The port system will be developed to welcome cargo ships with a capacity of 20,000DWT in the future.
In addition, the Government has recently allowed Dong Nai Province to convert 6,500ha of farm land to new IPs and expansion of existing IPs to address a shortage of space.
Six localities in the province such as Long Thanh, Cam My, Thong Nhat, and Trang Bom, and Nhon Trach districts and Long Khanh City plan to build more IPs, each between 200ha and 900ha.
Dong Nai will also expand existing IPs as they are all nearly full. Thirty-five of them have received approval from the Government, though only 31 are in operation and one more is under construction, with a total area of over 10,000ha.
To date, 1,700 companies have invested in Dong Nai, including more than 1,200 foreign firms from 43 countries and territories. The province wants to develop logistics, construction, healthcare and housing.
Nguyen Van Toan, vice president of the Viet Nam Association of Foreign Invested Enterprises, said a good legal framework and reasonable incentives for investors were needed to lure the investment.
Moody's upgrades VPBank's outlook
Global credit rating firm Moody's Investors Services has maintained Viet Nam Prosperity Bank (VPBank)'s long-term domestic and foreign currency deposits at B1 while raising its outlook from "stable" to "positive".
This upgrade showed that Moody's believes in the bank's ability to flexibly adjust its growth strategy as well as continuously improve risk management system amid the complicated COVID-19 pandemic situation. Moody's also highly appreciated VPBank's credit growth, good profit performance and capital potential in 2020.
In addition, good business growth results along with having the most advanced risk management system have helped VPBank "score up" in the eyes of prestigious rating agencies in the world. The bank's brand value has increased 37 places, reaching US$502 million, and listed in the top 250 of the world's largest banks in 2020.
By the end of 2020, VPBank's consolidated credit growth increased 19 per cent compared to the previous year, of which individual banks reached 21.8 per cent, much higher than the industry average of 12.13 per cent. Non-performing loans (NPLs) have been kept under control, with the consolidation rate (according to Circular 02) remaining below 3 per cent.
The bank's total operating income (TOI) in 2020 reached more than VND39 trillion, posting 7.4 per cent year-on-year increase and maintaining its position in terms of revenue among joint stock banks. Its consolidated pre-tax profit in 2020 reached more than VND13 trillion, fulfilling 127.5 per cent of the plan set out at the beginning of the year, up 26.1 per cent compared to 2019. Of which, profit at individual banks contributed 71 per cent to consolidated profit. Return on equity (ROE) and return on total assets (ROA) were still among the top performers in the market, at 22 per cent and 2.6 per cent, respectively.
The bank's capital adequacy ratio (CAR) was nearly 12 per cent according to Basel II standards, 8 per cent higher than the minimum required level. The cost control combined with digitalisation have helped reduce the consolidated operating cost by 7.7 per cent compared to 2019. The cost-to-income (CIR) ratio dropped sharply to 29.2 per cent in 2020 compared to 33.9 per cent at the end of 2019, the lowest level among commercial banks in Viet Nam.
With a well-established risk management system and updated continuously to adapt to each period, VPBank was awarded by The Asian Banker magazine for The Achievement in Liquidity Risk Management, bringing the bank to par with the leading credit institutions in Asia in the field of risk management for the first time.
The Asian Banker assessed that VPBank's liquidity risk management system works effectively and ensures safety for the bank, helps the balance sheet structure stay healthy, monitor liquidity risks and diversify capital mobilisation in the market. VPBank also completed Basel II nearly a year earlier than the State Bank of Viet Nam's requirements. It has gradually implemented its goal of approaching more comprehensive international risk management standards.
VPBank was also voted by the HCM Stock Exchange (HOSE) as the Top 20 companies with stocks in the list of the highest Viet Nam Sustainability Index (VNSI) in the market.
VietJet Air opens five new air routes to Phu Quoc
Low-cost carrier VietJet Air has recently launched five additional air routes to Phu Quoc with the primary aim of boosting tourism activities and socio-economic development among localities nationwide.
As a means of meeting the various travel needs of local passengers on the upcoming National Reunification Day on April 30 and May Day on May 1, VietJet Air launched a series of flights from Da Nang, Thanh Hoa, Nha Trang, Da Lat, and Vinh to Phu Quoc.
Furthermore, the Vinh-Phu Quoc route will run from March 28, with the Da Nang- Thanh Hoa-Phu Quoc route launching from April 2, whilst the Nha Trang – Phu Quoc, Da Lat – Phu Quoc route will start from April 29
The local airline has also increased flights on routes from Hanoi, Ho Chi Minh City, and Hai Phong to Phu Quoc, along with other existing routes.
To ensure that anti-pandemic measures are strictly enforced, the airline has advised passengers to fully comply with procedures, including filling the out the health declaration form on https://tokhaiyte.vn and wearing face masks throughout the duration of the flight.
VIETNAM BUSINESS NEWS MARCH 30 have 7649 words, post on vietnamnet.vn at March 30, 2021. This is cached page on VietNam Breaking News. If you want remove this page, please contact us.