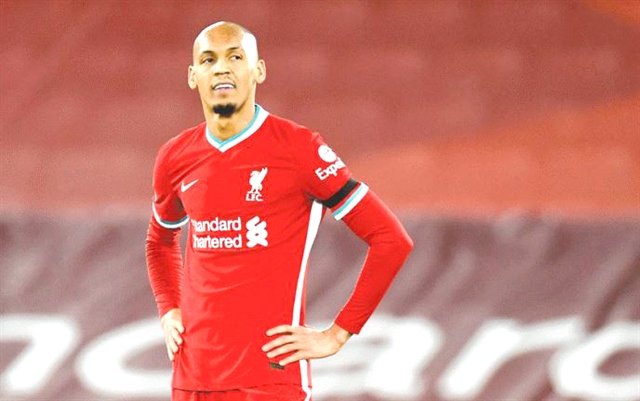 NOT FAB: Liverpool's Fabinho would miss a number of key games for his club if he plays for Brazil later this month. AFP Photo
Paul Kennedy
If you try to have a 'club versus country' discussion with a Vietnamese football fan, chances are they will think you are stark raving mad.
National pride here knows no bounds, and this is plain to see when the national team are victorious and the whole of Việt Nam takes to the streets to party.
I dream that in the years to come Việt Nam make it to the World Cup. Can you imagine the scenes? It would be amazing.
But the chances of that happening are slim at best, so for now, supporters must make do with the lesser competitions in Southeast Asia to get their kicks.
This doesn't in any way dilute their passion.
In England right now, the club versus country row has once again reared its ugly head.
With an international break on the horizon, Premier League bigwigs met last week to look at the options.
Under normal circumstances, it's no big deal, but circumstances right now are far from normal.
The ideas mooted include allowing players who travel to non-red list countries to return home as normal but must quarantine for 10 days with a special work exemption allowing them to train and play matches. After five days, those players can take a COVID-19 test, which if negative, quarantine restrictions will be lifted.
But players who travel to countries considered high-risk zones will on their return have to quarantine in a government hotel for 10 days and won't be allowed to play or train.
Liverpool's Jurgen Klopp, never one to mince his words, has already reportedly said he won't let his players go.
At the end of this month, Brazil play World Cup qualifiers in Columbia and Brazil, so the likes of Alisson Becker, Fabiniho and Firmino won't be available for Liverpool until 10 days after they return to England.
Klopp cited the fact that Liverpool pay their wages, not the Brazil Football Association.
Everton were also said to be pretty vocal at the meeting saying they too would have serious reservations about allowing their players to travel to red-list countries.
The implications for Premier League clubs are huge. Liverpool and Everton are both going head-to-head to finish in a top-four spot and gain entry to the Champions League.
If they are forced to play a number of games without their top stars because they are sat in a Travelodge hotel under quarantine then they will surely have a disadvantage.
I think the solution is simple. World Cup qualifiers have to be delayed. It's not a case of the club being more important than the country, but right now, safety is paramount.
We have all made adjustments in life and footballers are no different. With no fans allowed in stadiums anyway, then there should be no problems delaying international breaks and having seasons run that little bit longer.
The organisers of the 2022 World Cup in Qatar are insisting it will not only take place in November as scheduled, but it will be held in front of grounds packed with supporters.
As much as I hope this will be true, nobody really has a clear picture of how the pandemic will develop in the coming months. VNS
Time to put club before country have 748 words, post on vietnamnews.vn at March 5, 2021. This is cached page on VietNam Breaking News. If you want remove this page, please contact us.