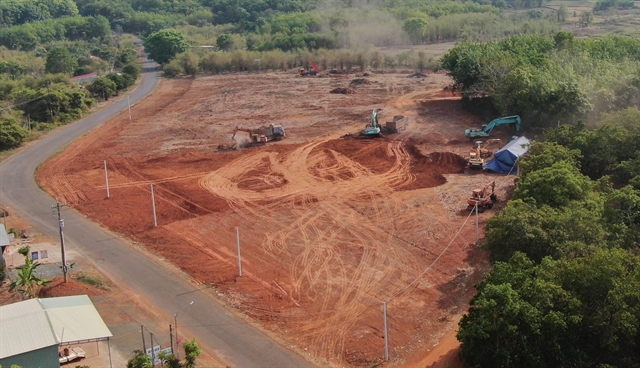 A land plot near the main road connecting An Khương and Tân Lợi communes, in Bình Phước Province's Hớn Quản District, is cleared for development, with purported rumours of an airport in the province in the planning. — VNA/VNS Photo Sỹ Tuyên
HCM CITY — Authorities in Hớn Quản District in the southern province of Bình Phước are warning buyers to be careful about land transactions, saying the proposed airport in the district, which has not been approved, has caused a "price bubble".
In the past few days, hundreds of people have been flocking to An Khương and Tân Lợi communes in Hớn Quản District, causing land prices to surge after hearing news about the proposed dual-purpose airport.
Beverage stalls have been set up along the roads to serve buyers, mostly from Hà Nội, HCM City and Bình Dương Province. A local real estate broker said the "hotspot" area included street-side asphalt plots conducive to trading.
A metre wide of land, which used to cost VNĐ100 million (US$4,332), has jumped to VNĐ300-400 million or even VNĐ450 million in the last few days.
The price of some plots, located about 1.5km from the proposed airport, has surged to several billion Vietnamese đồng for a 450-500sq.m plot, which normally cost only VNĐ150 to VNĐ200 million.
A resident in An Khương Commune who declined to be named said that agricultural land plots, initially priced at only VNĐ300 million per plot, have surged by 2-3 times in price.
A 260m wide street-side land plot initially sold for VNĐ10 billion ($433,508), but now the price has jumped to VNĐ28 billion ($1.21 million) after a few days of trading from one person to another, he said.
Experts revealed that the price jump was caused by speculators and middlemen taking advantage of news about the proposed airport.
Speculators and middlemen have posted ads on social networks and organised "events" to take buyers to visit land plots. They have even sent people to notary offices to make 'fake transactions' in order to tempt inexperienced buyers.
Bình Phước has recently proposed the construction of the Hớn Quản airport for both economic development and defense purposes on an area of 500ha in the district under the form of a public-private partnership (PPP).
The provincial People's Committee and specialists have surveyed the location of the airport project. The 100-ha Hớn Quản airfield is expected to be widened to about 400-500ha.
Nguyễn Văn Dũng, director of Trường Phát Real Estate Company, said most deals in recent days had been speculative. Few have actually ended up for registration, said Dũng, who warned buyers to be careful.
"The province has only completed a survey of the location of the airport project to submit to the central Government for approval," he said.
The dual-purpose airport model would be more suitable for defense and security purposes (due to low population density and low demand), according to the initial survey.
In addition, the current inter-regional connections have not been sufficient in the province, Dũng added.
Last year, land prices also skyrocketed in Bình Ba Commune in Châu Đức District in Bà Rịa – Vũng Tàu Province due to rumours about a giant property company buying there.
This attracted thousands of buyers from HCM City, Đồng Nai Province and other northern provinces. After warnings from experts and local authorities, the "land fever" cooled down after two weeks. — VNS
Proposed airport sparks 'land fever' in Bình Phước have 694 words, post on vietnamnews.vn at March 5, 2021. This is cached page on VietNam Breaking News. If you want remove this page, please contact us.