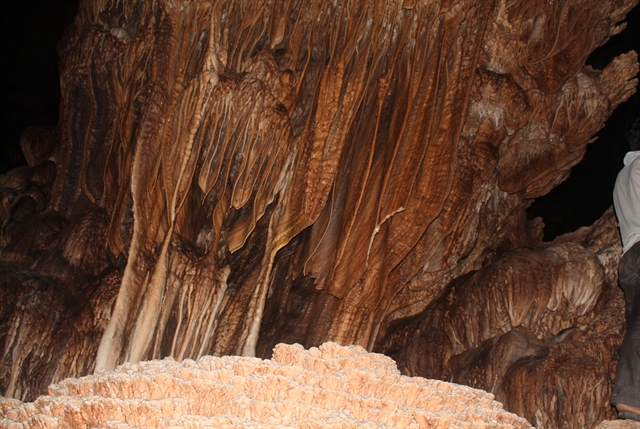 The stalactite system in Pê Răng Ky cave was formed over millions of years with bizarre shapes that attract tourists to visit. Photo trangtraiviet.vn
Xuân Thanh
Located in Huổi Só Commune in the rocky plateau of Tủa Chùa District in Điện Biên Province, Pê Răng Ky cave has a wild and mysterious beauty with a variety of beautiful stalactites.
The cave is hidden at the foot of a cliff in the middle of a majestic mountainous region. It is 800m long at an altitude of more than 1,000m above sea level.
Over the years, Pê Răng Ky cave has become a tourist destination, attracting many visitors who come to admire its mysterious and pristine beauty.
The cave was recognised as a national level relic by the Ministry of Culture, Sports and Tourism in early 2019.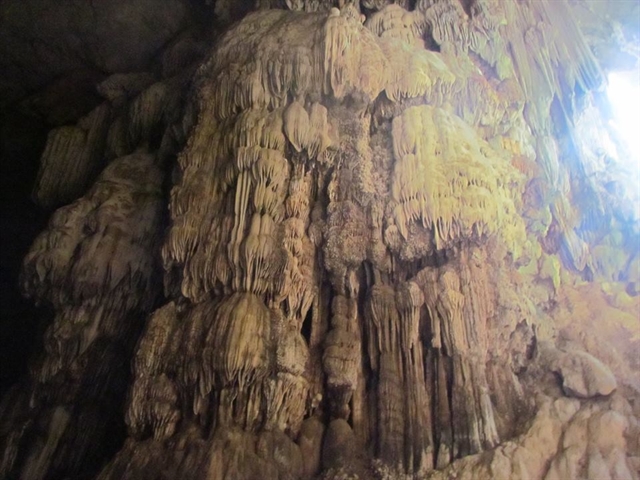 Pê Răng Ky cave attracts tourists from the cave entrance with intact stalactites. Photo trangtraiviet.vn
To reach Huổi Só Commune, one of the two communes of Tủa Chùa District with the Đà River flowing through, we had to cross nearly 20km to go to the centre of Xá Nhè Commune. Continuing along the northeastern slope, through Tả Hủ Tráng mountain range by Tủa Thàng-Huổi Só road, then passing Tà Si Láng pass for more than 10km, we came to Huổi Só – the most remote commune of Tủa Chùa District.
The cave is about 30km from the centre of Huổi Só Commune. To reach one of the most beautiful parts of the cave system in Điện Biên Province, we had to continue the journey on winding passes under the green forest and went through five of the commune's nine villages.
The Pa Phông suspension bridge in Pa Phông Village was an impressive highlight of the natural scene here. The bridge's two sides are steep and tall cliffs. Cool climate, unique geology and geomorphology have formed a unique biodiversity area here.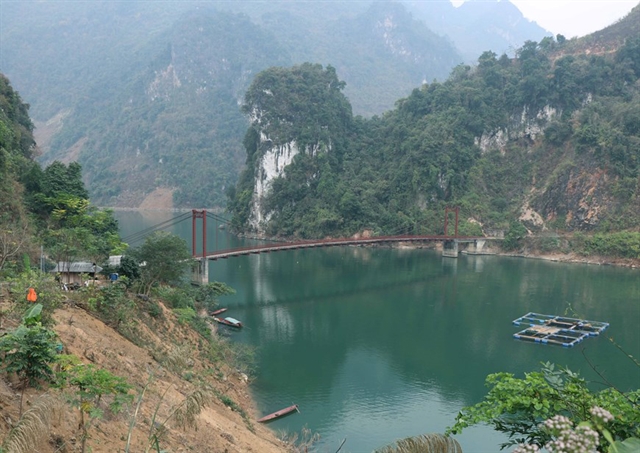 The Pa Phông suspension bridge in Pa Phông village creates an impressive highlight for the magnificent natural scene in Tủa Chùa District. VNA/VNS Photo Xuân Tiến
Passing Huổi Ca Village, we arrived in Huổi Lóng Village where many Dao ethnicity people live. Huổi Lóng village is located along the Đà River. Huổi Lóng river wharf is the only place where a market is held four times per month on the Đà River with countless goods and agricultural products on offer.
Leaving the Huổi Lóng river wharf, after about 5km we arrived at Pê Răng Ky cave. The cave has three compartments, each with its own mysterious beauty.
The first compartment of the cave features large stone pillars with a height of about 10m like giant mushrooms. The two sides of the cave wall are grey stalactites, sticking together to create many shapes such as ploughs, harrows and hoes for labour and production.
The second compartment is about 2m higher than the first. It is 320m long, 10 – 15m wide, and 10 – 17m high. The cave floor features extraordinary stalactites formed from drops of limestone water over thousands of years.
In this compartment, stalactites create diverse and rich shapes like corals, buddha statues and ivory. It is like a landscape picture inlaid with gold and silver, making the space shimmering and fanciful. The two sides of the cave wall are long rocks that look like chandeliers.
The third one is longer, taller, wider and more beautiful than the two previous compartments. The cave floor is large and rough rocks with square shapes and diagonal lines like a chessboard. On the sides of the cave wall are large strips of stalagmite. The air is extremely fresh here.
Notably, the last compartment has the enchanting visual beauty of the sparkling stalactite forest surrounding the clear lake.
According to the Department of Culture and Information of Tủa Chùa's District, Pê Răng Ky cave was discovered by local people many years ago. To protect the beauty of the cave, the department has worked with the commune authorities to encourage nearly 30 households living and working around the relic not to build construction works or exploit the stone to avoid impacts on the natural landscape and ecological environment.
Coming to Pê Răng Ky cave, we had a chance to see a beautiful landscape in the majestic mountain area, saw terraced fields stretching and enjoyed the delicious dishes of locals here such as mountain goat, black-boned chicken, Mông Pê wine and San Tuyết tea, all while immersed in the sound of rhythmic pan-pipe and flute of the Mông people here.— VNS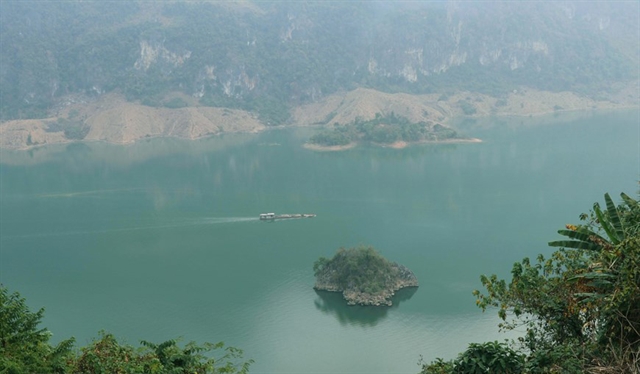 A vessel circulate on the Đà River at Tủa Chùa District in Điện Biên Province. VNA/VNS Photo Xuân Tiến
Discovering Pê Răng Ky cave on Tủa Chùa plateau have 915 words, post on vietnamnews.vn at March 5, 2021. This is cached page on VietNam Breaking News. If you want remove this page, please contact us.